This Crustless Zucchini Quiche Recipe creates a quiche that practically melts in the mouth with a light, creamy texture and a nutritious filling that's absolutely packed with zucchini and just enough cheese for a pop of flavor!
When we have an abundance of zucchini, I also make zucchini casserole, crustless zucchini pie and sauteed zucchini.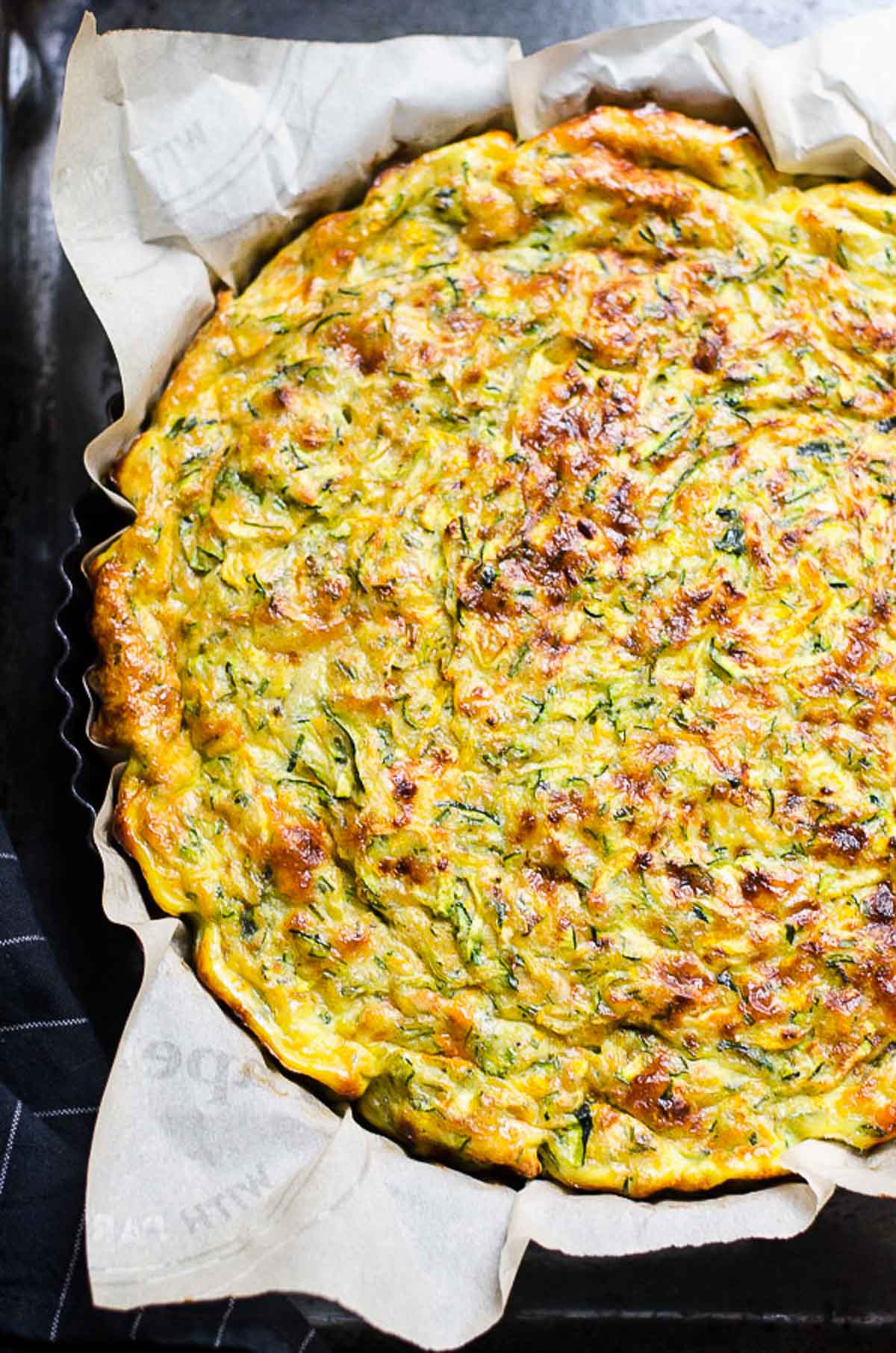 With a simple combination of eggs, tons of zucchini, a little flour and just enough cheese to add a punch of flavor, this 6 ingredient crustless zucchini quiche is a light and tasty healthy breakfast, snack, or dinner!
For this recipe, we're taking advantage of the summer bounty of zucchini for an easy, cheap and super tasty meal!
I know some people consider quiche without crust a frittata but I personally love it lighter without the heavy pie crust.
Crustless spinach quiche and crustless broccoli quiche are our other favorites.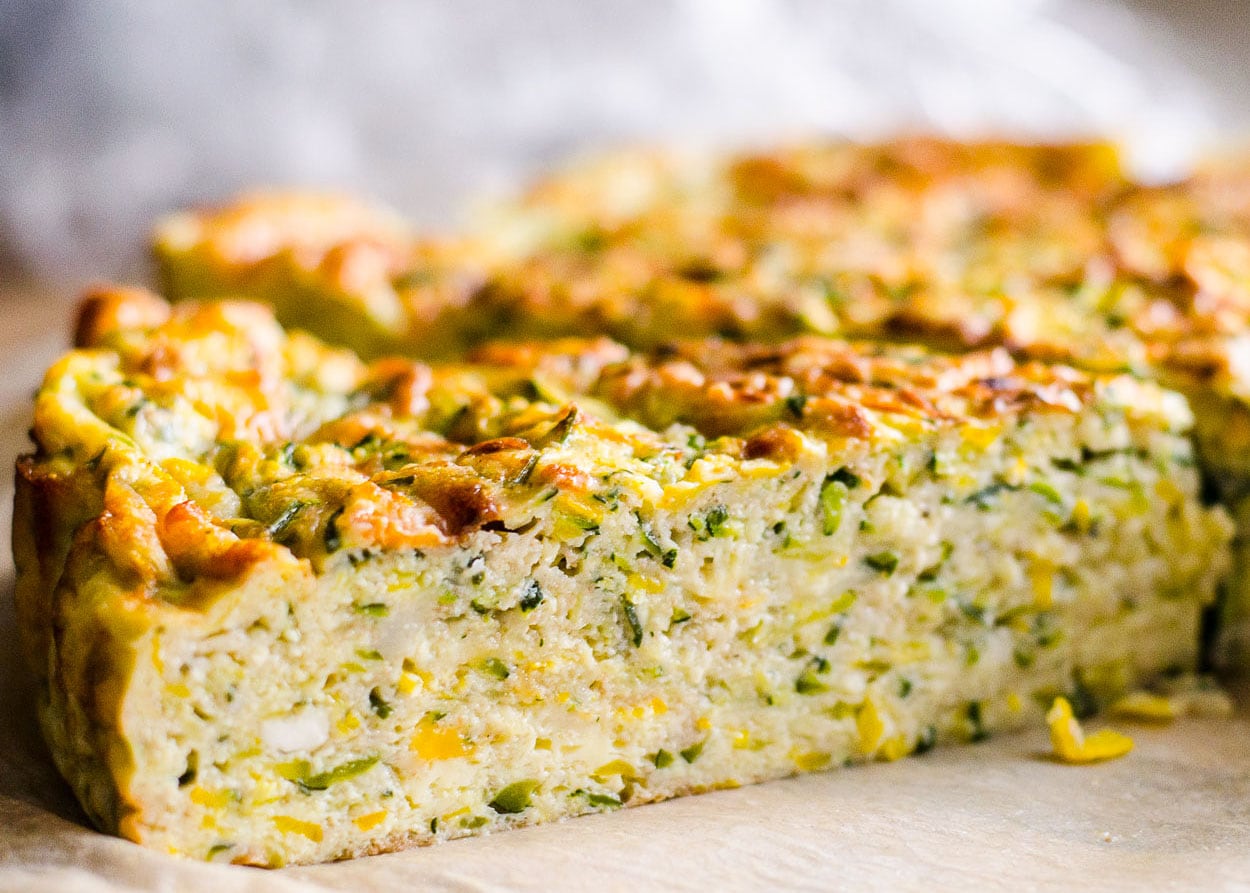 Why This Recipe Works?
Simple: You just need 6 simple ingredients.
Healthier: By omitting the pastry crust, this quiche is lighter and low carb.
Quick: This recipe requires only 15 minutes of prep.
Meal prep: Enjoy immediately, refrigerate for later, or freeze for months.
Ingredients You Will Need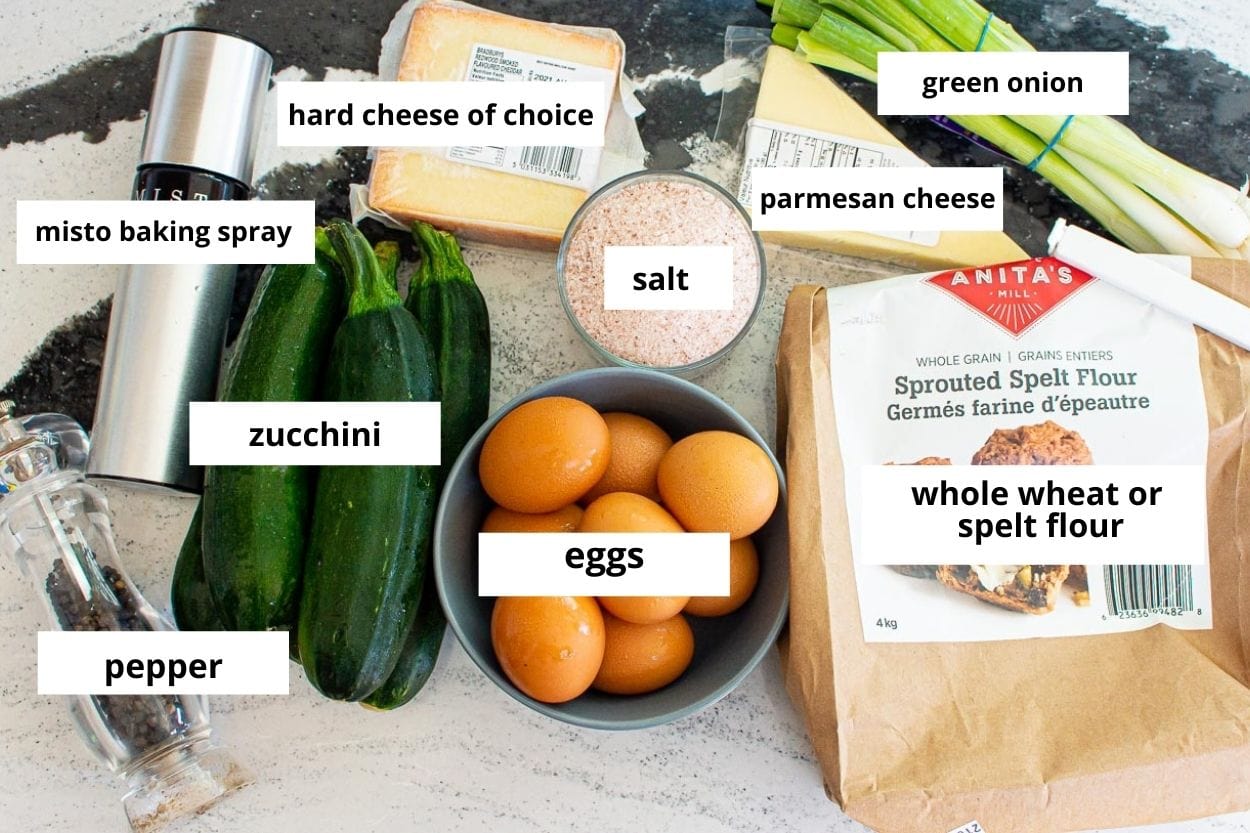 Zucchini: You can use zucchini or summer squash.
Eggs: I use 8 large eggs. These can be straight from the fridge or at room temperature.
Flour: You can use whole wheat flour, spelt flour or all-purpose flour. One reader even used quinoa flour as a gluten-free option. However, I wouldn't recommend using almond flour or coconut flour. This is due to their absorbency and the impact it will have on the texture.
Cheese: This crustless zucchini quiche recipe uses a combination of any hard cheese and Parmesan.
Herbs: Use chives or green onions.
How to Make Crustless Zucchini Quiche
To make the quiche, you will need regular glass or ceramic 9 inch pie dish. I used a tart pan and had to line it with parchment paper to prevent leaks.
Prepare the zucchini: First, shred the zucchini using the large holes on a grater or a food processor shredding disk.
Then you'll need to squeeze the zucchini to remove as much water as possible. I do this by placing the zucchini in a linen towel, wringing it into a ball, and then squeezing it to remove all the excess liquid.
You could also use a ricer to press out all the liquid.
You can save this nutritious liquid to add to soups or smoothies, no need to waste it!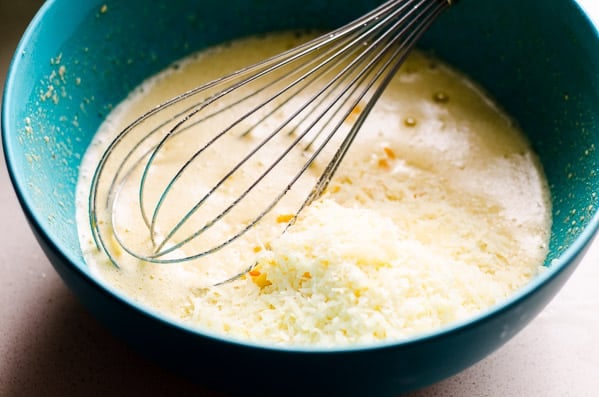 Whisk the egg mixture: In a medium bowl, add the eight eggs and whisk. Next, add the flour and whisk well to combine. This will take a few minutes.
Then add cheese, salt, and pepper.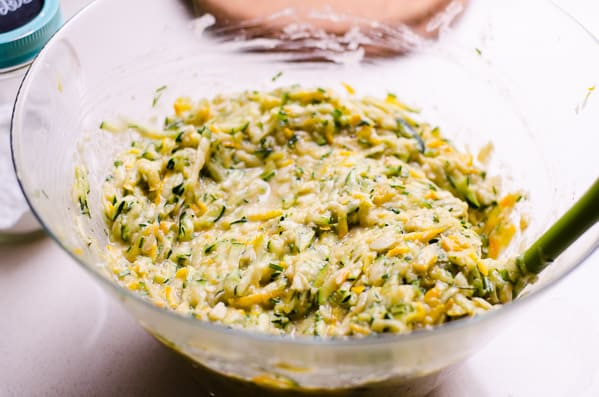 Add the zucchini: Next, add the zucchini and chives to the bowl and use a spatula to fold it into the egg mixture until thoroughly combined.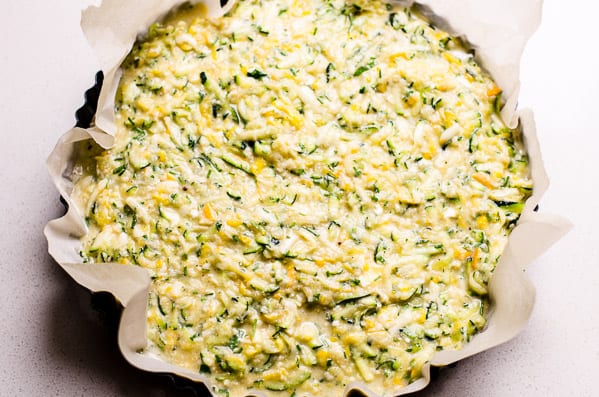 Transfer to the pan and bake: Transfer the mixture to the baking dish and then bake for 45 minutes, or until a toothpick inserted into the center comes out clean.
I recommend broiling the zucchini quiche for a few minutes at the end of the baking process for a lovely golden crust.
Allow it to cool slightly, slice into eight pieces, and then enjoy warm or cold!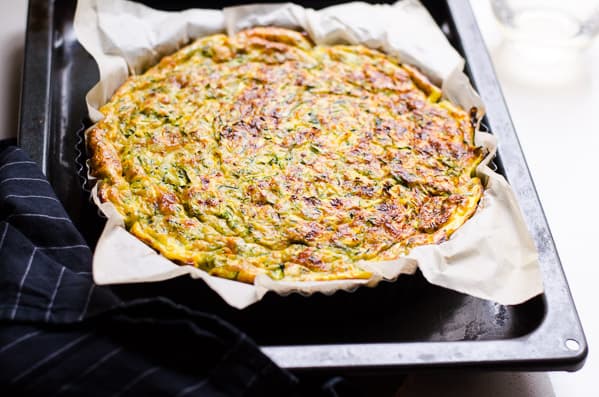 Variations
This crustless zucchini quiche is fairly forgiving to using substitutions and add-ins. Here are just a few suggestions:
Softer cheese: Recipe works well with softer cheeses like crumbly feta or goat cheese.
Spice: You can easily add a little heat with a pinch of red pepper flakes or some cayenne powder.
Other spices: I like to add garlic powder, onion powder, and smoked paprika.
Other vegetables: I particularly like pairing zucchini with 2-3 handfuls roughly chopped spinach, corn, onions, peppers, etc. I recommend substituting 1-2 cups of the zucchini for other vegetables.
Protein: You could add some chopped ham, bacon, or smoked salmon for more protein.
For dairy-free: You can use dairy-free cheese, if preferred.
More Expert Tips
To use just egg whites: You'll need 3 tbsp of egg whites per 1 large egg.
Salting the zucchini: If you struggle to squeeze out the zucchini liquid, you can salt it. Place the zucchini in a bowl or colander, mix with 1 tsp salt, and then leave the rest for 15 minutes. The salt will help extract the liquid from the veg, making it easier to squeeze after.
Leave some cheese to one side: That way, you can sprinkle it over the top of the quiche before baking.
FAQs
Why is my zucchini quiche watery?
Most likely because you haven't squeezed enough water from grated zucchini.
Can I use a springform pan?
Yes. However, I recommend to line the pan with parchment paper well to stop any egg mixture seeping out.
Can I freeze zucchini quiche?
Yes, you can. I recommend slicing the quiche and then laying the pieces on a tray to freeze until solid. Then add to a large freezer-safe bag and store for up to two months.

As a side note, a reader recently let me know that they actually freeze raw quiche mixture by pouring it into a ziplock bag (releasing excess air) then freezing laid down flat. To use it, thaw the mixture in the fridge overnight and then bake as usual. However, I haven't tried this, so I'm not sure how well it works.
Serving Recommendations
Enjoy this cheesy zucchini quiche for breakfast, brunch or a light dinner.
It pairs well with veggie salads like creamy cucumber tomato salad or healthy potato salad.
It's also a perfect addition to a brunch spread with healthy french toast casserole and healthy fruit salad.
Making It in Advance
Make ahead: You can prepare the quiche mixture up to 1 day in advance and store it in the fridge covered.
If you want to prepare it two days in advance, you can prep zucchini and chives, and grate the cheese, then refrigerate separately in airtight containers for 2-3 days.
Storing: Allow the quiche to cool and then refrigerate leftovers in an airtight container for up to 5 days.
Reheating: While there's no need to reheat this zucchini quiche as it tastes delicious when cold, I recommend reheating a slice in the microwave rather than the oven, which can dry it out.
More Low Carb Recipes You Will Enjoy
You can also browse these healthy zucchini recipes and healthy egg recipes for more inspiration!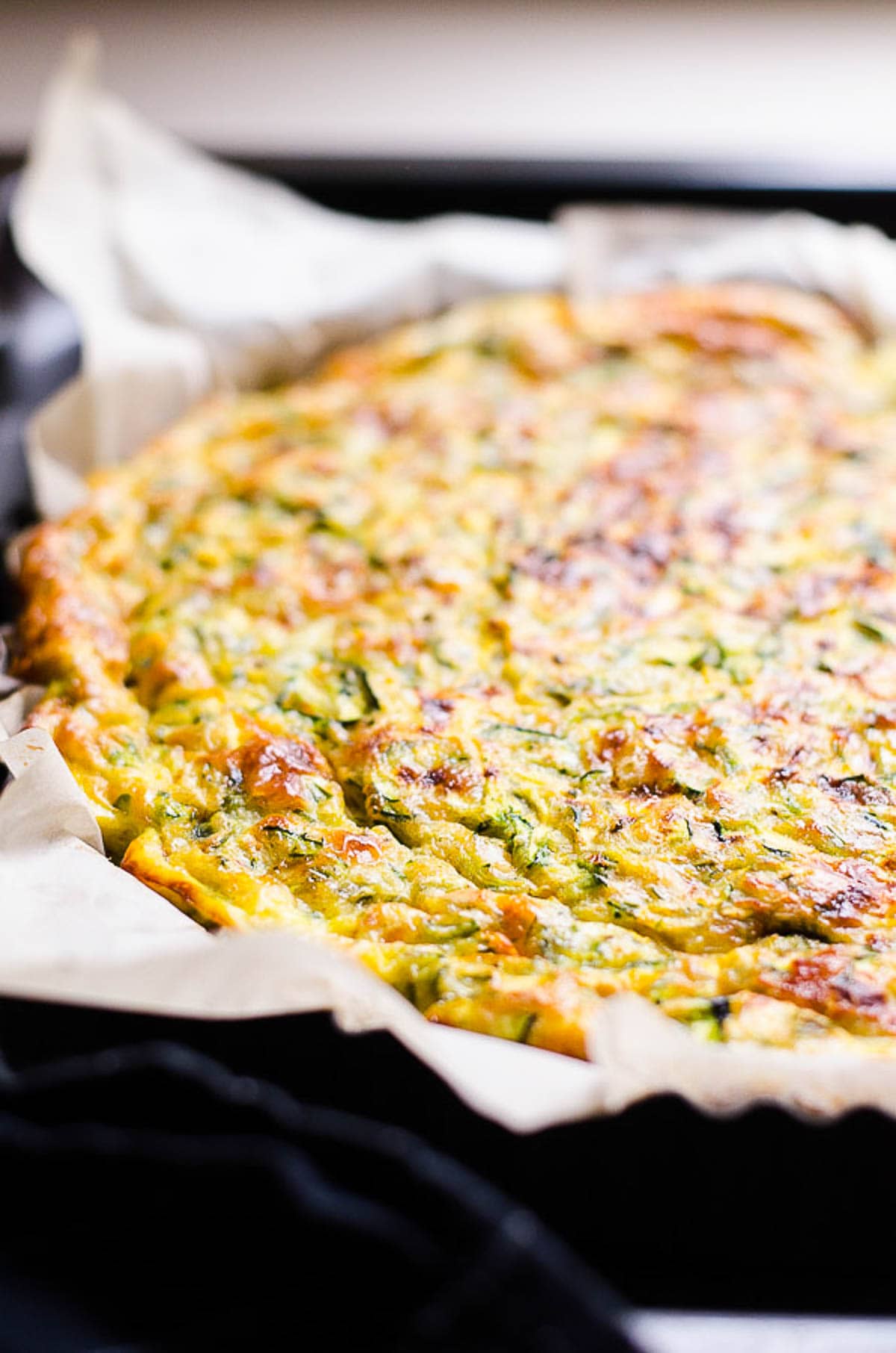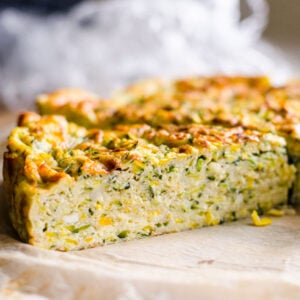 Crustless Zucchini Quiche
This Crustless Zucchini Quiche Recipe creates a quiche that practically melts in the mouth with a light, creamy texture and a nutritious filling!
Ingredients
7

cups

(2-2.5 lbs) shredded zucchini

measured before squeezing

1/2

cup

spelt or whole wheat flour

1/2

cup

any hard cheese

shredded

1/2

cup

Parmesan cheese

grated

1/2

cup

chives or green onions

finely chopped

1

tsp

salt
Ground black pepper

to taste

Cooking spray

I use Misto
Instructions
Give shredded zucchini a good squeeze to extract as much water as possible. I do it by placing zucchini into a linen towel and wringing into a ball (save the liquid for soup or smoothies). Transfer to a medium bowl and set aside.

Preheat oven to 400 degrees F and spray 9" pie dish with cooking spray (I used tart pan lined with parchment). In a medium bowl, add eggs and whisk.

Add flour and whisk well to combine (it will take a few minutes). Add both cheeses, salt and pepper, and whisk one more time.

To the bowl with zucchini, add chives and mix with spatula. Then pour egg flour mixture on top and stir well to combine.

Transfer mixture to previously prepared baking dish and bake for 45 minutes or until toothpick inserted in the middle comes out clean.

Broil for a few minutes for a golden crust. Cool off a bit, cut into 8 slices and enjoy warm or cold (I love cold quiche!).
Notes
Make ahead

quiche mixture and refrigerate for up to 1 day. After bake as per recipe. If you need to make quiche ahead 2 days in advance, you can prep zucchini and store with chives. And grate cheeses and refrigerate separately. Helps a lot!

Store: Leftovers

for up to 5 days covered.

Reheat quiche?

I love mine cold. It is so good! If you must, I recommend a microwave otherwise it will dry out in the oven.

Air fryer: Line air fryer basket with unbleached parchment paper and spray well with cooking spray. Add mixture, level with spatula and bake in preheated air fryer to 320 F degrees for 30 minutes. Do toothpick test in the center for doneness.
Nutrition
Serving:
1
slice
|
Calories:
160
kcal
|
Carbohydrates:
9
g
|
Protein:
12
g
|
Fat:
9
g
|
Saturated Fat:
4
g
|
Cholesterol:
175
mg
|
Sodium:
506
mg
|
Fiber:
2
g
|
Sugar:
3
g