Healthy Chicken Lettuce Wraps is another 30 minute dinner we make regularly. It all started with a visit to PF Chang's in Seattle.
Easy filling made with chicken breast, ground chicken or turkey cooked in tasty savory sauce and loaded up on crispy lettuce leaves. Way better than any restaurant's. Not to mention way more healthy. Are you in?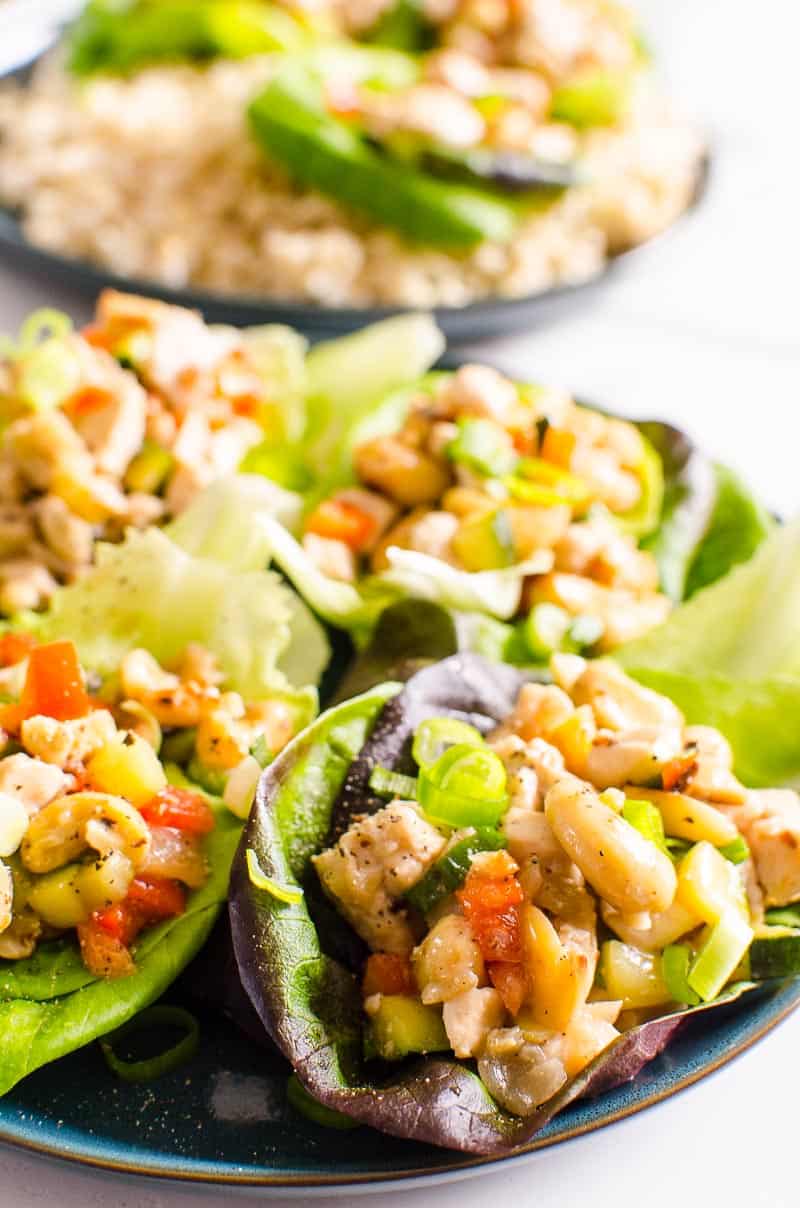 Chicken Lettuce Wraps
Chicken lettuce wraps are on the menu of most restaurants these days. Truth is I never order them anymore because of the price. Even more truth – we rarely eat out except for sushi. That's what happens when you learn how to cook.
Instead when I get a craving, I make healthy lettuce wraps with low fat chicken or turkey, always cashews (always!), firm veggies I have on hand and fair amount of delicious healthy sauce.
This chicken lettuce wraps recipe beats any restaurant's menu. Flavorful, crunchy and saucy low carb dinner or appetizer. Can be prepared ahead and served with a side for extra hungry people like my husband.
Once you make these easy chicken lettuce wraps, you will stop eating out too!
Ingredients for Lettuce Wraps
To make teriyaki chicken lettuce wraps you need simple ingredients you probably have on hand already. I swear I cook with same 30 ingredients over and over.
Chicken breasts or thighs, or ground chicken or ground turkey
Cashews
1 head of lettuce
Firm veggies like zucchini and bell pepper
Onion, garlic, ginger and green onion
Soy sauce, maple syrup, vinegar and cornstarch
Don't feel intimidated if you are missing something. Just use what you have on hand and like.
Healthy Chicken Lettuce Wraps Sauce
When it comes to Asian dishes like beef stir fry, chicken stir fry and teriyaki chicken, I always make my own sauce. I never buy pre-made sauces because they are loaded with sugar, sodium and preservatives. They are the worst of all processed foods!
All there is to a healthy Asian sauce is:
Cold water so cornstarch dissolves.
Soy sauce or liquid aminos.
Any sweetener like maple syrup, honey, agave, sugar etc.
Any light colour vinegar like rice vinegar or just white or white wine vinegar.
Cornstarch or arrowroot powder or none. Not the end of the world.
What Kind of Lettuce Works?
The best lettuce choices for cashew chicken lettuce wraps:
Iceberg lettuce – It is what PF Chang's serves their ground chicken lettuce wraps in. It is not my favorite for a few reasons. Its leaves are hard to separate and I find them tasteless and watery. It is also hard to find organic and you know me and my Dirty Dozen.:)
Romaine lettuce – It is the same lettuce you use for making Caesar salad. It is often sold in plastic bags, hearts only. Super easy to separate and buy organic. Romaine leaves are also sturdy which are perfect for holding the filling. I don't love the long boat look though.
Butter lettuce – Also known as Boston bibb lettuce is my favorite. It has soft texture paired with sweet taste and pretty round shape. Easy to separate and you might need to stack a few leaves on top of each other. It is not always available and can be pricey off season but I still buy it for lettuce wraps.:)
I feel like the butter lettuce I grabbed (pictured) had leaves a bit too small. But hey, it worked and was locally grown.
How to Make Chicken Lettuce Wraps
Make sure all ingredients are ready before cooking. It is kind of like stir fry situation.
Toast cashews first and set aside.
Cook onion, garlic and ginger for 1 minute. Then add chicken and cook for 10 minutes.
Whisk sauce ingredients in a bowl and to the skillet with chicken. Also add zucchini and bell pepper at same time. Cook for 1 minute.
To assemble chicken lettuce wraps, use 2-3 stacked lettuce leaves and spoon desired amount of filling on top.
Tips for Best Lettuce Wraps
Make sure chicken and veggies are diced and minced where required.
If you don't have cashews use almonds or skip. I did not like the taste of walnuts.
Use well pre-heated skillet.
How to Store
Chicken lettuce wraps taste best fresh. Obviously. Because of the nature of my job where I cook dinner at lunch time, I just reheat filling in the skillet before dinner. I place skillet in the fridge, remove straight to the stove and voila. Saves washing dishes.
You can refrigerate filling for up to 3 days.
What I also like to do is to separate, wash and dry leaves from entire head of lettuce. Then I wrap them in a linen towel. And it kind of will be moist from the leaves because it's impossible to dry lettuce completely. And it's perfect. You can refrigerate lettuce this way for up to 3 days too. When it's time to eat, healthy dinner becomes easy-peasy.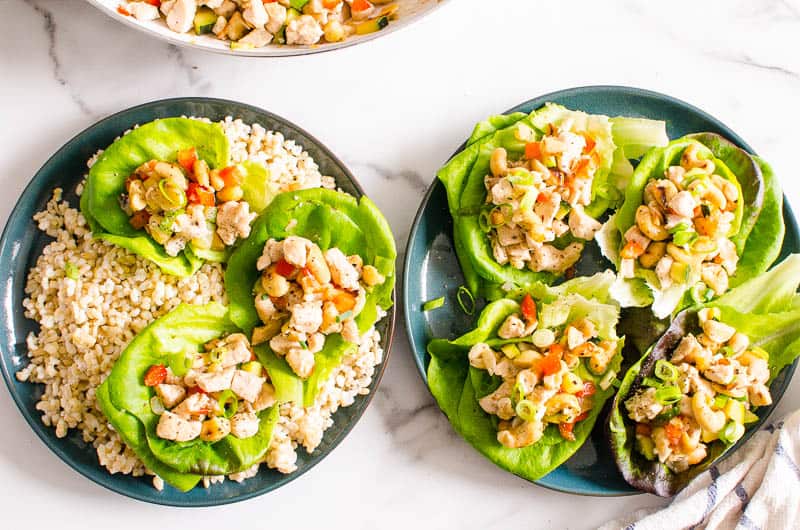 Serving Ideas
Asian lettuce wraps recipe is perfect low carb dinner. I stack 2-4 layers of leaves to load up on fiber and avoid late night hunger.
If someone in your family is very hungry, serve over a bed of brown rice or quinoa. My husband would never consider lettuce wraps a meal. And appetizer, yes.
So serve as an appetizer too. Perfect for a hot summer day or  equally amazing at winter Super Bowl party.
Kids love-love the filling in warm flour tortilla. Just heat tortilla in a cast iron skillet until bubbles appear on each side. Your teenagers will be kissing you "Good night, mom!".
Hope you enjoy these healthy chicken lettuce wraps! ANd I would love to hear below oh, how much you enjoy them.:)
More Healthy Quick Dinner Ideas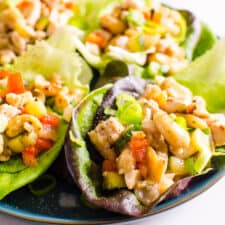 Healthy Chicken Lettuce Wraps
30 Minute Healthy Chicken Lettuce Wraps with chicken cooked in tasty savory sauce and loaded up on crispy lettuce leaves.
Print
Save
Rate
Ingredients
1.5

lbs

chicken breast

diced

1

small onion

finely chopped

2

garlic cloves

minced

1/2

inch

knob ginger

minced

1

small zucchini

diced

1

small bell pepper

diced

1

cup

cashews

coarsely chopped

2

green onion sprigs

chopped

1/4

cup

cold water

2

tbsp

soy sauce

I used aminos

2

tbsp

maple syrup or honey

1

tbsp

rice vinegar

1/2

tbsp

cornstarch

1

head of butter

iceberg or Romaine lettuce, leaves separated

1

tbsp

avocado or any oil

for frying
Instructions
Make sure all ingredients are chopped and ready.

Preheat large ceramic non-stick skillet on medium heat and add cashews. Pan fry until toasted, stirring constantly. Transfer to a bowl and set aside.

Return skillet to medium heat and swirl oil to coat. Add onion, garlic and ginger; cook for 1 minute, stirring constantly.

Add chicken and cook for 10 minutes, stirring occasionally.

Right before chicken is done cooking, in a small bowl add cold water, soy sauce, maple syrup, rice vinegar and cornstarch; whisk with a fork. Add to the chicken long with zucchini and bell pepper; cook for 1 minute or until sauce has thickened. Stir in cashews and green onions.

Serve chicken lettuce wraps immediately. To assemble, use 2-3 stacked lettuce leaves (depending on its thickness) and spoon desired amount of filling on top. If someone is very hungry, serve over a bed of

brown rice

or

quinoa

.
Store: Refrigerate filling in an airtight container for up to 3 days. Reheat on a skillet before assembling lettuce wraps. You can also refrigerate washed lettuce leaves wrapped in linen towel for up to 3 days.
Notes
Instead of chicken breast you can use diced chicken thighs, and ground chicken or ground turkey.
Nutrition
Calories:
301
kcal
|
Carbohydrates:
19
g
|
Protein:
30
g
|
Fat:
13
g
|
Saturated Fat:
2
g
|
Cholesterol:
73
mg
|
Sodium:
319
mg
|
Potassium:
801
mg
|
Fiber:
2
g
|
Sugar:
10
g
|
Vitamin A:
1660
IU
|
Vitamin C:
36
mg
|
Calcium:
37
mg
|
Iron:
3
mg
Join today and start saving your favorite recipes
Recipes and images are a copyright of ifoodreal.com. It is against the law to republish recipes anywhere including social media, print and all world wide web. Nutritional info is provided for informational purposes only and to the best knowledge.