An easy to make side dish with a hint of smoky taste, Grilled Romaine Lettuce will be your new healthy grill recipes summertime favorite! Brushed with a salty and savory anchovy garlic paste, this grilled lettuce is tender yet crisp and adds a depth of flavor to any salad, looks impressive on an appetizer tray or even plate it alongside a grilled protein for a whole meal.
Along with grilled romaine hearts, our summertime grilling 'musts' include healthy grilled chicken recipe, marinade for grilled vegetables and cedar plank salmon.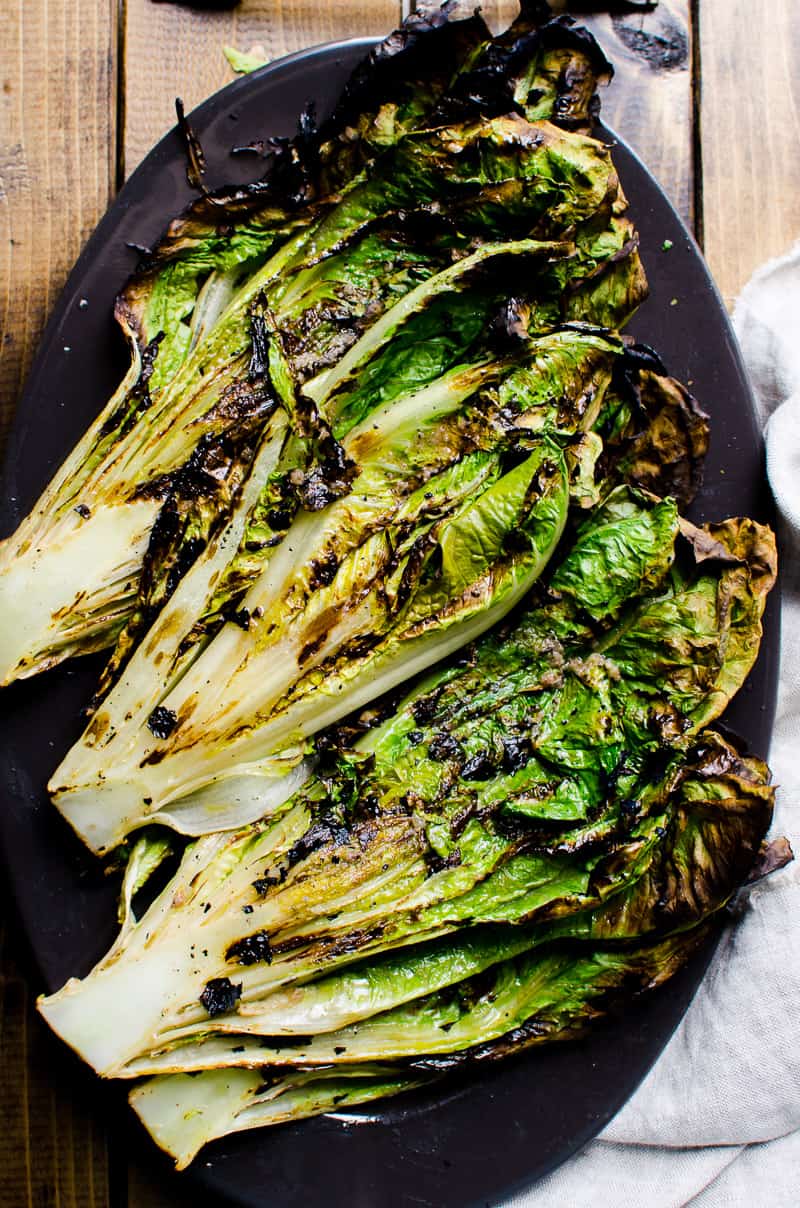 Fresh, Smoky, Savory Grilled Romaine Lettuce
I know what you're thinking – 'grilled lettuce, why on earth would you want to do that?!'. Lettuce is meant for salads and to make healthy lettuce wraps, not for grilling crazy woman. Well, I would have agreed with you, too, up until the point I made grilled romaine lettuce for the first time. Learning how to grill romaine lettuce is not only ridiculously simple, but the results will knock your socks off!
I genuinely thought of grilled romaine hearts as one of those dishes best left to pretentious restaurants, where guests smile and nod and pretend it's much better than it is to justify spending $15-20 on it. We've probably all had limp lettuce courtesy of the heat in a burger that's been left to sit too long. So the idea of purposely heating up and making grilled romaine lettuce doesn't inspire much confidence – surely the grill should be kept for grilled zucchini and dishes like Greek chicken kabobs, right?!
Well, we've all been misled, I'm telling you! These grilled romaine hearts are now actually requested by my friends and family! When the lettuce is grilled, the natural sugars within it caramelize, and the grill adds extra depths of smoky flavor. More so, my simple 'sauce' contains a secret ingredient that boosts the flavor to insane levels! The result is something you'd barely even recognize as lettuce. It's smoky, slightly sweet, savory, and tender but still crunchy!
Enjoy this romaine lettuce recipe alone as an appetizer, turn it into a grilled romaine lettuce salad, or serve as a healthy side dish to all your grilled favorites!
Why This Grilled Romaine Lettuce Recipe Works?
Grilled romaine lettuce requires just 5 ingredients (one is optional) and 10 minutes!
The combination of garlic, olive oil, salt, and anchovy paste creates the perfect savory marinade/sauce to enhance the flavor of the romaine hearts!
This romaine lettuce recipe is super versatile – serve it up as an appetizer, salad, or side!
It takes under 8 minutes on the grill for flavors that will blow your mind!
If there's any dish that will encourage you and your kids to eat more salad, it's this grilled romaine lettuce!
Ingredients for Grilled Romaine Hearts
Romaine lettuce: You can use the whole heads of romaine lettuce or just the hearts; it depends on their size.
Olive oil: I use extra virgin olive oil. You could use another high-heat neutral oil like avocado oil.
Garlic: It might just be the Ukrainian in me, but garlic just elevates this grilled romaine lettuce so much!
Anchovy Paste: The special 'secret ingredient.' You can use anchovy paste or minced anchovies. I prefer to use paste that comes in a tube since it lasts forever in the fridge. Don't worry; if you're not a fan, omit it (or substitute it for something like steak seasoning).
Salt: Just a little to help season the romaine.
How to Grill Romaine
Slice the romaine: Cut the romaine in half lengthwise. Discard any broken/brown leaves- You can also, optionally, remove the top inch or two of the lettuce where the leaves are most likely to wilt- I usually don't.
Make sure not to remove the core, as this holds all the leaves together, which is important!
Mix the sauce: In a small bowl, combine the oil, garlic, salt, and anchovy paste (if using).
Brush the lettuce: Preheat the grill to medium-high heat (500F/260C) and brush it with oil. Then brush both sides of the Romaine heart lightly with the marinade/sauce.
For the grilling stage, you don't need too much sauce. Just brush it lightly and try not to get too much of the anchovies on the brush. Also, oversaturating the lettuce with the oil mixture can cause fire flare-ups on your grill. 
Grill the lettuce: Place the romaine hearts on the grill and cook for 2-3 minutes or until lightly charred, pressing on it slightly with tongs. Then flip and grill for a further 2-3 minutes. Then transfer to a platter.
Dress the lettuce: Brush both sides of the grilled romaine hearts once more, this time being liberal, so all the layers soak up the delicious flavor. Then serve warm or cold!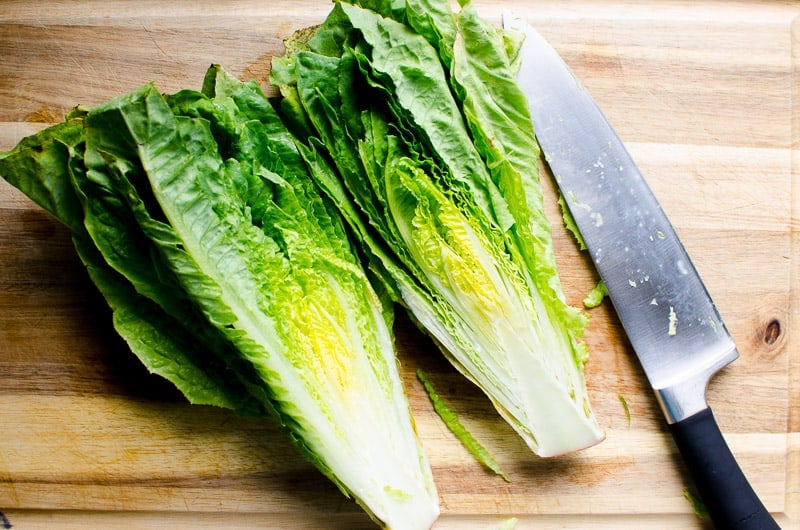 Tips for Best Grilled Lettuce Results
Use organic lettuce: Lettuce tops the Dirty Dozen list, which means non-organic lettuce contains tons of pesticides. Organic doesn't cost too much more and contains none of those chemicals!
Don't overheat the lettuce: If the grill is too hot, then you'll end up with limp lettuce. Perfect results should be slightly charred grilled romaine hearts with just slightly wilted leaves (especially at the top).
Add other veggies: While the grill is up and running, it's the perfect time to chuck on a whole selection of veggies to beef up your 'salad.' Like this marinade for grilled vegetables. I particularly like grilling red peppers, onion, and zucchini.
Don't touch the lettuce while it grills: That's how you'll get clean grill marks. You can even lightly press on the lettuce for more pronounced grill marks.
Oiling the lettuce: While you don't want to fully saturate the lettuce before grilling, it's a good idea to make sure the entire lettuce is brushed with a little oil. This will prevent the leaves from sticking to the grill and protect the leaves from burning too much.
Add-ins and Variations
Lemon: A squeeze of lemon to the sauce for added 'bright' flavor.
Herbs: Especially if you choose not to use anchovy paste. I recommend oregano, rosemary, or thyme. In fact, you could make up a simple herby vinaigrette for this grilled romaine lettuce, and it will taste delicious!
Balsamic and olive oil: You could swap out the olive oil/anchovy marinade for our olive oil bread dip with balsamic. Bonus: serve the olive oil dip you don't use with some crusty bread!
For heat: You can add a pinch of red pepper flakes to the sauce. Alternatively, swap out some of the olive oil for chili oil instead.
Cheese: This entire recipe is for lettuce, so even if you're watching your weight, you can feel fairly guilt-free in sprinkling the grilled romaine hearts with a little grated parmesan. You could also use crumbly cheese like feta or blue cheese.
Prosciutto: This is a version a friend told me about that I have yet to try. You can wrap the lettuce in a bit of prosciutto before grilling, and it will help infuse the grilled romaine lettuce with tons of flavor.
Sesame oil: Instead of olive oil, try it with sesame oil for extra flavor.
FAQs
Do you wash romaine before grilling?
Romaine lettuce grows with the leaves closed, so you don't have to wash the inside. However, I recommend giving it a quick rinse on the outside. If you find that your lettuce is particularly dirty (which can sometimes be the case with organic produce), then wash it after chopping it in half but then dry it thoroughly. Don't try to grill the damp lettuce; it will go limp and yuck!

Is cooked romaine lettuce good for you?
It sure is – romaine lettuce, in general, is packed with vitamins and minerals. While the cooking process eliminates some of the nutrient value, the cooking time is so low and doesn't reach the center of the romaine heart sections that it still packs in a healthy nutrition punch! 

Can I grill romaine lettuce on the stove?
You sure can! If you have a grill pan, heat the stove to medium-high heat and lightly oil the pan, then grill for several minutes per side until there are slight grill-pan marks and the leaves are just slightly wilted. 

What are romaine hearts?
Most of the time you can buy 'romaine hearts' from the store. However, if you've bought whole romaine heads and aren't sure what the 'heart' is – don't fear. If you remove the outer leaves of the lettuce, you'll notice the leaves begin to lighten in color and become more tightly packed together. This is the 'heart.' 
If you're starting with whole romaine, you can even use the outer leaves to whip up a fresh salad alongside the grilled romaine hearts, so your family/ guests have multiple options to choose from!

Serving Recommendations
Whether you plan on serving the grilled romaine hearts as an appetizer, side, or salad, there are several ways to serve it, including:
Making This Recipe in Advance
Make Ahead: It is only recommended to make the anchovy marinade in advance – make your paste up to 24 hours in advance and store in the refrigerator until ready to grill and use with your romaine.
Store: Grilled romaine lettuce tastes best fresh. However, you can chill any leftovers covered in the refrigerator and enjoy them the next day chilled as a simple side salad.
More Yummy Grilled Recipes to Try
Browse all my favorite healthy grill recipes!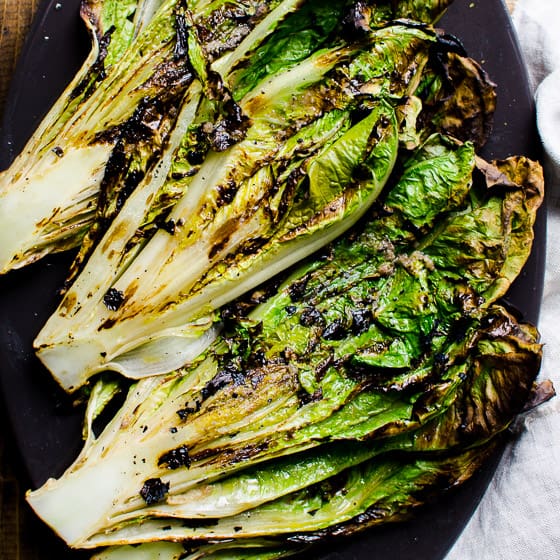 Grilled Romaine Lettuce
An easy to make side dish with a hint of smoky taste, Grilled Romaine Lettuce will be your new summertime favorite! Brushed with a salty and savory anchovy garlic paste, this grilled lettuce is tender yet crisp and adds a depth of flavor to any salad, looks impressive on an appetizer tray or even plate it alongside a grilled protein for a whole meal.
Ingredients
Instructions
Cut romaine lettuce in half lengthwise.

In a small bowl, add olive oil, anchovy paste, garlic and salt; stir with brush to combine. Brush each side of romaine heart lightly (just for grilling, so try not to get much anchovies on the brush) and place on a platter.

Preheat grill to medium-high heat (500 degrees F) and brush with oil. Place romaine hearts on a grill and grill for 2-3 minutes or until charred a bit, pressing onto it with tongs. Flip, grill for another 2-3 minutes and transfer onto the same platter.

Brush each side, especially the cut side with lots of layers to soak up the sauce, with magic sauce and serve warm or cold. Grilled romaine lettuce basically replaces salad and helps you eat more vegetables.
Notes
Use full heads of romaine or the hearts. Really depends on a size.
Skip anchovy paste if not a fan or use minced anchovies.
Can be made on a stovetop grill pan.
Nutrition
Serving:
2
halves
|
Calories:
134
kcal
|
Carbohydrates:
1
g
|
Protein:
1
g
|
Fat:
14
g
|
Saturated Fat:
2
g
|
Cholesterol:
2
mg
|
Sodium:
270
mg
|
Fiber:
1
g
|
Sugar:
1
g