This Healthy Caesar Salad is easy to make with fresh crisp romaine, homemade sourdough croutons, and a healthy Caesar dressing made with yogurt!
While you're here, don't miss these other healthy salad recipes like spinach salad and lettuce salad!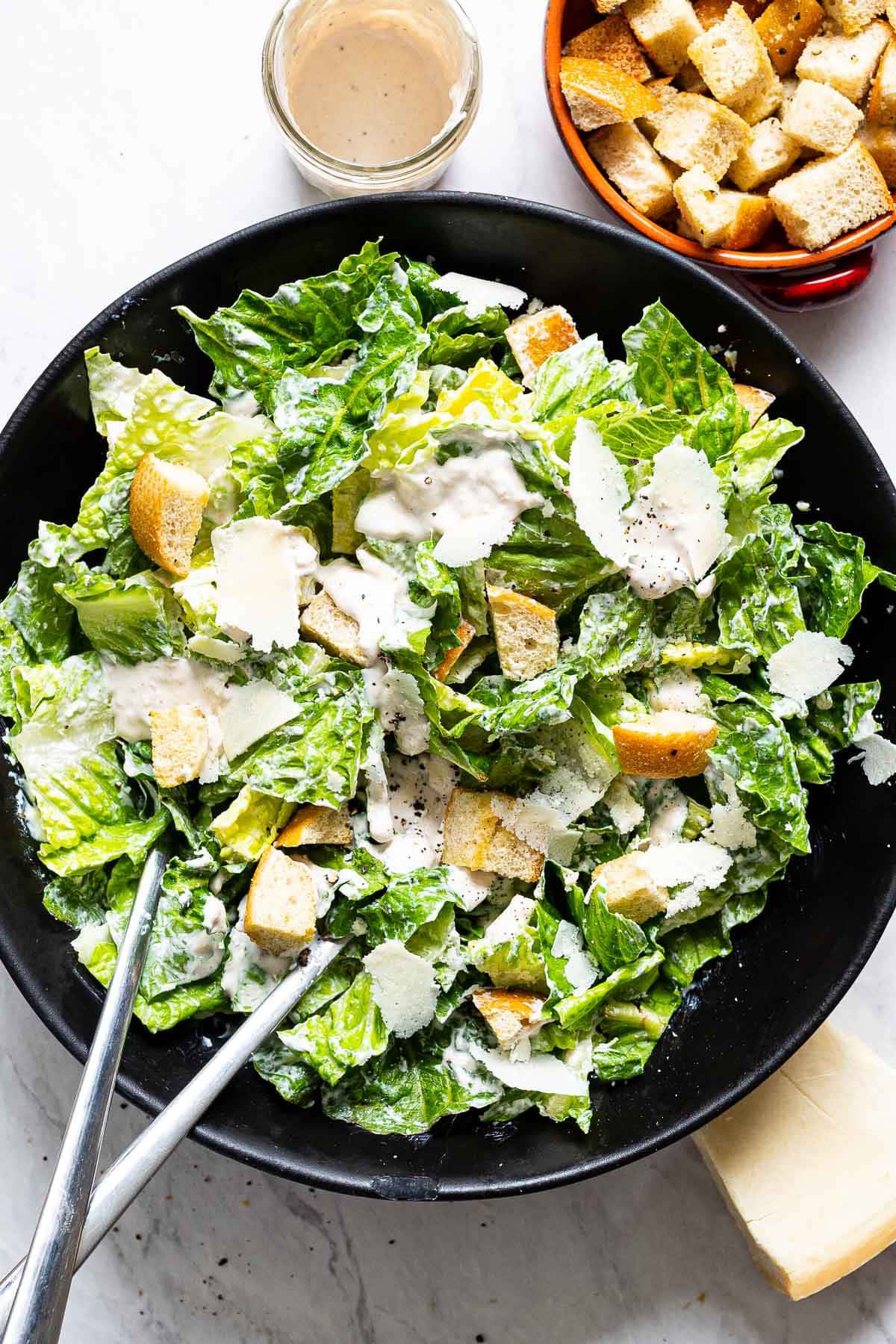 The classic Caesar salad that we all know and love is not exactly the gold standard of healthy salads. It may rank right up there with the most delicious though!
So, naturally, I'm sharing with you the best healthy Caesar salad recipe and a healthy Caesar salad dressing to go along with it.
And what's a healthy salad without healthy croutons made with sourdough bread!
It comes together in minutes and is a nice light healthy lunch idea, appetizer, or side dish. Made without high sodium, added sugars, or heavy oils, it's lower in calories and flexible enough to make it low carb and high protein!
I love to pair it with oven baked chicken breast or grilled salmon.
Ingredients for Healthy Caesar Salad
To make healthy Caesar salad you will need the following simple ingredients.
Dressing
Plain Greek yogurt or regular yogurt: Use at least 2% for a rich, creamy texture. We're replacing the usual mayonnaise or egg yolks that contain a lot of cholesterol.
Parmesan cheese: Freshly grated from a block saves you from any anti-clumping agents and other preservatives found in pre-shredded packages.
Lemon juice: Just a bit of acid to cut down the creaminess which helps to brighten it up.
Anchovy paste or minced anchovies: The classic flavor that makes Caesar dressing more authentic!
Garlic cloves: Needed for garlicky flavor which can be altered to your desired level of deliciousness.
Croutons
Sourdough loaf: Great flavor and great for gut health but you can also use any rustic loaf of bread you have. Whole grain, French, Italian, you name it.
Olive oil: A neutral tasting oil helps to crisp up those edges. You can also use avocado oil if preferred.
Salad
Romaine lettuce: The base of any classic Caesar, we also love grilled romaine lettuce. Chop it into small pieces, so it's easy to eat.
Parmesan cheese: A delicious way to finish the salad! Larger shavings or finely grated, it's up to you.
How to Make Healthy Caesar Salad
No blender is needed to make healthy Caesar salad. Just a bowl and a whisk, plus as many leafy greens as you want.
There is so much flavor in the tangy, creamy, and zippy dressing that you'll never know this isn't the original recipe.
Make the dressing: Whisk together the ingredients for the dressing in a bowl. Cover and refrigerate.
Make croutons: Place bread cubes onto a parchment lined baking sheet. Drizzle with oil and sprinkle with salt and pepper.
Toss with your hands and spread them into a single layer. Bake for 20 minutes until golden, stirring once.
Wash lettuce: Add chopped romaine lettuce to a salad spinner. Wash and spin completely dry so that it doesn't make your dressing runny or croutons soggy.
Assemble salad: Transfer lettuce to a large salad bowl and toss with 2/3 of the prepared dressing. Top with croutons, Parmesan cheese, and the remaining 1/3 of the dressing.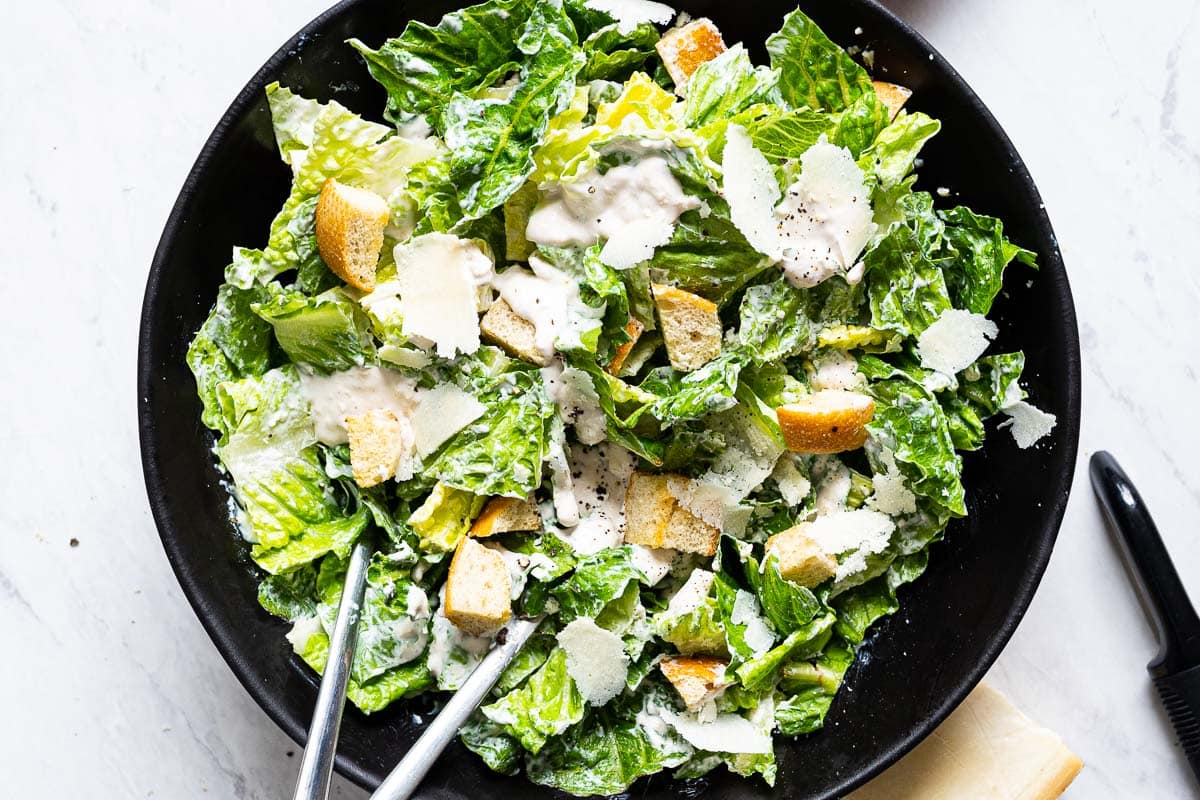 Toss salad to combine: Gently toss using salad tongs and serve immediately!
Recipe Tips
Where are my top tips for the best healthy Caesar salad recipe in the world!
Store bought Caesar dressing. If you have some in your fridge, it's an option that will save you a few minutes!
Not a fan of anchovies? Go ahead and skip that ingredient! You can add more Parmesan, lemon juice, garlic, or salt to make up for it.
Grate your own cheese for a better tasting salad.
Extra protein. Add sliced grilled chicken breast on top and make it a chicken Caesar salad.
Leftover croutons. The recipe makes a lot, so don't feel like you have to add them all! Keep any leftover croutons stored in an airtight container in a cool dry place for up to a week.
Make ahead. You can store the dressing and lettuce separately in the fridge for up to 2 days ahead. Assemble the salad just before serving.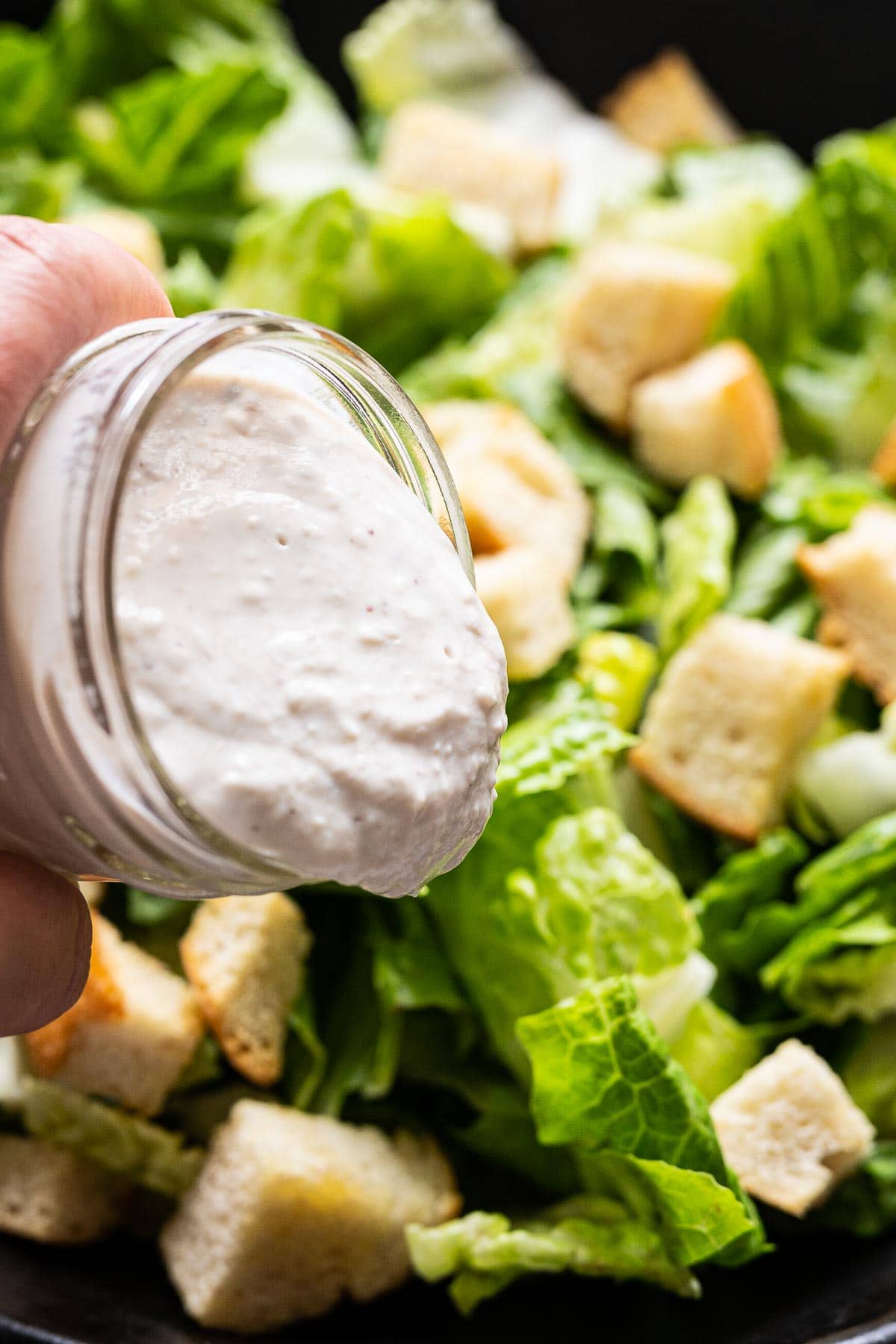 Is Caesar Salad Healthy?
If you're ever on a quest to eat healthy, ordering a Caesar at a restaurant is probably not going to provide you with many nutrients.
Neither will buying a premade salad with packaged dressings at the grocery store. They're loaded with salt, sugar, oil, and tons of calories.
This healthy Caesar salad recipe is much lighter in calories, contains more protein and probiotics, and has the flexibility to cater to your health needs.
So yes, this one is!
How to Store Leftovers?
If you can help it, keep your healthy Caesar salad and dressing stored separately. If you have already added the dressing to the lettuce and you want to keep what you haven't used, you can for up to 48 hours in the fridge.
However, it will be soggy and so will the croutons. It's best to consume the salad right away.
FAQs
How long will homemade croutons stay fresh for?
Croutons will stay fresh at room temperature for up to 5 days. Cover the container once they are completely cooled.
Can I use a different dressing?
It's definitely not as healthy to use a store-bought dressing but it's super convenient, especially if you've already got it on hand. You could also use any of these creamy 10 healthy salad dressings to make this healthy Caesar salad recipe.
More Healthy Salad Recipes
Healthy Caesar Salad Recipe
This Healthy Caesar Salad recipe is easy to make with fresh crisp romaine, sourdough croutons, and a healthy Caesar dressing made with yogurt!
Instructions
In a medium bowl, add yogurt, Parmesan cheese, lemon juice, anchovy paste, garlic, salt and pepper. Whisk well with a fork and refrigerate.

Preheat oven to 350 degrees F and line baking sheet with parchment paper. Add bread, drizzle with olive oil, sprinkle with salt and pepper, and toss with your hands. After spread evenly into a single layer and bake croutons for 20 minutes or until golden brown, stirring once.

Chop romaine lettuce. Add to a salad spinner, wash well and spin until completely dry. Transfer to a large salad bowl and toss with 2/3 of the dressing.

Add croutons, Parmesan cheese and remaining dressing on top. Serve immediately. Caesar salad doesn't store that well, so make only as much as you need.
Notes
Store: You can refrigerate dressing and lettuce separately for up to 2 days. Keep croutons in sealed container in the pantry. Assemble before serving.
It is important to completely dry the lettuce to avoid soggy salad.
You don't have to use all croutons. Store remainder in an airtight container in a cool dry place for up to a week.
If you don't love anchovy paste, try to add more Parmesan, lemon juice, garlic and salt to taste.
Nutrition
Serving:
1.5
cups
|
Calories:
249
kcal
|
Carbohydrates:
25
g
|
Protein:
13
g
|
Fat:
11
g
|
Saturated Fat:
3
g
|
Trans Fat:
1
g
|
Cholesterol:
10
mg
|
Sodium:
574
mg
|
Fiber:
3
g
|
Sugar:
4
g