How to make authentic Carne Asada Steak with an easy citrus marinade packed with Mexican flavor! Enjoy as part of your healthy grill recipes or use in Latin American dishes like carne asada tacos.
You may also love to swap this steak for chicken in chicken burritos or add to healthy salad recipes.
When warmer weather arrives, one of the first things I grill is this marinated carne asada steak!
Flavorful, juicy, and tender – you'll be scarfing down carne asada tacos, burritos, and more, in no time. Honestly, even in the middle of winter, this carne asada steak is worth heating up the grill and braving the cold.
Luckily, you don't have to, though. Enjoy this recipe year round by grilling carne asada steak when possible and learning how to cook it with a cast iron grill pan the rest of the year.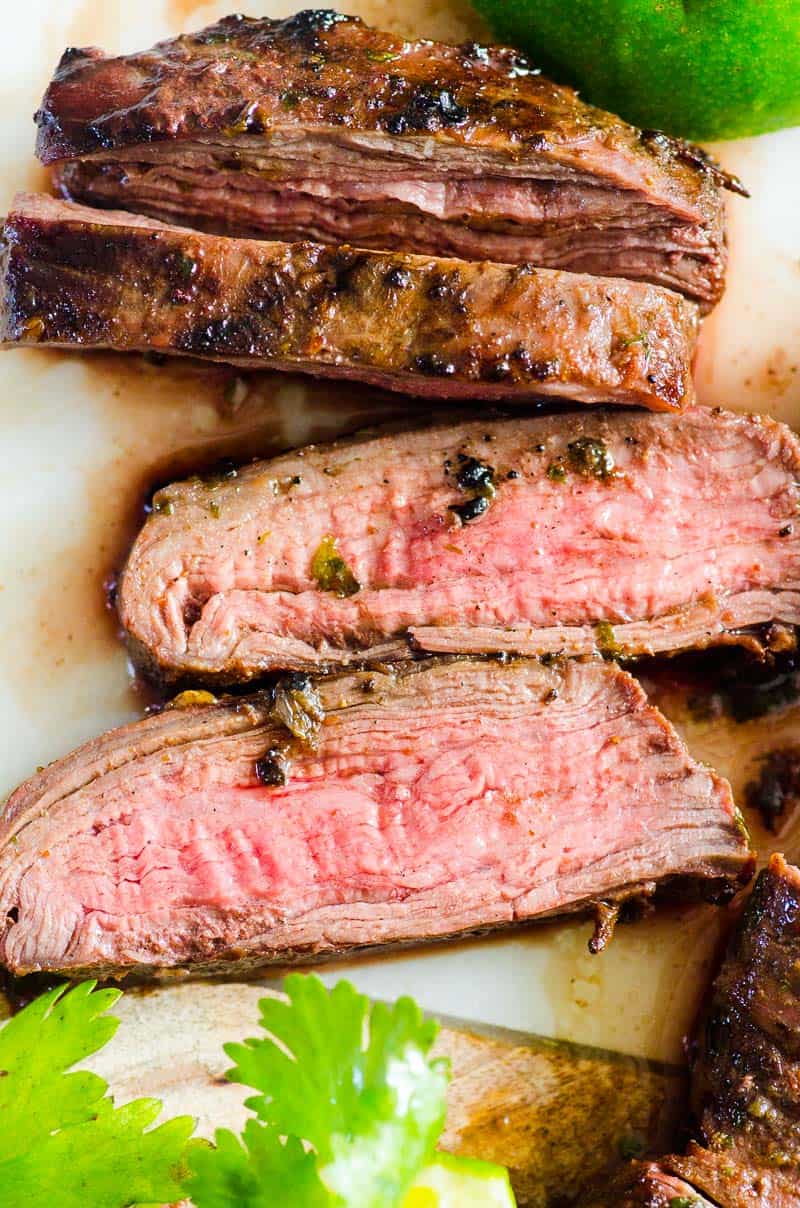 Achieving an authentic tender, succulent, flavor packed steak is super simple, anyone can do it! Once cooked, serve warm immediately with avocado corn salad, and then pack leftovers away to pull out for the rest of the week.
This carne asada steak recipe has been perfected over two years of tweaking and is officially steak pro, husband approved, too! Plus, in my opinion, it rivals any version I've tried in Mexico, so I hope you enjoy it!
What Is Carne Asada?
Carne asada literally translates to "grilled meat" and is used in Latin America to refer to grilled then sliced beef. The beef is marinated and then seared for a smoky charred flavor.
In terms of carne asada marinade options, this can massively vary, with the simplest of options relying on just oil and salt and pepper to complex dry rubs or wet marinades.
What Cut of Steak Should I Use?
Carne asada is usually made with either skirt steak, tenderloin, sirloin, strip, or rib steak. The best cuts, in my opinion, are either skirt steak or flank steak. I save sirloin for sirloin tip roast.
For this carne asada recipe, I used skirt steak. It has a strong, meaty flavor, contains more fat than flank and is best cooked rare or medium rare.
Carne Asada Steak Ingredients
This recipe for carne asada steak requires two elements: the meat and the marinade.
Beef: I used skirt steak. Flank steak is the closest alternative.
Easy Citrus Marinade
Marinating first helps tenderize the meat for tender results.
Soy sauce: Use tamari or coconut aminos for a gluten free option. You could try a reduced-sodium version too, but I use general dark soy.
Apple cider vinegar: White wine vinegar would also work.
Lime juice: Lemon juice would also work, but the flavor will vary slightly.
Spices: Cumin, chili powder, black pepper. No extra salt is needed due to the addition of soy sauce.
Jalapeño: This adds a kick without being too spicy. Feel free to substitute with a different chili or omit entirely.
Cilantro: Though the flavor won't be the same, for the cilantro haters out there (I know there's plenty of you!), you could try using flat leaf parsley instead.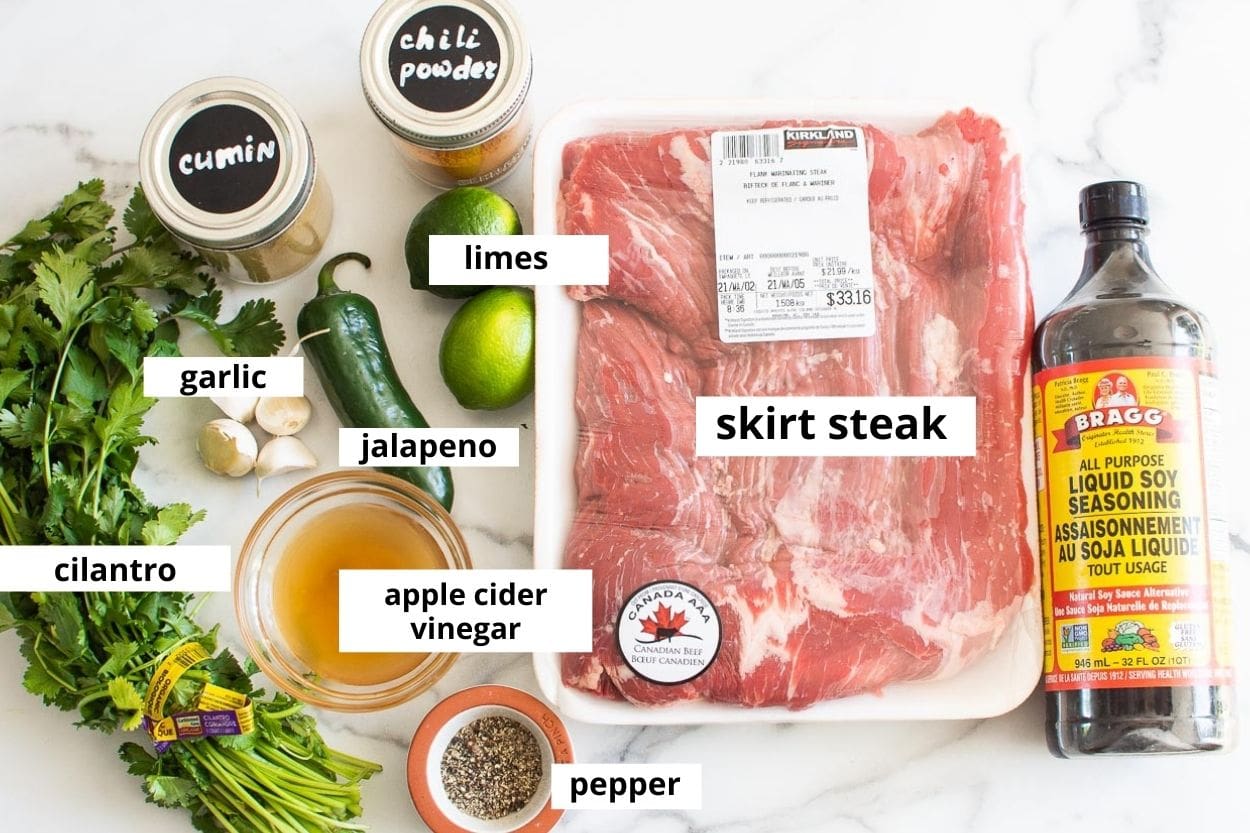 How to Cook Carne Asada Steak
This quick and easy carne asada steak is super simple but requires a little forethought. Remember to leave enough time to marinate the steak!
Prepare the marinade: Mix all the marinade ingredients together. It's easiest (but not necessary) to do this directly in the dish that the steak will marinade. I like using a large, wide dish for the meat to lay in, this allows for better penetration.
Marinate the steak: Add the steak to the dish with the marinade and toss gently, so it is thoroughly coated. Allow it to marinate for between 4-24 hours, or less if it's thinner.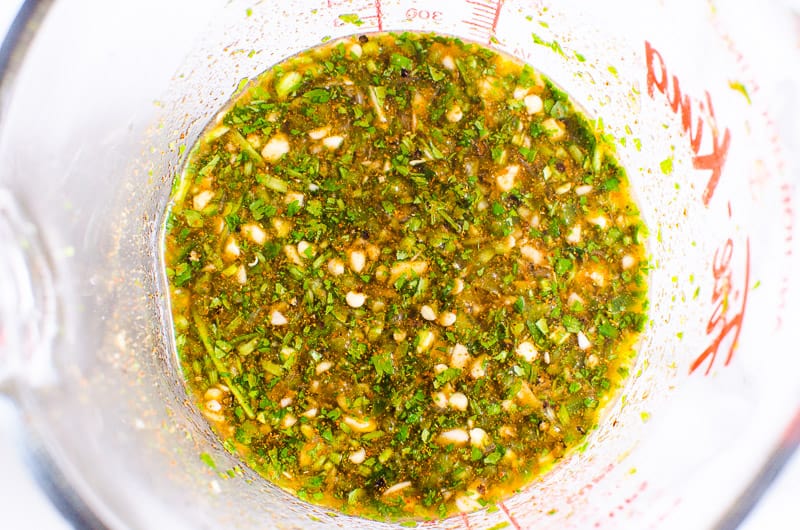 Prepare the grill: Preheat the grill to at least 500F/ 260C. Once ready, cook the steak, covered, for about 4-5 minutes per side for medium-rare consistency or until your desired level. It will be quite smoky, but if it's not burning, this is fine. The aim is for those lovely char marks on the outside, yet a tender, pink middle.
Allow the carne asada steak to rest: For 5-10 minutes, tented with foil or a lid. This will help to seal in all the juices.
Slice the steak: The best way to do this is to slice straight or at an angle ALWAYS against the meat's grain (through the visible lines in the meat rather than with them). By angling the knife, you'll have slices that are wide but thin (or as thick as you want them to be).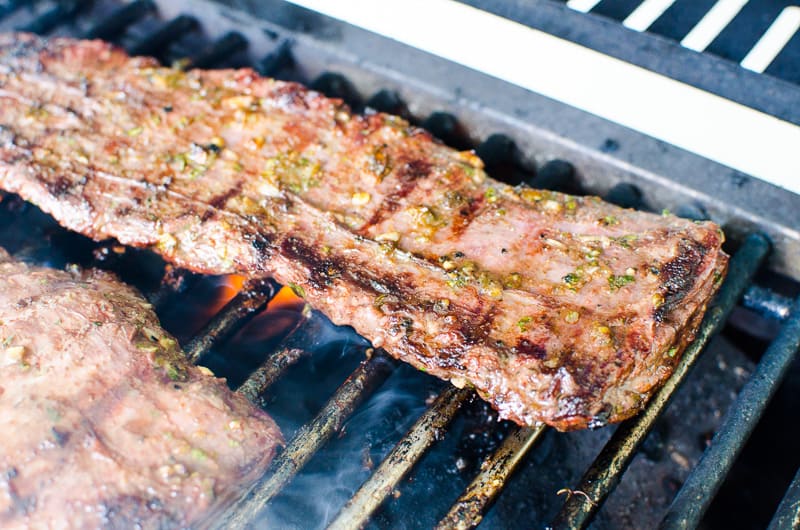 How Long to Grill?
With this thin steak, I've personally found an instant-read thermometer doesn't yield great results, try using the 'finger method' or simply cut into the meat. Cook it until you see the desired amount of blood, which is my preferred method.
If you do want to use a thermometer (and avoid cutting the meat) then there are certain temperatures to look out for:
Rare (cool red middle): 125°F/52°C
Medium rare (warm reddish pink): 135°F/57°C
Medium (warm pink): 145°F/63°C
Medium well (slightly pink): 150°F/66°C
Well done (little to no pink): 160°F/71°C
Remember that the steak will continue to cook as it rests, so I suggest ever so slightly undercooking it no matter which method you use. For temperatures, aim for a temperature 3-4°F below the guidelines and rest for at least 5 minutes.
What If I Don't Have a Grill? Can I Make This Indoors?
Yes, you can use your broiler or make on the stovetop. It may be Ukrainian in me coming out, but the steak juices drizzled over healthy mashed potatoes on a cold day is delicious.
Set the oven broiler to high and pre-heat, then broil the steak on each side for between 3-6 or until your desired doneness.
You can also use a well seasoned large cast iron pan or grill pan to pan sear carne asada steak. Heat your pan to medium-high/high and cook for between 4-7 minutes on each side or until your desired level.
You could alternatively heat on high for the initial sear, then reduce to medium to finish the cooking to avoid burning.
The kitchen will become super smoky doing it this way, so make sure your extraction fan is working, or the window is open if you don't want to set off the smoke alarm!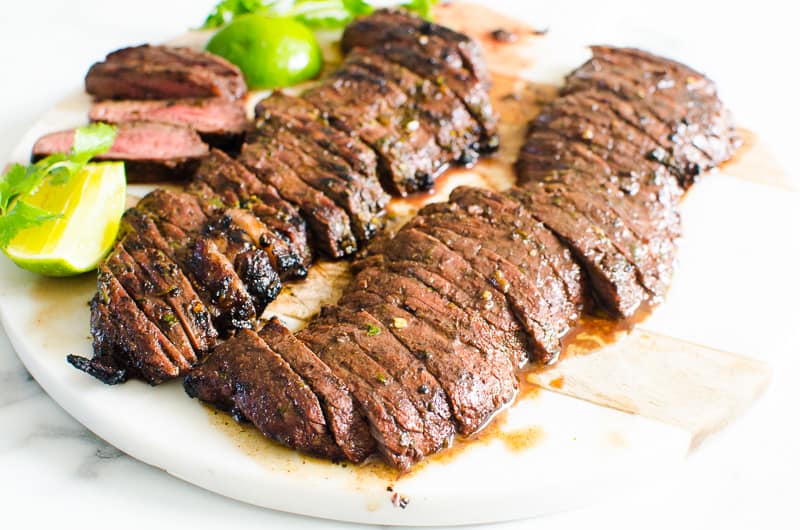 FAQs
How long to marinate carne asada?
This will depend on the thickness of your steak cut. For a thin thin skirt or flank steak I recommend up to 4 hours. For thicker sirloin, tenderloin, or rib steak marinate up to 24 hours.
Can I add orange juice to the marinade?
For my carne asada recipe, I prefer to use lime only and save any oranges for Instant Pot pork carnitas. But you could add the juice of one orange to this marinade if preferred.
Can I cut meat into strips instead of leaving it in flat pieces?
I don't think this would work on outdoor grill, but it might work for indoor grilling. Watch it closely, though as pieces will cook quickly and you could risk them becoming overdone.
What are some ideas for using leftovers?
Enjoy leftovers in tons of Latin American meals by swapping out the protein in favorites like chicken burrito bowl meal prep, chicken quesadilla or chicken enchiladas.
Tips and Tricks
Set aside some of the marinade: To spoon over the cooked steak when serving.
Slice against the grain: Otherwise, you can end up with steak that's tough to cut and eat.
Adapt the heat level: Feel free to swap out the jalapeño for your chili pepper of choice, based on how spicy you'd like the marinade to be. Alternatively, skip it entirely for a milder option.
What To Serve With Steak?
There are tons of ways to serve carne asada meat, whether you want it as a main dish alongside lime wedges and a bit of black bean and corn salsa and/or easy guacamole recipe, or as part of a larger meal.
Serve with low carb rice like this Mexican cauliflower rice or cilantro lime cauliflower rice and add a side of Instant Pot black beans or Instant Pot refried beans.
In the summer, Mexican street corn salad or quinoa and black bean salad are BBQ favorites!
Use it in sheet pan steak fajitas or in carne asada tacos, the list goes on!
How to Store and Reheat
Store: Refrigerate and leftover carne asada meat for up to five days within an airtight container.
Freeze: Leftovers can be frozen for up to three months. Thaw in the fridge before reheating.
Reheating: The easiest way to reheat the steak without overcooking it is by heating it for between 40-50 seconds in the microwave.
Alternatively, place it on a baking tray and heat it in the oven at 325F until warm through (usually 15-20 minutes). Don't be tempted to increase the heat. Otherwise, you'll dry out the steak. You can then briefly sear the heated steak for even better results.
More Grilling Recipes You May Like
If you enjoyed this quick and easy recipe, you might like these other steak and grilled recipes.
Browse through all my healthy grill recipes.
Easy Carne Asada Steak with Citrus Marinade
Instructions
In a medium bowl, combine marinade ingredients: soy sauce, apple cider vinegar, lime juice, cilantro, garlic, jalapeno, cumin, chili powder and pepper. Whisk well.

Pour marinade on top and toss steak gently to coat an all sides.

Cover and refrigerate for 4 – 24 hours. I tried both and both times we had flavorful steak. Of course, longer marinating, more flavor. Don't exceed 24 hours.

Preheat grill to 500 degrees F or medium-high heat.

Grill covered for 5 minutes per side for medium rare, longer for more done. Play it by ear and grill like you would steak. Because skirt steak is quite thin, inserting meat thermometer in it while on the grill isn't the best method to check for level of doneness, I found. Instead I like to cut with a knife right on the grill or on the plate.

Let meat rest covered with foil for 5 minutes to allow juices settle.
Notes
Store: Refrigerate leftovers for up to 5 days in an airtight container. Reheat in microwave between 40-50 seconds. Alternatively, place it on a baking tray and heat in the oven at 325F until warm (15-20 minutes).
Freeze: In airtight container or freezer safe bag for 3 months.
Which meat? I used skirt steak. Sirloin, tenderloin or rib steak could also be used.
Optimal marinating time: Marinate thicker cuts for 24 hours and thinner cuts for 4 hours.
Don't overcook: Meat will keep cooking with residual heat during resting. I recommend to remove it before desired doneness. 
Optionally set aside some of the marinade: To spoon over the cooked steak when serving.
Don't forget to slice against the grain: Otherwise, you can end up with steak that's tough to cut and eat.
To adapt the heat level: Feel free to swap out the jalapeño for chili pepper of choice or skip it entirely for a milder option.
See recipe post for more substitutions, tips and FAQs.
Nutrition
Calories:
280
kcal
|
Carbohydrates:
4
g
|
Protein:
38
g
|
Fat:
13
g
|
Saturated Fat:
5
g
|
Cholesterol:
107
mg
|
Sodium:
665
mg
|
Fiber:
1
g
|
Sugar:
1
g