This Easy Peanut Sauce is only 5 ingredients with a creamy and umami rich sweet and savory flavor. It's super versatile as a multi purpose dipping sauce, marinade, drizzle or thin out for healthy salad dressings!
Once prepared, you can use this peanut sauce for noodles, stir fry or as a peanut dipping sauce for almond crusted chicken – there are so many uses for this versatile sauce!
If there's one thing that every kitchen should have, it's a selection of multi-purpose sauces like chimichurri, Thai sweet chili sauce, and this creamy healthy peanut sauce!
This easy peanut sauce recipe (also called satay sauce, bumbu kacang, or sambal kacang) requires just 5 simple ingredients that are probably already in your pantry. And just a few minutes to prepare. Then it's ready for all your dipping, drizzling, mixing, and sauce-y needs!
This 5 ingredient peanut sauce is creamy, sweet, savory, and can even be adapted to have a hit of spice, too, if you'd like.
Best of all, this recipe is ridiculously simple to make. Have a blender? Then you can have this peanut dipping sauce ready in literally a minute! No blender? No problem, grab a whisk, and it'll take maybe 2-3 minutes instead but I think anyone can handle that.
Why This Recipe Works?
This recipe requires just 5 pantry-friendly ingredients!
Peanut butter sauce satisfies multiple taste buds with creamy peanut butter, savory soy sauce, tangy rice vinegar, sweet honey (or maple syrup), and sharp garlic! You can even add a little spice for a Thai sauce recipe variety.
This homemade peanut sauce is ready in just two minutes! (3 or 4 without a blender!)
The recipe is dairy-free and can be made gluten-free and vegan!
Once prepared, you can store leftovers for 2-3 weeks in the refrigerator or months in the freezer with no preservatives! So, you always have some on hand.
If you're serving this peanut sauce to friends and family, be prepared to send leftovers home with them or at least the recipe – that's how good it is. I do the same with my Japanese carrot ginger dressing too!
Ingredients and Substitutions
Peanut Butter: Make sure to use creamy (smooth), unsalted, high-quality peanut butter for this recipe. After all, it's the main ingredient! I recommend using natural or organic peanut butter without lots of added sugars.
Soy Sauce: You can use dark, light, or reduced-sodium soy sauce based on what you have available. For a gluten-free option, use tamari or coconut aminos instead. Just note that each version will taste different so tweak the recipe amounts!
Rice Vinegar. Rice vinegar is essential for giving the sauce depth of flavor and a good balance against the sweetness of the honey/maple. I've also tried this recipe with lime juice – it works, but I prefer the rice vinegar. You may also be able to use apple cider vinegar. I wouldn't recommend regular white vinegar, though, as rice vinegar and ACV have a subtle sweetness.
Honey or Maple Syrup. Good quality honey or maple syrup works great for this sauce; use whichever you prefer, and feel free to adjust the amounts based on personal preference. Brown sugar will also work.
Fresh Garlic. Just a touch of fresh garlic brings so much flavor to this sauce, and the best part is that you don't need to worry about mincing the clove; just throw the whole clove into the processor/blender (If you're mixing it by hand, then first mince it).
Keep reading below (after the recipe how-to) for more information on recipe add-ins and seasoning variations!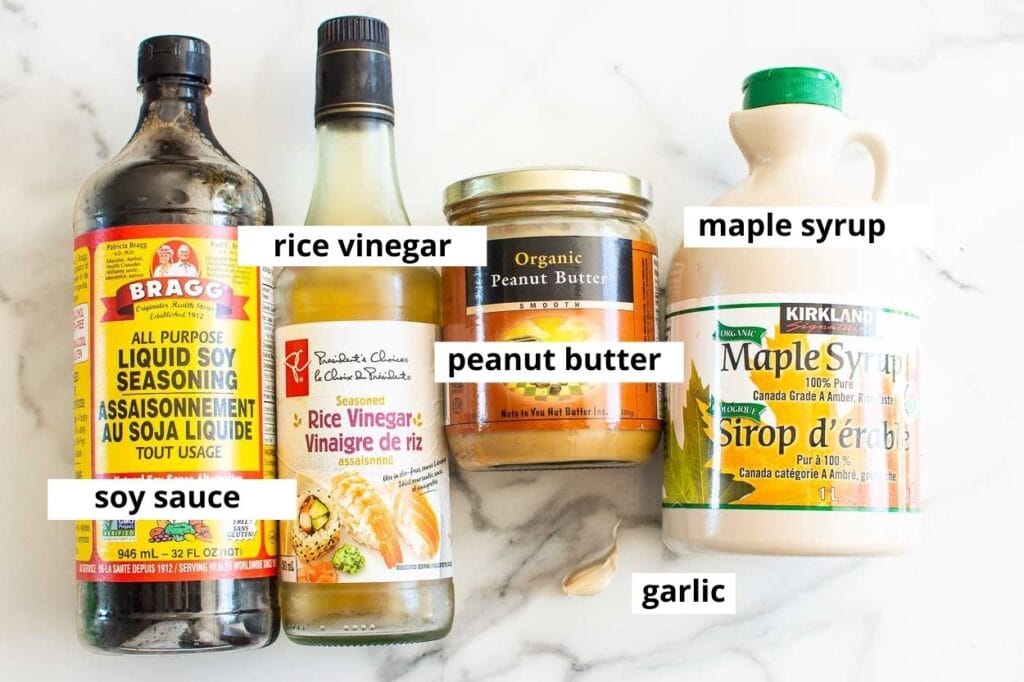 How to Make Peanut Sauce
To say that the process of making this homemade peanut sauce recipe is easy would be putting it mildly. In fact, the process takes just ONE step (two if you consider taste testing)
Blend the peanut sauce: Add all the ingredients to your food processor or blender and process until you achieve a creamy, smooth sauce.
If you are mixing the peanut butter sauce by hand, with a whisk, then first mince the garlic and then whisk the sauce by hand.
Taste the sauce: Give it a quick taste and adjust any of the ingredients to your liking. Too sweet? Add a little extra soy. Too salty or tangy? Add a little more maple/honey. Not enough garlic? Add a little more, etc.
Whether you want this as a peanut dipping sauce, drizzle, mix-in, etc., feel free to water it down to the correct consistency with a little warm water or coconut milk/milk.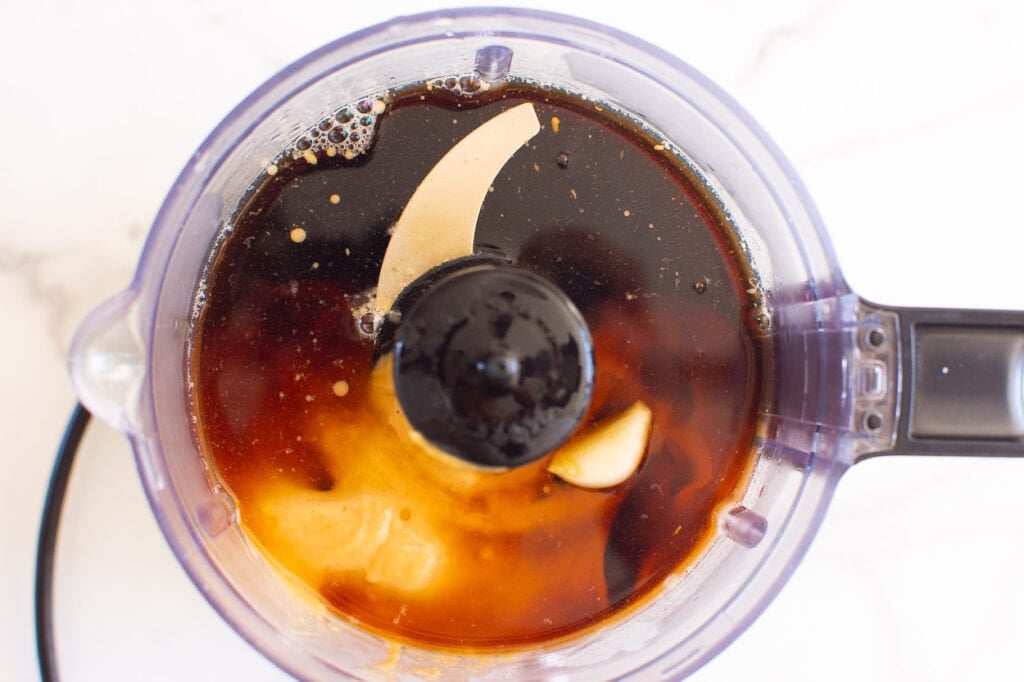 Recipe Notes and Tips
Add the soy sauce incrementally: Everyone prefers different levels of salty/savory flavor. For that reason, I recommend adding a little at a time, tasting, and increasing to personal taste. Also, soy vs reduced-sodium soy vs tamari vs aminos will all be slightly different!
For a creamy peanut butter dressing: You can add a little neutral oil or sesame oil and optionally thin the sauce a little as needed.
Use high-quality peanut butter: This is the key ingredient, so make sure to use one with a flavor you love. Just note that the peanut butter you use will vary the flavor, color, and consistency of your sauce.
For gluten-free easy peanut sauce: Make sure to use tamari or coconut aminos instead of soy sauce.
Adjust the ingredients: Each ingredient can be adjusted based on your personal preference; more sweetness, saltiness, tang, spiciness (with optional add-ins below), etc.
Optional Add-ins and Variations
For spice: You can add in some red pepper flakes, chopped chilies, cayenne/chili powder, or even a little chili sauce/sriracha. Alternatively, you could substitute the garlic for chili garlic sauce.
Add ginger: This will add a little heat without 'spice' and is a fresh, delicious addition to the satay sauce.
Hoisin sauce: This helps ramp up the flavor even more and add depths to the peanut dipping sauce.
Sesame oil: You can use any neutral oil when making this into a peanut salad dressing. However, I love the flavor combination of toasted sesame oil with peanut butter. It also helps to create a silkier mouthfeel.
For Thai peanut sauce: Typically, for a Thai peanut sauce, you'll need to add a spice element like red pepper flakes. Thai versions also tend to use coconut milk and often a touch of ginger and lime juice (along with the rice vinegar).
FAQs
Can I substitute the peanut butter?
Peanut butter sauce wouldn't be much without peanut butter… However, that's not to say that you can't substitute the peanut butter. You can actually use almond butter, cashew butter, or even a nut-free option like sunflower seed butter or tahini to adapt the recipe.

Obviously, the flavor will be different, though, and you may find you need to tweak the amounts of the other ingredients – I haven't tested enough to know.
What does peanut sauce taste like?
Unsurprisingly, this quick peanut sauce tastes like peanut butter. However, the additional ingredients add an excellent depth to the flavor that is to die for.

Each ingredient adds something unique to the concoction, sweetness, saltiness, tanginess, creaminess. Your taste buds will be thoroughly impressed!
How much is one serving?
As written in the recipe card, one serving is around 2 tablespoons of the peanut butter sauce.
Recommended Serving Ideas
Making Peanut Sauce in Advance
Storing: Store the sauce in an airtight container in the refrigerator for between 2-3 weeks.
The sauce may separate slightly as it sits. If this happens, just stir/shake it again before serving. If you find that the flavors mellow as it sits, feel free to add in a little extra vinegar/citrus juice before serving.
Freeze: Any leftovers can be frozen in an airtight container (with a bit of headspace) or in portioned ice-cube trays for up to 2 months.
More Peanut Butter Recipes to Try
More Sauce Recipes to Try
You may also want to browse the best salad dressings!
Easy Homemade Peanut Sauce
This Easy Peanut Sauce is creamy and umami-rich, with a sweet and savory moreish flavor- and just 5 dairy-free, gluten-free ingredients. Best of all, this peanut butter sauce is super versatile as a multi-purpose sauce whether you want it as a dipping sauce, marinade, drizzle or more!
Instructions
In a food processor or high speed blender, add peanut butter, soy sauce, rice vinegar, honey, garlic and water.

Process until smooth and opaque in color.
Notes
Store: Refrigerate in a glass airtight container for up to 2-3 weeks.
Freeze

: Any leftovers can be frozen in an airtight container (with a bit of headspace) or in portioned ice-cube trays for up to 2 months.
Nutrition
Serving:
2
tbsp
|
Calories:
86
kcal
|
Carbohydrates:
4
g
|
Protein:
4
g
|
Fat:
7
g
|
Saturated Fat:
1
g
|
Sodium:
386
mg
|
Fiber:
1
g
|
Sugar:
2
g