Soft and chewy Healthy Oatmeal Cranberry Cookies are studded with bright red cranberries, cinnamon and orange zest. Made in one bowl, no dough chilling and ready in 30 minutes.
Other oatmeal cookies we love are these sugar free oatmeal cookies and healthy oatmeal cookies.
If you're already eating your way through the holiday season, now is as good a time as any to switch gears a bit with these healthy oatmeal cranberry cookies.
Swapping out healthier alternatives doesn't mean you're sacrificing all the chewy and ooey-gooey goodness we love about any cookies!
Why You'll Love This Recipe
Easy recipe: These healthy Christmas cookies come together in one bowl.
No dough chilling: You can mix and bake cookies right away, which means they are ready to eat in 30 minutes. Perfect for any last minute holiday parties!
Healthier: These cookies use less sugar, contain complex carbs and are protein packed by adding almond flour.
Naturally gluten free: Perfect for gifting and parties.
Gorgeous: Studded with bright red cranberries, these festive cookies will stand out on the dessert table.
Ingredients for Oatmeal Cranberry Cookies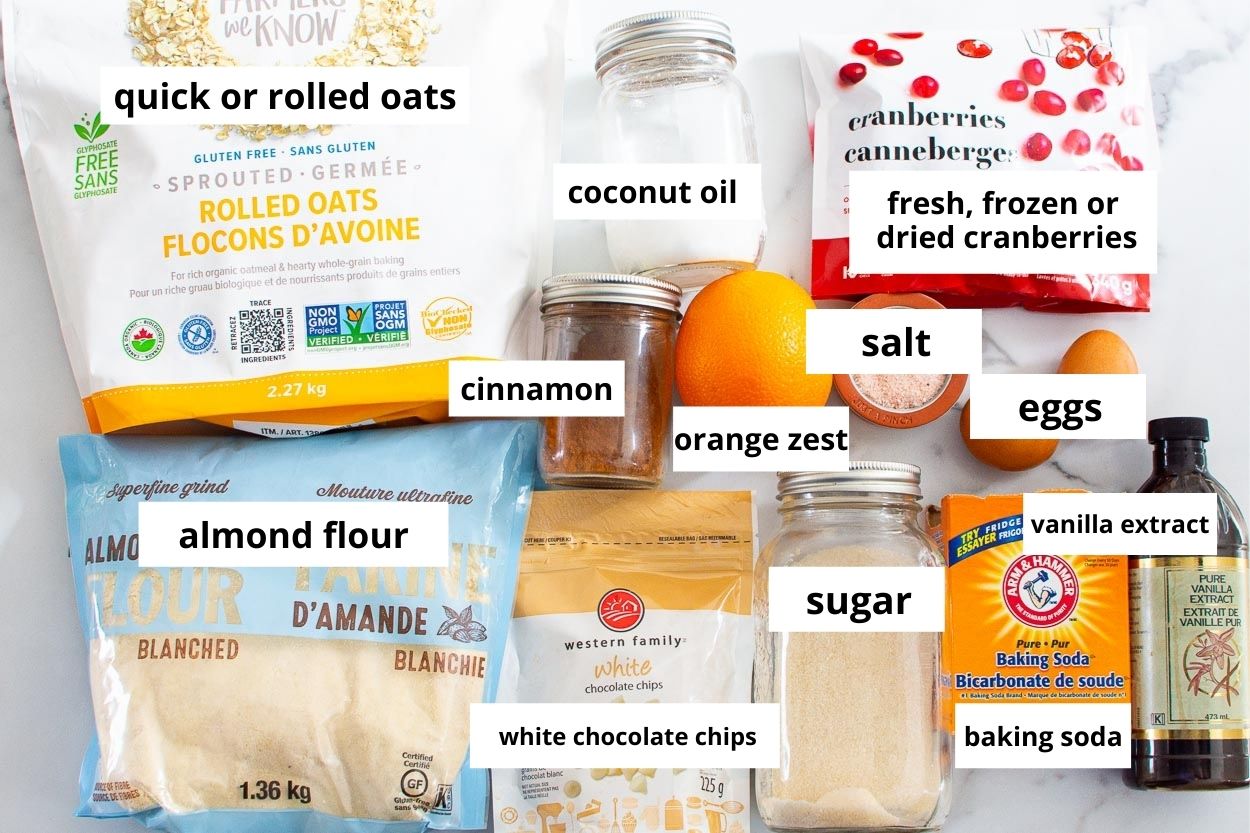 Almond flour or almond meal: Both have the same effect and will result in the same cookie. I prefer almond flour as I buy it in bulk at Costco. Or follow this quick tutorial and make your own almond flour.
Oats: Quick oats or rolled oats. Gluten free, if necessary.
Sugar: Cane sugar or coconut sugar. If you are wanting a sweeter cookie, cane sugar is sweeter. You could try erythritol like I do in healthy sugar cookies and almond flour shortbread cookies.
Coconut oil or unsalted butter: Both will work. Make sure to measure after it's been melted.
Pure vanilla extract: Not imitation, pure vanilla extract tastes best.
Eggs: For binding, I have not tried a flax egg, but it may work.
Baking soda: Helps leaven the cookie dough resulting in a soft and chewy cookie.
Cinnamon and orange zest: Adds holiday flavor.
Cranberries: You can use either fresh, frozen, or dried cranberries. If using dried, use less. And how about just folding in 1/2 cup of leftover cranberry sauce instead?!
White chocolate chips: It's totally optional to make white chocolate cranberry oatmeal cookies but they add a lovely chunky texture and added sweetness. The accents of white complement the red cranberries in a very festive way.
How to Make Healthy Oatmeal Cranberry Cookies
Combine wet ingredients with seasonings: In a large bowl, beat the eggs with a hand mixer or whisk by hand. This frothing will invite air into them helping to make the cookies soft and moist. Add in the sugar, whisking vigorously for a couple of minutes before adding in the coconut oil, orange zest, vanilla extract, baking soda, cinnamon, and salt. Continue whisking to combine.
Add dry ingredients: Stir in the oats and almond flour until just combined and gently stir in the cranberries and white chocolate chips.
Stir and scoop: Take your cookie scoop to scoop out the dough on the prepared baking sheet 1 inch apart from each other. Cookies won't spread too much, so flatten them with your fingers into about 1 inch thick discs.
Bake the cookies: Bake cookies at 375 F for 13 minutes. When the cookies start to turn golden brown they should be done!
Remove and cool: As tempting as they are to eat right away, you'll want to let them cool on the baking sheet for 15 minutes before transferring to a rack. They will be very soft and cooling them will give them time to solidify. You don't want cookies falling apart on you!
Tips for Best Results
Line your cookie sheet: I like to use unbleached parchment paper or a silicone baking mat. It helps cookies bake more evenly and slows spreading, prevents cracking when removing from the sheet and most importantly, it prevents sticking!
Don't "cook" your eggs: Adding the sugar to eggs before the hot melted coconut oil will help to avoid "cooking" the egg. That's definitely not what you want!
Don't over mix: When adding your oats, almond flour, cranberries and chocolate chips, fold them in gently until just mixed. I don't recommend using a mixer for this step.
Invest in a zester: It's the best way to remove zest from citrus without adding the bitter pith into your baking recipes. It comes in handy for healthy cranberry orange muffins. Also, use zest to garnish this healthy cranberry sauce!
Frozen cranberries: No need to thaw them first.
Variations
Raisins: Swap out the raisins for cranberries and you've got deliciously healthy oatmeal raisin cookies.
Dark chocolate: Skip white chocolate chips altogether or swap them out for dark or milk chocolate chips.
Nuts: Add pecans or walnuts for a toasty nutty crunchy bite. Depending on what nuts you use, it may add a bit of a salty balance to the sweet and tart combination of the cookie.
Zest: Cinnamon and orange are in a committed relationship but sometimes lemon just comes along and gives orange a run for its money. Lemon zest might be a nice twist, but you can also omit the zest completely.
Steel cut oats: Quick cooking steel cut oats can be used, however not regular steel cut oats as they will not have enough time to cook.
Sugar: You can use brown sugar or even a sugar free sweetener. Just no liquid sweeteners.
How to Store
Store: These cookies store well uncovered in a cool dry place for up to 5 days. Unfortunately, because they get too soft when covered, they don't ship well.
Freeze: If you've made a double batch or are wanting to freeze leftovers, freeze cookies in an airtight container for up to 3 months. To plan for make ahead healthy dessert, just thaw them on the counter for a few hours before you're ready to serve and eat!
FAQs
Can I use a different flour?
This recipe has only been tested with almond flour and because baking is a science I do not advise using any other flour like all-purpose flour, whole wheat flour, gluten-free flour, coconut flour or oat flour.
Can I use applesauce instead of oil or butter?
The recipe has not been tested as such but you can try. Usually in cookies, replacing butter or oil with applesauce leads to a change in flavor and texture. Cookies come out more cake-like rather than a cookie.
Can I make these cookies into bars?
While I have not tested it this way, you could try. Line 8×8 inch pan with parchment paper, place cookie batter in pan and bake at 375 for 25 minutes. Check and if edges have started to brown, remove from oven, or add another 5-10 minutes of bake time. Cool in pan for 15 minutes, then carefully lift up parchment paper and cool completely on wire rack.
Why do my oatmeal cookies taste dry?
Two likely culprits are that either the butter or oil was measured incorrectly or you baked them too long. All ovens vary, so next time bake cookies for less time.
How can I keep my cranberry oatmeal cookies soft?
Store these cookies uncovered for up to 5 days, when they are covered they actually get too soft, but if you like them ultra soft, that might work for you!
More Healthy Cookie Recipes to Try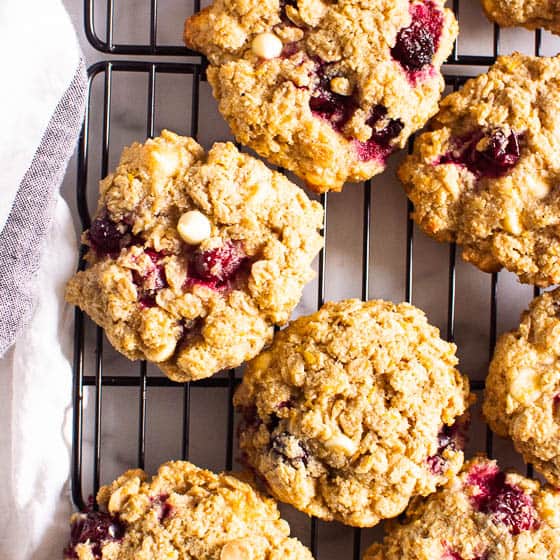 Healthy Oatmeal Cranberry Cookies
Soft and chewy Healthy Oatmeal Cranberry Cookies are studded with bright red cranberries, cinnamon and orange zest. Made in one bowl, no chilling required and ready in 30 minutes.
Instructions
Preheat oven to 375 degrees F and line large baking sheet with unbleached parchment paper or silicone baking mat.

In a large mixing bowl, beat the eggs for a few minutes with a whisk. You can also use a mixer.

Add sugar and whisk vigorously for another 2 minutes. Add coconut oil, orange zest, vanilla extract, baking soda, cinnamon and salt; whisk until combined. Stir in oats and almond flour until combined. Then stir in cranberries and white chocolate chips.

Using a cookie dough scoop, scoop dough, place on prepared baking sheet 1" apart (cookies do not spread much) and flatten with fingers into a cookie shape, about 1" thick. Bake for 13 minutes or until cookies start to turn golden brown.

Remove from the oven, cool on the sheet for 15 minutes before transferring to a wire rack to cool off for another 30 minutes. Cooling prevents cookies from crumbling.
Notes
Store: Store in a cool dry place for up to 5 days uncovered, otherwise cookies will become too soft.
Freeze: Freeze in an airtight container for up to 3 months. Thaw on a counter for a few hours.
Nutrition
Serving:
1
cookie
|
Calories:
204
kcal
|
Carbohydrates:
15
g
|
Protein:
5
g
|
Fat:
15
g
|
Saturated Fat:
7
g
|
Cholesterol:
24
mg
|
Sodium:
94
mg
|
Fiber:
3
g
|
Sugar:
5
g