These Healthy Banana Oatmeal Cookies are sweetened with ripe bananas plus loaded with oats and dark chocolate chips. Ready in just over 20 minutes they are the perfect treat for dessert or snack anytime of the day!
Oat flour banana bread and healthy banana oatmeal muffins are other favorite oat recipes of ours!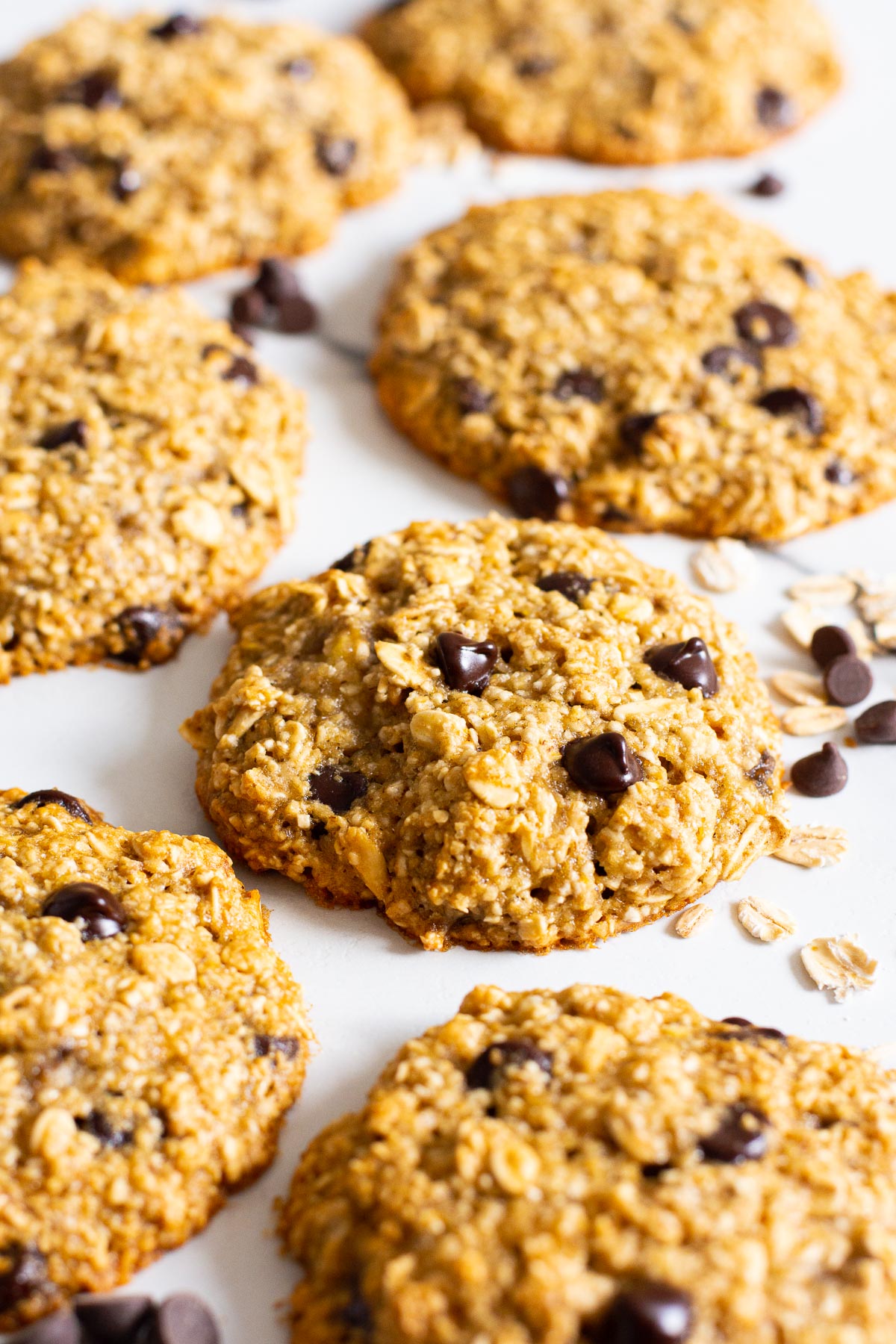 These healthy banana oatmeal cookies are soft and tender in the middle with slightly golden and crispy edges.
Rich in flavor from bananas and dark chocolate chips, they are loaded with the good stuff, leave out the bad stuff, and are delicious!
They're enough to satisfy any cookie craving whether first thing in the morning, a grab-n-go snack in the afternoon, or late at night with a glass of milk for movie night.
Healthy banana oat cookies are so easy to make, the kids can make them instead!
Why You Will Love This Recipe
Healthy: Egg free, dairy free and gluten free banana cookies are suitable for a variety of diets.
Hearty: Oats and bananas together result in amazing texture, flavor and make them nutritious, filling and satisfying.
Nutritious: Healthy carbs, whole grains, minimal oil or added sugar make these healthy banana oatmeal cookies a smart choice!
Ingredients and Substitutions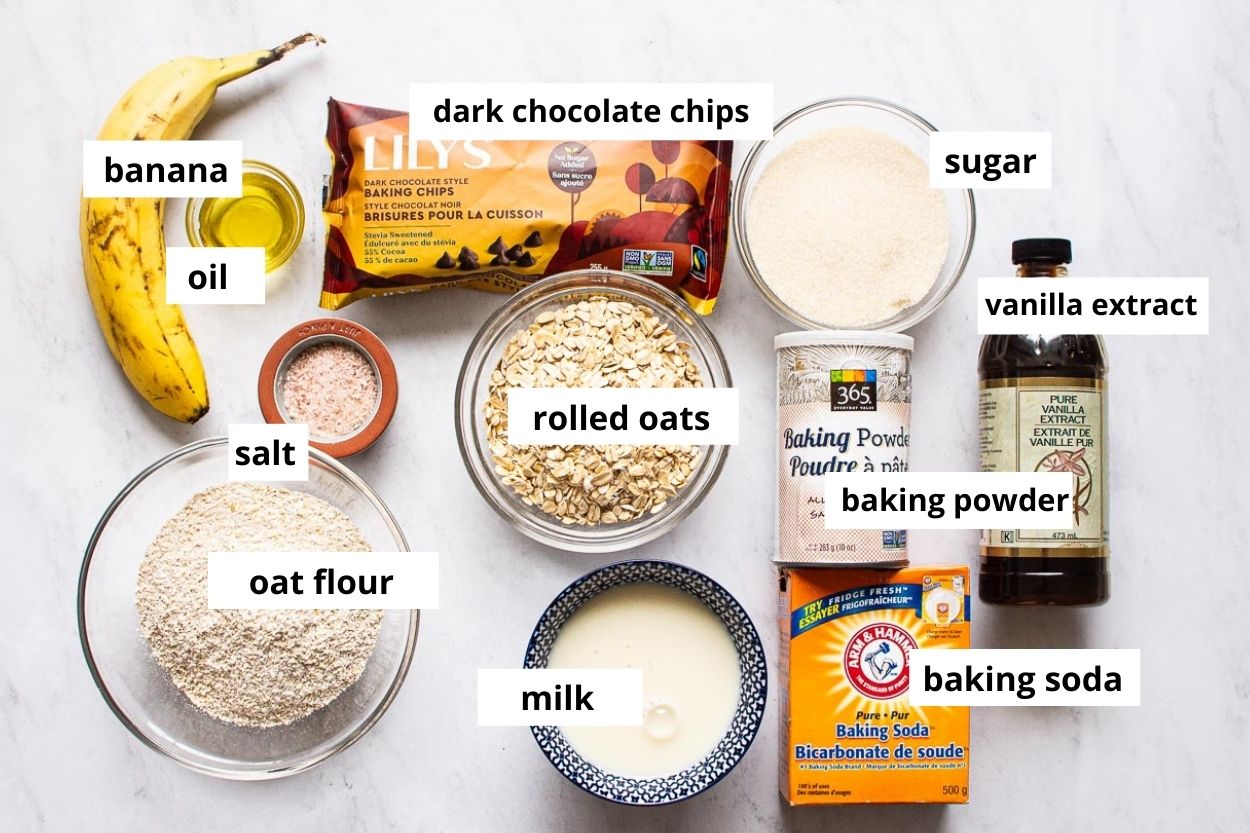 To make healthy banana oatmeal cookies recipe you need simple ingredients that you may already have on hand!
Oat flour: Made from finely ground oats, you can make oat flour at home if you've got the oats but no flour.
Rolled oats: Gives the cookies heartiness and texture. I use old fashioned oats but you can also use quick oats. It won't be as coarse but still works. Avoid steel cut oats. If you want to use them, you can try quick cooking steel cut oats.
Sugar: Use organic cane sugar if possible. Sometimes I like to swap it with coconut sugar to help limit refined sugar use. Do not use maple syrup or honey, it will not hold up the same way dry sweeteners would.
Baking powder and baking soda: Leavening agents that work to give these cookies light and airy consistency to help combat the otherwise heaviness of banana and oats.
Salt: Brings out the flavors of the other ingredients and helps produce maximum deliciousness!
Dark chocolate chips: You can also use cacao nibs, or if you're not a huge fan of bitter chocolate, by all means, swap with semi-sweet chocolate chips.
Banana puree: From a medium ripe banana, the riper the better! Here is a quick tutorial how to ripen bananas faster. Or use previously frozen bananas.
Almond milk: The liquid component that brings everything together into a cohesive cookie dough. I use almond milk to keep it dairy free but use whatever milk you have.
Oil: Just a bit needed for fat and moisture. It's not enough to make them soft and chewy cookies, but still nice and tender. If you're invested in the idea of having soft chewy cookies, use butter instead of any oil after all!
Pure vanilla extract: A warming flavor that pairs well with everything from bananas and oats to chocolate and milk!
How to Make Healthy Banana Oatmeal Cookies
Easy to make and so yummy, you will want to make these healthy banana oatmeal cookies on repeat!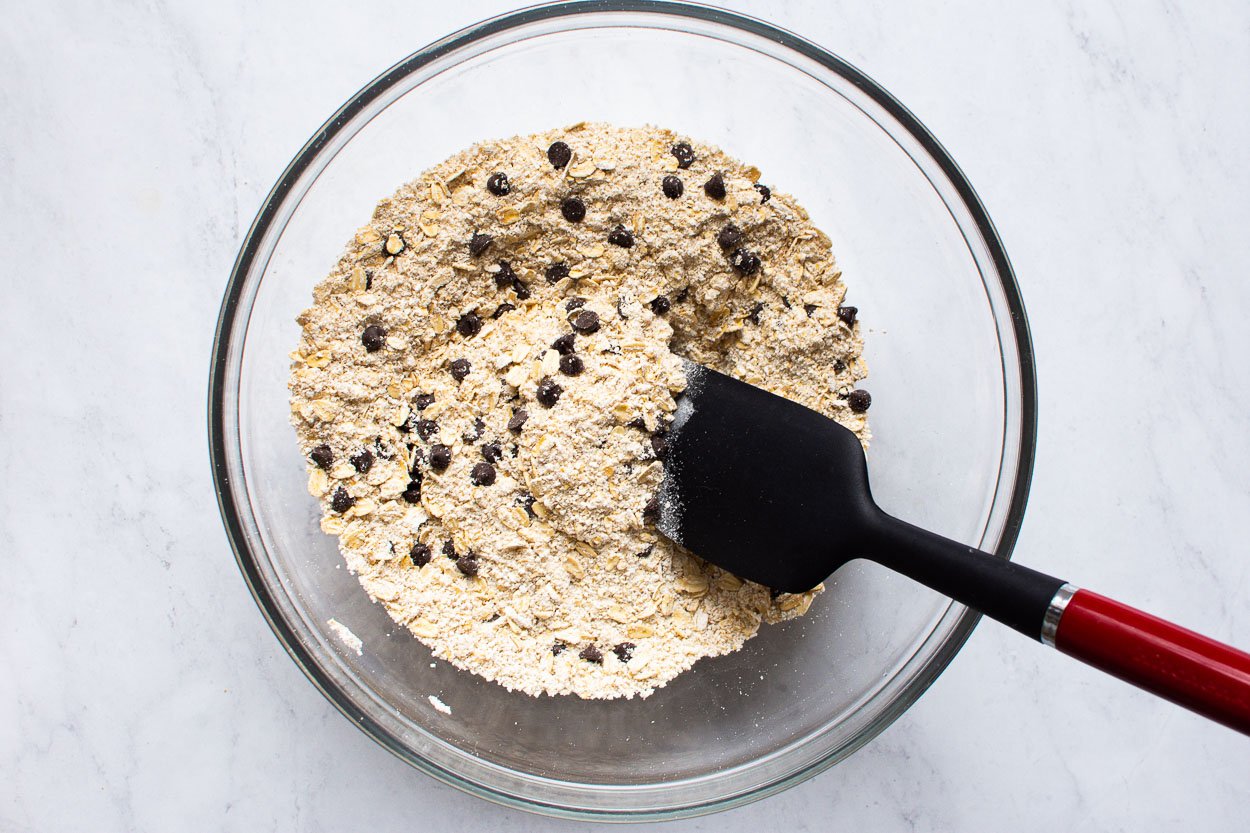 Prep: Preheat the oven to 375 degrees F. Line two cookie sheets with either unbleached parchment paper or silicone baking mats.
Combine dry ingredients: Add oat flour, oats, sugar, baking powder and soda, salt, and chocolate chips to a large bowl. Mix with a spatula and set it aside.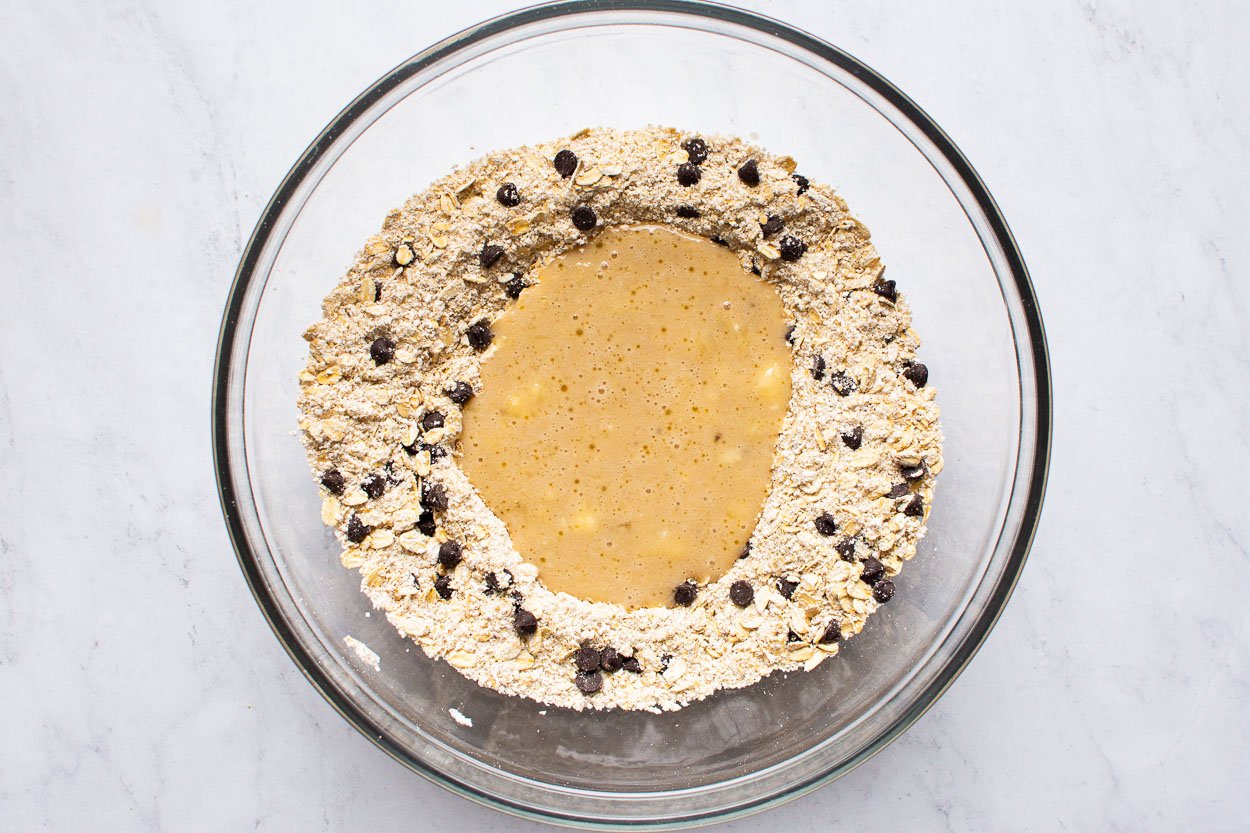 Mix wet ingredients: Then, you'll combine the banana, milk, oil, and vanilla into a separate medium bowl, then transfer the wet mixture to the bowl containing the dry ingredients.
Combine the cookie dough: Mix wet and dry ingredients until well combined.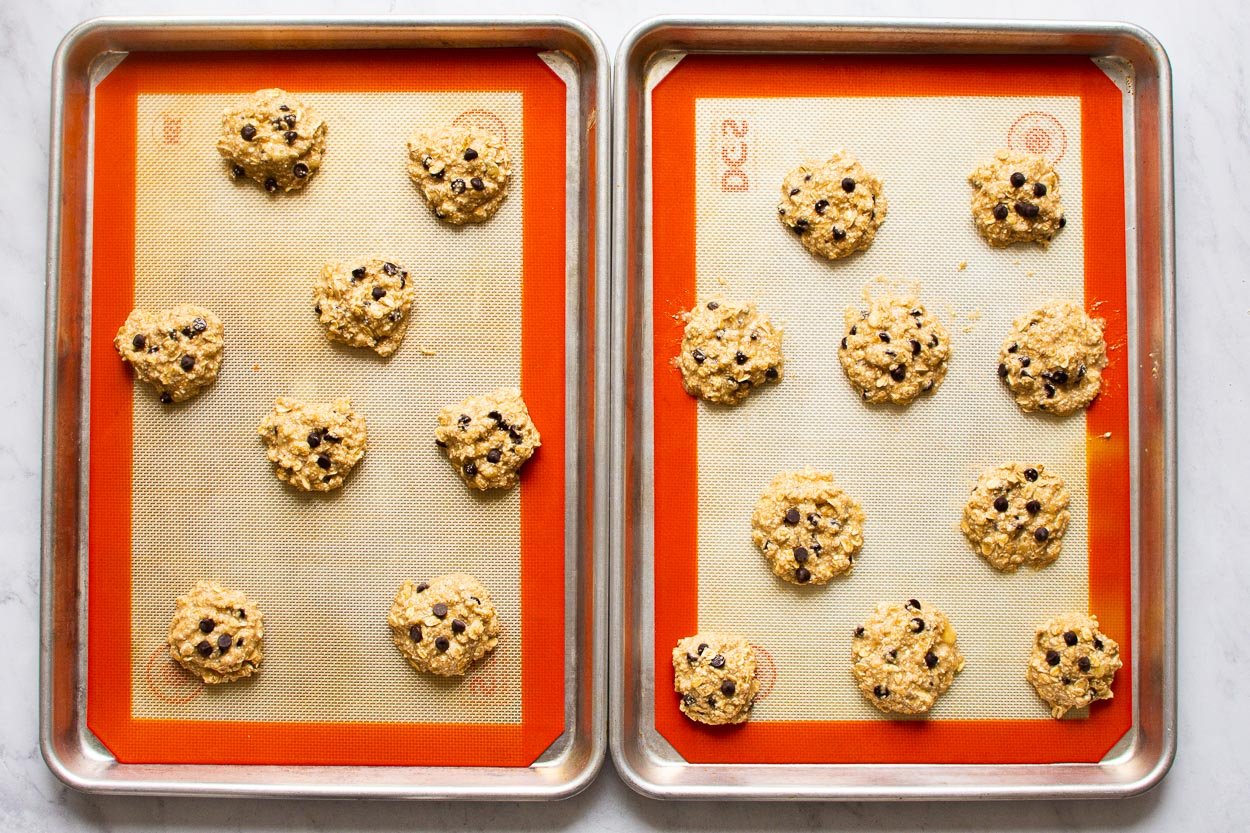 Scoop and arrange: After batter is mixed well, it's time to fill your pan for baking! I like to use a cookie scoop to get the cookies an even size but a large spoon works too.
Once you've scooped up the batter, drop it into the prepared baking sheet, leaving 2" between each cookie for a bit of spreading.
Bake: Place healthy banana oatmeal cookies in the oven and bake for 12 minutes or until the edges are slightly brown. Allow 10 minutes of cooling before taking a bite!
Optional Mix-Ins
Here are a few fun additions to add to your healthy banana oatmeal cookies.
Cinnamon: Adding a warming spice, especially during the cooler months and around the holidays, is a nice added touch. Add a little nutmeg to it too.
Nut butter: A bit of nut butter like almond butter, sunflower seed butter, or healthy peanut butter adds protein, plus peanut butter banana is a must try!
Nuts: Chopped walnuts, pecans, or cashews would add a ton of crunchy texture!
Dried fruit and coconut: Raisins, dried cranberries and unsweetened coconut shreds adds a neat twist.
Mini chocolate chips: Using mini chocolate chips just means you get more!
FAQs
Are banana oatmeal cookies healthy?
Yes! This healthy banana oatmeal cookies recipe is made with less sugar and minimal oil vs. a traditional cookie. Made with whole grains, it's better for you and lower in calories.

The natural sweetness of the bananas are balanced by the blood sugar leveling effects of the oats for a guilt free banana oatmeal breakfast treat, snack or dessert.
How can I make sugar free oatmeal banana cookies?
If you're looking to make completely sugar free cookies, that's fine, as long as your bananas are sweet it will turn out great! These sugar free oatmeal cookies may be right up your alley, too.
How to Store and Freeze
To store: These healthy banana oatmeal cookies are great for keeping on the counter at room temperature for a couple of days. No need to keep them covered.
After two days, cover them loosely for another two days so they don't start to dry out.
Do not stack the cookies! These cookies tend to get soggy, so it's best not to stack them on top of each other while in a container. Lay them out flat and separate any layers with parchment paper.
To freeze: Transfer cooled cookies to an airtight container or freezer-friendly bag and keep the cookies frozen for up to 3 months. Thaw at room temperature and enjoy!
More Banana Recipes to Try
More Healthy Cookies to Try
You might also enjoy this list of healthy snacks!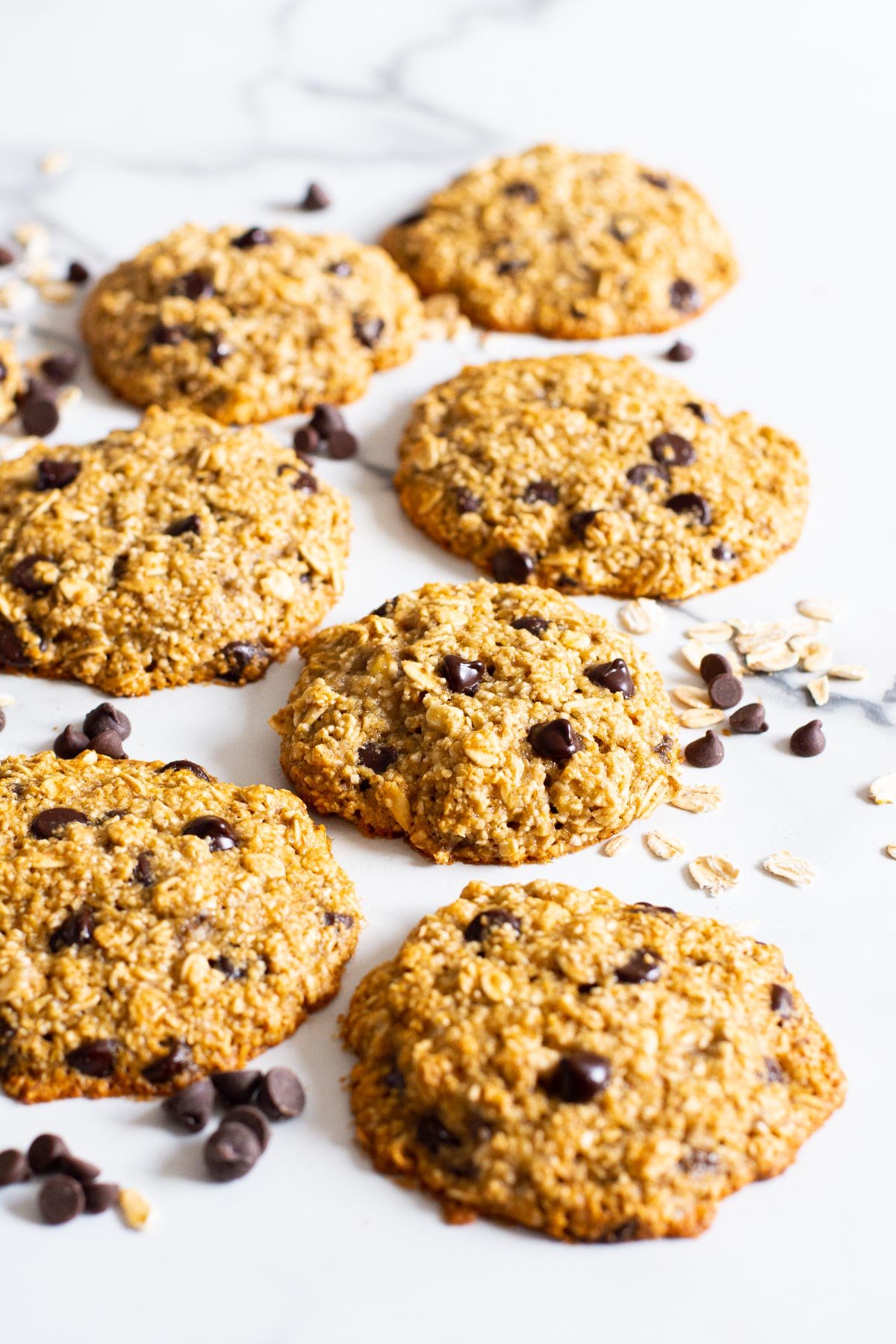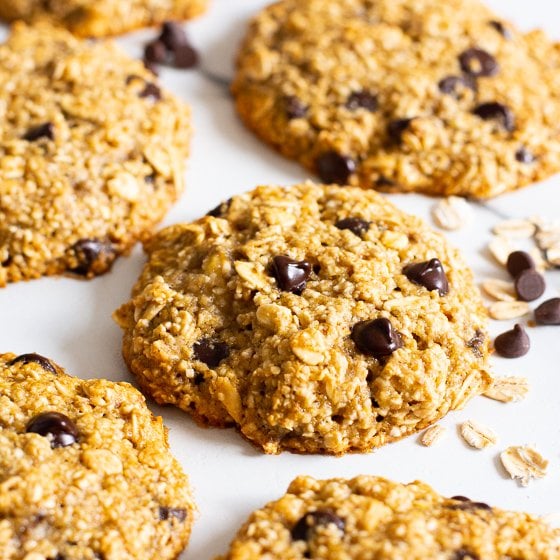 Healthy Banana Oatmeal Cookies
Healthy Banana Oatmeal Cookies with ripe bananas and loaded with oats plus dark chocolate chips. A perfect treat for dessert or snack!
Instructions
Preheat oven to 375 degrees F and line 2 cookie sheets with unbleached parchment paper or silicone baking mats.

In a large bowl, add oat flour, oats, sugar, baking powder, baking soda, salt and chocolate chips. Stir with spatula and set aside.

In another medium bowl, mash banana and add milk, oil and vanilla extract. Whisk, transfer to a bowl with dry ingredients and stir until well mixed.

Using medium size ice cream scoop or large spoon, scoop batter on previously prepared baking sheets leaving 2 inches in between.

Bake for 12 minutes or until the edges of cookies are lightly brown. Let cool for 10 minutes and enjoy!
Notes
Store: Store in a cool dry place uncovered for 2 days. After store in a ventilated container for up to 2 more days. It's best not to stack these cookies on top of each other as they get soggy.
Freeze: Bake, cool cookies completely, place in a resealable plastic bag or container and freeze for up to 3 months. Thaw on a counter for a few hours.
Oats: You can use quick cooking oats, cookies will have less texture. No steel cut oats please. However, I believe quick cooking steel cut oats can be used.
Cookie texture: These cookies spread a bit, have crunchy edges and softer middle. Because they do not contain hardly butter or oil, they are not as chewy as regular ones but they are also much healthier.
No liquid sweetener: You have to use dry sweetener otherwise recipe will not work. No maple syrup or honey.
Nutrition
Serving:
1
cookie
|
Calories:
97
kcal
|
Carbohydrates:
16
g
|
Protein:
2
g
|
Fat:
3
g
|
Saturated Fat:
1
g
|
Cholesterol:
1
mg
|
Sodium:
123
mg
|
Fiber:
1
g
|
Sugar:
5
g