This Quinoa Falafel recipe is gluten-free, naturally vegan, and makes the best crispy falafels with a tender inside. Packed with flavor and protein.
This is just one way I love to use quinoa recipes in new and interesting ways!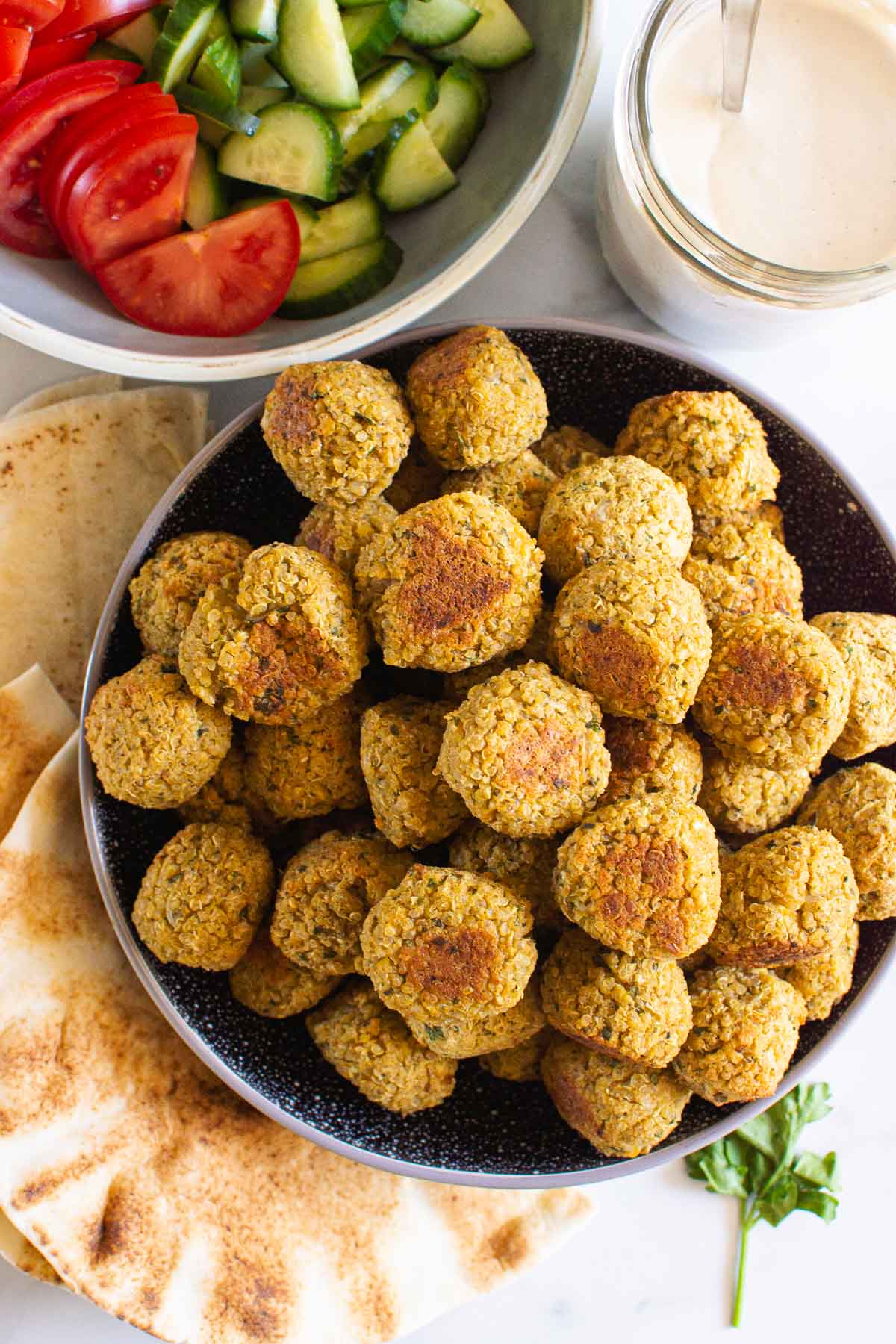 I feel like we've all had a lackluster falafel. You know, the ones that are super dry, gummy, and stick to the roof of your mouth. In some cases, they're bad enough to put people off falafel for life!

I was so afraid that the homemade falafel would end up super dry because I've found that many baked vegan patties look so dry. However, these quinoa falafels came out wonderfully tender and moist in the middle! Even better, they have a lovely crisp outside too!
Whereas traditional falafels are deep-fried, for this quinoa falafel recipe, you can ditch the large amounts of oil and still end up with impressive results whether you're making them baked or as air fryer falafel.
Why This Quinoa Falafel Recipe Works?
You can prepare these as baked or air fryer falafels, with a crisp shell and tender middle without the giant vat of oil, unlike traditional falafel!
These chickpea quinoa falafels are flavorful and packed with protein for a great addition to any meat-free meal!
These are perfect for making in bulk for meal prep and storing in the fridge or freezer!
The quinoa falafel recipe is gluten-free, dairy-free, egg-free, and even grain-free!
They are also perfect for enjoying year-round as there are no seasonal ingredients required!
The Ingredients
Quinoa falafel
Quinoa: This method is best for white quinoa, which has a subtler flavor. You can also use leftover cooked quinoa on the stovetop.
Chickpeas: I used a can of low-sodium chickpeas, drained and rinsed. You could also use Instant Pot chickpeas.
Aromatics: I used a combination of fresh onion and garlic, classic additions to any falafel.
Seasonings: I used a combination of fresh parsley, ground cumin and coriander, and salt.
Oil: I used sesame oil, which adds a little extra flavor. You can use other neutral oils like avocado oil instead.
Cornstarch: Helps to thicken and bind the falafel mixture.
Cooking spray: To spray the falafel before baking or air frying.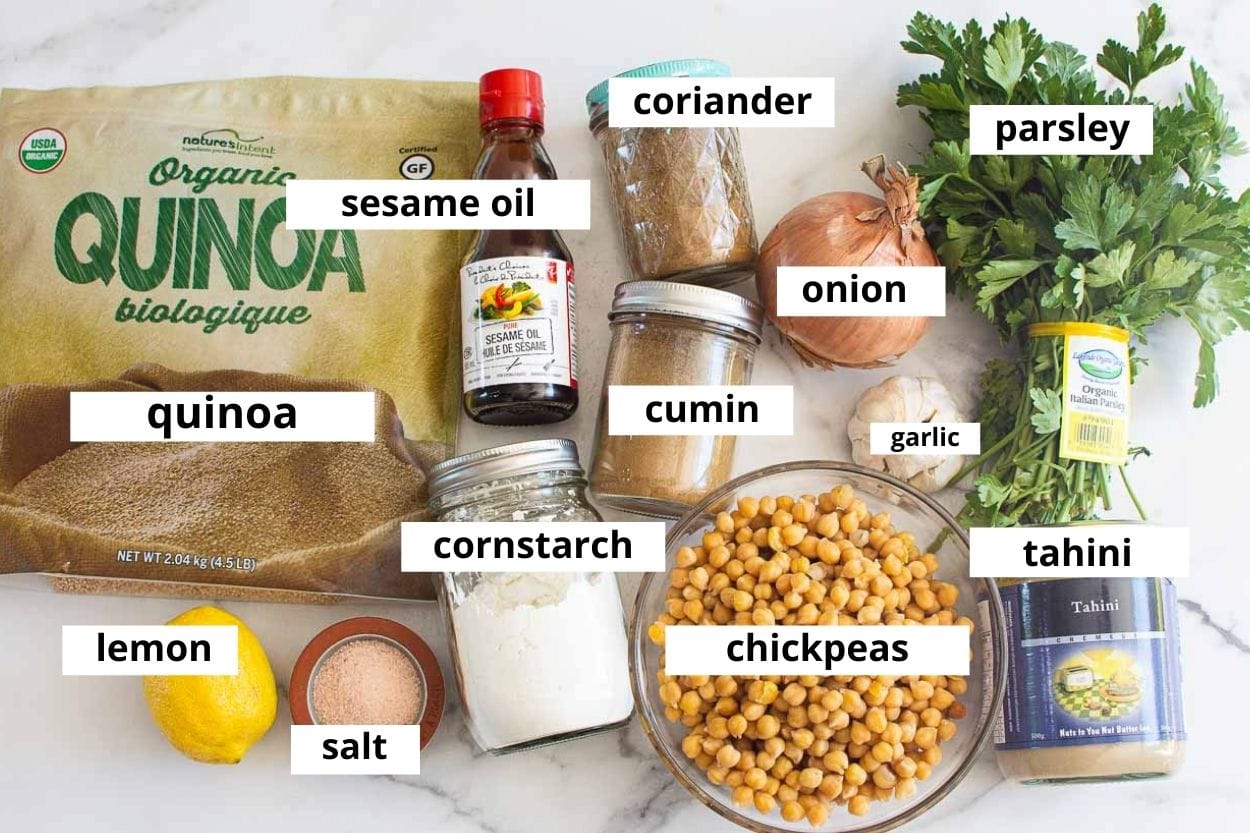 Tahini sauce
Tahini: Use a smooth creamy tahini. Some brands may be more bitter than others.
Water: To help thin the sauce to the desired 'drizzle' consistency.
Lemon: Use fresh lemon juice for a bright zingy flavor.
Garlic: I love garlic in everything – feel free to adjust the amount to personal preference.
Salt: Just a little to help season the sauce.
Serving ideas
Pita: I used whole wheat pita, but you can use the pita of your choice – including gluten-free if necessary.
Vegetables: I used a combination of cucumber and tomato. You could optionally also include lettuce.
How to Make Quinoa Falafels
Not only is this quinoa falafel recipe super simple to follow, but it makes a whopping 46 falafels. Perfect for meal-prepping and storing in the freezer. However, feel free to halve the recipe if preferred.
Prepare the quinoa: First, cook the quinoa with a pinch of salt as per the package instructions or make Instant Pot quinoa. Meanwhile, line two large baking trays with unbleached parchment paper or silicone baking mats and spray with cooking spray. Also, set aside a bowl with cold water and a small trigger scoop (or falafel scoop).
Blend the falafel mixture: In a large food processor, combine the chickpeas, onion, garlic, parsley, cumin, coriander, sesame oil, cornstarch, and salt and water. Blend into a semi-smooth paste. You want there to be some chickpea chunks left. If your mixture ends up too wet or too dry, you can add in a teaspoon of water at a time.
Add the quinoa: Combine the blended chickpea mixture with the cooked quinoa in a large bowl, using a spatula to combine the two. When using canned chickpeas, you can now taste the mixture and adjust any of the seasonings to taste.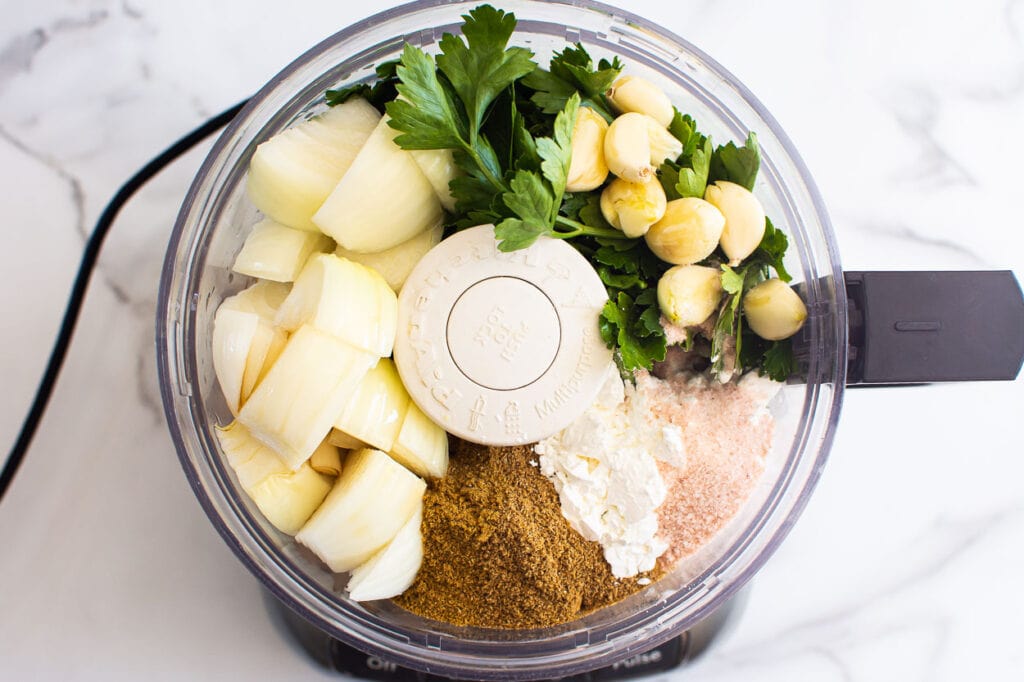 Shape the falafel: Preheat the oven to 450F. Meanwhile, using a small scoop, scoop some of the quinoa falafel mixture, packing it tightly, and roll it into golf-ball-sized balls. Then place the rolled balls on the prepared baking sheet, about 1-inch apart. I recommend dipping your hands in the water in-between to stop sticking.
Bake the falafel: Spray the quinoa falafel with a little cooking spray and then bake in the oven for 30 minutes, flipping once until they are golden brown and crispy.
Prepare the tahini sauce: As the falafel bake, prepare the tahini sauce. In a food processor combine the tahini, water, lemon juice, garlic, and salt. Process until smooth.
Prepare the pita: Once baked, serve the falafel warm in pita pockets with some sliced cucumber, tomatoes (and optionally lettuce), and drizzled with lots of sauce.
Top Tips For Best Results
Don't over process the mixture: It's essential to get the right texture for the best results.
If using canned chickpeas that aren't low sodium: Make sure to adjust the amount of salt used in the remainder of the recipe.
Using leftover quinoa: This quinoa falafel recipe is excellent for using up leftover cooked quinoa. There's no need to cook it freshly every time and it'll save a bunch of prep time!
Round vs. patty falafels: You can shape the falafels into golf balls, flatten them slightly, or even increase their size to create falafel burger patties. If you make falafel patties, then you'll need to increase the cooking time by several minutes.
Optional Add-ins and Recipe Variations
For heat: You could add a little cayenne pepper or chili to the falafel mixture.
Other spices and herbs: Feel free to experiment slightly with the herbs and spices you add to your quinoa falafels. Paprika, turmeric, dill, coriander powder, etc. are all potential add-ins.
Other dressings: Try healthy ranch dressing or one of these other healthy salad dressings to drizzle over the falafel.
Baking powder: Around 1 tablespoon added to the falafel mixture will result in slightly lighter, airy falafel. However, if you plan to include this, make sure to do so just before cooking them. It will lose potency if left in the chilled mixture.
To add to the falafel pita: Alongside the veggies I've suggested, you could also add lettuce, pickled onions, or even sweet potato hummus.
FAQs
Can I half the falafel mix recipe?
You sure can. Just make sure to half the sauce too, if you're making it.
How to cook quinoa falafel in air fryer?
You can make air fryer falafel at 350F for 14 minutes; no need to turn or shake. I've experimented with both rolled and flattened shapes with no difference; however, if your air fryer rotates/moves while it cooks, then it may be best to flatten the falafel so they don't roll around.

Can I use a blender to make the quinoa falafel?
I wouldn't recommend it as the falafel mixture is too thick and won't process properly in the machine. In fact, I used a blender this time and I don't know what I was thinking, it didn't move around well at all and I'll definitely be going back to my food processor next time!
What to Serve Quinoa Falafel with?
Whether you're looking for a snack, healthy lunch, or delicious falafel dinner idea, here are some of my top suggestions for what goes with falafel.
With a dip: You can serve these quinoa chickpea falafels as a snack with the dip of your choice like tzatziki, hummus, or just a little of the tahini sauce.
With salad: Swap out other proteins (or increase the protein) for these protein-packed vegan quinoa falafels like simple lettuce salad or avocado corn salad.
Falafel sides ideas: Side dishes such as traditional Greek salad or balsamic grilled vegetables are excellent choices for a well rounded meal.
As a wrap: Serve them up as I have with tomato and cucumber. You could also use falafel patties to create a veggie falafel burger.
Tacos: Crumbled and used as a vegetarian taco filling alongside guacamole and salad veggies.
Quick dinner bowl: Serve the quinoa falafels over spiced eggplant with air fryer tofu on a bed of leafy greens and drizzled with the tahini sauce for a simple, healthy falafel dinner idea. You could also use them in meal prep meals.
Making Falafel Recipe in Advance
Make ahead: You can refrigerate the prepared quinoa falafel mixture covered in the refrigerator for up to 3 days. You can also freeze the uncooked falafel mixture ready to bake at a later time.
I prefer to do this with pre-rolled falafel. Lay them on a large parchment-lined tray and freeze until solid. Then transfer to a large Ziploc bag for up to three months. Bake from frozen adding 5-10 minutes of extra time.
Storing: Refrigerate the baked quinoa falafel in an airtight container for up to 5 days. The tahini sauce can be stored, separately, for up to a week.
Freeze: You can store the baked falafel in the freezer the same way you do when making ahead (freeze on a tray, then transfer to bag and store for 3 months). Spray with cooking spray, bake from frozen in 450 F degrees oven for 35 minutes or until golden brown and crispy, turning once.
Check out my full list of 20 healthy freezer meals. I'm obsessed!
Reheat: You can reheat the falafels in the oven or air fryer until warmed through.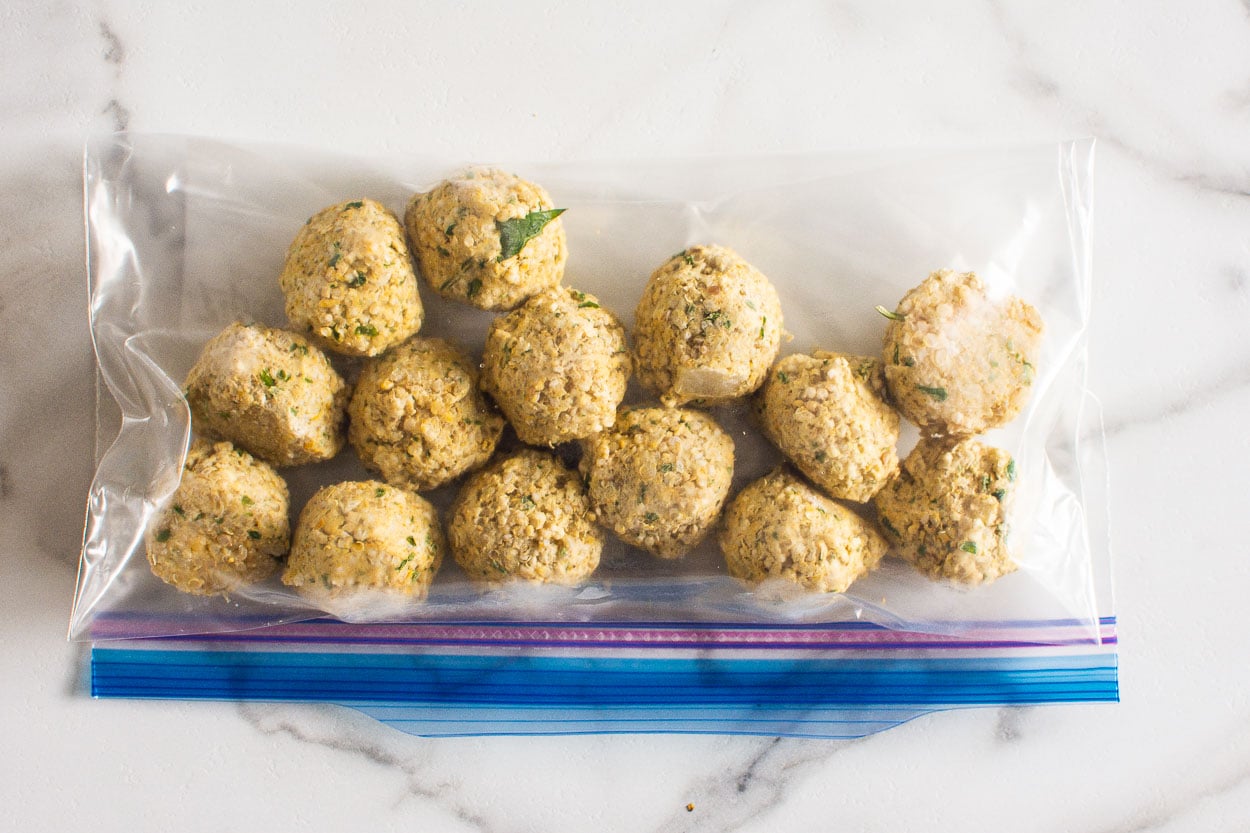 More Quinoa Recipes to Try
Need more inspiration? Check out 30 quinoa recipes because there is sure to be something for everyone!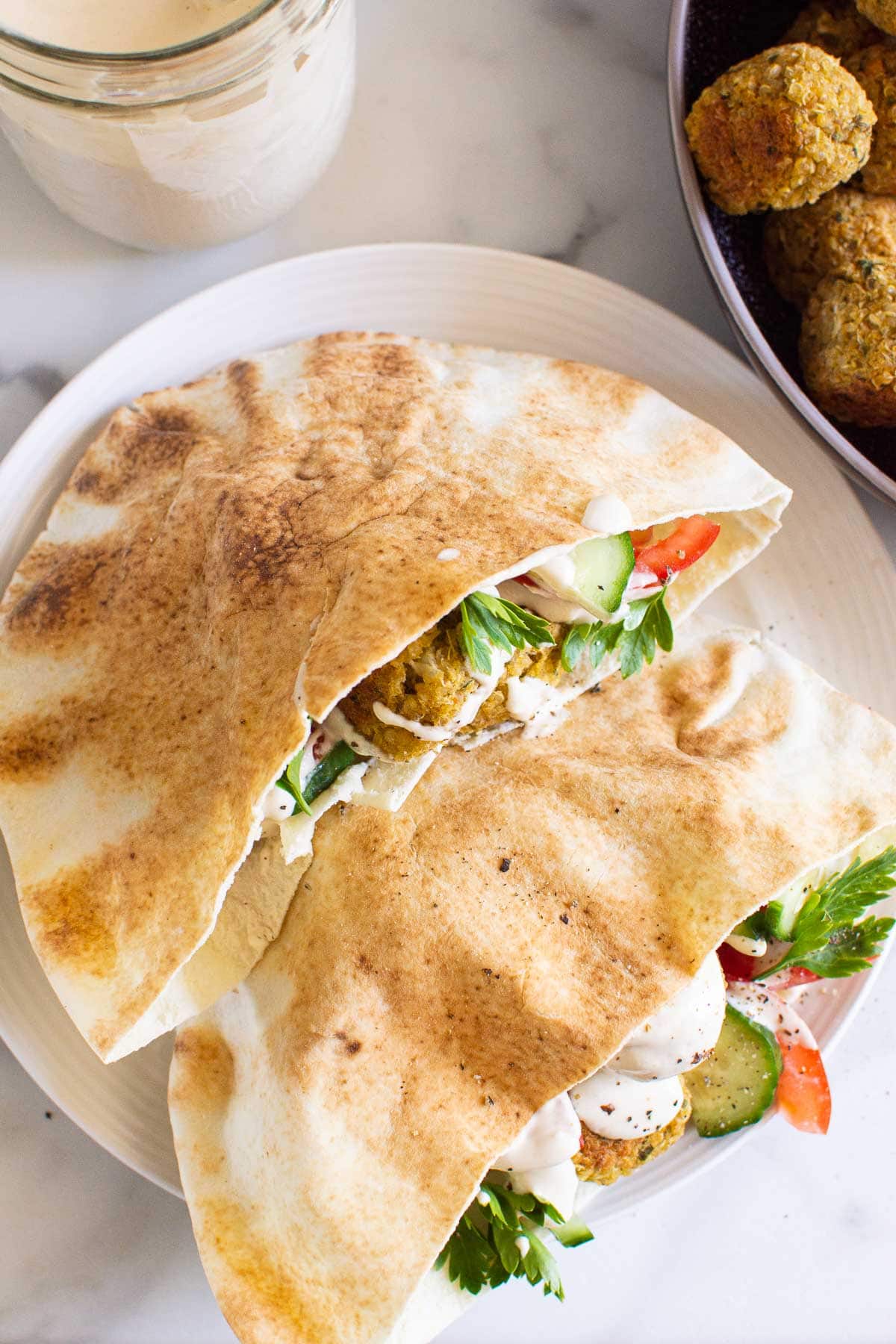 Quinoa Falafel with Tahini Sauce
This Quinoa Falafel recipe is gluten-free, naturally vegan, and most importantly, makes the best falafels with chickpeas and quinoa that are wonderfully crisp on the outside with a tender, moist middle that is packed with flavor and protein. Make these as baked or air fryer falafels, cooked to perfection, then serve immediately or store/freeze for later!
Instructions
Cook quinoa with a pinch of salt as per package instructions, get perfect results with this how to cook quinoa on stove. In the meanwhile, line 2 large baking sheets with unbleached parchment paper or silicone baking mats and spray with cooking spray. Also get a bowl with cold water and small trigger scoop ready. Set aside.

In a large food processor, add chickpeas, onion, garlic, parsley, cumin, coriander, sesame oil, cornstarch, salt and water. Blend until semi-smooth with some smaller chickpea chunks left.

In a large bowl, add cooked and fluffed quinoa, and blended chickpea mixture; mix with spatula until well combined.

Preheat oven to 450 degrees F. Using small scoop, scoop falafel mixture, packing it tightly, roll into golf size balls (helps to dip hands in water in between) and place on prepared baking sheets about 1 inch apart.

Spray with cooking spray and bake for 30 minutes or until golden brown and crispy, turning once.

While falafel is baking make Tahini Sauce. In a food processor, add tahini, water, lemon juice, garlic and salt; process until smooth.

Serve falafel warm, in a pita pocket with some sliced cucumbers, tomatoes and drizzle with lots of sauce. Great for meal prep, lunches and potlucks.
Notes
Store: Refrigerate in an airtight container for up to 5 days.
Freeze: Bake, cool and store in airtight container for 3 months.
Meal prep: Lay rolled falafel on a baking sheet lined with parchment paper, freeze completely and transfer to a large Ziploc bag. Bake from frozen following recipe's instructions plus extra 5-10 minutes.
This recipe makes a lot: You can cut all ingredients in half for less servings.
Cooking your own beans: I cook Instant Pot chickpeas or check out my tutorial how to cook dried beans from dried on the stove.
If using not low sodium canned beans: Because cooked at home beans do not contain salt, add less salt if you can't find low sodium canned garbanzo beans.
Blender: I do not recommend to use blender because falafel mixture is too thick.
Air fryer falafel: You can air fry falafel at 350 degrees F for 14 minutes, no need to turn or shake. I experimented with both shapes, flat and rolled, and noticed no difference.
See recipe post for more tips and FAQs.
Nutrition
Serving:
5
falafels with sauce in a pita
|
Calories:
463
kcal
|
Carbohydrates:
67
g
|
Protein:
16
g
|
Fat:
17
g
|
Saturated Fat:
2
g
|
Sodium:
681
mg
|
Fiber:
11
g
|
Sugar:
2
g