This Spaghetti Squash Quiche with Vegetables ditched the usually pastry-heavy crust of normal quiches. Instead, I've used a lighter spaghetti squash crust and packed the quiche with tons of veggies and a little cheese!
You can even omit the crust entirely. These healthy egg recipes like broccoli quiche, spinach quiche, or zucchini quiche are all crustless!
There is everything delicious about the balsamic veggies filling and nothing traditional about the crust of this spaghetti squash quiche. The idea of a spaghetti squash crust is similar to cauliflower pizza crust recipe – cooking vegetables first and then squeezing liquid out a bit.
The filling idea came from my balsamic marinade for grilled vegetables and the crust from spaghetti squash quiche with kale and mushrooms. It is not my idea to make a spaghetti squash quiche crust but it is my execution of it. It is not as labour intensive as you might think. And the slice actually stays in shape and not go soggy, like you'd think!
You make a filling with eggs, cheese and vegetables you got on hand. This quiche is a perfect fridge clean-out recipe. I had leftovers of zucchini and bell pepper from making baked chicken with peppers last week and broccolini from another secret project recipe.
Needless to say this spaghetti squash quiche was delicious and would be so great for brunches, dinners and lunch. Eat it whenever, just don't buy Costco's quiche and be healthy!
I love simple vegetable and egg dishes, like quinoa egg muffins and Instant Pot egg bites.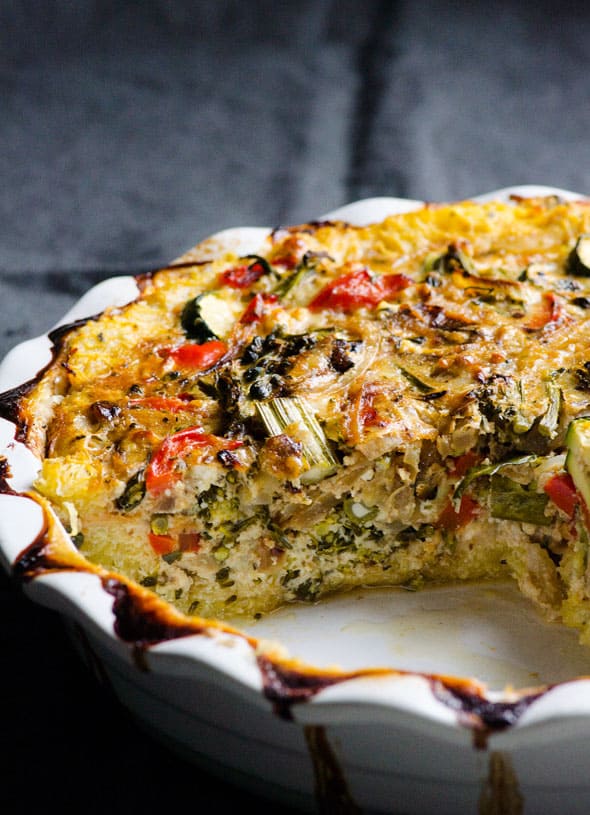 More Healthy Quiche Recipes to Try
You might also like spaghetti squash chicken alfredo!
Spaghetti Squash Quiche with Vegetables
Spaghetti squash quiche that uses vegetables as a crust. Filled with balsamic veggies, 2 cheeses and eggs.
Instructions
Preheat oven to 400 degrees F. Cut squash in half, scoop out the seeds and place face side down on a baking sheet lined with

unbleached parchment paper

. Poke skin randomly with a fork and bake for 30 minutes. Remove from the oven and set aside to cool until safe to handle.

Using a fork, separate spaghetti squash into strands and add to a medium bowl. Sprinkle with 1/4 tsp salt and mix. Using your hands, squeeze out liquid a bit. Return to the bowl along with 1/2 tsp basil and 1/2 tsp garlic powder; mix to combine. Spray deep pie dish with cooking spray and transfer squash into it. Press evenly on the bottom and sides using your hands. Set aside.

Preheat

ceramic non-stick skillet

on medium heat and swirl oil to coat. Add onion and bell pepper; sauté for 5 minutes or until golden brown, stirring occasionally.

In the meanwhile, add eggs, balsamic vinegar, 1 tsp basil and 1/4 tsp salt into previously used bowl and whisk. Add hard cheese, feta cheese, previously sautéed and fresh vegetables; stir well to mix. Pour into prepared crust and flatten with spatula

Bake in 400 degrees F oven for 50 mins or until the knife inserted comes out clean. Let quiche cool down for at least 30 minutes. Cut into 8 slices and serve hot or cold.
Notes
Store: Refrigerate in an airtight container for up to 3 – 4 days. Do not freeze.
*I used 2 smaller squashes. Pick light colour skin ones as they are easier to open. Use bread knife to cut. Sometimes mallet helps.:)
**Zucchini, broccoli, tomatoes.
Nutrition
Serving:
1
slice
|
Calories:
210
kcal
|
Carbohydrates:
19
g
|
Protein:
11
g
|
Fat:
11
g
|
Saturated Fat:
6
g
|
Cholesterol:
143
mg
|
Sodium:
439
mg
|
Fiber:
4
g
|
Sugar:
6
g