This Tex Mex Stuffed Spaghetti Squash is filled with bold Tex Mex flavors like a giant burrito but only better! It's healthy, lower carb and naturally gluten-free delicious dinner!
Intimidated by squash? Check out my series on how to cut spaghetti squash in half, then turn it into spaghetti squash noodles and use in any recipe like this one!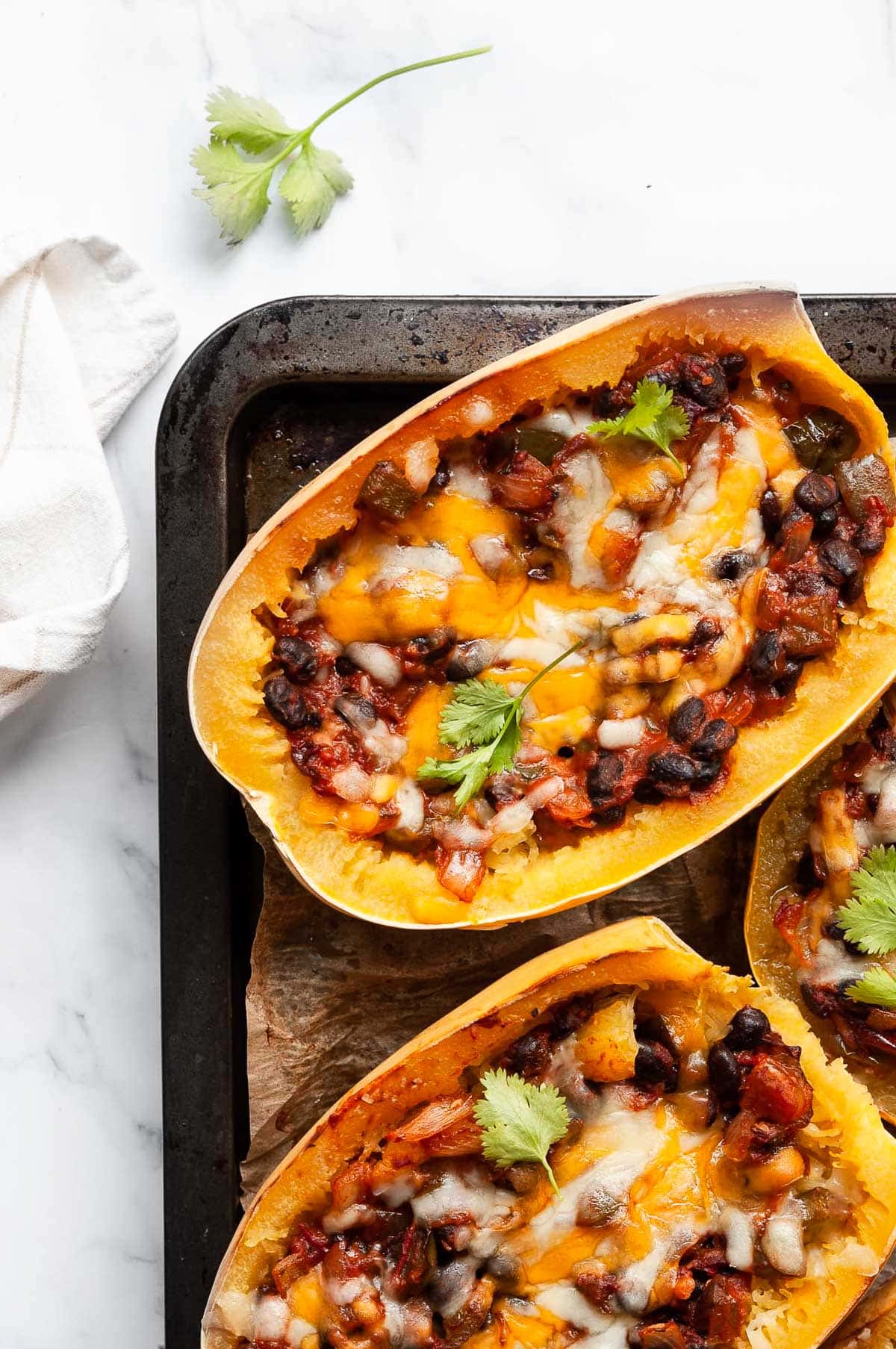 This stuffed spaghetti squash recipe is so delicious! The texture, Mexican flavors, and low calories…all are to die for! What a great light dinner, that's not too hard to make.
Because it's squash season, I had 2 spaghetti squash laying in my pantry and no plans for them. I had already made spaghetti squash casserole and making a stuffed squash sounded like the next best thing!
Just bake the squash for 40 minutes. Meanwhile, quickly saute the veggies, fill the spaghetti squash boat halves, sprinkle with cheese, bake for another 10 minutes, and you're done!
Crunchy spaghetti squash strands, almost like pasta but better, combined with beans, fresh cilantro and gooey cheese on top = heavenly. Just the best spaghetti squash recipe!
Is Eating Spaghetti Squash Good For You?
Yes! This mild, yellow winter squash is popular in recent years for good reason. It's both low calorie and low carb, yet high in fiber.
It's also nutritious with both vitamins C, B6 and it's a great source of beta carotene, an antioxidant.
One of the best parts, though, of this recipe is that you eat a lot and feel like you completely pigged out but you did not.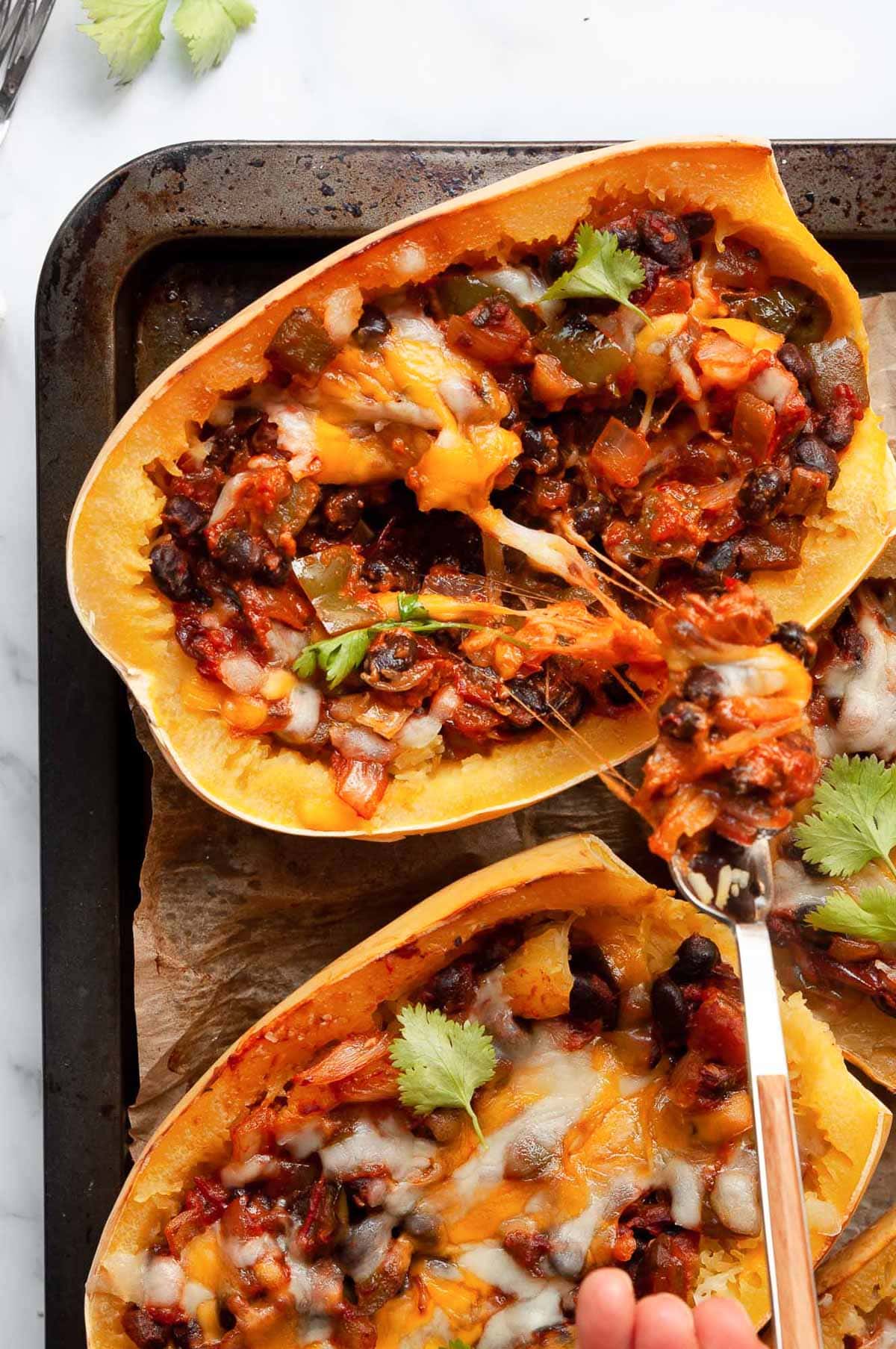 What Does Spaghetti Squash Taste Like?
While this winter squash variety may look like noodles, it does not taste like your traditional spaghetti noodles! By itself, spaghetti squash has a bland, earthy taste and not much flavor. That is what makes it the perfect blank canvas for other great flavors!

It is also very different than butternut squash or acorn squash, as those tend to be sweeter in taste!
Spaghetti squash tastes best baked unless you are topping it with rich sauce like marinara sauce or pesto. In that case, you can save time and make Instant Pot spaghetti squash. But I would not recommend pressure cooking method for this recipe though.
Ingredients and Notes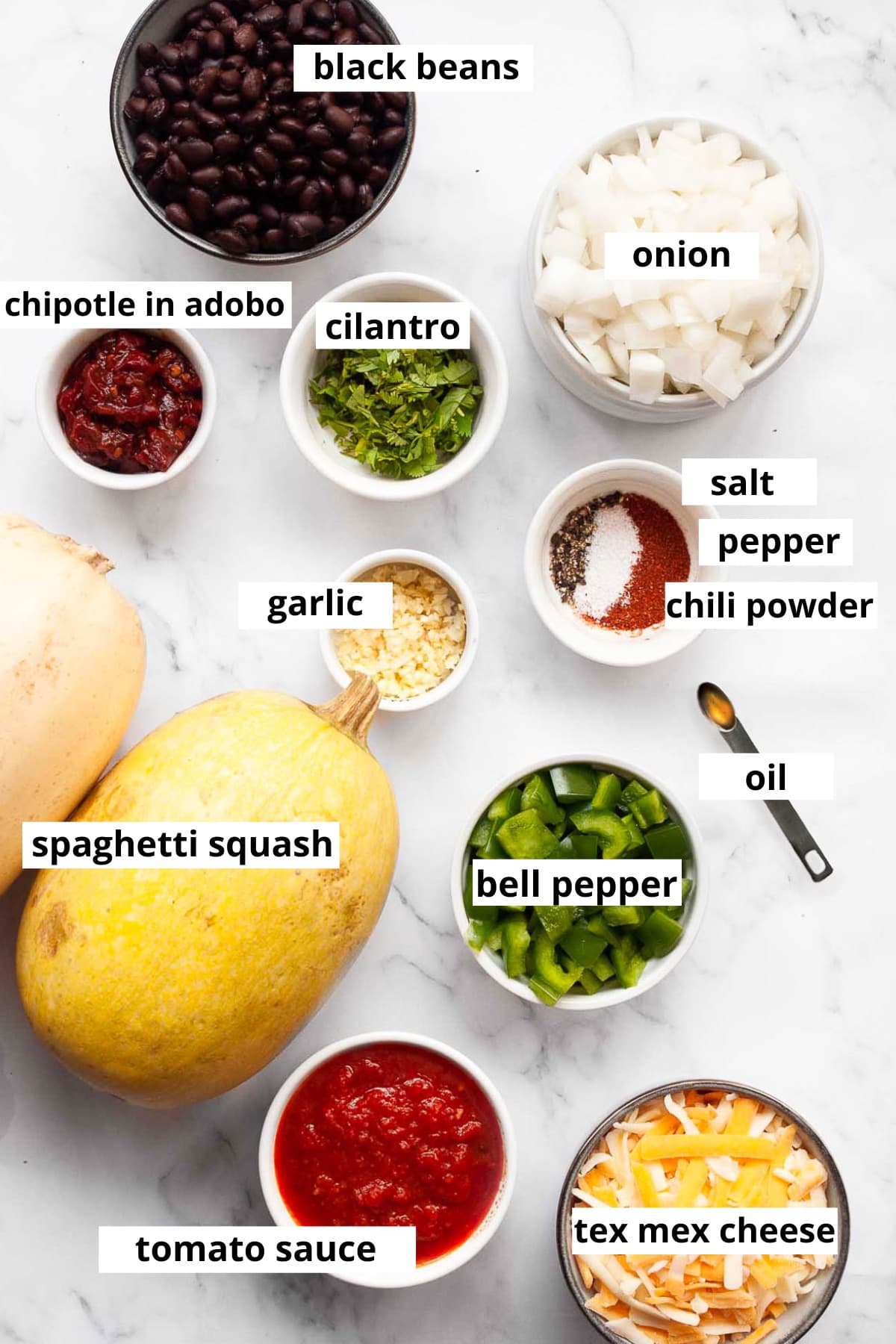 This stuffed spaghetti squash is full of Southwest flavor! Here are very simple ingredients you will need to make it for dinner tonight:
Spaghetti squash: You will need two medium sized spaghetti squash. Smaller squash allows everyone to enjoy their own and top it how they like! Pick ones of similar size for even baking.
Onion and garlic: I prefer yellow onion and freshly minced garlic, both add savory taste.
Bell pepper: I love green bell pepper for its taste or red bell pepper for the contrast in colors, but any color of bell pepper works. Poblano peppers are great too!
Beans: Black beans or red kidney beans are two popular varieties that hold up well and pair with Mexican flavors.
Canned chilis: To add just a small amount of heat use diced canned chilis in adobo or fresh jalapenos.
Tomato sauce: You will need low sodium tomato sauce or crushed tomatoes. Or no salt added is my preference.
Cheese: Colby jack or a Tex Mex cheese, freshly shredded for best taste and melting.
Seasonings and herbs: Chili powder, salt and black pepper plus fresh cilantro.
How to Make Stuffed Spaghetti Squash
This Tex Mex spaghetti squash recipe really comes together easily. The longest part is waiting for your squash to first bake in the oven.
After that it's just prepare the easy filling, stuff, and bake for a few minutes more.
Bake your spaghetti squash: Follow my easy method for baked spaghetti squash. Place 4 squash halves cut side down on a baking sheet, bake for about 40 minutes at 375 F, and let cool. During this whole thing is happening, make the stuffing.
Make the filling: In the meanwhile, you will heat the olive oil in medium to large skillet on medium-high heat. Then start making delicious filling by sauteing chopped onions, minced garlic, chopped bell pepper first. At the end, we stir in beans, chili powder, chilis, tomato sauce, and cilantro. Then half of the cheese is added off the heat, so it doesn't melt too much.
Fluff it up: When squash is cool enough to handle, fluff each squash half with a fork releasing some of the pasta-like strands, while leaving the squash in a shell.
Assemble: Spoon a quarter of prepared bean and pepper mixture into each squash half, then sprinkle with little cheese. Bake until cheese is deliciously gooey! That's it!
Expert Tips
Cut spaghetti squash with ease: You may find your squash easier to cut in long halves by first softening its skin before cutting. Just poke it with a fork 4 or 5 times, microwave on high for 4-5 minutes, then cut through the thick outer skin.
Use any winter squash: Yes! You can totally roast butternut squash halves or acorn squash halves and then stuff with the same filling.
Don't cook it whole: Although it's my favorite shortcut, I do not recommend to bake spaghetti squash whole for this recipe. It will take longer and would have less flavor. This method is just not for the purpose of stuffing it.
Don't over bake your spaghetti squash: This can leave the tender strands watery, al dente squash strands are best.
Variations
There are many delicious ways you can mix it up with these stuffed spaghetti squash bowls for a low-carb meal!
Flavorful protein: Leftover ground turkey taco meat, meat sauce, chicken sausage or Italian sausage would be delicious and have lots of flavor.
Lots of veggies: Fresh spinach, kale, or broccoli would all be great. I would avoid watery vegetables like zucchini.
Cheese: While Tex Mex cheese or Colby Jack cheese is the best for this recipe, feta or cotija, or mozzarella cheese could be used in a pinch. Use vegan cheese, if needed.
Seasonings and herbs: Swap the cilantro for parsley, add taco seasoning for even more Mexican taste or a pinch of red pepper flakes for heat!
What to Serve Tex Mex Spaghetti Squash with?
This stuffed spaghetti squash is healthy meal in itself, although no one ever turns down cucumber salad when I serve it as a side dish!
Since the flavor profile is similar to tacos here are a few topping ideas that make the perfect addition to your spaghetti-like strands.
Diced avocado or guacamole
Shredded cabbage or lettuce
Greek yogurt or sour cream
Squeeze of lime juice
How Do I Make It Ahead and Store?
Make ahead: Roast your spaghetti squash up to 1 day ahead and shred it for noodles. You could also fully assemble the recipe, store in the refrigerator and then bake as directed to warm up and melt cheese.
Store: Refrigerate in airtight container covered for up to 3 days.
Reheat: In the oven or microwave until warmed through.
Freeze: I do not recommend freezing.
FAQs
Can I add ground turkey to this recipe?
Yes! Saute it in step 3 with your onion, garlic, and bell pepper. You may have more filling than needed, but it's delicious to repurpose for tacos or salad.
Could I add chicken?
Yes! Feel free to add ground chicken and cook it in step 3. Or add already cooked chicken with your spices, tomato sauce and cheese in step 3. Even easier, add shredded leftover rotisserie chicken.
Can I use my air fryer to make stuffed squash?
Yes! Follow my air fryer spaghetti squash to roast your halves, assemble, than place back in air fryer to melt the cheese and warm through. Just make sure to buy squash that fits into your air fryer!
More Spaghetti Squash Recipes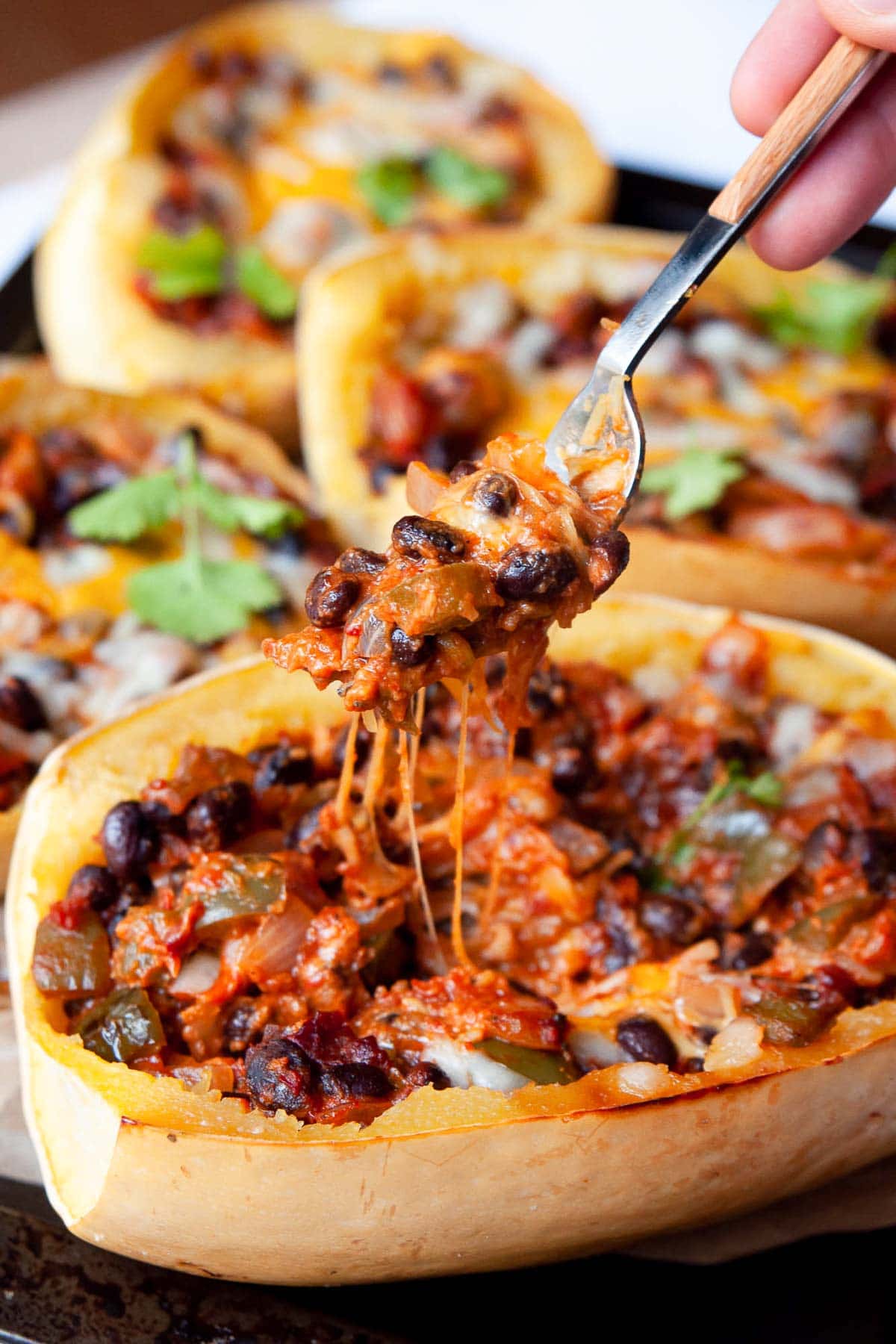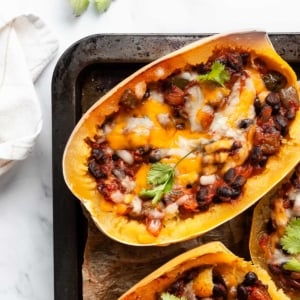 Tex Mex Stuffed Spaghetti Squash
This Tex Mex Stuffed Spaghetti Squash is filled with bold Tex Mex flavors like a giant burrito but only better! It's healthy, lower carb and naturally gluten-free delicious dinner!
Ingredients
2

medium spaghetti squash

1

small onion

finely chopped

4

garlic cloves

minced

1

large bell pepper

diced

14

oz

red kidney beans or black bean beans

low sodium, drained & rinsed

1/2

teaspoon

chili powder

2

tablespoon

diced canned chilis in adobo

or jalapeños

1

cup

tomato sauce

low sodium

1/2

cup

cilantro

finely chopped + more for garnish

1 1/2

cups

Colby Jack cheese or Tex Mex cheese

shredded & divided

1/4

teaspoon

salt

1/2

teaspoon

ground black pepper

1

teaspoon

oil

for frying
Instructions
Preheat oven to 375 degrees F and line rimmed baking sheet with parchment paper.

Cut squash in half and scoop out the seeds with a spoon. Sprinkle flesh side with salt and pepper and lay cut side down on prepared baking sheet. Bake for 40 minutes or until flesh is fork tender but doesn't look soggy.

In the meanwhile, preheat medium skillet on medium heat and swirl oil to coat. Add onion, garlic, bell pepper and saute for 4 – 5 minutes or until golden brown, stirring occasionally.

Add beans, chili powder, chilis, tomato sauce, cilantro and stir. Remove from heat and add 1/2 cup cheese. Stir again.

Remove baked spaghetti squash from the oven and let cool a few minutes. Fluff each squash "boat" with a fork releasing some of the strands, leaving the squash in a shell.

Fill each "boat" with heaping 3/4 – 1 cup prepared bean and pepper filling and sprinkle with 1/4 cup cheese each. Bake for additional 10 minutes or until cheese is melted.

Serve hot, garnished with extra cilantro.
Notes
Store: Refrigerate covered for up to 3 days. Do not freeze.
Don't over bake your spaghetti squash: This can leave the tender strands watery, al dente squash strands are best.
To add meat: Saute ground meat, sausage or diced chicken in Step 3 until no longer pink. Add shredded cooked chicken at the end of Step 3.
Nutrition
Serving:
1
spaghetti squash half
|
Calories:
291
kcal
|
Carbohydrates:
48
g
|
Protein:
7
g
|
Fat:
3
g
|
Saturated Fat:
1
g
|
Cholesterol:
1
mg
|
Sodium:
477
mg
|
Fiber:
12
g
|
Sugar:
17
g