This Coconut Mango Ice Cream recipe is creamy, healthy and refreshingly delicious! This easy ice cream is a no-churn recipe that requires only 4 ingredients. It's dairy-free, refined sugar-free, and naturally vegan.
We also love cottage cheese ice cream, chocolate ice cream, vegan vanilla ice cream and Dole whip around here. Make them all and set up an ice cream bar!
Mangos are a ridiculously tasty tropical fruit which means that mango ice cream has to be amazing.
What's even better than mango ice cream? Mango ice cream with a hint of coconut flavour made without an ice cream machine and only 4 ingredients! That, my friends, is the dream. The cool, sweet, and luscious dream.
When fresh mango is in season at stores, I love to make mango salsa, mango slaw and this delicious mango black bean salad with it.
This 4-ingredient homemade ice cream is a no-churn, simple recipe that tastes just like the tropics. If you've ever made no-churn ice cream before you may have noticed that it doesn't come out creamy or maybe it's a bit too solid. This is not the case with this ice cream.
All it takes is a simple blending of the ingredients, time to chill and set and you've got easily scoopable ice cream. A super simple way to making ice cream that tastes amazing and is healthy!
Why This Mango Ice Cream Recipe Works?
It is so easy to make. All you need is 4 ingredients and a blender.
This is one of the best tasting ice creams you'll have all summer. You won't miss all the added junk found in storebought ice cream.
Cost-effective. Sometimes non-dairy, healthy ice creams can cost a pretty penny. Making it at home is a money saver.
Pure and simple ingredients which makes this a healthy and guilt-free treat.
No-churn ice cream means there is no need for an ice cream maker. All you need is a blender.
Taste and texture are on point. Mango and coconut pair well as flavours, but the mango blends so well that it also makes it nice and smooth.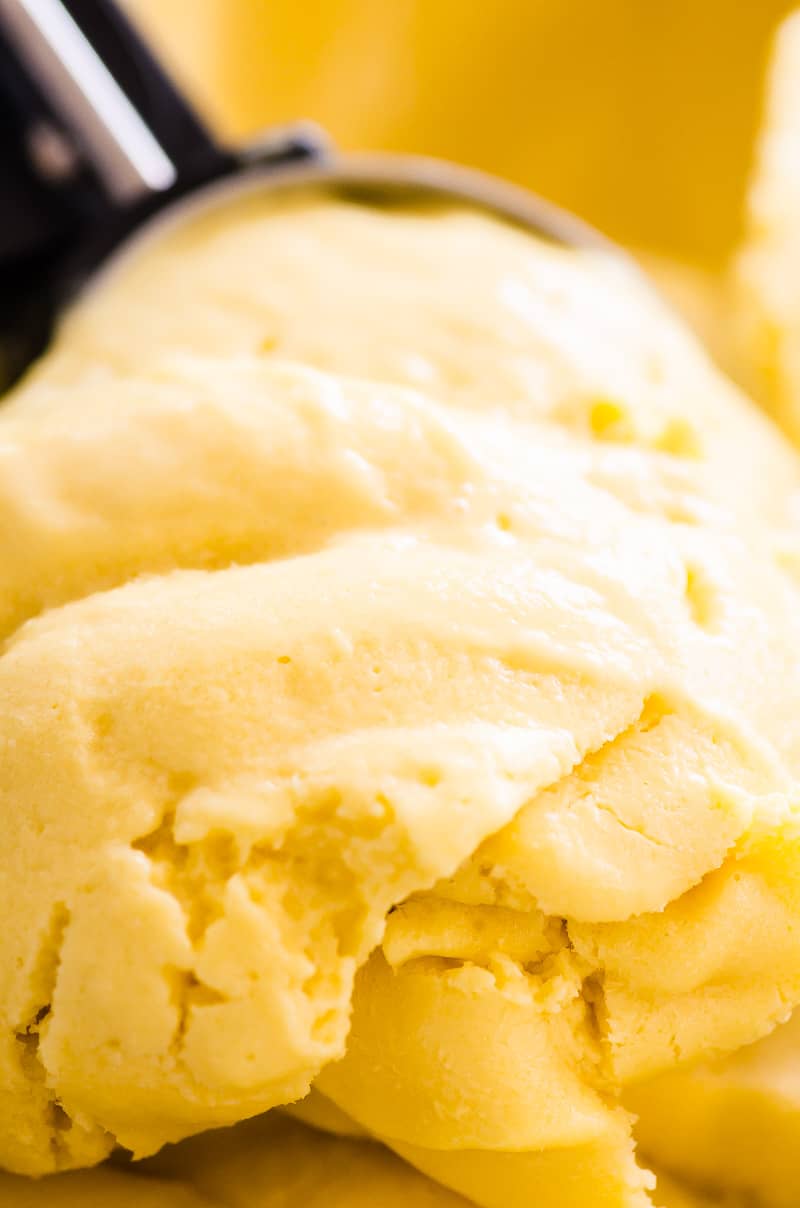 Ingredients You Will Need
Mango: Fresh or frozen mango works. Fresh mango will take longer to freeze but is sweeter. Frozen mango will make a thicker consistency and will be more ice cream-like right off the bat.
Canned coconut milk: I recommend to use regular full fat coconut milk from a can, not carton. Light will work but ice cream will be more sorbet style.
Maple syrup or honey: Either works. You might find you need to use less sweetener when using fresh mango. Frozen mango chunks are usually made from mangos that aren't quite ripe yet, making them less sweet.
Milk or water: You will need to add just a bit of liquid to help things move in the blender.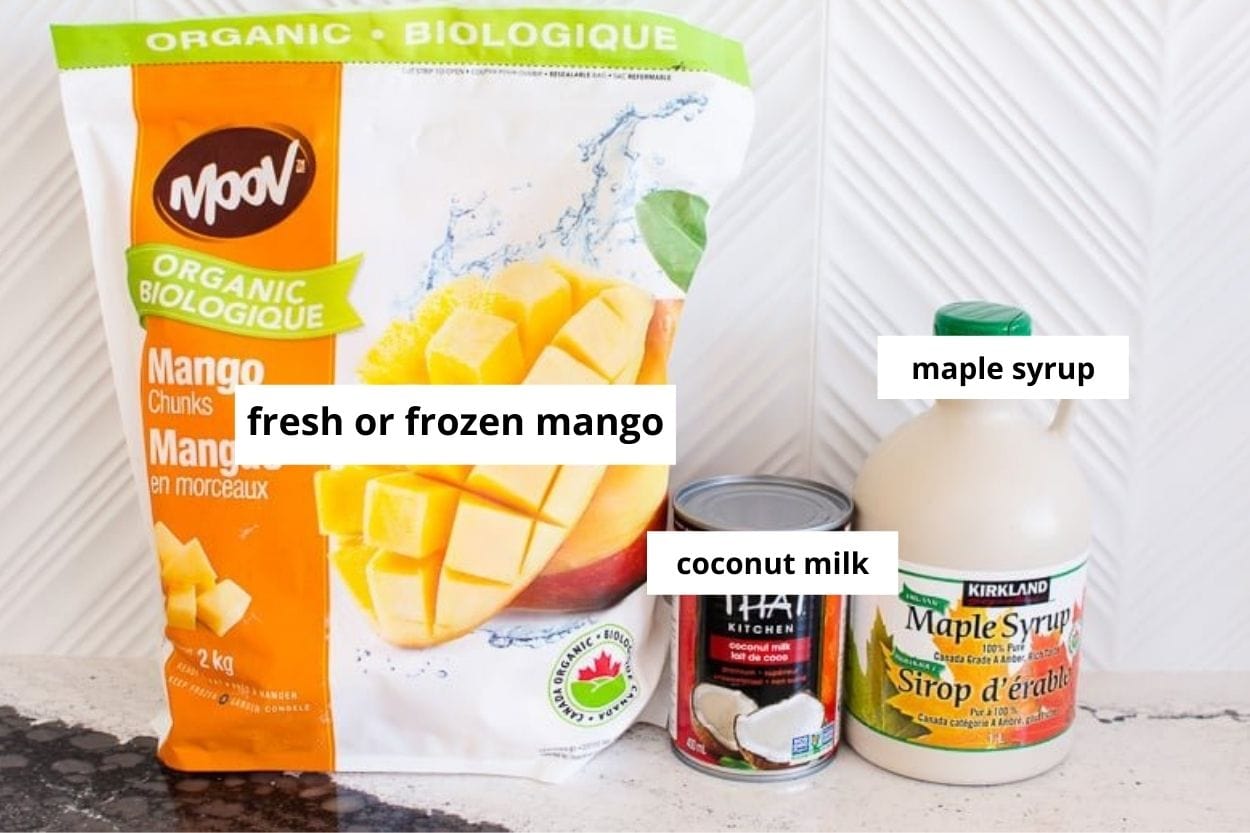 How to Make Coconut Mango Ice Cream
Blend all ingredients in a blender or food processor. A high speed blender will help things move along faster, but any blender will work. Small remaining chunks are totally fine and may even make for an interesting texture.
Transfer to any ceramic, glass or baking dish. No need to level anything out if you don't want to.
Freeze for up to 6 hours if you used frozen mango and 8 hours if you used fresh mango.
Recipe Tip
You can control the consistency of ice cream by freezing for less time for soft-serve and longer for regular ice cream.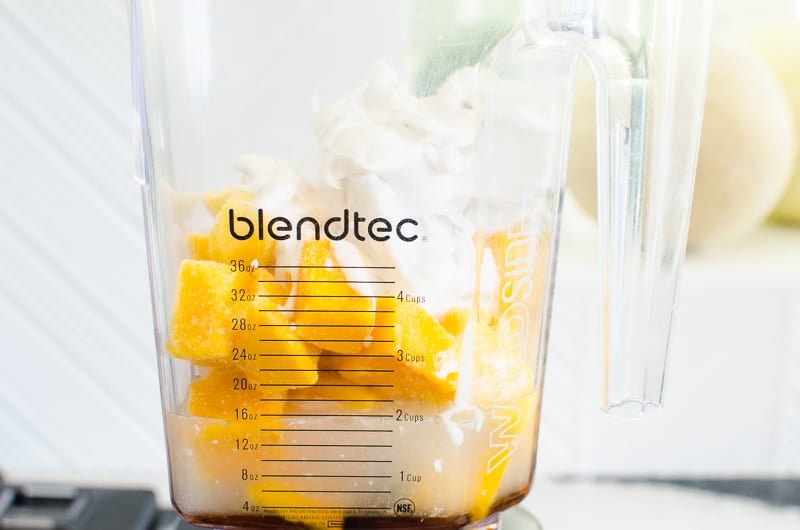 Optional Add – In's and Variations
No mango? Try pineapple, papaya, or guava. Yum!
Mango purée can also work in a pinch.
Toss some sliced banana in there for added flavor
Try other fruit combinations for fun. Think mango and kiwi, mixed berries, or peaches.
You could try this recipe using any of the above-mentioned fruit on its own.
Fold in diced strawberries or serve sliced on top because mangos and strawberries is another perfect duo.
Sprinkle with some toasted coconut or dark chocolate chips for a bit of added crunchy texture.
Some people have enjoyed adding a pinch of salt or a bit of spice such as cardamom or cinnamon for extra flavour. If you try something creative like that, let me know what you think!
Tips for Best Mango Coconut Ice Cream Results
Coconut milk brand matters! My favorites are Thai Kitchen, 365, Trader Joe's and Compliments. That's because they contain guar gum and are creamy.
Many organic brands are affordable and good for you but consistency is grainy.
Cheaper international brands contain many chemicals. Avoid if you can.
Room temperature coconut milk is best. Don't try and put it in the fridge first, it's unnecessary.
FAQs
Can I use fresh mangos for ice cream?
This mango ice cream recipe is the perfect reason to use up fresh mangos! Fresh ripe mangos not only work but they help to make the ice cream nice and sweet. It just might take a little longer for the ice cream to set, but believe me, it's worth the wait.
Do I need an ice cream maker to make this mango coconut ice cream?
You don't! Another benefit of this recipe is that it is a no-churn ice cream that can be made with a simple blender. If you have an ice cream maker, by all means, use it. Either way, you'll get amazing ice cream.
Can I use a different type of milk in this ice cream recipe?
I haven't tried, but for this particular recipe, I would highly recommend sticking to full-fat coconut milk. You could potentially use dairy milk or cream, but in an effort to keep this a dairy-free, vegan ice cream I will stick with coconut milk. Any other non-dairy kinds of milk, like almond, oat, or cashew would be too watery for this recipe – those dairy free milks work better in a smoothie. The consistency would probably not result in what we are looking for. If you have success with any other milk, let me know in the comments.
Is ice cream made with coconut healthy?
Coconut itself is healthy in moderation. It's high in fibre and full of good fats and when unsweetened, fresh coconut milk is added to ice cream it only adds to the health factor. Coconut milk has much of the same benefits, but of course, it all depends on what kind of ice cream you're making. If you're making ice cream with all kinds of refined sugars and artificial ingredients, then adding coconut is probably not going to help much.
Is mango coconut ice cream vegan?
It sure is. With only 4 ingredients, mango, coconut milk, maple syrup, and maybe a bit of extra coconut milk or water, rest assured that this ice cream is not only refined sugar-free, gluten-free, and dairy-free, it's vegan as well!
Serving Recommendations
Making Mango Ice Cream in Advance
This is very important information because your ice cream does not contain chemical fillers!
Before serving, let ice cream thaw at room temperature for at least 30 minutes. If it is a hot summer day, things can happen faster. Just check with an ice cream scoop. Thawing will make ice cream more creamy!
For soft-serve ice cream, thaw for 1 hour.
Storing and Freezing
To store: Any leftover ice cream can be frozen in an airtight container with a lid for up to 3 months. Then follow the serving suggestions above.
More No Bake Desserts
Alternately, browse through all our healthy desserts!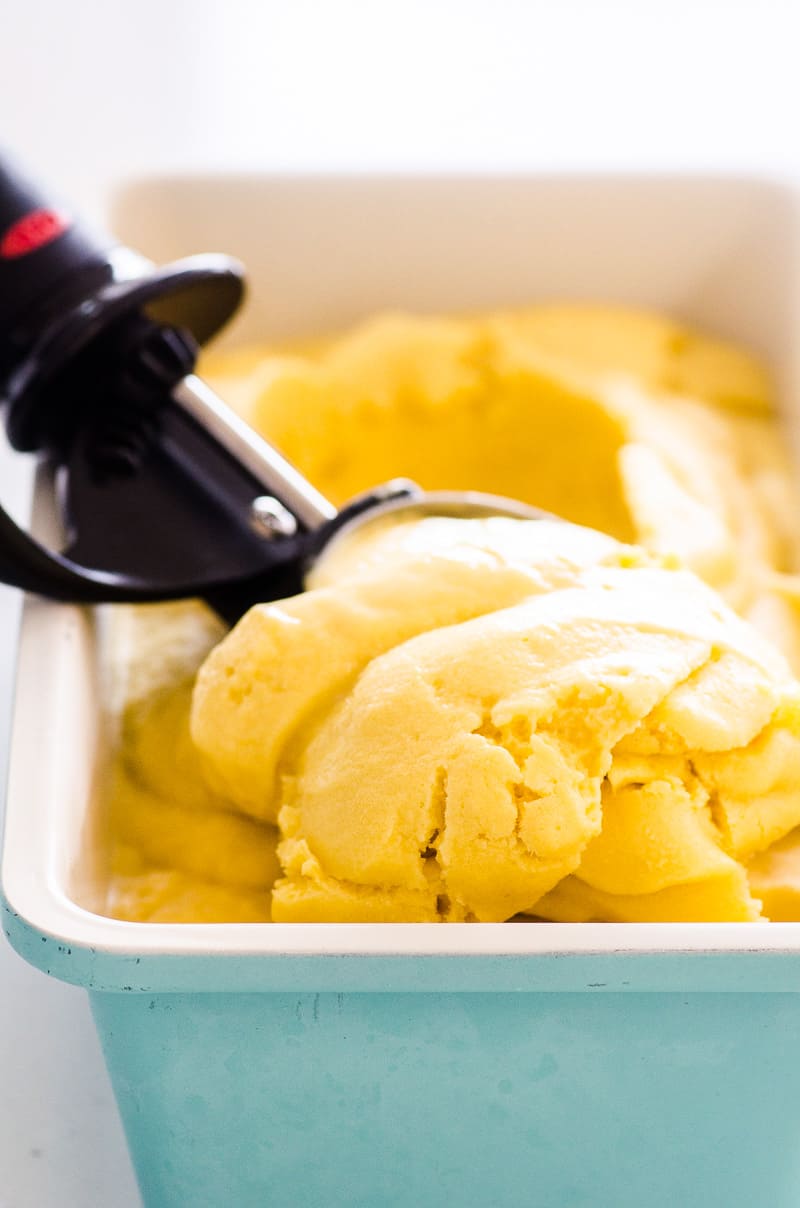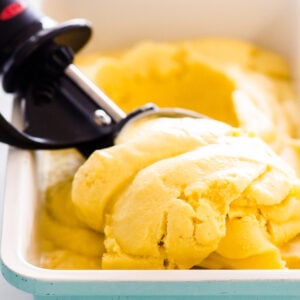 Coconut Mango Ice Cream
This Coconut Mango Ice Cream recipe is creamy, healthy and refreshingly delicious! This easy ice cream is a no-churn recipe that requires only 4 ingredients. It's dairy-free, refined sugar-free, and naturally vegan so it's not only tasty but guilt-free in so many ways. Serve it regular or soft serve as a treat on its own or as the perfect way to end any meal!
Instructions
Process until smooth, adding more liquid by tbsp and scraping the walls, if necessary.

Taste for sweetness now and adjust of necessary. Especially, frozen mango differs.

Pour into any container and freeze for at least 6 hours or overnight.

To serve, let thaw on a counter for 30 minutes or 60 minutes for soft serve. It will become softer and creamy.
Notes
Store: Freeze in a glass airtight container for up to 3 months.
Pictured are my favorite OXO scoop and ceramic loaf baking dish.
I tried to make this mango ice cream in an ice cream maker and it was too crystalized. Great news – you don't need a machine, wahoo!
Coconut milk should be from a can and not carton.
Quality of coconut milk is super important. I highly recommend Thai Kitchen. Trader Joe's, 365, Compliments brands as they produce creamy and smooth ice cream thanks to a guar gum.
You can use light coconut milk but ice cream will be less creamy.
Nutrition
Serving:
1
cup
|
Calories:
251
kcal
|
Carbohydrates:
28
g
|
Protein:
2
g
|
Fat:
16
g
|
Saturated Fat:
14
g
|
Sodium:
19
mg
|
Fiber:
3
g
|
Sugar:
24
g