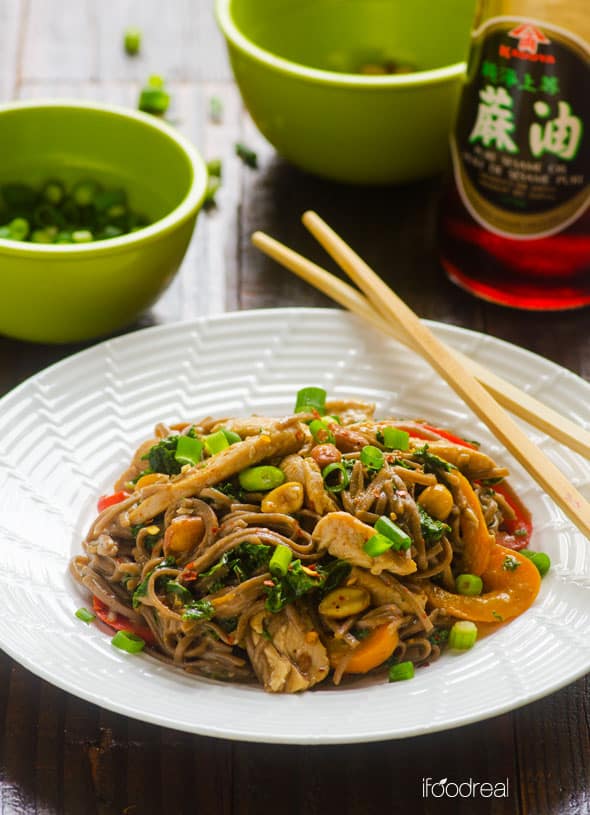 How to Make Chicken Soba Noodles
The goal is not to overcook the noodles and make a big mess, which I admit happens to me every other time when I make this healthy dinner. Ugh. I boiled the noodles for 3 minutes, really could be even 2 but depends on a thickness of your soba, and then rinsed under cold water.
Love any type of noodles? Check out these healthy pasta recipes!
Another key to successful healthy soba noodles recipe is to have all ingredients ready before cooking: sauce, sliced protein and chopped veggies. You can really use what you have, just common sense please.
The peanut butter sauce: Very simple spices and thickened with cornstarch. Mixed with chicken breast, a bunch of bell peppers and kale (delicious addition!).
I cook meat, veggies and noodles separately. Noodles being an obvious part. Meat tastes best if browned on high heat and a bit of sauce added during the last minute. The sauce caramelizes and coats meat evenly – to-die-for sticky sweet and salty chicken! Save time and use leftover diced air fryer chicken tenders or air fryer chicken breast.
Then I stir fried bell peppers which made them super fragrant. Everything cooks quickly on high heat. No other secrets, I promise!
Dinner tonight, healthy lunch idea tomorrow!
More Stir Fry Recipes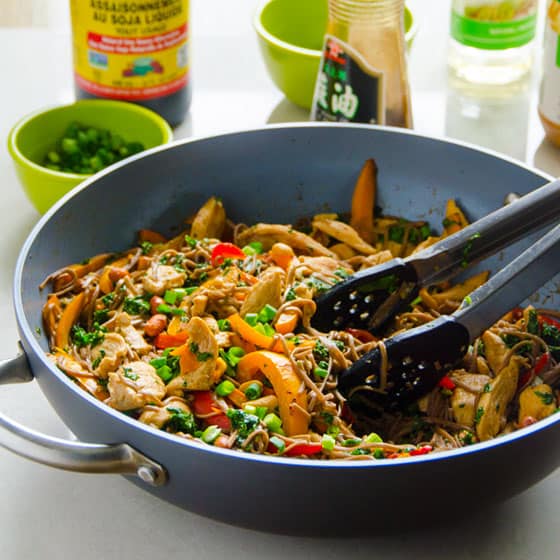 Peanut Chicken Soba Noodles
Peanut Chicken Soba Noodles Recipe with bell peppers, kale and delicious sauce. 30 minute dinner idea your husband and kids will actually eat.
Instructions
Bring medium pot, filled half with water, to a boil. In the meanwhile, get all ingredients ready, most importantly, cut the chicken, chop vegetables and measure peanuts. In a medium bowl, whisk Sauce Ingredients and set aside.

Add soba noodles to a pot with boiling water and cook for 2 – 3 minutes or al dente, stirring constantly and making sure the noodles do not stick. Reserve about a cup of noodles' water (starchy water is great for diluting the sauce), transfer noodles to a colander, rinse with cold water and leave to drain.

Preheat non-stick wok or large deep skillet on high heat and add chicken. Cook until golden brown, stirring occasionally. This should take about 10 minutes (depending how much water your chicken contains). Add 1/3 of prepared Sauce and stir constantly for a minute or until sauce thickens and coats the meat. Remove from heat and transfer a bowl. Set aside.

Rinse and dry wok/skillet and return to the stove, on high heat. Add bell peppers and stir fry until fragrant and some peppers are golden brown, stirring constantly. Reduce heat to medium and add kale, soba noodles, chicken and remaining sauce. Stir gently until mixed, about a minute and remove from heat. Sauce will thicken as it warms up. If noodles absorb too much sauce, add some reserved noodles' water. Add peanuts, green onions and red peppers flakes. Serve hot.
Notes
Store: Refrigerate covered for up to 2 days.
Nutrition
Serving:
1.67
cups
|
Calories:
406
kcal
|
Carbohydrates:
39
g
|
Protein:
36
g
|
Fat:
13
g
|
Saturated Fat:
2
g
|
Cholesterol:
73
mg
|
Sodium:
1114
mg
|
Fiber:
3
g
|
Sugar:
8
g