Soba Noodles and Peanut Chicken Recipe
And I'm welcoming stir fries back into my life with open arms that are growing biceps, triceps and even medial deltoid. Honestly, I had to google the spelling of the latter. My point – you can enjoy healthy chicken soba and still lose weight.
Yep, good news, right?! Weight loss is a combination of many things. I strongly believe in moderation rather than deprivation, because one day you will break and binge on a big amount of [email protected] Well tested on my very own self.
Chicken Soba Ingredients:
So, my peanut chicken recipe is made as healthy as possible with 80/20 rule. Why?! Because I had to use soba noodles made in China. Although I swore never to buy anything from China, I do not think they are made anywhere else in the world.
Finding organic is a different story. I once bought a package with USDA Organic logo on the front and Made in China writing on the back. I believe in organic Chinese food as much as I believe that babies are found in the cabbage. What I believe more though, that China is very proficient in Photoshop and USDA won't even know their logo has been googled and saved on someone's screen in China. Blunt truth.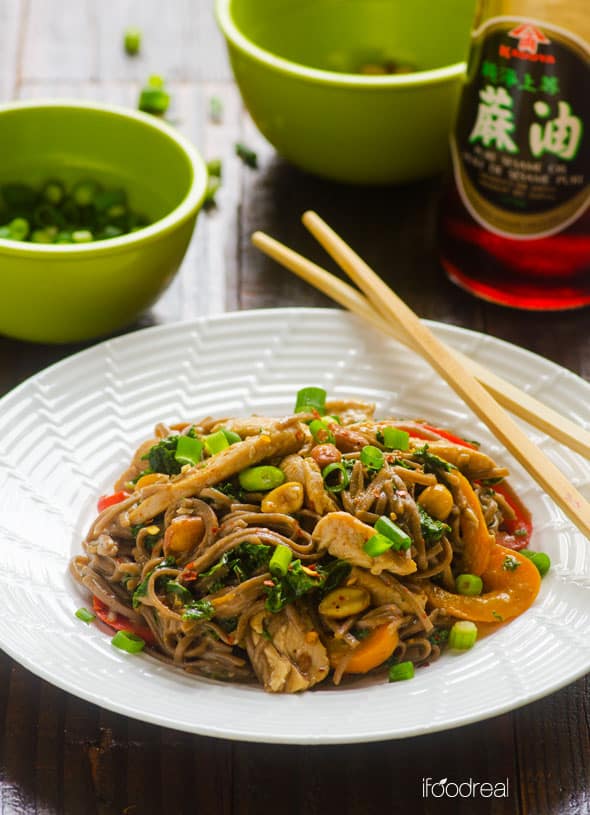 Despite Chinese noodles on the menu, my stir fry is healthy. Soba noodles are made out of buckwheat, a well known in Ukraine whole grain that I believe soon to be discovered by North America, just like quinoa. Give it 10 years. So, health check for noodles (BTW another BS marketing logo I have seen on a package of Lifestyle cookies, really?!).
How to Make Chicken Soba Noodles:
The goal is not to overcook the noodles and make a big mess, which I admit happens to me every other time. Ugh. I boiled the noodles for 3 minutes, really could be even 2 but depends on a thickness of your soba, and then rinsed under cold water.
Another key to successful healthy soba noodles recipe is to have all ingredients ready before cooking: sauce, sliced protein and chopped veggies. You can really use what you have, just common sense please. No potatoes or lamb.
The peanut butter sauce: Very simple spices and thickened with organic cornstarch. 80% of soy and corn in North America are GMO. Luckily, it's not that hard to find these two organic. Mixed with chicken breast, a bunch of bell peppers and kale (delicious addition!).
I cook meat, veggies and noodles separately. Noodles being an obvious part. Meat tastes best if browned on high heat and a bit of sauce added during the last minute. The sauce caramelizes and coats meat evenly – to-die-for sticky sweet and salty chicken!
Then I stir fried bell peppers which made them super fragrant. Everything cooks quickly on high heat. No other secrets, I promise!
I used to be terrified of stir fries. I figured out why – I had an old wok to which my food was sticking. Duh, no wonder?! It was 13 years old. I even used it creating skillet recipes for my eBook. See, I'm Ukrainian and we can be very creative. Last time my mom came for a visit, she touched up kitchen cabinets with an artist's brush, glued floor protectors with school glue to all chairs and covered the cat's door (RIP Ozzy) with who knows what but it works.
Do I really have to sell you on noodles?! Really?! I don't think so. I'm marking this healthy soba noodles recipe as kid friendly because both of my kids ate it without picking out kale or bell peppers. I think peanuts did the trick – a nice cover up.
Enjoy my Ukrainianized Asian healthy soba noodles recipe!
More Healthy Stir Fry Recipes to Try: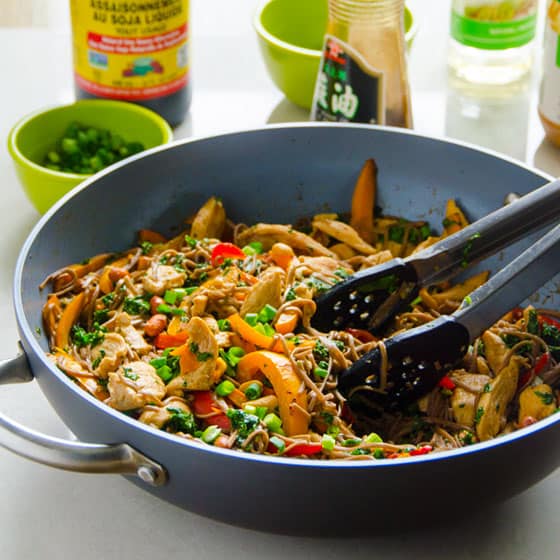 Healthy Soba Noodles with Peanut Chicken Recipe
Healthy Peanut Chicken Soba Noodles Recipe with bell peppers, kale and delicious sauce. 30 minute dinner idea your husband and kids will actually eat.
Print
Save
Rate
Ingredients
Sauce:
1/2

cup

soy sauce

low sodium

1/2

cup

water

2

tbsp

honey

2

tbsp

rice vinegar

2

tbsp

peanut butter

unsalted

2

tsp

cornstarch

1

tsp

sesame oil

2

large garlic cloves

crushed
Stirfry:
6

oz

soba noodles

brown rice noodles would work too

1.5

lbs

boneless & skinless chicken breasts

thinly sliced

2

large bell peppers

cut into thin strips

4

cups

kale

coarsely chopped & packed

1/2

cup

peanuts

unsalted

3

green onion sprigs

chopped

1/4

tsp

red pepper flakes or to taste
Instructions
Bring medium pot, filled half with water, to a boil. In the meanwhile, get all ingredients ready, most importantly, cut the chicken, chop vegetables and measure peanuts. In a medium bowl, whisk Sauce Ingredients and set aside.

Add soba noodles to a pot with boiling water and cook for 2 - 3 minutes or al dente, stirring constantly and making sure the noodles do not stick. Reserve about a cup of noodles' water (starchy water is great for diluting the sauce), transfer noodles to a colander, rinse with cold water and leave to drain.

Preheat non-stick wok or large deep skillet on high heat and add chicken. Cook until golden brown, stirring occasionally. This should take about 10 minutes (depending how much water your chicken contains). Add 1/3 of prepared Sauce and stir constantly for a minute or until sauce thickens and coats the meat. Remove from heat and transfer a bowl. Set aside.

Rinse and dry wok/skillet and return to the stove, on high heat. Add bell peppers and stir fry until fragrant and some peppers are golden brown, stirring constantly. Reduce heat to medium and add kale, soba noodles, chicken and remaining sauce. Stir gently until mixed, about a minute and remove from heat. Sauce will thicken as it warms up. If noodles absorb too much sauce, add some reserved noodles' water. Add peanuts, green onions and red peppers flakes. Serve hot.
Store: Refrigerate covered for up to 2 days.
Nutrition
Serving:
1.67
cups
|
Calories:
406
kcal
|
Carbohydrates:
39
g
|
Protein:
36
g
|
Fat:
13
g
|
Saturated Fat:
2
g
|
Cholesterol:
73
mg
|
Sodium:
1114
mg
|
Potassium:
974
mg
|
Fiber:
3
g
|
Sugar:
8
g
|
Vitamin A:
5823
IU
|
Vitamin C:
107
mg
|
Calcium:
110
mg
|
Iron:
3
mg
Join today and start saving your favorite recipes
Recipes and images are a copyright of ifoodreal.com. It is against the law to republish recipes anywhere including social media, print and all world wide web. Nutritional info is provided for informational purposes only and to the best knowledge.