This Garlic Butter Shrimp Quinoa and Asparagus is simple, hearty, fresh, delicious and a nutritious protein-rich meal -packed with flavor and a rich garlic butter sauce! Enjoy this skillet shrimp and quinoa recipe warm for dinner and enjoy the leftovers cold (or warm) the next day!
Love healthy shrimp recipes? Check out this recipe for Thai shrimp curry with squash, air fryer shrimp, grilled shrimp skewers, or shrimp and vegetable stir fry!
Hearty, Healthy Protein-Dense Garlic Shrimp Quinoa
I'll admit, in this house shrimp are a bit of a luxury 'every now and then' purchase- usually during summer so I can make light dishes like shrimp ceviche, healthy shrimp salad, shrimp with zucchini, and this garlic butter shrimp quinoa with asparagus!
This shrimp stir-fry dish only requires about 15-20 minutes of hands-on prep, two pans, is made up of simple ingredients, and is highly nutritious – packing in a whopping 40g protein per serving! Perfect for a hearty yet light mid-week meal- lunch or dinner! Honestly, I love the simplicity of this simple skillet shrimp stir-fry dish. Then again, that's the case with all my favorite stir-fries – like healthy beef stir fry, salmon stir fry, healthy chicken stir fry, and even a vegetarian cabbage stir fry! However, this one is a little special because it contains butter!
Butter and 'healthy' don't usually go together. Yet, this garlic butter shrimp with asparagus uses the least amount of butter possible for those utterly delicious flavors without being overwhelmingly greasy or fatty! Plus, the addition of quinoa means tons of protein, fiber, B vitamins, several minerals, and all nine essential amino acids. It's so nutritious that you'll find me using it any time of the year because, as hearty as it is, it also doesn't weigh you down like rice or pasta, meaning it makes for excellent quinoa salads, quinoa falafels, and egg muffins!
Oh, and did I mention I have a not-so-secret trick for making the most of the garlicky-y flavor? I am Ukrainian, after all, and you all know how much we love garlic! (I even dip bread directly into garlic olive oil bread dip when I'm not too busy eating a bowl of whipped garlic hummus). So instead of chucking it all in the pan from the get go, keep some to add at the very end of the cooking process, and you'll end up with a punch of garlic flavor without it being overwhelming.
The result is a simple skillet shrimp and quinoa recipe that the entire family loves (definitely kid-approved!) and is a general crowd-pleaser. No-one will believe that it's healthy. Best of all, while it's already incredibly nutritious, you can bulk it up further with extra veg based on what's in season and save leftovers to enjoy over the next 3-4 days (warm or cold!).
Why This Shrimp and Quinoa Recipe Works?
This garlic butter shrimp quinoa dish is full of flavor but only contains 7 simple ingredients.
It is light yet super nutritious, with a whopping 40g of protein per portion!
Enjoy it for lunch or dinner, warm or chilled – it's excellent for meal-prep!
Who doesn't love butter? What's even better? Garlic butter, that's what! Any dish that contains garlic butter and is still relatively healthy and low-calorie is a win in my eyes!
This skillet shrimp recipe is also very versatile. Add or substitute the veggies and protein based on what you have and is in season!
This asparagus, shrimp, and quinoa recipe is naturally gluten-free, grain-free, and uses all-natural ingredients!
Ingredients for Garlic Butter Shrimp with Asparagus
Quinoa: You can use white quinoa, tri-color quinoa, or even a quinoa grain blend like quinoa bulgur – although each will differ slightly in cooking time.
Asparagus: I love to bulk buy asparagus for this recipe, air fryer asparagus, bacon wrapped asparagus, and asparagus salad with easy dijon vinaigrette – plus, as it's not too heavily sprayed and doesn't retain tons of pesticides, there's no need to fork out tons of money on organic.
Shrimp: I use large raw, pre-peeled, and de-veined shrimp. I prefer to buy frozen shrimp and defrost it before cooking as I find that it's often the freshest option. I use large shrimp (31/40 per/pound).
Pine nuts: I love the buttery-ness of lightly toasted pine nuts. However, feel free to substitute for another lightly toasted nut. For a nut-free version, you could use sunflower seeds or pepitas.
Garlic: I prefer to use fresh garlic, but garlic paste will also work in a pinch. Feel free to adjust the amount to personal preference.
Butter: I use organic, grass-fed butter. If you use salted butter, then adjust the amount of salt in the recipe accordingly.
Sprouts (optional): Or other microgreens to garnish. I recently discovered that these micro herbs contain 100 times more enzymes than uncooked fruits and veggies, and yet many are neutral enough in taste that my kids don't mind them too – which means they're now garnishing everything (don't cook them!).
Salt: I used Himalayan pink salt.
Keep reading below (after the recipe how-to) for more information on garlic butter shrimp with asparagus and quinoa recipe add-ins and seasoning variations!
How to Make Skillet Shrimp with Asparagus
Prepare the quinoa: First, cook the quinoa according to the package instruction or use my how to cook quinoa on the stovetop or Instant Pot quinoa methods for perfect results every time!
Toast the pine nuts: Add the pine nuts to a dry (no oil) wok/skillet and fry over medium heat until golden brown, stirring occasionally. Keep an eye as they burn quickly – this should take around 4 minutes. Then transfer them to a bowl.
Cook the asparagus: Into the same wok, add 1 tbsp butter, half the garlic, and stir until melted (over medium heat). Then add the asparagus, sprinkle with salt, and cover and cook for five minutes until tender. Then remove from the pan and add to the bowl with the pine nuts.
Fry the shrimp: Next, add 2 tbsp butter to the pan, raise the heat to medium-high, and add the shrimp and around 1/2 tsp salt. Cook the shrimp, occasionally stirring, until they are pink with no sign of grey. Then turn off the heat and add the remaining garlic and stir well. Optionally you can add a crack of black pepper.
Be careful not to overcook the shrimp. As soon as they're pink through, they're ready. If they start to really curl up on themselves (like a tight 'C' or become tough/rubbery), you've overcooked them.
Assemble and serve: Add the pre-cooked ingredients (pine nuts, asparagus, and quinoa) to the wok, stir to mix, and sprinkle with microgreens (optionally). Serve the garlic butter shrimp with asparagus and quinoa warm and enjoy!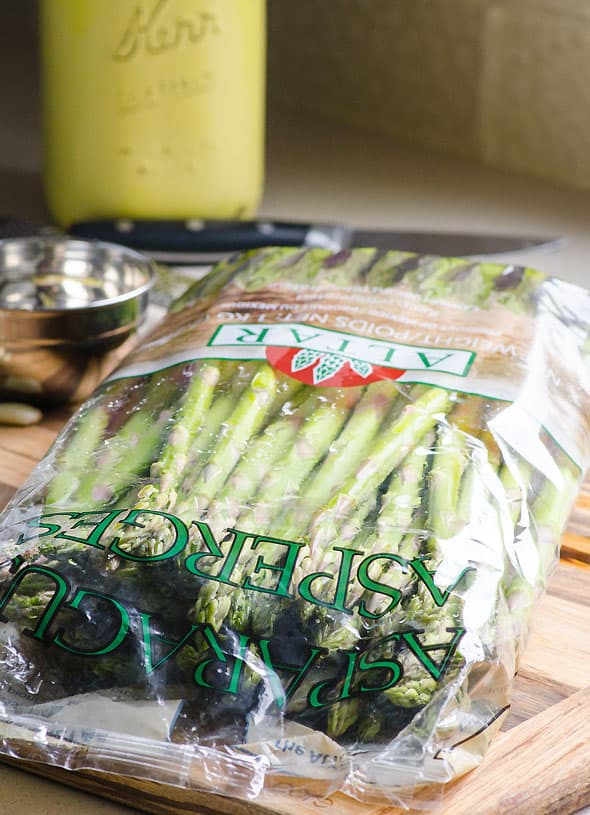 Optional Add-In's and Variations
This garlic butter shrimp with asparagus and quinoa is actually fairly versatile. Here are just a few ways to adapt the recipe to your liking.
Other vegetables: The easiest way to bump up the nutrients in this the shrimp and quinoa recipe is with the addition of extra veggies. Some of my favorites include zucchini, corn, broccoli, cauliflower, bell peppers, peas, snow peas, mushrooms, tomatoes, other greens like spinach/kale, etc. Vegetables like squash/pumpkin will also work well but require longer cooking times.
Swap out the protein: This same method works well for other proteins, too, like diced chicken breast, scallops, or even crispy crispy pan fried tofu (for a vegan version, use dairy-free butter)
Mediterranean shrimp quinoa: You can easily adapt this the shrimp and quinoa recipe to more of a Mediterranean-themed meal with the addition of olives, zucchini, tomato, a little feta, and serve the dish with lemon wedges – delicious!
Lemon: You can add lemon zest directly into the garlic butter shrimp with asparagus and quinoa, or serve it up with lemon wedges to add extra 'brightness' to the dish (or even both).
Spice: There are several ways you can add spice to the skillet shrimp dish. Either add a pinch (or more) of chili/cayenne pepper, pepper flakes, or finely chopped fresh chilies.
Parmesan: The butter already adds fats to this meal, so I tend to avoid adding cheese. But if you do, a fine topping of grated parmesan would taste delicious.
Tips for Best Results
To quickly defrost shrimp: If you're using frozen shrimp and have forgotten to defrost them in time (don't worry – I do it all the time, too!). Then you can quickly defrost the shrimp in around 20 minutes. First, rinse off any larger ice-particles under a running tap, then leave the shrimp to thaw for 15-20 minutes in a large bowl of room-temp or cold water (never warm/hot!).
Add extra flavor to the quinoa: Cooking it in vegetable broth (or homemade Instant Pot chicken broth) in place of simply salted water will help to add extra depth of flavor to the shrimp and quinoa recipe.
To serve two: Feel free to cut the recipe in half (or double it for more!).
FAQs
Does shrimp go with quinoa?
Yes – honestly most proteins pair well with quinoa as it makes for a great high-protein replacement of rice and other grains in meals. However, the slightly nutty flavor of quinoa goes particularly well with this creamy garlic butter shrimp with asparagus. I can't get enough!
Can I use fresh mint with shrimp quinoa?
You sure can. Feel free to swap out the (optional) microgreens for fresh herbs instead like parsley or mint.
What type of shrimp should I use for shrimp and quinoa?
I prefer to buy shrimp pre-peeled and de-veined, which saves a lot of time in the kitchen. I also recommend buying your shrimp frozen, as they actually tend to be fresher than the ones at the fish counter (As they're frozen soon after sorting for optimal freshness). In terms of size, you could use medium (41/50 per lb), large (31/40 per lb), or extra-large (26/30 per lb) shrimp for this shrimp quinoa recipe. I used large shrimp.
What can I substitute for quinoa in this shrimp skillet?
You could use grains like bulgur wheat, couscous, or even use pasta instead – like orzo or wholewheat pasta. Just note that the quinoa is particularly high-protein. Each substitute will take different cooking methods and have different nutritional information.
Is shrimp with quinoa a low-calorie meal?
One serving of this shrimp quinoa contains just 415 calories, with a whopping 40g of protein. More so, this shrimp and quinoa recipe is packed with vitamins and minerals, so it makes for a hearty yet low-calorie meal. Serve it up with extra greens (like sautéed spinach or a side salad) to further bulk up the greens and nutrients in a healthy way.
Is skillet shrimp with asparagus gluten-free?
Yes, quinoa is naturally gluten-free (and actually grain-free too – as it is a seed) and the remainder of the dish is naturally gluten-free too.
Serving Recommendations
This garlic butter skillet shrimp quinoa tastes delicious alone as a hearty yet 'light' meal. However, you can also serve it with several 'sides,' including:
If you're serving the leftovers as a cold shrimp quinoa salad, you could also top it with ingredients like avocado (or simple avocado salad) or a simple salsa (like pico de gallo), which both pair well with shrimp and quinoa. It also pairs well with a drizzle of this avocado cilantro dressing!
Making Shrimp Quinoa in Advance
Make Ahead: I prefer to make the shrimp fresh as they only take a few minutes, and you run the risk of them becoming overcooked and rubbery if reheating them to serve. However, the quinoa and asparagus can be prepared 1-2 days in advance. Simply reheat the quinoa while you cook the shrimp and serve!
Storing: Store any leftovers in an airtight container in the refrigerator for up to three days.
Freezing: You can freeze any leftover garlic butter shrimp quinoa for between 2-3 months. I recommend freezing it in an airtight container within 2 hours of cooking the dish. To thaw, leave in the fridge overnight. You can then enjoy the garlic butter shrimp with asparagus and quinoa chilled, at room temperature, or warmed up again.
Reheating: It can be a bit tricky reheating pre-cooked shrimp without overcooking them. I recommend gently reheating the garlic butter shrimp quinoa on the stovetop with a splash of water until warm. You may also be able to reheat it in the microwave, but this is more likely to lead to overcooked shrimp.
More Healthy Seafood Recipes
You might also like this list of healthy salmon recipes!
Garlic Butter Shrimp, Quinoa and Asparagus
This Garlic Butter Shrimp Quinoa and Asparagus is simple, hearty, fresh, delicious and a nutritious protein-rich meal -packed with flavor and a rich garlic butter sauce! Enjoy this skillet shrimp and quinoa recipe warm for dinner and enjoy the leftovers cold (or warm) the next day!
Ingredients
1

cup

quinoa

dry

2

lbs

asparagus

trimmed & cut into 2" pieces

2

lbs

large shrimp

raw & deveined

1/2

cup

pine nuts

optional*

3

tbsp

butter

divided

4

large garlic cloves

crushed

1

tsp

himalayan pink salt

divided

Sprouts

optional
Instructions
In

a ceramic non-stick wok

, add pine nuts and toast until golden brown, stirring occasionally. Takes about 4 minutes. Transfer to a bowl.

Return wok to medium heat and melt 1 tbsp butter. Add half the amount of garlic and stir for 10 seconds. Add asparagus and sprinkle with 1/2 tsp salt; stir and cover. Cook for 5 minutes and transfer to a bowl with pine nuts.

Return wok to medium-high heat and melt 2 tbsp butter. Add shrimp, sprinkle with 1/2 tsp salt and cook until pink and no grey in sight, stirring occasionally. Turn off the heat, add half the amount of garlic and stir well. Sprinkle with black pepper if desired.

Add asparagus, pine nuts and quinoa to a wok. Sprinkle with sprouts if using. Stir gently and serve hot.
Notes
Make Ahead:

Quinoa and asparagus can be prepared 1-2 days in advance. Simply reheat the quinoa while you cook the shrimp and serve!

Store: Refrigerate in an airtight container for up to 3 days. Gently reheat on the stovetop with a splash of water until warm.
Freeze:

I recommend freezing it in an airtight container within 2 hours of cooking the dish. Freeze for 2-3 months.

Cut recipe in half if making for 2 people.
*Use other toasted nuts.
See recipe post for more notes and FAQs.
Nutrition
Calories:
415
kcal
|
Carbohydrates:
26
g
|
Protein:
40
g
|
Fat:
17
g
|
Saturated Fat:
5
g
|
Cholesterol:
396
mg
|
Sodium:
573
mg
|
Fiber:
6
g
|
Sugar:
3
g