This Garlic Butter Shrimp Quinoa with Asparagus is a delicious and nutritious protein-rich lunch or dinner -packed with flavor and a delicious garlic butter sauce!
Love shrimp? Check out this recipe for Thai shrimp curry with squash, grilled shrimp skewers, or shrimp stir-fry!
I made this shrimp quinoa with asparagus and garlic butter last Thursday before Easter and it was a big hit even among the kids. Who doesn't like garlic butter or shrimp?! This recipe is large so if serving 2 people cut in half because I wouldn't freeze the leftovers. However, for 4 of us it was so nice to have lunch leftovers on a day off. The stir fry also can be refrigerated for up to 3 – 5 days (lunches for work!).
I love stir-fry dishes like this healthy beef stir-fry, salmon stir-fry, chicken stir-fry, and even a vegetarian cabbage stir-fry!
Easter really marked the beginning of spring here in beautiful Pacific Northwest. We spent hours outdoors hiking local mountains, sleeping in and drinking coffee in bed, and of course making delicious food. Kids are at the age when they wake up quietly, eat cereal and watch TV in the morning. We didn't need strollers or scooters for walking. Pinch me, I made it, survived last 9 years of caring for babies. It was truly amazing family time with some friends during which I was counting my blessings every minute. Hope you had a great Easter!
I don't think there was any traditional food on my Easter table. For appetizers we enjoyed Greek yogurt guacamole with Que Pasa chips, and cheese (that went well with wine all night). Main meal included grilled lime ginger chicken (same marinade as in lime ginger salmon), garlic green beans and peppers, and brown rice. Very simple food.
For dessert I made cake. I made cake! Last cake I made was this chocolate fudge one. But I couldn't get healthy almond cake out of my head and decided to test it since I had an audience to eat it. OMG its was to die for! I will remake it and post before Mother's Day. Alex who doesn't eat cakes ever asked me to make it again. It was so airy, light and dairy free.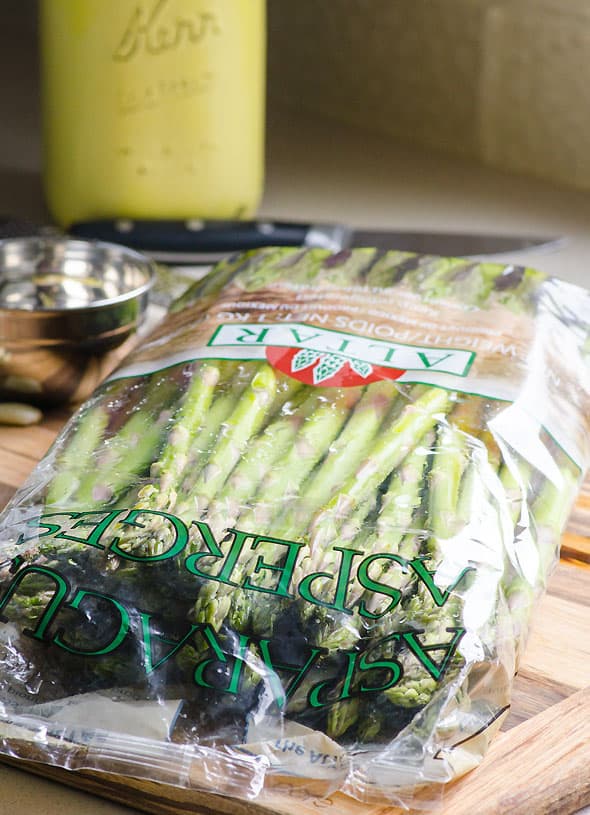 Now back to work days and this shrimp quinoa would make a great work week dinner. Literally takes 20 minutes or so to prepare.
I have been buying asparagus regularly and last one was a 2 lb package from Costco. So far, I made asparagus soup, roasted asparagus, and broiled asparagus. Asparagus is one of those vegetables that is not heavily sprayed and/or doesn't retain many pesticides. So, I do not bother to buy organic which I know would cost an arm and a leg.
I bought shrimp at Costco too. Was getting pretty tired of tofu, chicken and venison, gotta admit.
So this week I've made shrimp ceviche, healthy shrimp salad, and lemon dill shrimp with zucchini and peas.
I quickly stir-fried it in organic grass-fed butter and added crushed garlic at the very end. That is my trick to make shrimp more flavourful because I find when you cook garlic first it loses its aromas. And this Ukrainian girl cooks garlic a lot so she would know.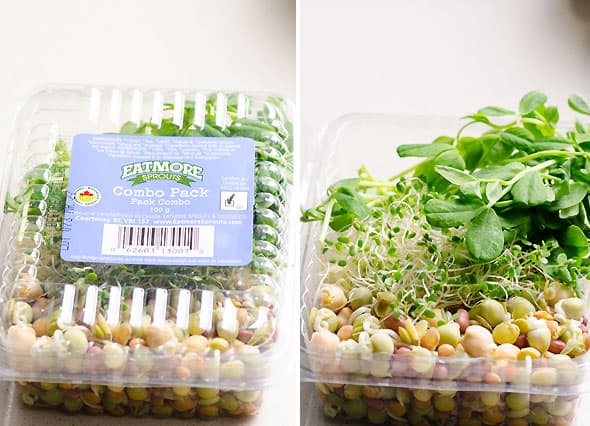 I have been hooked on sprouts lately. A lot! I discovered these little plants contain 100 times more enzymes than uncooked fruits and veggies and my children do not mind them. Have been sprinkling sprouts on everything lately. I just make sure they do not get cooked. So, I sprinkled some on shrimp quinoa too.
Now, pine nuts. Toasted pine nuts go amazingly with quinoa and shrimp. They are pricey so I buy a bag at Costco that lasts me a very long time. You can skip them or use different toasted nuts of choice.
This garlic butter shrimp quinoa was so simple and delicious! The biggest joy I get watching locals trying my simple recipes and being honestly surprised how simple food can be tasty and healthy. Mission accomplished then!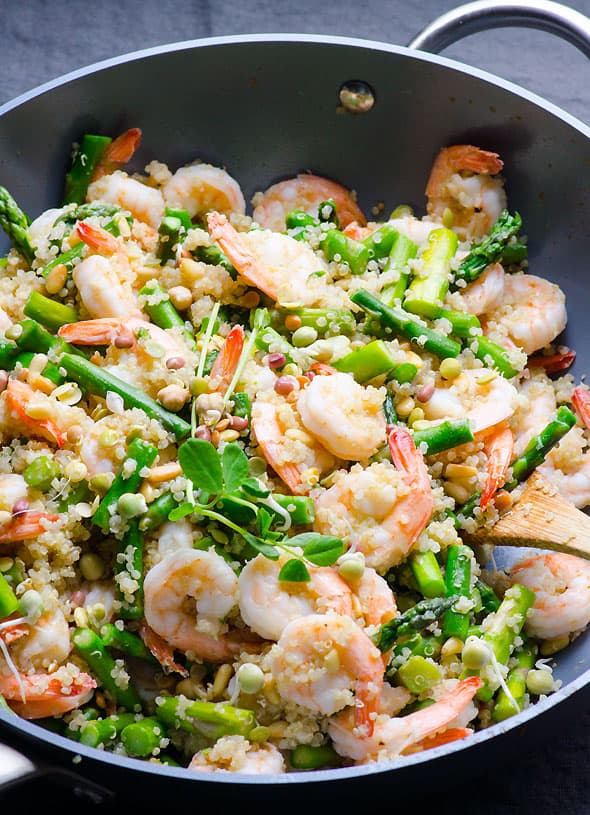 More Healthy Seafood Recipes
You might also like this list of 15 healthy salmon recipes!
Garlic Butter Shrimp, Quinoa and Asparagus
Shrimp, quinoa and asparagus stir fry with fragrant garlic and moderate amount of butter. Delicious 30 minute healthy dinner recipe.
Print
Rate
Ingredients
1

cup

quinoa

dry

2

lbs

asparagus

trimmed & cut into 2" pieces

2

lbs

large shrimp

raw & deveined

1/2

cup

pine nuts

optional*

3

tbsp

butter

divided

4

large garlic cloves

crushed

1

tsp

himalayan pink salt

divided

Sprouts

optional
Instructions
Cook quinoa as per package instructions.

In

a ceramic non-stick wok

, add pine nuts and toast until golden brown, stirring occasionally. Takes about 4 minutes. Transfer to a bowl.

Return wok to medium heat and melt 1 tbsp butter. Add half the amount of garlic and stir for 10 seconds. Add asparagus and sprinkle with 1/2 tsp salt; stir and cover. Cook for 5 minutes and transfer to a bowl with pine nuts.

Return wok to medium-high heat and melt 2 tbsp butter. Add shrimp, sprinkle with 1/2 tsp salt and cook until pink and no grey in sight, stirring occasionally. Turn off the heat, add half the amount of garlic and stir well. Sprinkle with black pepper if desired.

Add asparagus, pine nuts and quinoa to a wok. Sprinkle with sprouts if using. Stir gently and serve hot.
Store: Refrigerate in an airtight container for up to 3 days.
Notes
Cut recipe in half if making for 2 people.
*Use other toasted nuts.
Nutrition
Calories:
415
kcal
|
Carbohydrates:
26
g
|
Protein:
40
g
|
Fat:
17
g
|
Saturated Fat:
5
g
|
Cholesterol:
396
mg
|
Sodium:
573
mg
|
Potassium:
661
mg
|
Fiber:
6
g
|
Sugar:
3
g
|
Vitamin A:
1320
IU
|
Vitamin C:
15
mg
|
Calcium:
276
mg
|
Iron:
8
mg
Join today and start saving your favorite recipes
Recipes and images are a copyright of ifoodreal.com. It is against the law to republish recipes anywhere including social media, print and all world wide web. Nutritional info is provided for informational purposes only and to the best knowledge.