Healthy Chicken Pot Pie has a creamy filling of veggies, juicy chicken, and the best flourless, cheesy, crunchy crust made with quinoa. This lighter version of a comfort food classic is so easy to make from scratch!
Buckle up, friends, this healthy chicken pot pie casserole is even better than the original! It's shed some pounds and feeling fabulous but just as chunky and creamy on the inside and that, my friends, is what counts 😉
This classic comfort food is chock full of veggies and tender pieces of chicken keeping it super cozy. Even with omitting butter, heavy cream, and canned soup, you will still have grandma's seal of approval!
I came up with this casserole pie crust using quinoa which is a whole grain, a complete protein, and full of complex carbs. It's crispy, cheesy, and crazy yummy.
This flourless chicken pot pie casserole, similar to one pot chicken quinoa, is ready in under 1 hour which makes it the perfect weeknight meal my whole family requests year round.
You may also love these 65 healthy chicken recipes!
Healthy Chicken Pot Pie Ingredients and Substitutions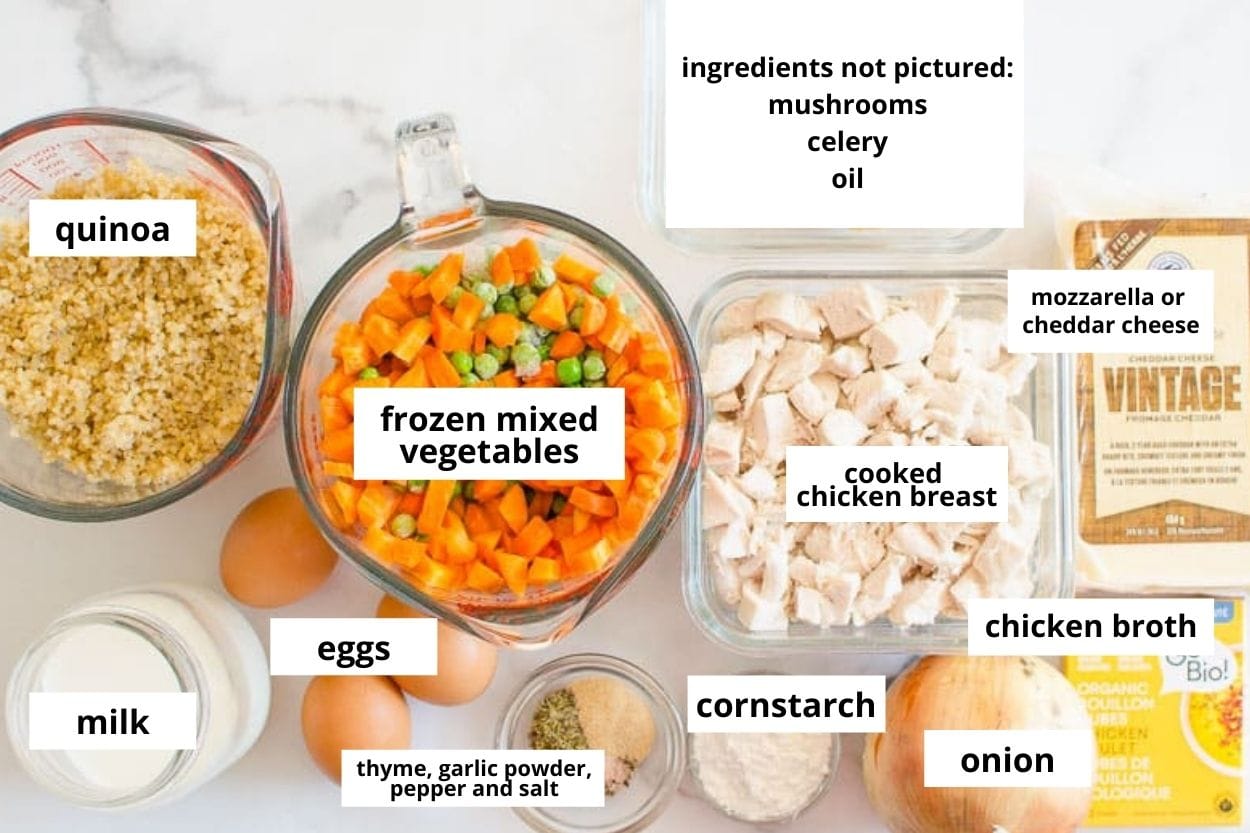 With a veggie packed filling, lightened up creamy sauce and gluten free crust this is a healthy pot pie casserole with no refrigerated pastry in sight!
Filling Ingredients
Cooked chicken breast. I usually use Instant Pot chicken breast. To make this casserole even easier, though, use leftover chicken breast! It can be baked chicken breast, grilled, or even leftover rotisserie chicken. In pinch, cooked ground chicken or chicken thighs also work.
Peas, corn and carrots. I used frozen peas and corn and then added chopped fresh carrot. Those three veggies are standard from scratch pot pie non negotiables in my opinion! Celery, onion, and mushrooms could also be added or you can also use a ready made mirepoix mix. Diced red or yukon gold potatoes are also popular pot pie casserole additions.
Seasonings. Thyme, garlic powder, salt, and pepper are all you need, but you could use onion powder and rosemary, too!
Oil and cooking spray. Any mild oil you use normally use for sauteing vegetables. Cooking spray is to help with nonstick to the dish, this helps especially when serving!
Sauce Ingredients
Milk. Although you can use any milk, including dairy free, whole milk makes the creamiest sauce. The higher the fat content the richer it will makes this healthy chicken pot casserole taste.
Chicken broth. I recommend my low sodium Instant Pot chicken stock, but store-bought works too. I will say there is something about the freshness of making everything from scratch with a homemade dish.
Cornstarch. This is used to thicken the filling. Arrowroot powder could be used for a paleo option or even flour in a pinch.
Crust Ingredients
Cooked quinoa. Using Instant Pot recipes speeds things up, so I usually end up making Instant Pot quinoa. If you prefer, I can show you how to cook quinoa on the stove instead. Leftovers can be used in this Mediterranean quinoa salad.
Cheese. I personally love mozzarella or cheddar cheese, but you can use what you've got. I always recommend grating your own fresh from a block because it makes such a difference!
Eggs: They act as a binder for the crust, which is important since we're not using a typical pastry crust. I've never tried with an egg replacer, so I'd be interested to hear from anyone that does.
How to Make Healthy Chicken Pot Pie Casserole
It may look complicated, but I promise if we break it down step-by-step, you will have this from scratch dish in the oven for dinner in no time. Preheat the oven, spray the casserole dish, it really is so easy!
Make Quinoa Crust Topping and Saute Filling
Whisk 3 eggs and combine with cooked quinoa, shredded cheese, and pepper. This will be your quinoa pot pie crust, set aside.
Make pot pie filling by first sautéing the onion and celery. You always want to cook onion before adding mushrooms because they are super watery and will steam rather than fry the onion.
Add mushrooms and cook for 3 more minutes. Next, add the thyme, garlic powder, salt, pepper, peas, corn, and carrots.
Make Sauce
In a separate bowl, mix broth, milk, and cornstarch, this will be your slurry to thicken your chicken pot pie casserole sauce. Make sure the liquids are cold to start because cornstarch will lump in hot water.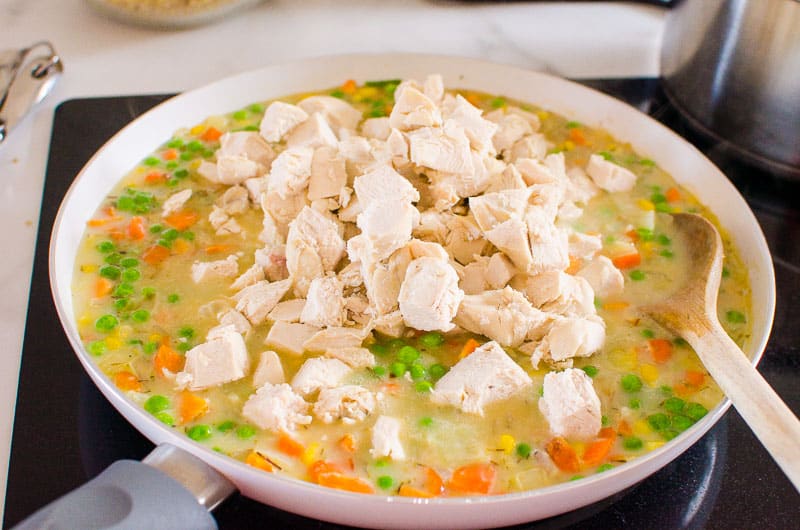 Whisk the slurry again before adding it to the skillet. Simmer until your creamy sauce thickens and bubbles, then add cooked chicken. Turn off the heat.
Assemble and Bake
Once ingredients are cooked, assemble the pot pie. Use a regular large baking dish and pour your filling into it, then level with a spatula. Drop spoonfuls of quinoa crust all around evenly and spread with a spatula. It's ok if some of the sauce bubbles on top of the crust. It will settle back inside during the cooling time. Poking the crust with a fork will minimize this.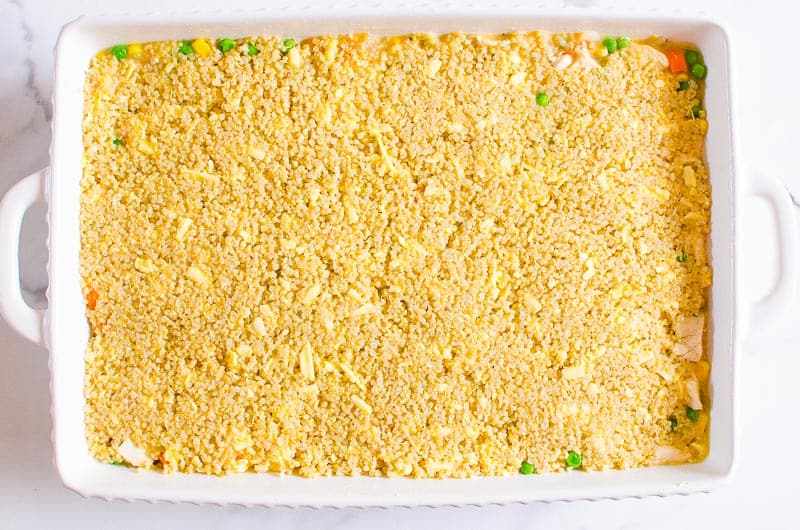 Bake casserole uncovered for 25 minutes in preheated oven at 375 degrees F. Remove from oven and let cool for 10-15 minutes. Cut into 8 squares, serve hot and enjoy!
Storing and Reheating
Store: Leftovers should be stored in the refrigerator in an airtight container for up to 3 days.
Reheat: Casserole can be reheated by popping back in the oven for 15 minutes at 400 degrees F.
Can You Freeze This Casserole?
Yes! There are two options when it comes to freezing this healthier pot pie.
Freeze unbaked casserole: How amazing are freezer meals? This one is as easy as pie to assemble as per the recipe and then cover it unbaked with plastic and foil. That's it! Freeze it for up to 3 months and when you are ready to eat, thaw in the refrigerator overnight. Bake as per recipe instructions plus add an extra 15 minutes.
Freeze baked casserole: You can freeze chicken pot pie leftovers for up to 3 months in an airtight glass container. To thaw, just place on a counter and defrost for 3-4 hours.
Recipe FAQs
Is chicken pot pie healthy?
Typical chicken pot pie uses a double crust which often is a flaky pie crust, puff pastry dough, or a Bisquick mix crust. As delicious as they are those crusts are often processed, loaded with butter, and full of white flour. This healthier version just uses a crusty whole food quinoa topping plus lightened up with no heavy cream!
Why is my chicken pot pie runny?
It settles as it cools, so it could be that it is still too hot. It could also be that it needs more cook time to thicken up.
What to Serve It With
Chicken pot pie is already a complete meal but sometimes we're extra hungry!
A simple baby kale salad or my favorite sweet kale salad adds extra veggies and bright colors to the dinner table.
More Quinoa Recipes to Try
More Healthy Casseroles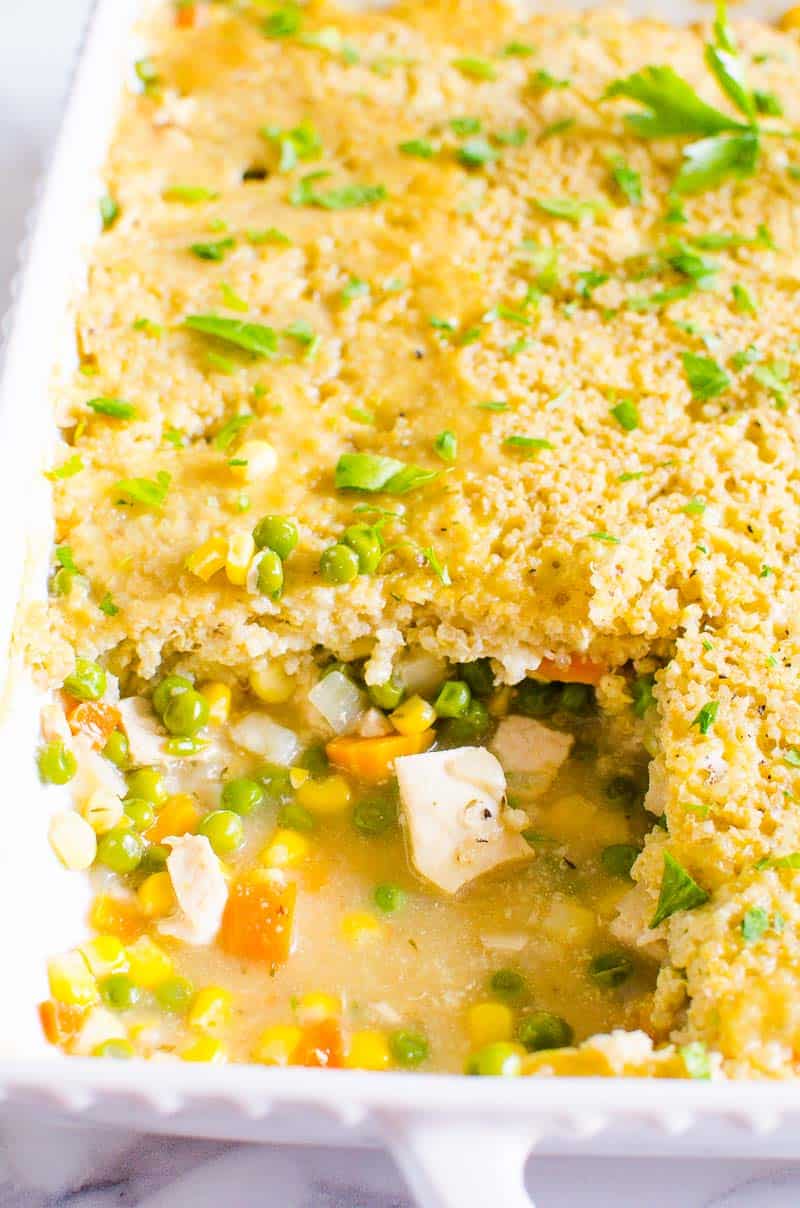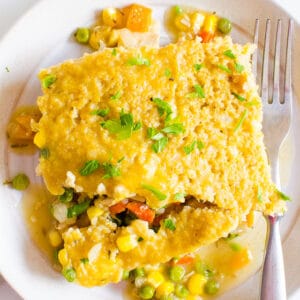 Healthy Chicken Pot Pie
Healthy Chicken Pot Pie has a creamy filling of veggies, juicy chicken, and the best flourless, cheesy, crunchy crust made with quinoa.
Ingredients
For Chicken Pot Pie Filling:
Instructions
Preheat oven to 375 degrees F. Spray large 9 x 13 baking dish with cooking spray. Set aside.

In a medium bowl, whisk the eggs. Add cooked quinoa, cheese and pepper; stir with a spoon to combine and set aside.

In another medium bowl, make the slurry by combining chicken stock, milk, cornstarch and whisk with a fork. Make sure liquids are cold otherwise cornstarch will lump.

Preheat large ceramic non-stick skillet on medium heat and swirl oil to coat. Add onion and celery; cook for 5 minutes, stirring occasionally. Add mushrooms and cook for 3 more minutes.

Add thyme, garlic powder, salt, pepper, peas, corn and carrots. Cook for 3 minutes, stirring occasionally.

Whisk the slurry again (cornstarch settle to the bottom quickly) and add to the skillet. Bring to a boil and cook until filling bubbles and thickens. Add cooked chicken and stir to combine. Turn off heat.

Transfer filling to prepared baking dish and flatten with a spatula.

Drop spoonfuls of quinoa mixture on top and spread with a spatula to cover the filling evenly.

Bake uncovered for 25 minutes.

Remove from the oven, let cool for 5 – 10 minutes and cut into 8 squares. Serve hot.
Notes
Store: Refrigerate in an airtight container for up to 3 days.
Freeze: Leftovers can be frozen for up to 3 months. 
Cooked chicken breast: Any cooked, grilled or rotisserie cubed chicken works.
Cooked quinoa: Usually 1 cup of dry quinoa yields 3 cups cooked quinoa. Follow package directions.
Vegetables: Onion, peas, carrots, corn, celery and mushrooms. I use frozen peas and corn and then add chopped fresh carrot. You can also use mirepoix.
Eggs: They act as a binder for crust. Sorry I have not tried an egg replacer.
Milk: Whole milk makes the creamiest sauce. Any milk works.
Nutrition
Serving:
1
slice
|
Calories:
357
kcal
|
Carbohydrates:
32
g
|
Protein:
34
g
|
Fat:
10
g
|
Saturated Fat:
3
g
|
Cholesterol:
130
mg
|
Sodium:
469
mg
|
Fiber:
6
g
|
Sugar:
7
g