My kids love Mexican food and this quinoa chicken chili recipe is one of the ways I can get quinoa into them. Personally, I love quinoa more than pasta, but I understand not everyone is a weirdo like me.
This dish is also great for all chili lovers as it is ready in under 45 minutes. If you plan ahead, you can also make healthy turkey chili or another very popular recipe of mine crockpot buffalo chicken chili (surprisingly my kids don't find it spicy and prefer to a regular chili).
You may also love to browse all nine of my healthy chili recipes!
But if you are looking for a comforting meal that is both quick and flavourful, this quinoa chicken chili skillet skillet is for you. Especially, if you are scrambling what to make for dinner on a busy weeknight.
How to Make Quinoa Chicken Chili
Everything cooks in one pan. Just move chicken over to one side of the skillet and proceed with cooking bell peppers on the other side. If you choose a large deep skillet, like this one, and place the empty portion of the skillet directly over heat, you will see that there is no need to remove cooked chicken in a separate bowl and adding it back later.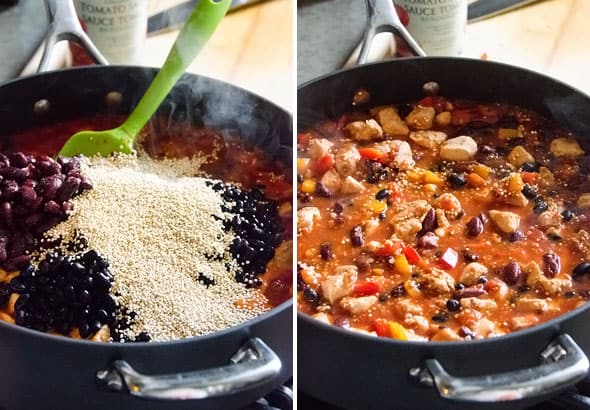 This recipe makes a lot. For 3 1/2 of us, we had plenty of leftovers the next day. So, if cooking for 2, cut recipe in half or freeze in portions. I love to freeze meals as I barely buy anything processed (except occasional pizza for kids). So, if I say my fridge is empty, it really is empty. Welcome to the world of real food, the way it should be! 90% of frozen foods contain GMOs that are linked to cancer, autism and many other devastating human lives diseases. I refuse to be a lab rat!
What do we eat when "fridge is empty"? There are always ingredients for a smoothie, a salad, quick eggs, PB toast or a good old pasta with butter – my kids' favourite. Real food doesn't have to be complicated to be delicious. Be healthy!
You may also love to browse these 65 healthy chicken recipes!
One Pan Quinoa Chicken Chili
One Pan Quinoa Chicken Chili Recipe made healthy with chicken breasts, black beans and quinoa. Everything cooks in one skillet in 45 minutes.
Instructions
Preheat

large deep skillet

on medium – high heat and add chicken, 1 tbsp chili powder and 1/2 tsp salt. Cook for 10 minutes, stirring occasionally.

Move chicken to one side of the skillet and make sure an empty portion of the skillet is placed directly over heat. Reduce heat to medium, spray skillet with cooking spray and add bell peppers. Saute for 5 minutes, stirring occasionally.

Add remaining ingredients, except garnishes, and stir. Bring to a boil, cover, reduce heat to low and cook for 25 minutes. Check quinoa for readiness – it will look like it has popped open, revealing the germ of the kernel. Remove from heat and let chili rest for 10 minutes developing the flavours. Add extra water for smoother consistency if desired. Quinoa will absorb liquid as it sits and usually I like to add about a cup of boiled water from a kettle. Serve hot with desired garnishes.
Store: Refrigerate in an airtight container for up to 5 days.
Freeze: Fully cook, cool completely and freeze in an airtight container for up to 3 months. Thaw on a stovetop with a splash of water covered on low.
Nutrition
Serving:
1.33
cups
|
Calories:
353
kcal
|
Carbohydrates:
34
g
|
Protein:
33
g
|
Fat:
5
g
|
Saturated Fat:
1
g
|
Cholesterol:
73
mg
|
Sodium:
392
mg
|
Fiber:
9
g
|
Sugar:
5
g