Instant Pot Teriyaki Chicken is healthy, sticky and flavorful made with any fresh or frozen chicken. Tastes just like your favorite Asian take-out but with less sodium, clean ingredients and ready in only 30 minutes. Easy pressure cooker dinner entire family will love!
Other Asian inspired dinners we love to eat include beef and broccoli, Instant Pot stir fry and peanut chicken soba noodles.
Instant Pot teriyaki chicken with sweet and glossy homemade teriyaki sauce in 30 minutes from start to finish. Then serve with rice, fresh or steamed veggies and no need for a takeout. I love making Instant Pot Asian inspired recipes like this one and Instant Pot fried rice!
Restaurant teriyaki chicken is usually loaded with sodium, sugar and MSG. So is the store bought bottled sauce. High fructose corn syrup not to mention loads of preservatives usually overcrowd the ingredients label. It's so easy to make your own sauces at home like this one, healthy BBQ sauce and prepared mustard – and you will feel good that you can pronounce all the ingredients you are feeding your family.
Instant Pot chicken teriyaki is easily made at home with quality chicken meat, real maple syrup or honey, moderate amount of soy sauce and fresh ginger and garlic. Big on flavor, low on sodium and sugar.
Your family will love this Instant Pot dinner that is made with clean ingredients! And then for lunch you can make teriyaki chicken meal prep.
If they love teriyaki as much as mine do, be sure to check out teriyaki chicken and cauliflower with chicken or baked teriyaki salmon next.
Why This Instant Pot Chicken Teriyaki Recipe Works?
Healthier: Take out teriyaki chicken normally has around 340c per serving, 13g of fat and 630mg of sodium! One tablespoon of store bought sauce might have up to 610mg of sodium. Making this recipe in the Instant Pot has 240c, 4g fat and 531mg sodium. Plus, it uses maple syrup vs. brown sugar and contains no preservatives or 'other natural flavors'…clean ingredients you can get behind to serve your family!
Easy Dinner: Ready in 30 minutes – faster than delivery or driving to pick it up!
Meal Prep: Perfect for a make ahead meal on busy weeks, just store covered in the refrigerator until ready to eat!
Your family will love it!
Ingredients for Pressure Cooker Chicken Teriyaki
Chicken: You can use boneless chicken breasts or bone in meat, thighs can be used, too! Also frozen chicken works, just Instant Pot will take longer to come to pressure, see more details on cooking Instant Pot frozen chicken breast.
Regular (not low sodium) soy sauce or I used Bragg's liquid aminos. It has the same amount of sodium as regular soy sauce.
Honey or maple syrup. You can sub 1 tbsp with molasses to get that traditional deep brown colour. That's why cooks add brown sugar, because it contains molasses.
Want your teriyaki sauce to have that traditional deep brown color? Substitute one tablespoon molasses for honey/maple syrup.
Rice vinegar: If you don't have one, you could use white vinegar. Not sure about apple cider. That one has distinct non-Asian food flavor.
Fresh ginger and garlic. I feel like you can replace both with powder dry version but expect less of "wow". I have done it and result was OK.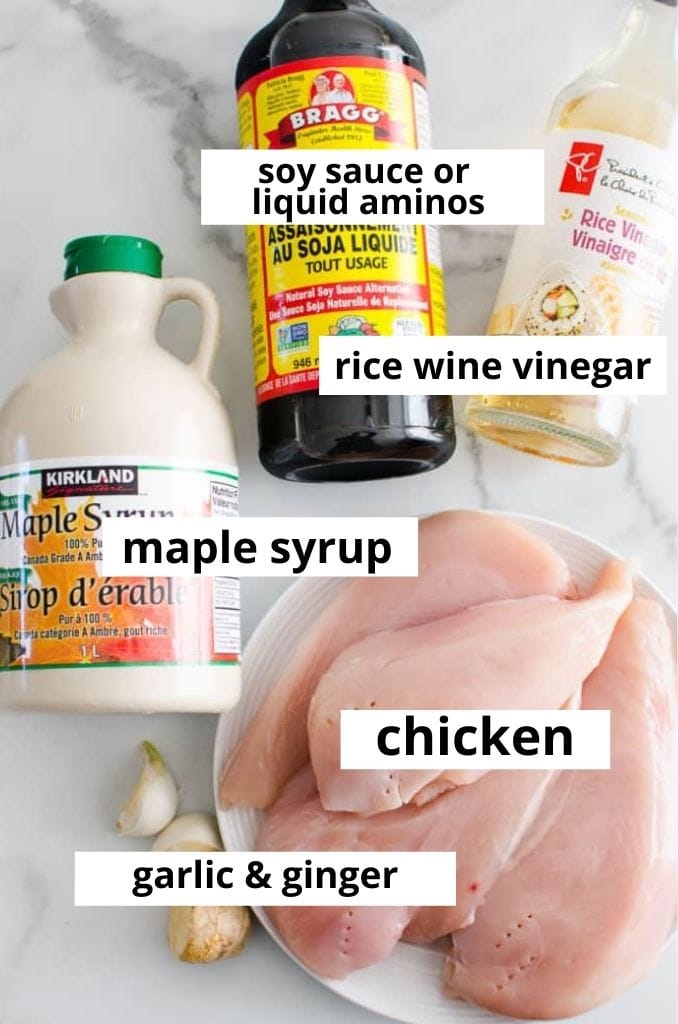 How to Make Instant Pot Teriyaki Chicken
Prep: Add all ingredients to Instant Pot.
Cook: Cook on high pressure for 10 or 20 minutes depending on type of chicken you use and following the recipe below. Then wait 5-10 minutes before releasing pressure to avoid sauce splattering all over your counters.
Shred or cube chicken: Shred chicken right in the pot and press Saute. If you don't like stringy texture, cube on a cutting board and return to the pot.
Thicken the sauce: In a small jar, whish 1/4 cup cold water with 4 tbsp cornstarch. Add to the pot right after whisking (cornstarch settles super fast), stir and cook for 1-2 minutes. Just until teriyaki chicken is bubbly and thick.
Tips for Best Results
Peeling ginger: The easiest way to peel ginger is with a spoon, not a knife. Literally hold it in one hand and scrub with a side of a spoon.
While you are at peeling ginger already: I usually peel all ginger at once, use what I need and then freeze minced ginger in an airtight container.
Frozen chicken: Use any frozen chicken pieces as long as they are separated. Cook for 20 minutes on high pressure.
When working with cornstarch, remember quicker is better as it settles fast! Combine with water until dissolved, then add to Instant Pot immediately and stir quickly to incorporate with sauce.
Optional Add-ins
Sesame oil: Just a 1/4 – 1/2 tsp added to the sauce can really added a toasted Asian flavor.
Mirin: Look for true mirin (with no added corn syrup) to add an authentic umami bold taste. Mirin is a sweet rice wine, so you may want to reduce your maple syrup and then taste and adjust accordingly to your taste.
Vegetables: Broccoli, peppers, onion, mushrooms could be added when cooking the chicken!
Pineapple juice: Gives a sweeter tropical taste – just a splash will do! Alternately, you could add a splash of OJ for an orange teriyaki flavor profile.
Red pepper flakes: If you want more spice, stir some red pepper flakes into the chicken after adding your cornstarch mixture.
Sesame seeds and green onions: For serving, could also top with crushed cashews.
FAQs
Did teriyaki originate in Japan or China?
The term 'teriyaki' originated from Japan and was used to describe meat marinated in a teriyaki sauce, then broiled or grilled over coals. The American sauce as we know it today, according to the soy sauce brand Kikkoman, originated in Hawaii. Japanese immigrants mixed Hawaiian ingredients pineapple juice and brown sugar with soy sauce and then used it as a marinade/sauce.
Can I use chicken thighs in Instant Pot chicken teriyaki?
Yes! Chicken thighs can be used in this Asian instant pot recipe. See recipe card for details.
Is teriyaki chicken healthy?
My recipe is! Buyer beware though of teriyaki chicken from take out or bottled sauce. These often contain high amounts of sodium, sugar or other preservatives that just aren't that great for you to consume.
Can I substitute ground ginger for fresh ginger in teriyaki chicken?
Yes, start with 2 tsp and you can always add more to taste after cooking. See tips above on peeling and storing fresh ginger – fresh really adds the best taste!
Is it possible to add stir fry vegetables to this Instant Pot Asian recipe?
Yes, and I encourage you to do so! Add with chicken for a steamed, softer vegetable OR for a crisper veg use saute function before cooking chicken, do a quick saute of vegetables, remove, then set aside. Cook chicken as directed and stir veg back in after adding cornstarch mixture.
Could I add rice in a different trivet for this Instant Pot recipe?
Yes! Many readers have reported that this works amazing. Place rice (with water) in bowl on trivet above chicken. Cook 22 minutes.
Serving Recommendations
Making This Instant Pot Asian Recipe in Advance
Storing: Refrigerate leftovers in an airtight container for up to 5 days or freeze for up to 3 months.
Reheating: Always reheat only amount you will eat. Simmer on low in a pot with a splash of water or broth, half covered with a lid and stirring a few times until warmed through.
Freezer meal: This teriyaki chicken can be one of healthy freezer meals. Add all ingredients, except water and cornstarch, into a resealable plastic bag, let out as much air as possible and freeze for up to 3 months. When ready to cook just cook from frozen following the recipe. That's it. No extra instructions.
Looking for more dinner ideas? Check out my most popular collection of 40 healthy Instant Pot recipes.
More Instant Pot Recipes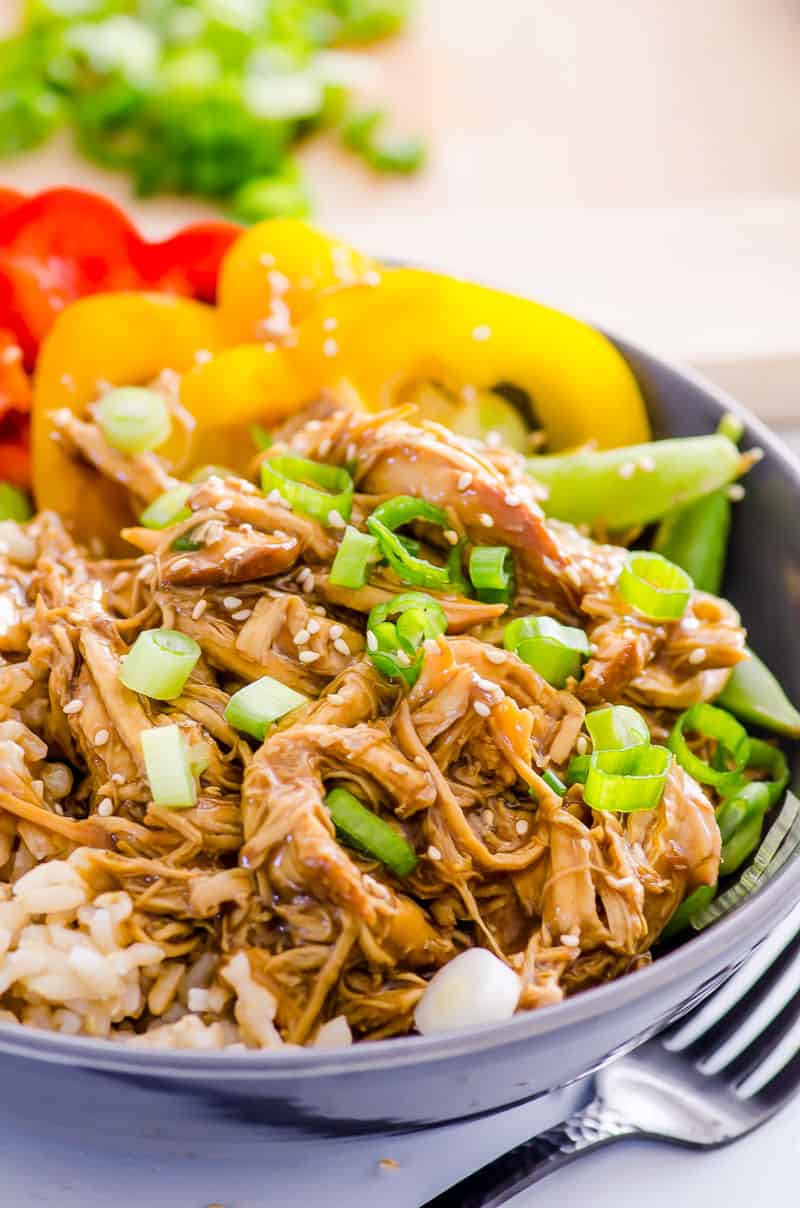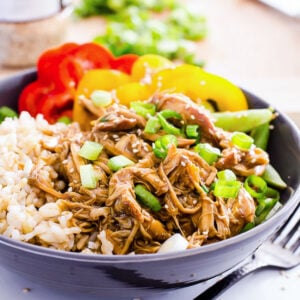 Instant Pot Teriyaki Chicken
Instant Pot Teriyaki Chicken is healthy, sticky and flavorful made with any fresh or frozen chicken. Tastes just like your favorite Asian take-out but with less sodium, clean ingredients and ready in only 30 minutes. Easy pressure cooker dinner entire family will love!
Ingredients
2

lbs

boneless chicken breasts or thighs or 3 lbs bone in chicken thighs or drumsticks

1

cup

water with boneless chicken or 1/3 cup water with bone in chicken

1/3

cup

maple syrup or honey

1/4

cup

soy sauce

I used Bragg's liquid aminos

3

tbsp

rice vinegar

2

inch

ginger

1/4

cup

cold water + 3 tbsp cornstarch

as a thickener

Sesame seeds and green onion

for garnish
Instructions
In Instant Pot, add water, maple syrup or honey, soy sauce, rice vinegar, garlic, ginger and chicken.

Close the lid, set pressure vent to Sealing and press Pressure Cooking on High for 10 minutes if using boneless chicken or 20 minutes for bone in chicken.

Display will say ON, Instant Pot will take about 15 minutes to come to pressure, you will see a bit of steam coming out from a valve, then float valve will rise and countdown will begin.

After 10 or 20 minutes, Instant Pot will beep and display will say OFF. Wait 5 minutes and then turn pressure valve to Venting position to release remaining pressure.

Open the lid, shred chicken right in the pot and press Saute (cancel Keep Warm if it's on).

In a small bowl, whisk cold water and cornstarch with a fork, pour over chicken and stir gently. Cook for a few minutes until sauce has thickened a bit.

Serve with brown rice or quinoa, garnished with sesame seeds and green onion.
Notes
Store: Refrigerate in an airtight container for up to 5 days.
Freeze: Fully cook, cool completely and freeze in an airtight container for up to 3 months. Thaw in a fridge or on a counter.
Freezer Meal: Assemble ingredients minus all water and cornstarch in the order listed above and freeze uncooked in gallon size Ziploc bag. When ready to cook, cook from frozen following recipe's instructions + water as per recipe increasing time to 30 minutes. After follow Step 4.
Replace fresh ginger with 2 tsp dried ginger. Can always add more to taste after cooking chicken.
Different amount of water is listed due to bone in chicken releasing more juices.
If you like dark coloured teriyaki chicken, substitute 1 tbsp of honey or maple syrup with molasses.
You can use frozen chicken. Cook for 20 minutes.
Nutrition
Calories:
240
kcal
|
Carbohydrates:
17
g
|
Protein:
33
g
|
Fat:
4
g
|
Saturated Fat:
1
g
|
Cholesterol:
97
mg
|
Sodium:
531
mg
|
Fiber:
1
g
|
Sugar:
16
g