Quick 10 minute Easy Spaghetti Recipe is made simply with tomato sauce, garlic, and Parmesan. This million-dollar spaghetti on a budget will become your new favorite pasta dish on rotation.
We also love this 30ish minutes one pot spaghetti and shrimp spaghetti recipe.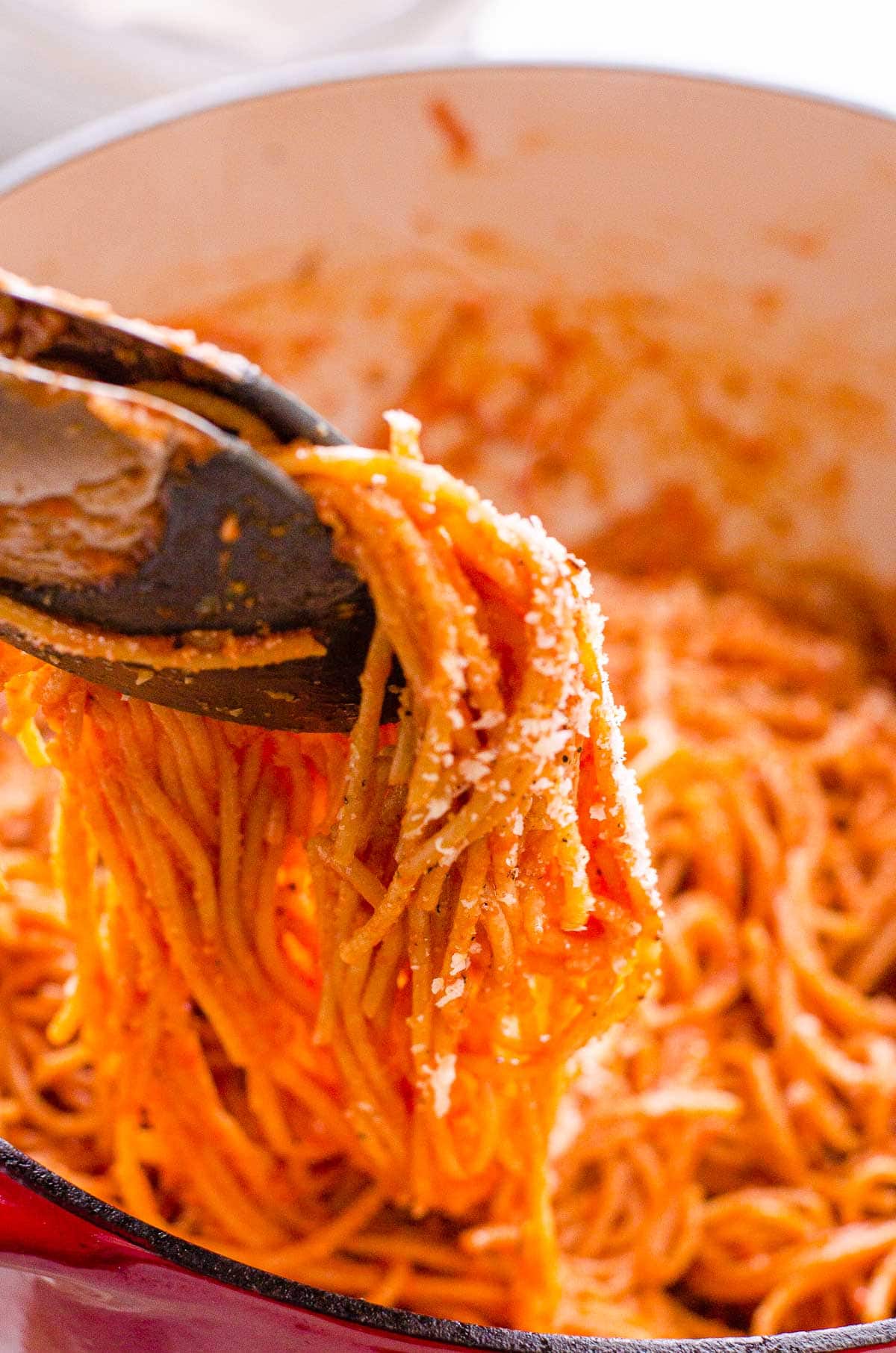 This easy spaghetti recipe was created out of one of those moments when I didn't know what to make, and wanted one of healthy meals that everyone would eat. Well, we ate…and ate…and ate some more.
It's a simple recipe using a few basic ingredients and it turned out to be the best spaghetti ever and just as easy as healthy mac and cheese.
No long-simmering sauces or high restaurant bills, save your money and your time and make tastier healthy pasta recipes right at home!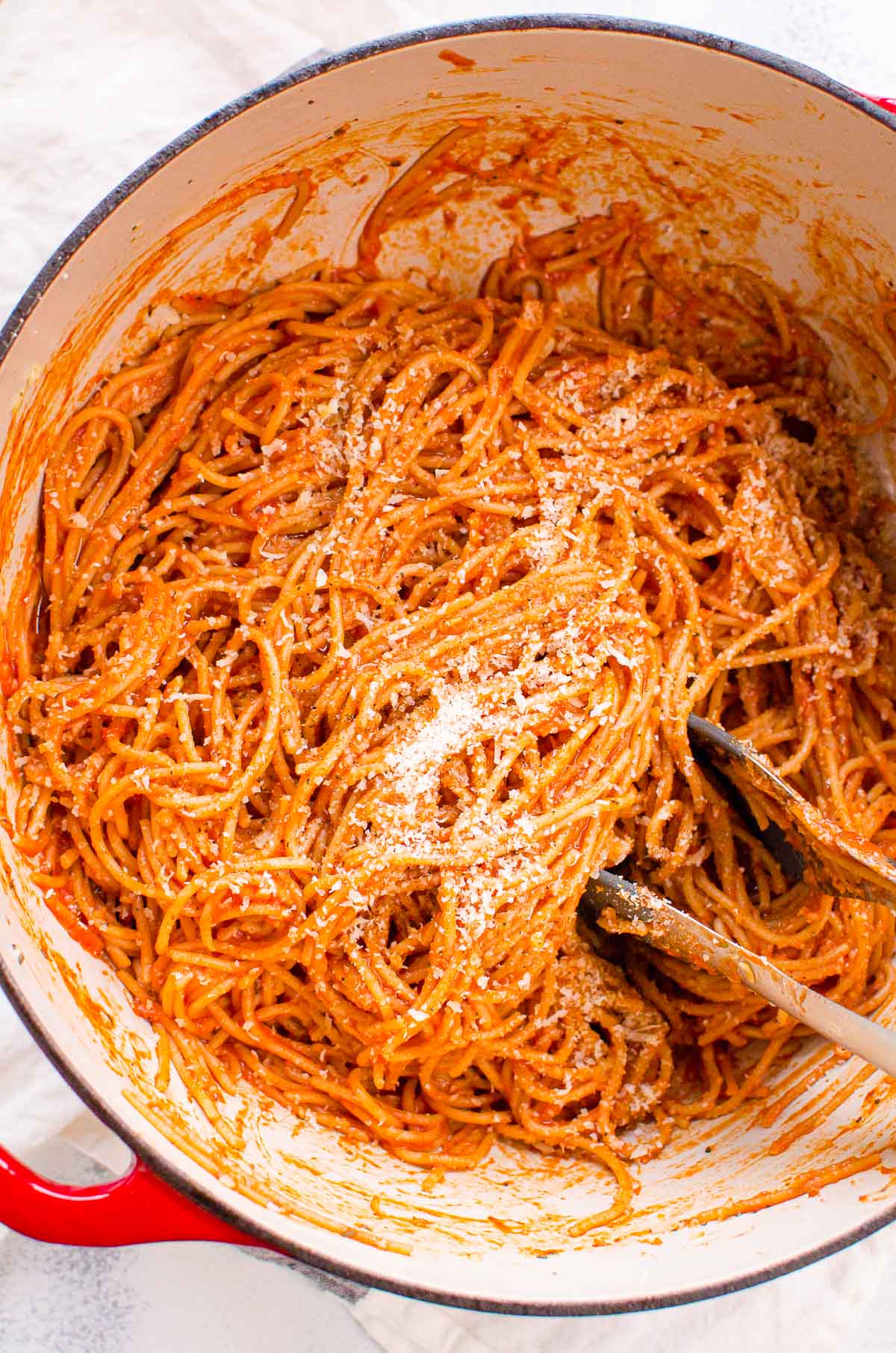 Super Easy Spaghetti Recipe
The flavors come together so nicely in this easy spaghetti recipe, no one will believe it's made with plain canned tomato sauce and it's ready in only 10 minutes!
It's as easy as cooking your spaghetti, making the sauce with plenty of garlic and oregano, then combining them together. All you need is one pot.
It's the little things that add up to be timesavers on busy nights.
Garnish with freshly grated parmesan and serve simple spaghetti and sauce dish with a healthy salad recipe or add protein with turkey meatballs.
It's nice to splurge sometimes on a delicious meal, but it's even nicer to have that same delicious meal for a fraction of the cost! That's why we love healthy chicken alfredo, too.
This is the best, cheapest, simple spaghetti recipe I have ever had anywhere!
Ensure pasta does not stick together: Separate pasta with tongs a few times during the first 2 minutes of cooking to ensure it does not stick.
Keep cooking uncovered for 5 more minutes or until al dente, stirring occasionally.
Drain pasta: Test the spaghetti for doneness towards the end by grabbing one strand onto a plate with tongs. Do not overcook until too soft. The key to tasty pasta is cooked pasta with a bite. Drain in a colander.
Cook garlic: Return the pot to medium heat and add the olive oil, 4 garlic cloves, and oregano. Cook for 20 seconds, stirring constantly.
Garlic cooks fast and can easily burn, so don't walk away. Turn off the heat.
Add remaining ingredients: Drained pasta, tomato sauce, remaining 1/2 tsp salt, ground black pepper, and 1 more fresh garlic clove. Stir gently until warmed through.
That 1 clove of fresh garlic at the end is a must!
Sprinkle with Parmesan…and serve this spaghetti with tomato sauce immediately!
Tips for Best Results
Here are my top tips for the best easy spaghetti recipe in the world!
Cook spaghetti in salted water. This seasons the pasta as it cooks and adds to the flavor.
Cook pasta only to al dente. No one likes mushy pasta, plus it will break apart when you go twirl it on your fork!
To customize add cooked ground turkey or ground beef like I do in Instant Pot spaghetti or if you have meat lovers in your household, try my homemade spaghetti sauce recipe. Need low carb? Try spaghetti squash noodles.
How Much Salt Should I Add to Pasta Water?
While this can vary by how much pasta you are making, for 12 ounces I recommend 2 teaspoons of salt added to the water.
Don't worry. You will not be eating 2 teaspoons of salt. Saltwater boils faster than unsalted water, it also adds a ton of flavor to the pasta and helps the spaghetti noodles keep from clumping together.
How Long to Cook Spaghetti?
If you use white pasta, whole wheat pasta, or gluten free pasta, the time will be different. Always check the directions on your package. For this recipe, I used whole wheat spaghetti and cooked it for a total of 7 minutes.
Now to tell when it's done, do you know that old trick of throwing pasta against a wall to see if it sticks? Yeah, don't do that. Although, that is a great way to tell if it's overdone!
Really and truly, the only way you're going to tell for sure is to test it along the way. Take one out, blow on it, or run it under cold water to cool it off, and take a bite!
If it's edible with a bite, but not undercooked and hard, it's probably done. This is what al dente means.
How to Reheat Spaghetti with Tomato Sauce?
Refrigerate spaghetti recipe leftovers in an airtight container for up to 2 days. To reheat, add to a pot with a splash of water and simmer on low.
More FAQs
More Easy Pasta Recipes