Healthy Vegetable Soup recipe is jam-packed with fresh or frozen veggies for an easy and flavor-packed, meat-free soup. Even better, you can prepare this versatile chunky veggie soup using the stovetop, slow cooker, or Instant Pot, and it tastes miles above any canned version!
This homemade vegetable soup is just one of my favorite hearty meat-free soups like minestrone soup, traditional borscht recipe, and Russian cabbage soup – perfect for a quick lunch or filling dinner!
Vegetable Soup Recipe
This healthy vegetable soup recipe is the pinnacle of versatility, not just with the ingredients (use fresh, frozen, or even canned) and cooking method, but also how you serve it. Whether you want a comforting yet light veggie-packed lunch or a hearty, comforting meal, this homemade vegetable soup is the answer!
I love cooking comforting healthy soups like this one because they're usually incredibly frugal, simple to make, filling, nutritious, and taste even better on day two (yay for meal-prep!). This time, I'm ditching the usual meaty soups from my childhood, though, like beef and barley soup and chicken noodle soup for this nutrient and fiber-rich vegetarian vegetable soup- you won't even miss the meat!
Why Make Healthy Vegetable Soup Recipe?
Nutritious and delicious: Never have we been so happy to eat so many different veggies in one sitting! Chunky vegetable soup is packed with vitamins, minerals, antioxidants and fiber.
Super-versatile: Swap out the veggies, herbs, aromatics, and even cooking method and still enjoy the best vegetable soup of your life.
Clean out the fridge: Have carrots starting to look a little limp, a forgotten about bell pepper in the crisper drawer, or 'almost' wilting spinach? Chuck them in this healthy vegetable soup recipe!
Low–calorie: Did I mention that it has under 200 calories per serving, too?! All the more reason to grab some crusty bread to serve alongside it without feeling guilty.
Use fresh or frozen veggies: To enjoy this chunky vegetable soup year-round AND benefit from reducing your veggie prep time!
Multiple cooking methods: During the winter, get this veggie soup simmering on the stovetop to warm the kitchen. Meanwhile, in summer, place an Instant Pot or slow cooker near a window (or outside) to keep the kitchen (and yourself) cool!
A one-pot meal: Fuss-free and less clean-up. What's not to love?
Ingredients for Veggie Soup
This easy recipe for vegetable soup is super-duper versatile; want to make it with the produce from your garden? How about mixed frozen vegetables? Do you have a fridge/freezer clean-out needed? No matter what, as long as you like the taste of it, it'll likely work in this soup!
Veggies: I included potatoes, carrots, celery, zucchini, bell peppers, and corn (fresh or frozen) for this garden soup version.
Aromatics: Onion at the beginning and add garlic towards the end for a more robust flavor punch. Leeks would also work well (instead of or alongside the onion).
Broth: Use low-sodium vegetable stock (aka vegetable broth) and a tin of diced tomatoes (regular or reduced-sodium- I used the latter) to form the soup base (you can even use diced tomatoes alone to make delicious 5-minute tomato soup).
Seasonings: I used a simple but effective combination of smoked paprika (PLEASE don't omit this. It's my 'not so' secret ingredient for fantastic flavor), dried oregano (or parsley) bay leaves, and salt.
Oil: Use either olive oil or avocado oil.
Finishing touches: I use grated garlic and fresh dill at the end to finish off the soup. Then use a little parmesan (for vegetarian use other cheese like cheddar) and/or yogurt to garnish.
Keep reading below (after the recipe how-to) for more information on easy add-ins and seasoning variations!
How to Make Homemade Vegetable Soup
There is a full recipe card below.
Sauté the onion: Preheat a large Dutch Oven or soup pot over medium heat with a swirl of oil. Once hot, add the onion and sauté for three minutes, stirring occasionally. Then, add the smoked paprika, oregano, garlic powder, salt, pepper, and bay leaves. Mix and then cook for a further minute, stirring frequently.
Chop the veggies: Meanwhile, finely dice your veggies into bite-sized pieces.
Add the stock and longer-cooking veggies: Add the potato, carrot, celery, and bell pepper to the pan along with the veggie stock and tin of chopped tomatoes. Stir well, then bring to a boil, reduce to simmer, cover, and cook for 25 minutes, or until the potato is fork-tender.
For even more flavor, you could first lightly sauté the veggies in the pan for a few minutes to make them slightly browned and caramelized. That will add extra dimension and sweetness to the soup but isn't necessary.
Add the remaining veggies: Add the frozen corn and chopped zucchini and simmer the veggie soup for a further 5 minutes.
Add the finishing touches: Finally, remove the soup from the heat. Add the grated garlic and dill (or herb of your choice) and mix in. Give the soup one final taste and adjust seasonings, then serve warm with parmesan cheese and yogurt.
Other cooking methods: I love to use my Instant Pot and Slow Cooker for cooking soups during the summer months when I don't want to sweat (literally) over a boiling stove. You can even plug in the machine outside to keep your kitchen cool! Read the recipe card for the full slow cooker and pressure cooker methods!
Optional Add-In's and Variations
I know I've already said it (multiple times), but this homemade vegetable soup is super versatile. Here are just a few ways to adapt the healthy vegetable soup recipe! Want more veggie soup recipes to add to your rotation? You might enjoy this Instant Pot lentil soup, healthy broccoli cheese soup, creamy cauliflower soup, or pasta e Fagioli soup!
Other veggies: Broccoli, Brussel sprouts, mushrooms, kale, spinach (added at the end), pumpkin, squash, sweet potato, green beans. You can also add thinly shredded cabbage 15 minutes before other ingredients, as it takes a bit longer to cook.
Parmesan rind: Add the hard parmesan rind (not vegetarian) to your soup broth right at the beginning and remove it before serving. While simmering, it will soften and add depth and a slightly nutty flavor to the mixed garden vegetable soup.
Legumes: Add bulk and protein to this soup and they can even be pureed for thicker veggie soup. White beans, red lentils, and chickpeas are my favorites.
Umami: One way to add depth to any bland soup broth is with ingredients that increase 'umami' flavor. These include tomato paste, miso paste, soy sauce/tamari, mushroom powder, Worcestershire sauce (not vegetarian). Start with just one-two teaspoons (added with onion), then increase to taste at the end if needed.
Herbs/Spices: Feel free to experiment with other herbs in the homemade vegetable soup. I particularly like rosemary, thyme, sage, and marjoram. You can also use a combination, but don't overdo it otherwise the flavors can compete. Likewise, feel free to experiment with spices; cumin, Italian seasoning, cajun, curry powder, smoked salt, etc., would work.
Acid: Adding a teaspoon (or so) of apple cider vinegar, white/red wine vinegar, or even lemon juice to the soup at the end will add depth and round out the flavors.
Spicy: A little chili sauce or a sprinkle of red pepper flakes will add some heat to this soup recipe.
Tips for Best Results
For extra flavor, sauté the veggies: Lightly cook the veggies before adding the broth. Cook them until lightly browned and slightly tender – that way, they'll begin to break down and release flavor and sugars, which will go into the soup broth for extra flavor.
Stagger the vegetables: Add them to the pot based on how long they'll take to cook, so they all finish around the same time. Potatoes, carrots, and hard veggies first!
The veggie size: Make the veggies in this soup chunky or fine. Think about how big they'll be on your soup spoon when chopping. I love chunky vegetable soup.
Don't over-boil: It's best to simmer this healthy vegetable soup recipe (or any soup for that matter) low and slow to develop flavor and make the most of the texture. If your pan is vigorously boiling, the veggies can become mushy.
Make sure to use a good broth: This is the backbone of your easy vegetable soup, so choose a brand you like or make your own!
Double the recipe: I love making enough to keep for leftovers specifically. Like most soups, this homemade vegetable soup tastes even better on day two after the flavors have had even more time to develop.
FAQs
What can I add to my vegetable soup for tons of flavor?
Check out the optional add-in section for all my top recommendations including umami-adding ingredients (tomato paste, miso, etc), an acid (vinegar, lemon, pickle juice- added at the end for brightness and depth), and extra herbs/spices.
How long is vegetable soup good for?
I recommend storing it for between 2-3 days. After that, the veggies become too mushy.
How long can homemade vegetable soup sit out?
Aim to get it in the fridge within two hours. However, if you do accidentally leave it longer (even overnight), I've heard you can boil it for 10 minutes when re-heating to kill off germs (do so with caution, though!)
Can I use frozen vegetables?
Yes – you can use fresh, frozen, or even canned vegetables for this easy vegetable soup. Generally, you can add frozen veggies in the last five minutes (as they are already blanched).
How to thicken vegetable soup?
You can use more starchy vegetables like potatoes in the soup or even add pureed legumes (like red lentils, white beans, or chickpeas). You can also puree part of the soup.
Can I make this veg soup in the slow cooker?
Add all ingredients (minus zucchini) + 6 oz can tomato paste to a large crock pot. Cook for 8 hours on Low or 4-5 hours on High. You might also love this slow cooker lentil soup!
How do I adapt this soup to the Instant Pot?
Add all ingredients (minus zucchini, cheese, dill and yogurt) + 6 oz can tomato paste to Instant Pot. Cook on High pressure for 20 minutes. Release pressure using Quick Release. Add zucchini and remaining ingredients. You can also follow the instructions for my Instant Pot vegetable soup.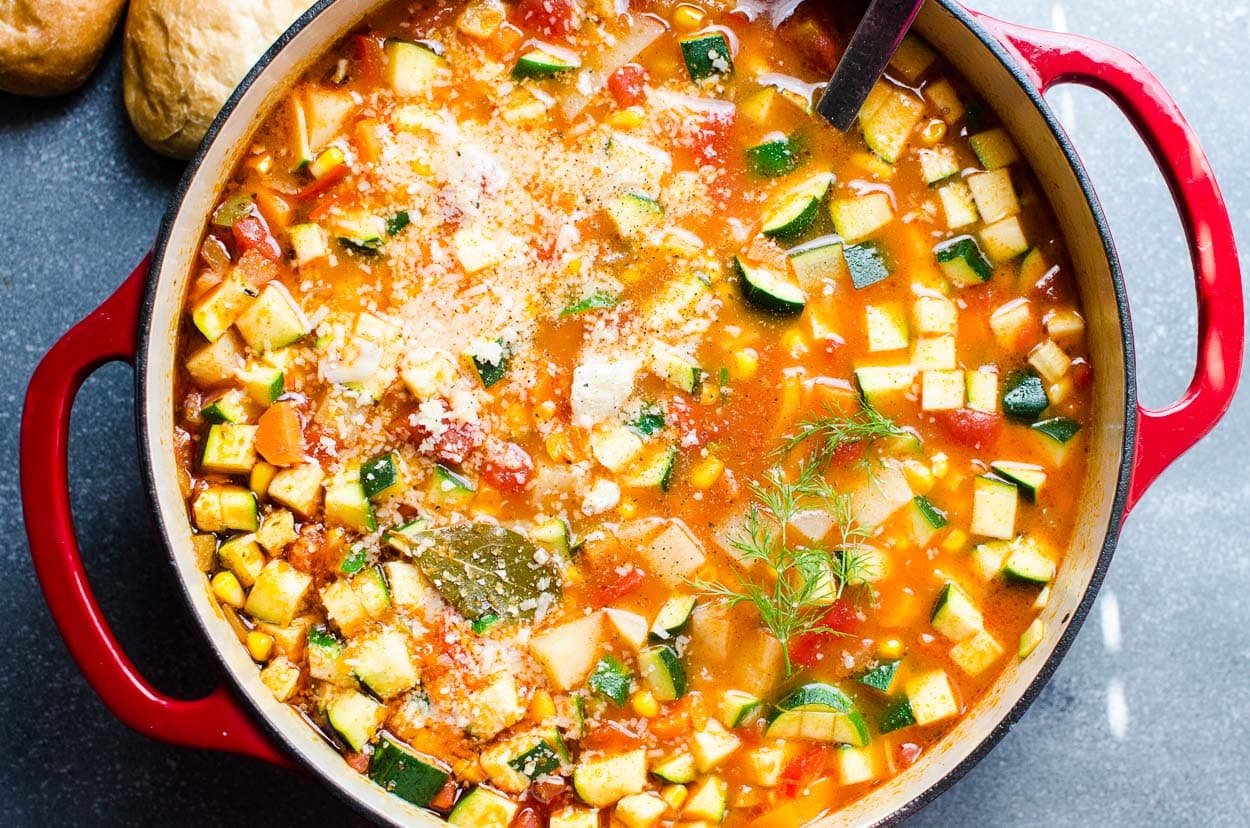 Serving Recommendations
You can enjoy this homemade vegetable soup alone or with a side. I like to serve mine with a sprinkling of parmesan cheese (or other cheese like cheddar), a tablespoon of yogurt (or veggie dip), and a slice of whole-grain, rye, or baguette.
For extra protein, I sometimes top the soup with some leftover protein like crispy tofu (or air fried), baked chicken breast (cubed or shredded), or even a handful of cooked crumbled ground turkey, chicken, or beef. You could also spoon in pesto for extra flavor. You could also enjoy the soup with a simple leafy green salad or chopped salad.
Making This Recipe in Advance
Store: Allow the soup to cool for between 1- 1 ½ hours before transferring to an airtight container. Store in the fridge for up to 2 days (any longer, and I find the veggies become too mushy).
Freeze: Transfer it to a freezer-safe container or bags (portioned for easy thawing) and freeze for up to 2 months. If you have opted to use potatoes in this soup, be aware that the texture may change upon thawing.
Reheat: Reheat the vegetable soup on the stove over low heat. You can also reheat the soup from frozen; it just takes longer.
More Vegetarian Soup Recipes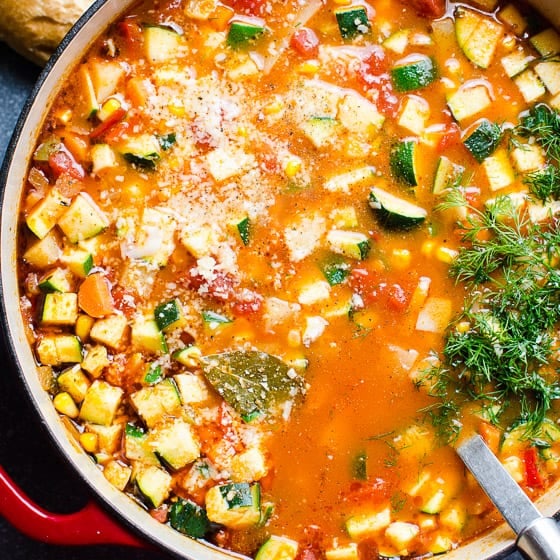 Vegetable Soup
Healthy Vegetable Soup recipe is jam-packed with fresh or frozen veggies for an easy and flavor-packed, meat-free soup. Even better, you can prepare this versatile chunky veggie soup using the stovetop, slow cooker, or Instant Pot, and it tastes miles above any canned version!
Print
Rate
Ingredients
4

large potatoes

medium chopped

3

large carrots

medium chopped

3

medium celery stalks

medium chopped

3

cups

bell peppers

medium chopped

2

medium zucchini

medium chopped

1

medium onion

finely chopped

2

cups

corn

fresh or frozen

6

cups

vegetable stock

low sodium

28

oz

can diced tomatoes

low sodium

1

tsp

smoked paprika

1

tsp

dried oregano

1

tsp

garlic powder

3/4

tsp

salt
Ground black pepper

to taste

1

tbsp

avocado oil

1

medium garlic clove

grated

1/3

cup

dill or parsley

finely chopped

Parmesan cheese and yogurt

for garnish
Instructions
Stovetop Vegetable Soup
Preheat large dutch oven or large pot on medium heat, swirl a bit of oil to coat and add onion. Cook for 3 minutes, stirring occasionally. Add smoked paprika, oregano, garlic powder, salt, pepper and bay leaves; cook for 1 more minute, stirring frequently.

Add potato, carrot, celery, pepper, stock and diced tomatoes; stir.

Bring to a boil, cover and reduce heat to low and simmer for 25 minutes or until potato is fork tender.

Add zucchini and corn, cover and simmer for 5 more minutes.

Turn off heat, add grated garlic and dill.

Serve hot garnished with Parmesan cheese and yogurt.
Slow Cooker Vegetable Soup
Add a 6 oz can of tomato paste and skip zucchini.

In a large slow cooker, combine all ingredients, cover and cook on Low for 10 hours or on High for 5 hours.

Add garlic and dill (parsley); serve hot with a dollop of plain yogurt.
Instant Pot Vegetable Soup
Add a 6 oz can of tomato paste.

In Instant Pot, add all ingredients in the order listed above except zucchini, dill, cheese and yogurt. Pressure cooker shouldn't be more than 2/3 full.

Close the lid, set pressure vent to Sealing and press Pressure Cooking on High for 20 minutes. Display will say ON, Instant Pot will take about 30 minutes to come to pressure, you will see a bit of steam coming out from a valve, then float valve will rise and countdown from 20 minutes will begin.

After display beeps and says OFF, do Quick Release by turning pressure valve to Venting position, which takes 3-4 minutes. I recommend doing so outside to avoid the mess and smell.

Open, add zucchini, close the lid and let sit for 5 minutes.

Add garlic and dill (parsley); serve hot with freshly grated Parmesan cheese and/or a dollop of plain yogurt.
Store: Refrigerate for 2 days in an airtight container. It is so great for quick lunches and easy dinner leftovers! I find any longer than that results in the vegetables becoming too mushy.
Freeze: I recommend freezing soup right after cooking. Transfer to an airtight glass container and freeze as soon as soup has cooled down. You can also freeze leftovers, but any further past day 2 will result in mushy vegetables. Note that potatoes may change in texture upon thawing
Reheat: Vegetable soup can be easily reheated on the stove on low heat. You can also reheat frozen soup by simmering it on low (it just takes longer).
Notes
Frozen and other vegetables work: Use your favorites. You can also add thinly shredded cabbage 15 minutes before other ingredients as it takes a bit longer to cook.
Adjust sodium: I used low sodium broth and diced tomatoes. If yours is not, add less salt to taste.
Must do secret ingredient: Smoked paprika is the secret ingredient that makes this soup super flavorful. I definitely wouldn't trade it for regular paprika.
If you want thicker soup: Insert an immersion blender right into the pot. Pulse a few times until it is as thick as you like! 
Serving plates: My tip for you is to buy wide deep plates for hearty soups. Using deep plates makes it easier to load up on soup and soup will cool off faster (which is huge for kids).
See recipe post for more tips and FAQs.
Nutrition
Serving:
2
cups
|
Calories:
198
kcal
|
Carbohydrates:
40
g
|
Protein:
5
g
|
Fat:
3
g
|
Saturated Fat:
1
g
|
Sodium:
269
mg
|
Fiber:
7
g
|
Sugar:
10
g
Recipes and images are a copyright of ifoodreal.com. It is against the law to republish recipes without permission. Nutritional info is approximate.