Baked Chicken and Peppers recipe is a true healthy dinner crowd pleaser! Chicken is baked with sauteed peppers, onions, and mushrooms under a blanket of cheese for a flavorful meal that will be a new family favorite.
Never run out of dinner ideas with over 65 healthy chicken recipes including reader favorite chicken and zucchini and chicken and tomato recipe!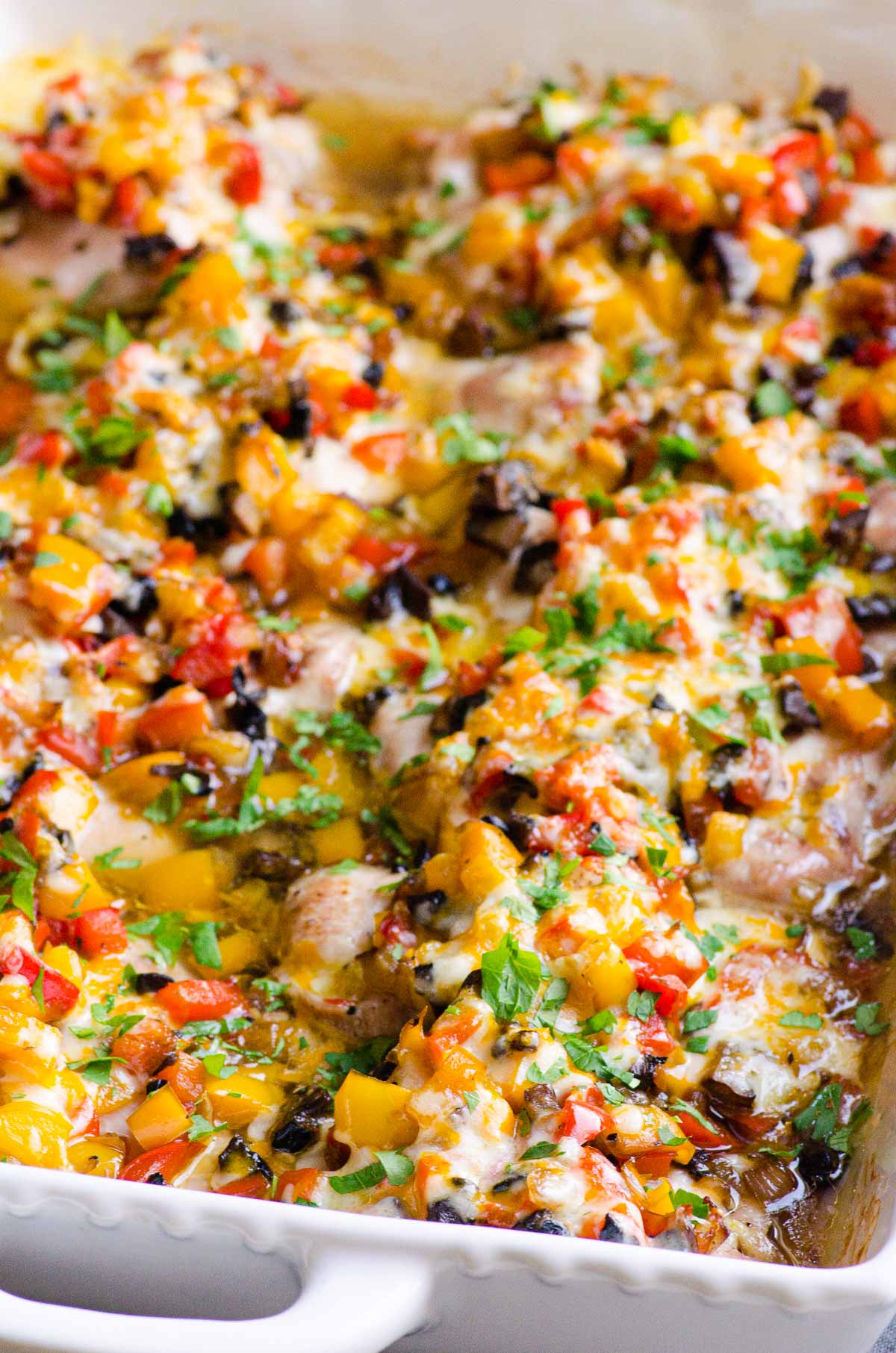 Baked chicken and peppers use just a handful of fresh healthy ingredients, which is my favorite way to cook. Meat, veggies, seasoning, and a bit of cheese all come together in one dish for an easy dinner.
It's ready under 1 hour and made without any high sodium, sugar, or preservatives. Just fresh and flavorful ingredients that have amazing taste.
It's a home cooked, simple, and hearty dinner you can serve your family for a weeknight meal or serve to company and earn rave reviews!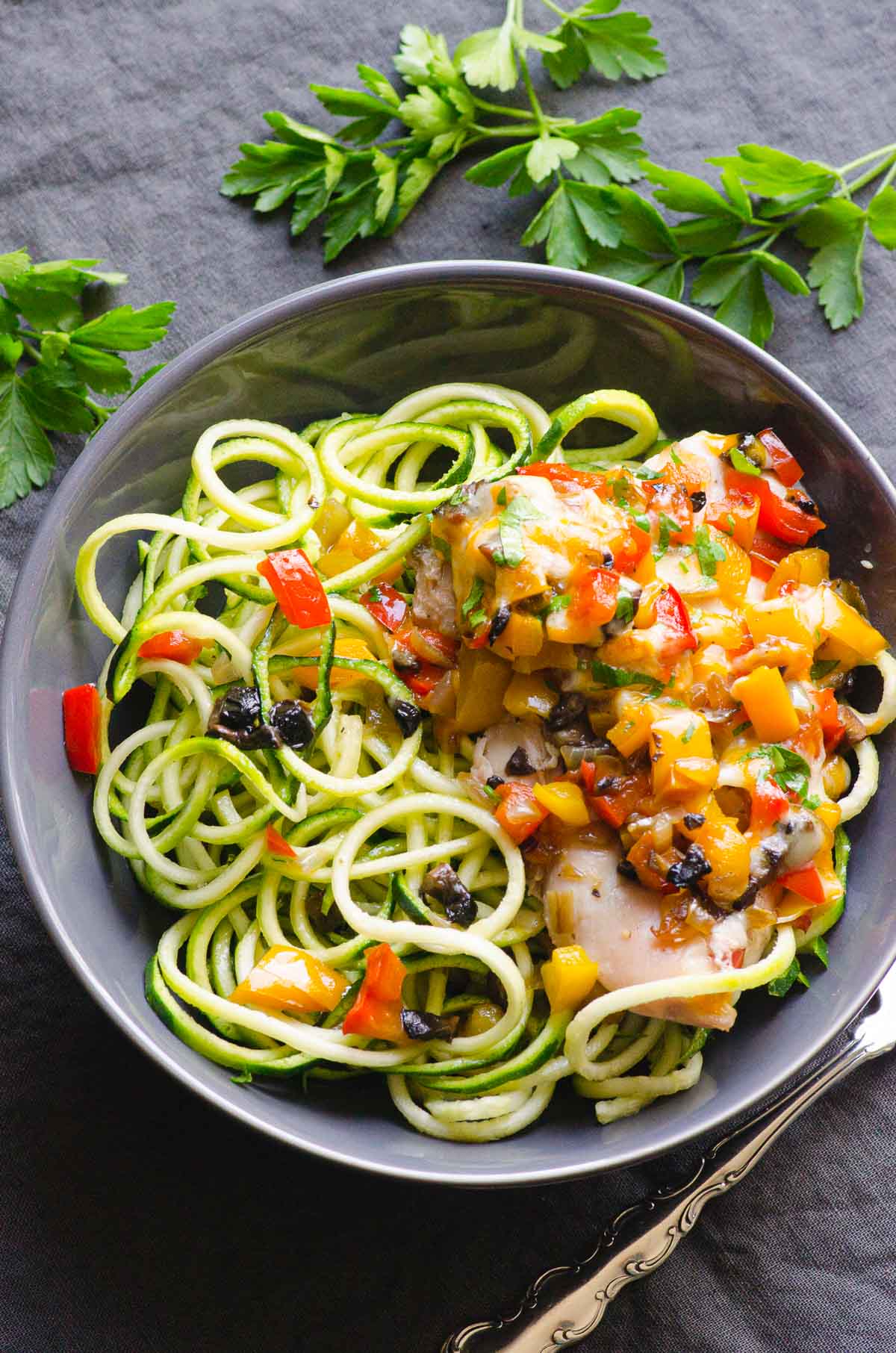 Why You'll Love This Recipe
Pure and simple: Real food ingredients that taste amazing.
It's flexible: I love this dish the way it is, but by all means, tweak the veggies and seasonings to how you like it.
Easy meal: Serve on top of healthy mashed potatoes or perfect brown rice with the juices, and everyone will be blown away!
Leftovers: A warm meal tonight, then reheating leftovers or eat cold for lunch the next day.
Ingredients Needed
Since this chicken pepper bake focuses on fresh ingredients, select the best possible ones you can find to really let them shine!
Chicken: Boneless skinless chicken breasts or boneless skinless chicken thighs.
Bell peppers: You'll need two, use a variety of colors. Red bell pepper, yellow or orange bell pepper. Green bell pepper works, too!
Brown or portobello mushrooms: Adds a umami robust taste to the dish.
Aromatics: Onion and garlic, yum!
Seasoning: Salt and pepper, easy-peasy!
Oil for frying: Coconut oil, avocado oil, grapeseed oil, or olive oil all work. This is used to sauté the veggies over medium-low heat so you can use an oil that doesn't require a high smoke point.
Cheese: Any sharp cheese will do. Cheddar, marble, gouda, or gruyere cheese will work. Shred your own to avoid packaged pre-shredded cheese that comes with anti-clumping agents.
Garnish: Optional addition is to throw in some finely chopped parsley. If you don't have it, don't sweat it.
How to Make Chicken and Peppers
This dish really comes together easily in a few steps. You will need a baking dish, a skillet, and a good chopping knife.
Prep: If you're using skinless chicken breasts, cut them in halves lengthwise. Preheat the oven and grab your baking dish. You want a dish big enough to fit all your chicken and the delicious toppings.
Add to the dish: To the large baking dish, add the chicken, garlic, salt, and pepper and combine everything. Using your hands or a pair of tongs, mix everything, making sure all pieces of chicken are coated.
Even though this dish uses very little seasoning, chicken is one thing that needs it!
Bake chicken: Cover the dish and bake until the chicken is completely cooked through.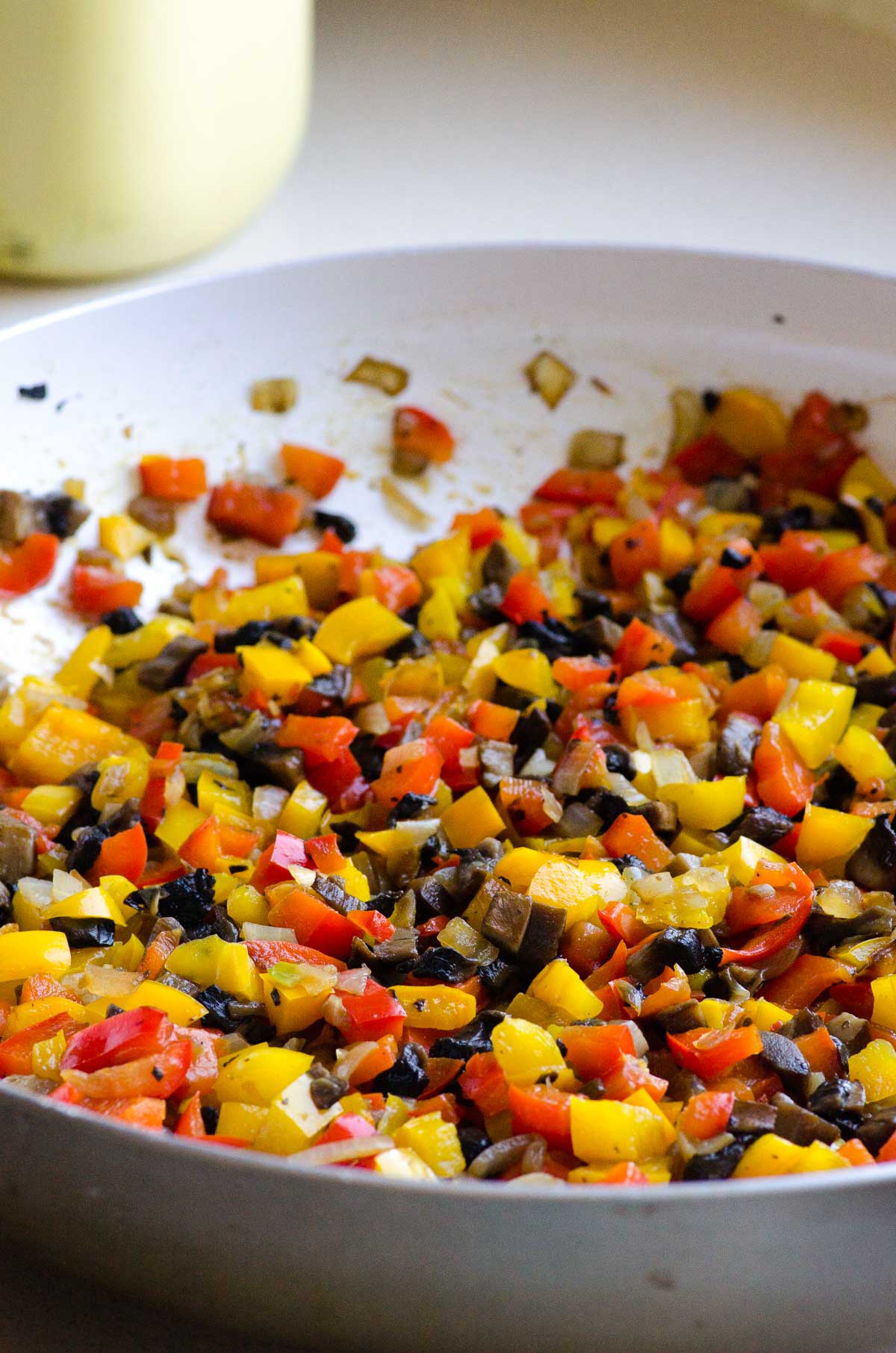 Saute veggies: While the chicken is baking, preheat a large ceramic non-stick skillet over medium heat. Drizzle oil and swirl to coat.
Once it's hot, add onion and sauté for a few minutes. Add mushrooms and continue to cook, then add bell peppers last.
Continue to stir occasionally until your veggies are soft and their natural flavors and sweetness have been brought out.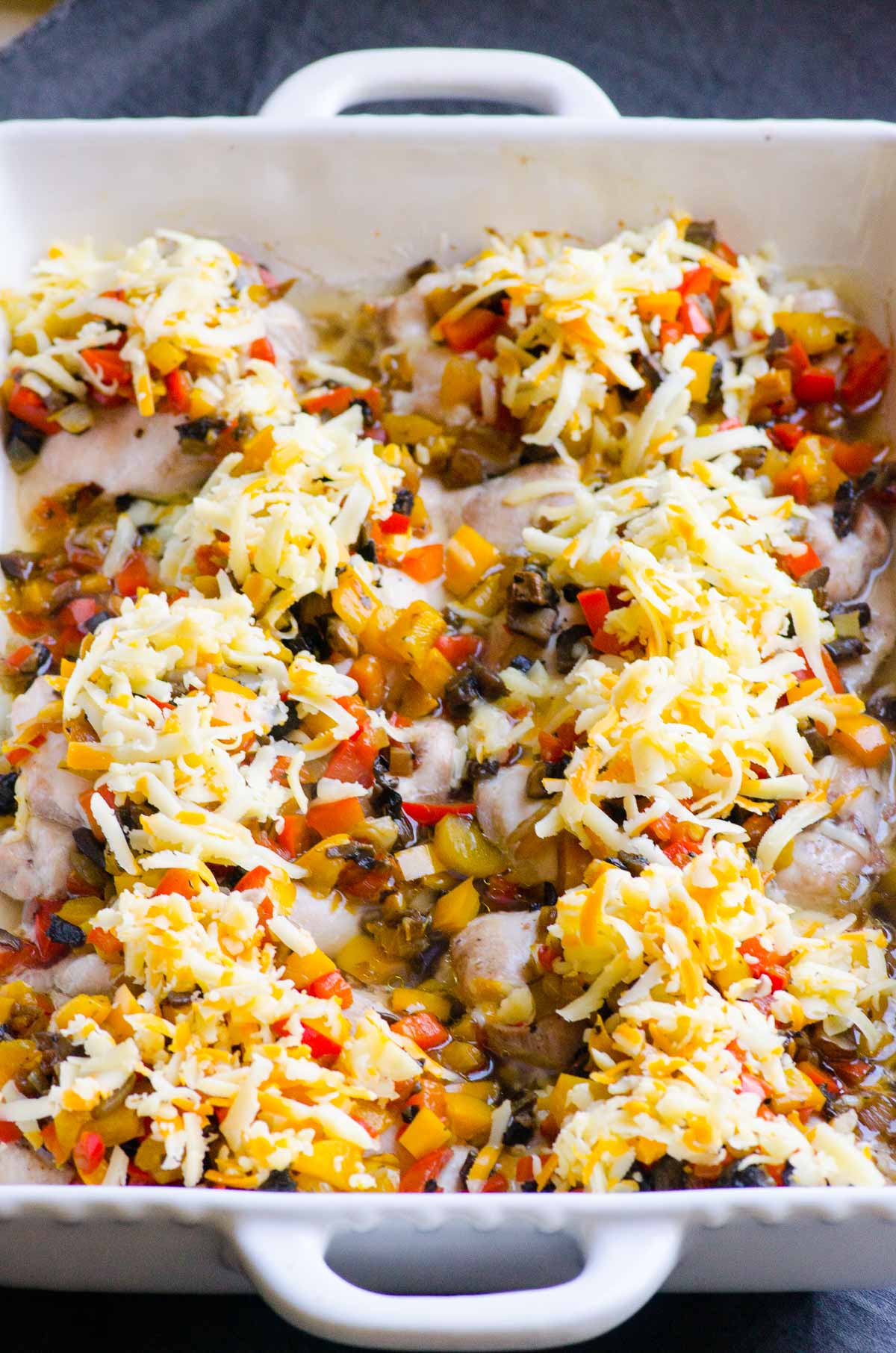 Remove chicken from oven: You'll know your chicken is cooked because it will be surrounded by its own clear juices. Get excited because those juices add another layer of flavor to this dish!
Take it out of the oven and turn on the broiler.
Top chicken then broil: Separate chicken pieces just slightly to allow any veggies to sit around the chicken as well as on top. Top each piece with sauteed veggies and then top with cheese. Broil until the cheese is melted.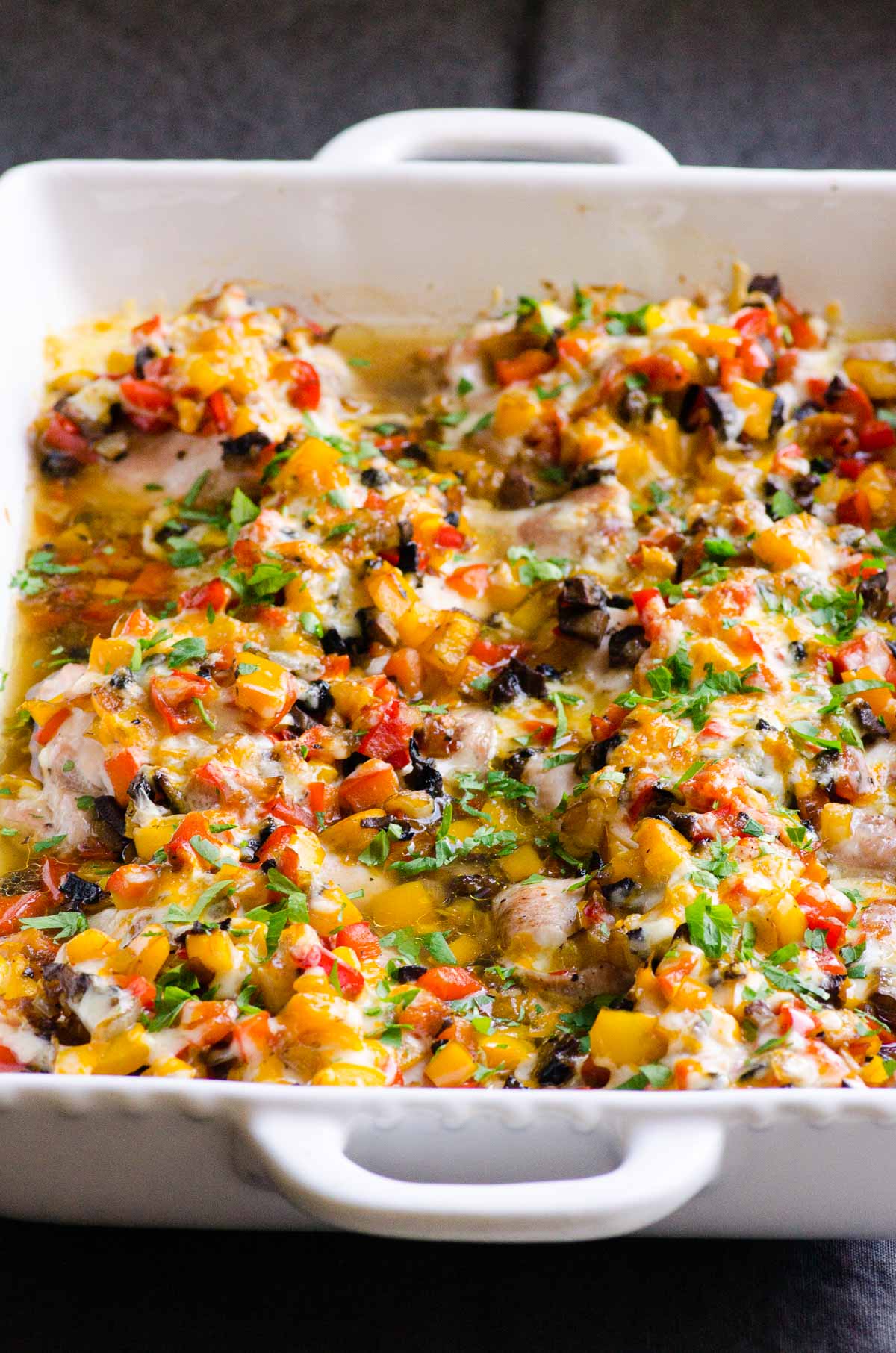 Serve: This dish is as good served cold as it is hot! I do recommend you keep the juices with it when serving hot over rice or quinoa.
For a lower carb option try making zoodles.
Optional Substitutions
Seasonings: Feel free to add additional seasonings to your chicken! Italian seasoning, oregano, paprika or even taco seasoning.
Mushrooms: Use brown mushrooms or portobello mushrooms for more flavor than white mushrooms. Either will work and each one will have great texture. But if it's the taste you want, opt for the brown ones.
Onion: Try red onion or green onions for some color or different taste.
Cheese: Sharp cheese works well and adds a bold flavor to this dish. You can, however, use a milder cheese such as mozzarella cheese or provolone cheese.
Heat: Throw in a dash of red pepper flakes for some extra heat.
Recipe Tips
Type of chicken: Don't opt for a butterfly cut for a baked chicken breast. It's thinner and will be quite dry. Use a plumper breast for the ultimate flavor. You can also use chicken tenderloin, just bake them for 5 minutes less.
Chop veggies in similar sizes: Not only does it help them cook better but it will be easier to get some in each bite.
Saute the right way: You'll notice that the recipe states you add one veggie at a time to saute. Adding them all together will steam them, which will cause them to become mushy. Mushrooms contain quite a bit of water, so follow the recipe and it will be great.
A sear. If you are really wanting a sear on your chicken you can brown it first in the skillet before adding it to the baking dish.
FAQs
Can I make this in the skillet?
Absolutely! If you have an oven safe skillet large enough, you could definitely make this a one pan dish and take it right from the skillet to the oven. Otherwise, you could also make this completely on the stovetop and cook it covered on low.
What can I use instead of mushrooms?
If you're not a fan of mushrooms, you can leave them out altogether and add some more bell peppers. Or you can replace them with something else like corn, broccoli, cauliflower, or zucchini.
How can I make this more dietary friendly?
This recipe is naturally gluten free and low carb with only 6g carbs per serving! To make this dairy free or whole 30/paleo friendly just omit the cheese at the end.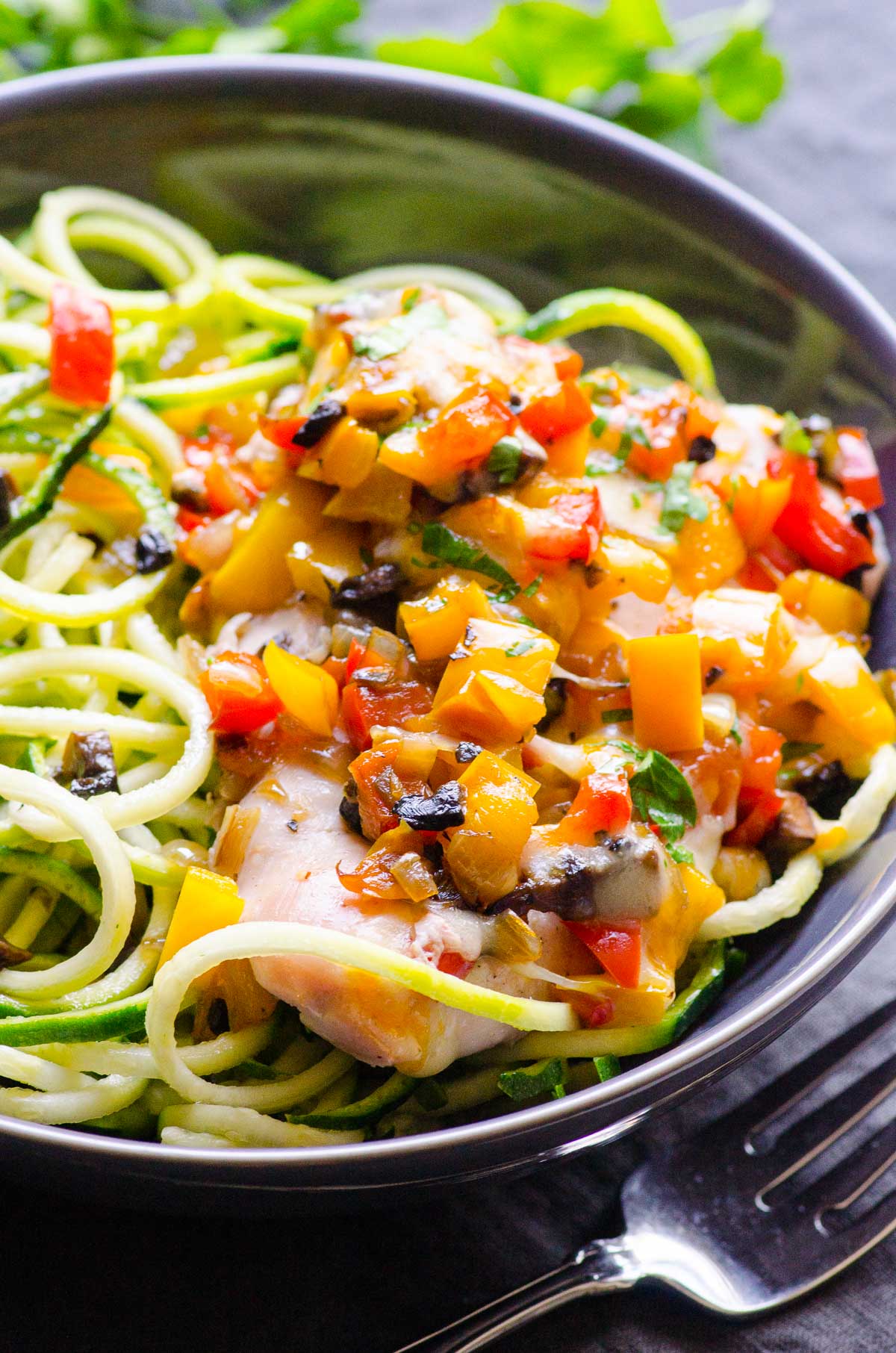 What To Serve With Chicken and Peppers?
Storing and Reheating
Store: Refrigerate in an airtight container for up to 3 days.
Freeze: Can be frozen in an airtight container for up to 3 months. To thaw, place in the fridge overnight.
Reheat: To reheat, place in the oven at 350 degrees F along with all of its juices, covered. Bake for 10 minutes, until the dish is heated through.
More One Dish Chicken Dinners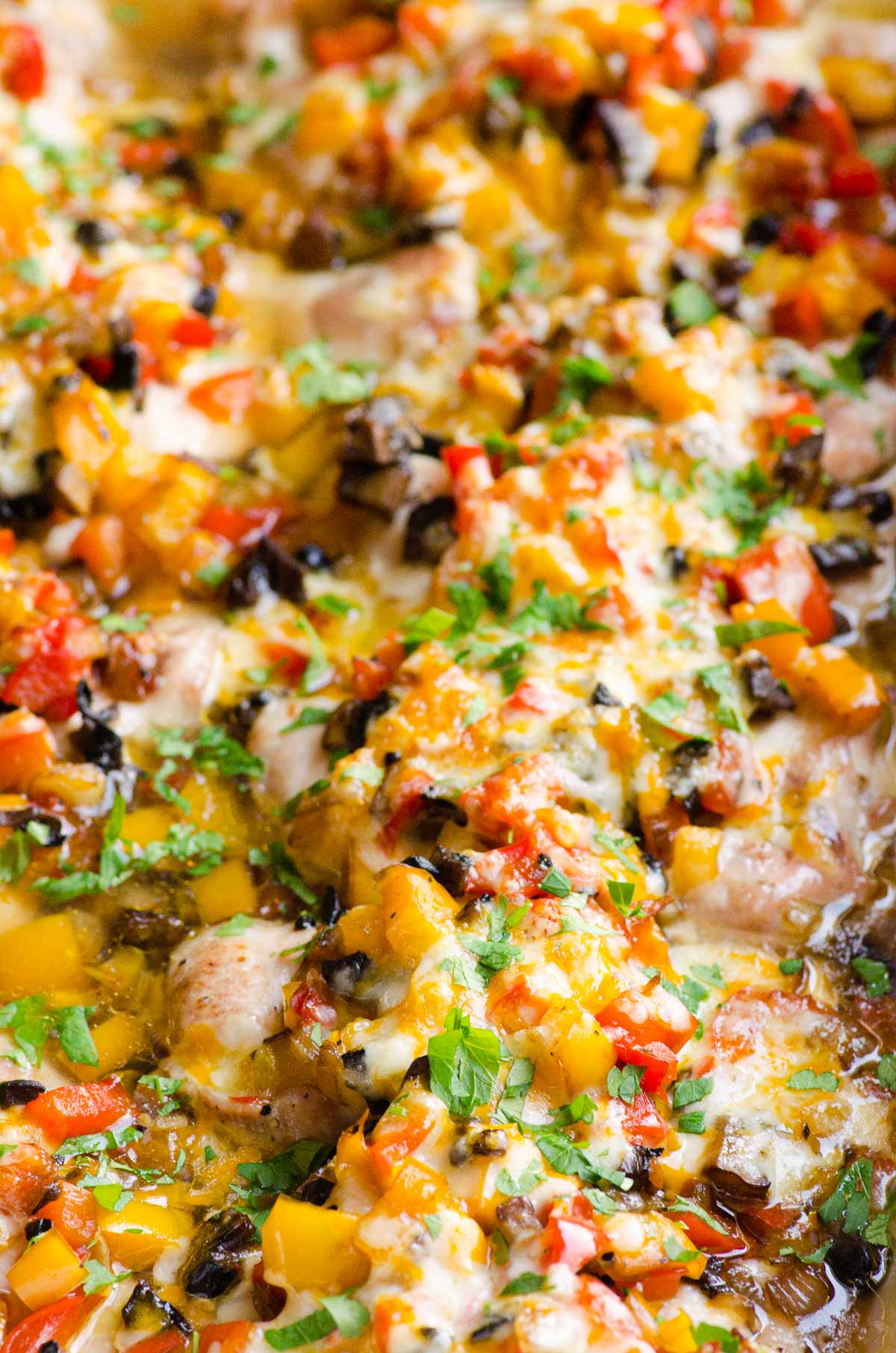 Baked Chicken and Peppers
Baked Chicken and Peppers recipe with boneless chicken breasts or thighs, sauteed peppers, onion and mushrooms baked under blanket of cheese.
Ingredients
3

lbs

chicken breasts or thighs

boneless & skinless

1

large garlic clove

grated

1/2

tsp

salt
Ground black pepper

to taste

1

medium onion

finely chopped

10

brown mushrooms or 2 portobellos

chopped

2

large bell peppers

chopped

1

tbsp

coconut or avocado oil

1

cup

sharp cheese like cheddar, marble, Gouda or Gruyere

shredded

3

tbsp

parsley

finely chopped (optional)
Instructions
Preheat oven to 425 degrees F. If using breasts cut in half lengthwise.

In a large baking dish, add chicken, garlic, salt and pepper. Mix well to coat evenly and spread in a single layer. Cover and bake for 20-25 minutes. Chicken is cooked when pale and surrounded by clear juices.

In the meanwhile, preheat large ceramic non-stick skillet on low-medium heat and swirl oil to coat. Add onion and saute for a few minutes, stirring occasionally. Add mushrooms and saute for a few more minutes, stirring occasionally. Add bell peppers and saute for 5 more minutes, stirring.

Remove chicken from the oven and turn broiler on High. Separate chicken a bit from each other and top each piece with vegetables (sprinkle around too) and top with cheese. Broil for 5 minutes or until cheese is melted.

Serve chicken hot with its juices over rice, quinoa or zucchini noodles. This chicken and peppers dish tastes cold amazing too!
Notes
Store: Refrigerate in an airtight container for up to 3 days. Reheat by baking with juices while covered for 10 minutes at 350 F.
Freeze: Freeze leftovers in an airtight container for up to 3 months. Thaw in the fridge overnight.
Chicken: Don't opt for a butterfly cut in baked chicken breast. It's thinner and will be quite dry. Use a plumper breast for the ultimate flavour. Chicken tenderloin bake for 5 minutes less.
Saute vegetables adding one by one:

Adding all vegetables to the skillet at once will steam them.

Mushrooms: Use brown or portobello mushrooms for more flavor rather than white.
Cheese: You can use mozzarella or provolone cheese, it has just more mild taste.
Nutrition
Calories:
382
kcal
|
Carbohydrates:
6
g
|
Protein:
54
g
|
Fat:
15
g
|
Saturated Fat:
7
g
|
Cholesterol:
165
mg
|
Sodium:
578
mg
|
Fiber:
1
g
|
Sugar:
3
g