30 Minute One Pan Chicken and Veggies with chicken breast, mixed vegetables and simple spices. So easy, you don't need a trip to a grocery store.
One Pan Chicken and Vegetables
30 minute one pan chicken and veggies baked in the oven with chicken breast, mixed vegetables and simple spices. For dinner tonight? It's also great for meal prepping just like chicken and peppers.
I always say leftovers are your "healthy packaged foods". You can cook only so much with our busy North American lifestyle.
I used to roast leftover vegetables in an effort to clean out the fridge using this recipe for years. However, with all my whirlwind of renos lately (nicely said) I started to throw in a few cubed chicken breasts into the mix and super easy sheet pan dinner is served.
Here is a tip for you to see if you are doing "the dinner thing" right. If after spending time in the kitchen you still haven't solved the question "What's for dinner?", then you are doing dinner wrong.:) That's how chicken made it into this recipe. Please note chicken is also cut with kitchen shears rather than on a cutting board because TIME.
You may also love these 65 healthy chicken recipes.
What Are The Best Vegetables to Roast?
For this oven roasted chicken breast and vegetables any firm vegetables that can withstand cooking for up to 25 minutes without becoming overcooked work:
Sweet potato
Butternut squash
Brussels sprouts
Red onion
Mushrooms
Bell peppers
Cauliflower
Broccoli
Green beans
Can I Roast Frozen Vegetables?
Yes, especially if your chicken is slightly frozen too. Just increase baking time by 5-10 minutes and play it by ear.
What Is the Seasoning?
I grew up in Ukraine where the same 20 ingredients were used to make 50 different dishes. I'm serious. I think we often overcomplicate cooking nowadays. I believe in "quality over quantity" and keep my recipes simple.
Olive oil
Smoked paprika
Garlic powder
Salt and pepper
Tips for Best Sheet Pan Dinner
You can turn many other vegetables and protein into one pan dinners with a bit of guidance and common sense.
Here are my tips how to make your weeknights less stressful:
Pick vegetables and protein with similar cooking time. For example, shrimp and asparagus, chicken and potatoes, salmon and brussels sprouts.
Cut ingredients into similar size pieces.
Always use avocado or olive oil to prevent ingredients from drying out in the oven.
Add your favorite simple spices eyeballed. I swear my food comes out more tasty when I don't measure. I swear!
How Much Space Sheet Pan Chicken and Veggies Need?
2 baking sheets will do it although it might seem like a lot of vegetables. Vegetables will shrink during baking and using 2 sheets is the perfect amount of space they need to roast. Do not overcrowd veggies onto one baking sheet because vegetables will turn out steamed.
Can I Use Chicken Thighs?
Chicken thighs are more fatty therefore juicy than chicken breast. It's dark meat vs. white meat. You can use cubed skinless and boneless chicken thighs and even reduce on the amount of oil. I personally prefer dark meat to white meat, however it's just hard to come by organic thighs where I live.
How Long to Roast?
With cubed boneless chicken breast or thighs about 25 minutes. If you want to make this 1 pan chicken and veggies a vegetarian side dish roast for 20 minutes and use less oil.
How to Roast Vegetables Without Chicken:
I use same recipe with a few modifications to clean out the fridge and pantry from about to go bad vegetables. Here are my tips:
Use only 2 tbsp of oil because there is no chicken
Reduce smoked paprika and garlic powder to 1 tsp each
Add only 1/4 tsp of salt and pepper to taste
Overall, smoked paprika is the bomb dot com to add flavour to any dish!
How to Meal Prep This Dish
Meal prepping saves a lot of time. Many people turn to meal prepping due to our crazy busy lifestyle nowadays. There are 3 ways I would recommend to meal prep this one pan meal and they all depend on your personal preference.
Chop. You can chop vegetables and cut chicken, then refrigerate in separate containers for up to 5 days. Combine when ready to cook and follow recipe instructions.
Season. Season meat and vegetables, refrigerate in separate containers for up to 2 days, combine when ready to bake and roast.
Cook. Bake sheet pan chicken and veggies, divide between meal prep containers, cool down and refrigerate for up to 4-5 days. Grab and go for healthy lunch ideas throughout the week. This is my choice because I'm the queen of leftovers!!!
Can I Freeze Leftovers?
Personally I would not. Let me explain why. Vegetables are already "wilted" because they are cooked. Freezing and then thawing will make vegetables even more soggy. "Just not my cup of tea" but I know many don't mind. And let me mention that I'm not picky. Just saying.:)
More Healthy One Pan Recipes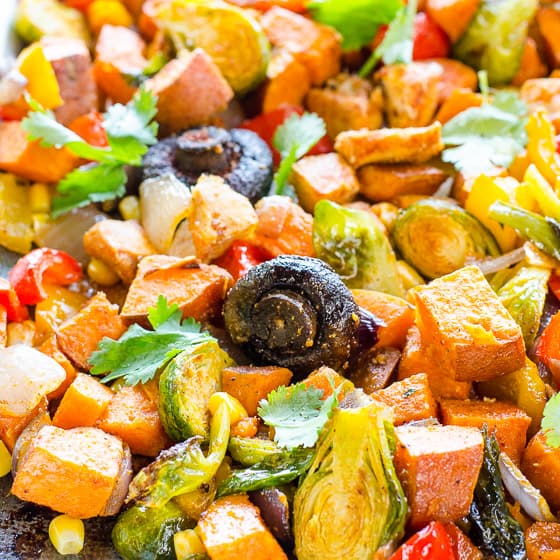 One Pan Chicken and Veggies
30 Minute One Pan Chicken and Veggies with chicken breast, mixed vegetables and simple spices. So easy, you don't need a trip to a grocery store.
Instructions
Preheat oven to 425 degrees F and line 2 large baking sheets with unbleached parchment paper or silicone mats.

Add mixed vegetables and chicken, dividing between 2 pans. Drizzle with oil and sprinkle with spices. Stir well to mix with spatula.

Bake for 25 minutes.

Remove from the oven, add corn and stir. Drizzle with lime juice and sprinkle with cilantro. Serve warm.
Notes
Best veggies to roast: sweet potato, butternut squash, brussels sprouts, red onion, mushrooms, bell pepper, cauliflower, broccoli.
Nutrition
Calories:
366
kcal
|
Carbohydrates:
43
g
|
Protein:
26
g
|
Fat:
13
g
|
Saturated Fat:
2
g
|
Cholesterol:
48
mg
|
Sodium:
407
mg
|
Fiber:
12
g
|
Sugar:
1
g