Sheet Pan Chicken and Veggies is healthy weeknight dinner that's perfect for meal prep! Chicken breasts and vegetables are roasted with olive oil and simple seasonings in one pan for easy clean up.
On busy weeknights, I often make this one pan chicken and potatoes as well.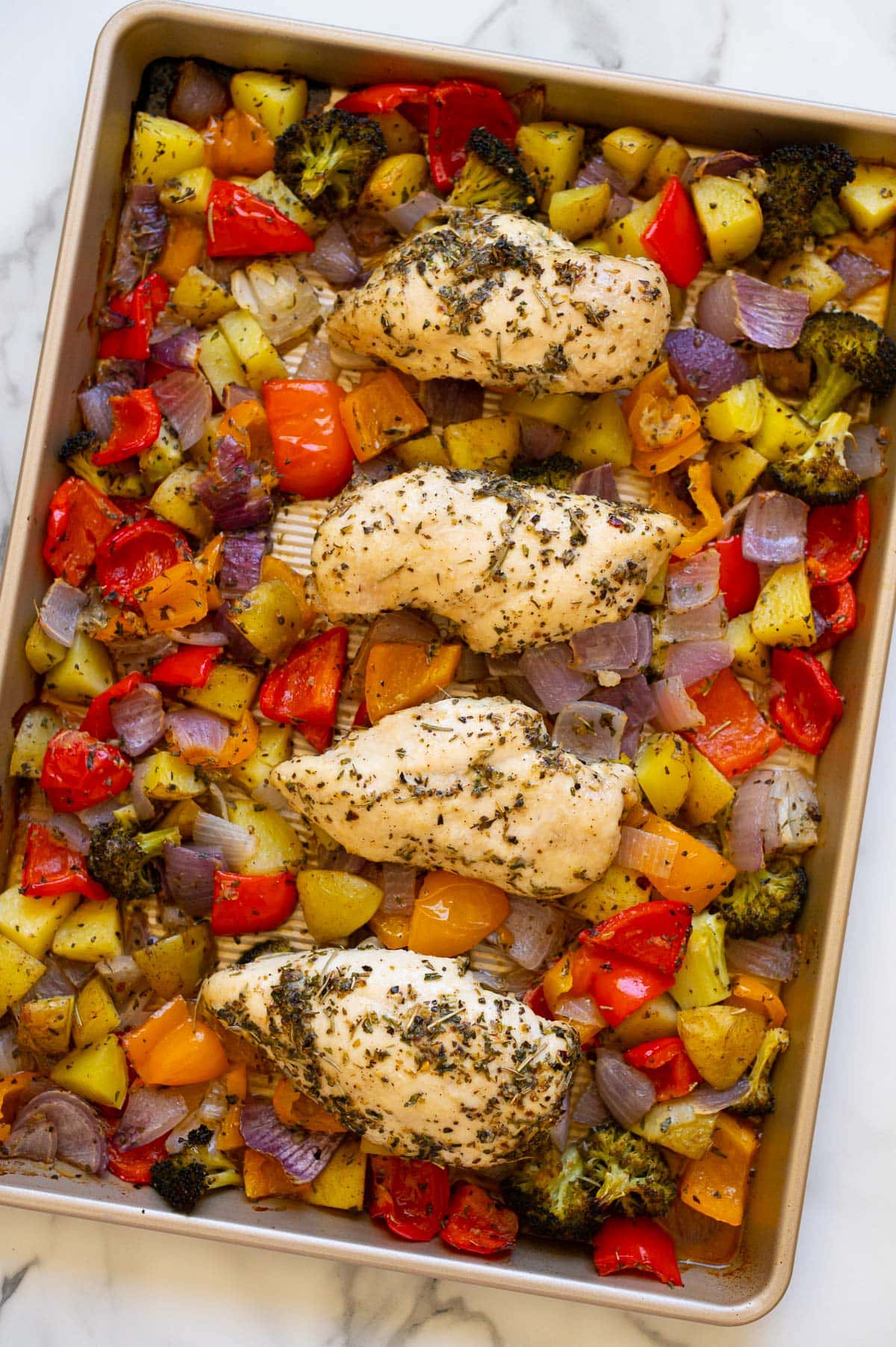 Whether it's back to school time or you just want an easy healthy dinner recipe, this sheet pan chicken and veggies is for you! Here at iFoodReal, I try to make your life in the kitchen easier and yet meals taste delicious.
I find cooking for a family can be tiring, so that's when I turn to easy recipes like this one!
Why You'll Love This Recipe
Simple: You will need just 9 basic ingredients to make this sheet pan chicken recipe.
Quick: 10 minutes of prep and only 35 minutes of hands-off time in the oven.
Less clean up: Both chicken and veggies are seasoned in one bowl.
Delicious: I use my homemade Italian seasoning combined with olive oil, which makes the flavor of this one pan chicken and veggies "spot on", as per my neighbor's feedback.
Cleans out the fridge: You can roast almost any vegetables with chicken breasts using this method.
Meal prep worthy: This sheet pan dinner is quite sturdy and will last in the fridge for 5 days. Perfect for meal prep and transporting to school and work!
Ingredients for Sheet Pan Chicken and Veggies
You will need just a mix of whatever veggies you like, chicken breasts, oil, and a few simple spices. We use same seasonings to season both chicken and vegetables. I believe in "quality over quantity" and keep my chicken recipes simple.
Chicken breasts: I used 4 medium sized boneless skinless chicken breasts. If you have large to extra large chicken breasts, use 3 pieces.
Potatoes: I used yellow potatoes, you can also use red skin potatoes or baby potatoes. You can use russet potatoes if you like their taste once roasted.
Bell pepper: Any color sweet bell pepper will work. Use orange, yellow or red bell peppers in any combination you like.
Broccoli: Crowns and stems, chopped.
Onion and garlic: I like to roast red onion for its extra sweet taste. Grated garlic is used for seasoning chicken and vegetables.
Olive oil: I prefer to use extra virgin olive oil as it adds a lot of flavor to this sheet pan meal! You can use avocado oil or grapeseed oil if you like.
Italian seasoning: My go-to is my homemade Italian seasoning recipe. I now have a dedicated jar for it in my spice drawer. If you use store-bought, make sure it's low sodium version.
Salt and pepper
How to Make Sheet Pan Chicken Dinner
To make sheet pan chicken and veggies I love to use my large and sturdy with tall walls OXO baking sheet. Here is a quick overview how to do it and full recipe is located in the recipe card below.
Prep: Chop bell peppers and onion into same size 2 inch pieces, so they don't overcook too much. And cut potatoes into smaller 1.5 inch bite-size pieces, so they have a chance to cook through.
Season the vegetables: In a large bowl, add bell peppers, onion and potatoes. Then drizzle with olive oil and sprinkle with grated garlic, Italian seasoning, salt and pepper. Toss or stir to coat and spread in a single layer on a baking sheet.
Season the chicken: In same bowl, add chicken breasts and same seasonings as for veggies. Stir to coat and lay on top of veggies.
Roast: Bake chicken and veggies on a sheet pan for 35 minutes in preheated to 425 F oven. Your meal is ready when potatoes are easily pierced with a knife and chicken breasts register at least 165 F when checked with instant read thermometer.
What Are the Best Vegetables to Roast?
For this oven roasted chicken breast and vegetables recipe, any firm vegetables that can withstand cooking for up to 35 minutes without becoming too overcooked work.
Here are a few ideas:
Sweet potato
Butternut squash
Brussels sprouts
Cauliflower
Green beans
Carrots
Tips for Best Results
You can turn many other vegetables and protein into one pan dinners with a bit of guidance and common sense.
Here are my tips how to make your weeknights less stressful:
For more crispy roasted veggies: This recipe results in a fair amount of cooked veggies without much crispy edges. If you would like more roasted vegetables final result, divide chicken and vegetables equally between 2 large baking sheets.
Using other oils: I recommend to use extra virgin olive oil for this sheet pan chicken recipe. When combined with Italian seasoning, it makes this dish extra flavorful without many other spices. Avocado oil is quite bland but will work as well.
Add more spices: If you feel like, add up to 1 teaspoon of smoked paprika, garlic powder, ground cumin, curry powder or chili powder for extra flavor.
Using frozen vegetables: You can roast frozen vegetables, especially if your chicken is slightly frozen too. Just increase baking time by 10-15 minutes and play it by ear.
Using chicken thighs: If you like dark meat, I recommend to use skin-on bone-in chicken thighs in this recipe. Boneless chicken thighs will dry out quickly before potatoes will be ready. You might have to increase baking time by a few minutes or until thermometer registers 165 F when inserted in the center close to the bone.
Serving Recommendations
This is a one pan meal that is complete with protein, carbohydrates, fiber and healthy fats. You can easily serve it on its own! But if you feel like adding "a little something" on the side, this butter lettuce salad or spring mix salad will make a perfect simple side dish.
You can also top it with a dollop of pesto.
How to Meal Prep One Pan Chicken and Potatoes
Meal prepping saves a lot of time! There are 3 ways I would recommend to meal prep this sheet pan chicken and veggies, and they all depend on your personal preference.
Chop. You can chop vegetables and cut chicken, then refrigerate in separate containers for up to 2 days. Store potatoes covered with cold water separately. Combine when ready to cook and follow recipe instructions.
Season. Season chicken and vegetables, store in separate airtight containers in refrigerator for up to 2 days. Combine when ready to bake and roast.
Cook. Roast chicken and veggies, divide between meal prep containers, cool down and refrigerate for up to 4-5 days. Grab and go for healthy lunch ideas throughout the week. This is my choice because I'm the queen of leftovers!
Can I Freeze Leftovers?
Personally I don't recommend to freeze this dish. Let me explain why. Vegetables are already "wilted" because they are cooked. Once you place them in a freezer and then thaw, it will make them very soggy. But you can try, if you like.
FAQs
Is it safe to cook meat and vegetables together?
It is safe to cook chicken and vegetables together as long as you follow USDA guidelines for recommended internal temperature for cooked meats that is safe for consumption.
How do I know when it's ready?
Your meal is ready when both potatoes are soft when pierced with a fork, and internal meat thermometer inserted in the thickest part of the breast registers 165 F. Both chicken and potatoes need time to cook through.
Should I cover chicken and vegetables during baking?
There is no need to cover chicken and vegetables with aluminum foil or parchment paper when roasting on the sheet pan in the oven. On the contrary, you want them to bake open to get roasted on the outside.
How do I reheat it?
To reheat leftovers, I recommend to use a microwave to prevent chicken breasts from drying out. Or bake at 350 F for 10-15 minutes.
More Sheet Pan Dinner Recipes
More Chicken Recipes to Try
You may also love these 65 healthy chicken recipes.
Sheet Pan Chicken and Veggies
Sheet Pan Chicken and Veggies is healthy weeknight dinner that's perfect for meal prep! Made in one pan for easy clean up, in 45 minutes.
Instructions
Preheat oven to 425 degrees F. In a large bowl add bell peppers, potatoes, onion, garlic, olive oil, Italian seasoning, salt and pepper. Stir well with a large spoon, transfer onto large 9×13 rimmed baking sheet and spread into a single layer.

In a same bowl, add chicken breasts, olive oil, garlic, Italian seasoning, salt and pepper. Using tongs, stir well to coat and place on top of vegetables.

Roast chicken and veggies for 35 minutes or until potatoes are tender.

Remove from the oven and serve warm.
Notes
Store: Refrigerate leftovers in an airtight container for up to 5 days. I do not recommend to freeze leftovers because bell peppers will turn mushy and potatoes will brown.
Nutrition
Calories:
490
kcal
|
Carbohydrates:
32
g
|
Protein:
52
g
|
Fat:
17
g
|
Saturated Fat:
3
g
|
Trans Fat:
0.03
g
|
Cholesterol:
145
mg
|
Sodium:
645
mg
|
Fiber:
7
g
|
Sugar:
7
g