Chicken is the most popular meat in America. To help you solve "What's for dinner?" dilemma, I have compiled most popular and easy 65 Healthy Chicken Recipes on iFOODreal!
Healthy chicken skillets, soups, salads and baked chicken breast and thigh recipes that are fairly quick, juicy, crispy and tender.
Chicken is our go-to meat. I love chicken for its health benefits compared to other meat, affordability and accessibility. Chicken is a blank canvas that can take on any seasonings and become a delicious healthy clean meal.
We have over 140 healthy chicken recipes on the blog and this is only half of them. Please enjoy!
Health Benefits of Chicken
All this info from a reliable source and common sense. Now if you are vegan you probably hate me.:) But hey, I'm not vegan and love my chicken and vegetables. Moderation is key.
Quick Links
Click on the link below to jump to your favorite healthy chicken recipe section.
Tips for Cooking Chicken
What Goes Well with Chicken?
30 Minute-ish Chicken Recipes
I cook these healthy clean eating chicken breast recipes when I need dinner on the table in 20-30 minutes, do not want to fuss with many ingredients or am tired. Always having boneless chicken breasts in the freezer helps.
20 Minute Chicken Tostadas with shredded chicken, black beans, avocado, crumbled cheese and homemade baked tortilla shells. Tasty, healthy and quick dinner idea.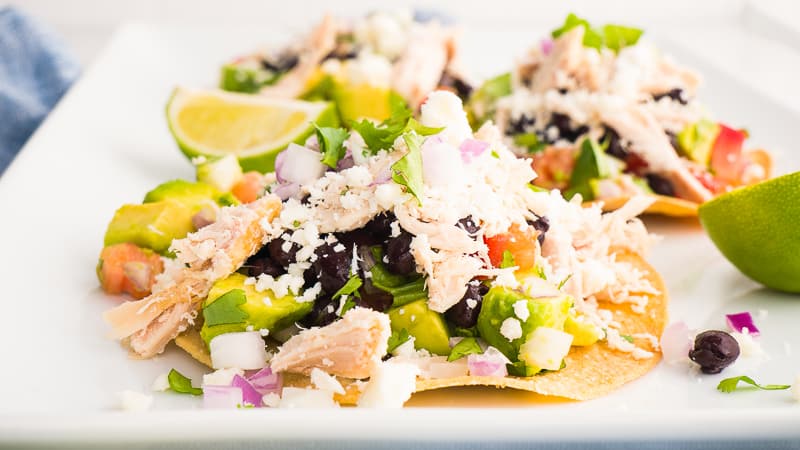 Lemon Chicken is quickly pan seared until crispy and then coated in lemon butter sauce. This 30 minute restaurant quality chicken recipe is perfect for a weeknight, serve with creamy cucumber tomato salad!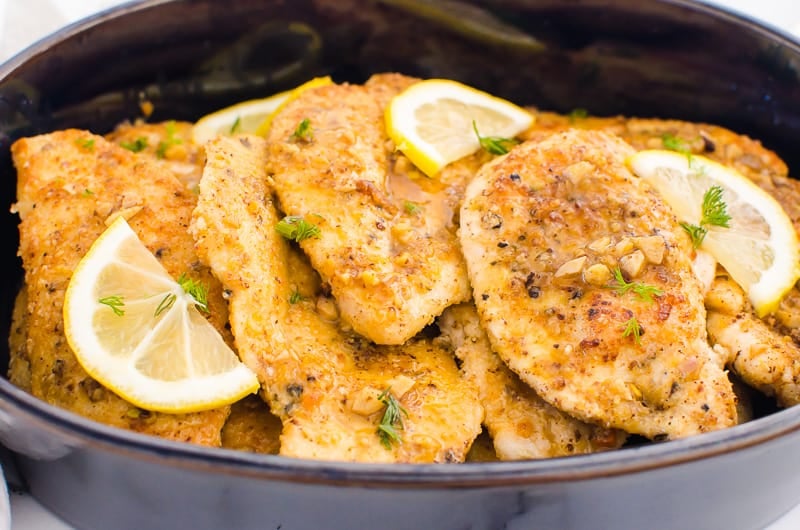 Make these Buffalo Chicken Tacos smothered in Frank's red hot sauce and drizzled with homemade healthy blue cheese Greek yogurt sauce. To die for!
Easy and low fat Healthy Chicken Salad that is a must for hot summer days, lunches and quick dinner. It is also low in calories and sodium but big on flavor.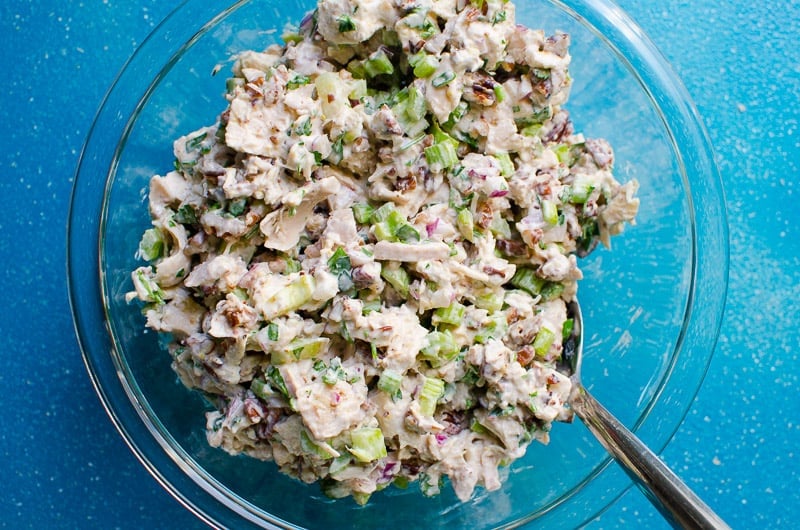 30 minute Ground Chicken Tacos cooked with vegetables and all the fixins in one skillet for a healthy taco family meal. Perfect for busy weeknights and kids absolutely love these chicken tacos!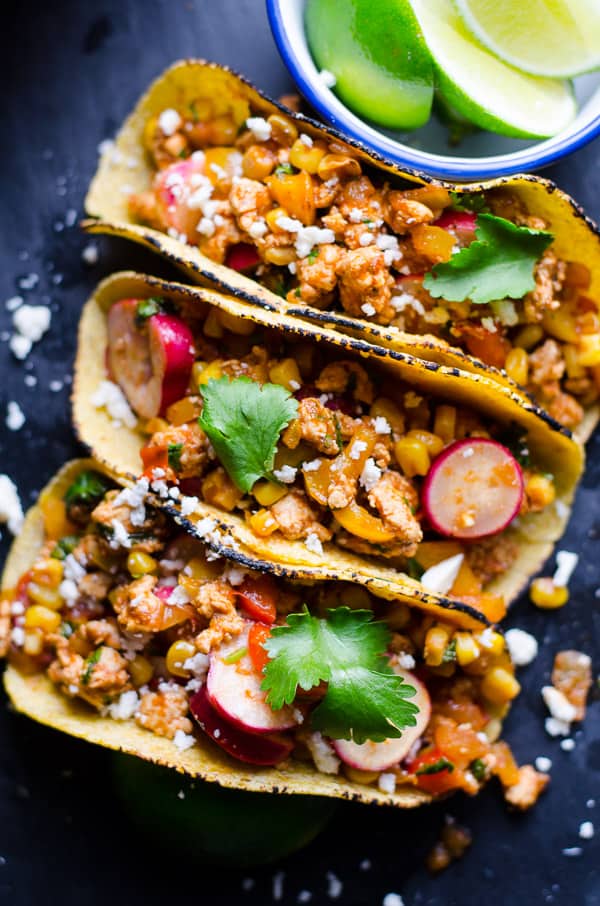 Tender and juicy Grilled Chicken Breast with 30 minute marinating and simple ingredients. Easy chicken recipe for summer BBQ, no cook dinners, salads and potlucks.
This Cilantro Lime Chicken can be grilled, baked or fried so you can enjoy it year round. The best part – marinate from 30 mins to 48 hours. So much flavor either way!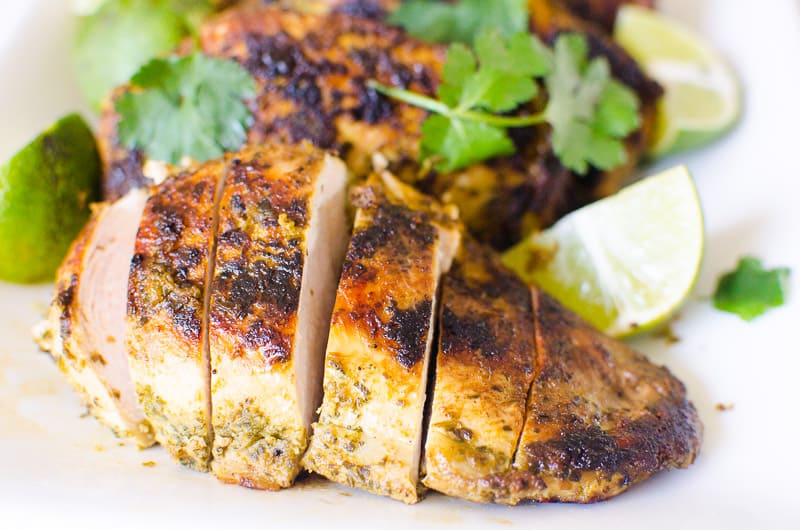 Greek Chicken marinade infused with oregano, lemon and garlic and ready to bake, grill or fry for the best Greek chicken recipe ever! Opa!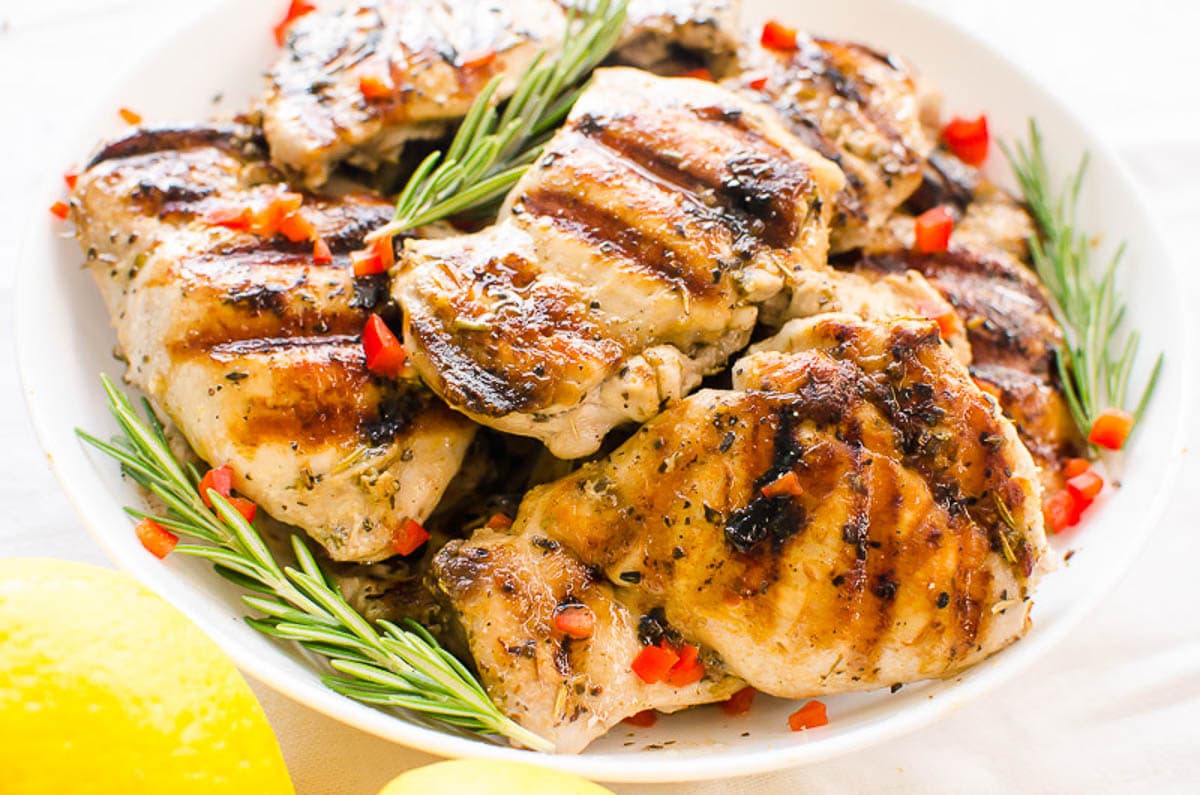 Healthy Chicken Lettuce Wraps is another 30 minute dinner we make regularly. It all started with a visit to PF Chang's in Seattle. Easy filling made with chicken breast, or ground chicken cooked in a tasty savory sauce and loaded up on crispy lettuce leaves. Way better than any restaurant's. Not to mention way more healthy. Are you in?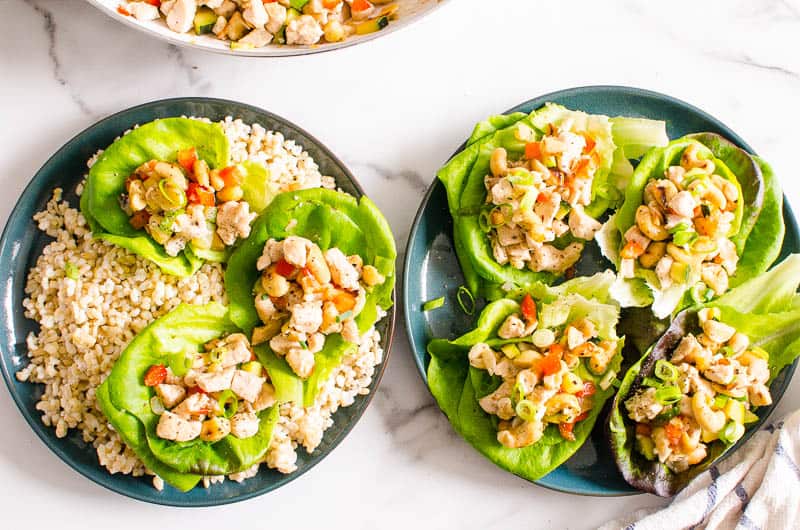 Flavorful Mexican Chili Lime Chicken in as little as 30 minutes. Bake, grill or fry and use in tacos, salads or fajitas year round.
Honey Garlic Chicken is amazing chicken recipe to have as a backup plan. Delicious honey garlic sauce with simple ingredients from your pantry will transform fresh chicken breasts or thighs in 30 minutes into a restaurant quality dinner. Healthy, easy and at fraction of the cost.
One of the best things about Air Fryer Chicken is that it is so simple and made up of entirely clean ingredients and pantry staples. So quick to make for meal prep or for a quick dinner! Serve with southwest quinoa salad and you have a winning dinner on hand.
Chicken Quesadilla with lots of veggies, less cheese, whole wheat tortillas and baked instead of fried. Only 5 ingredients! Healthy, easy and delicious Mexican food.
Grilled Chicken Salad with baby greens, tomatoes, berries, toasted nuts, feta cheese and creamy poppyseed dressing or any of these favorite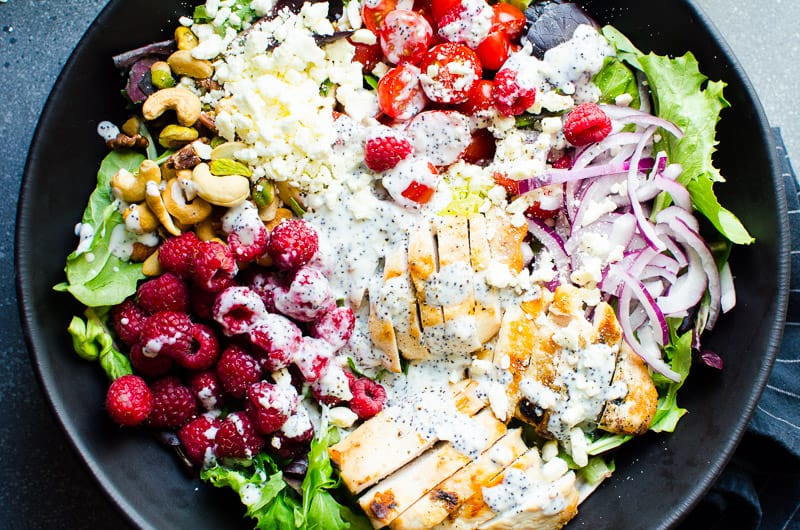 Chicken Burrito Recipe for busy people! Meal prep 17 chicken burritos in an hour in Instant Pot or on the stove and freeze for later. Or turn chicken burrito into a low carb burrito bowl.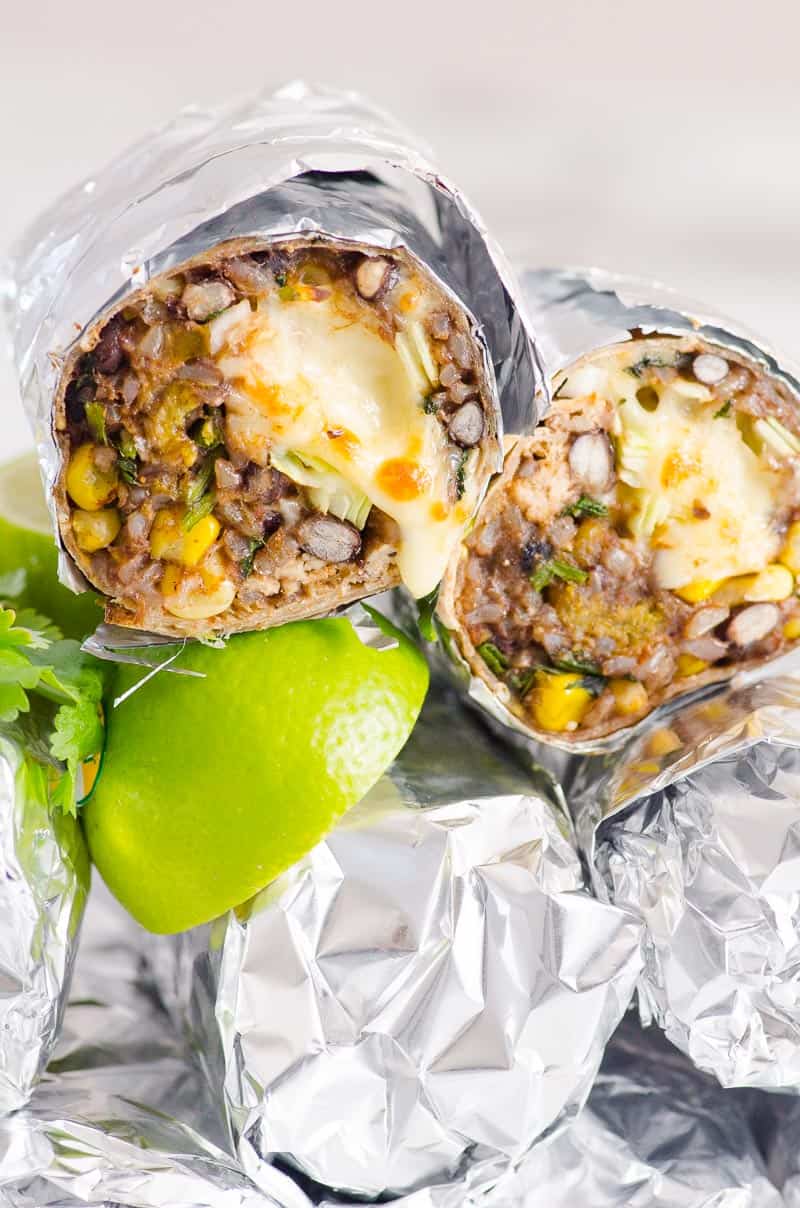 Instant Pot Chicken Recipes
Pressure cooker is amazing for cooking juicy chicken, even from frozen. Yes! No more "crap, forgot to thaw the chicken" literally. Instant Pot replaces slow cooker ten-fold. If you haven't jumped on a pressure cooker bandwagon hurry up before it's too late. You can use any brand of pressure cooker to make these healthy clean eating Instant Pot chicken recipes.
Instant Pot Teriyaki Chicken is healthy, sticky and glossy made with any fresh or frozen chicken. Easy pressure cooker dinner entire family will love!
Juicy Instant Pot Chicken Breast from fresh or frozen. 25 minutes from start to finish, simple ingredients and no saute.
Instant Pot Frozen Chicken or make rotisserie style whole chicken in pressure cooker with 5 mins prep. It comes out super juicy! If you have fresh chicken, check out this Instant Pot whole chicken recipe.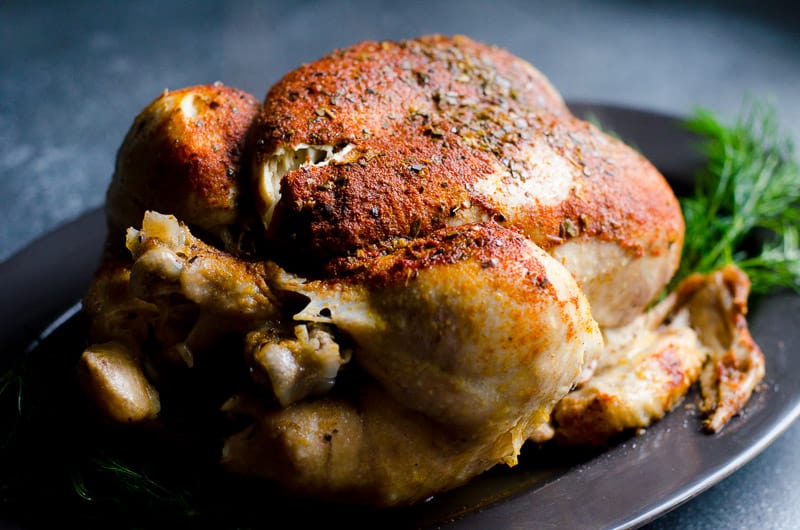 Instant Pot Butter Chicken is easy, healthy and 30 minute restaurant quality dinner you can make whenever you crave Indian food. Many readers give it 5 stars and call this recipe authentic!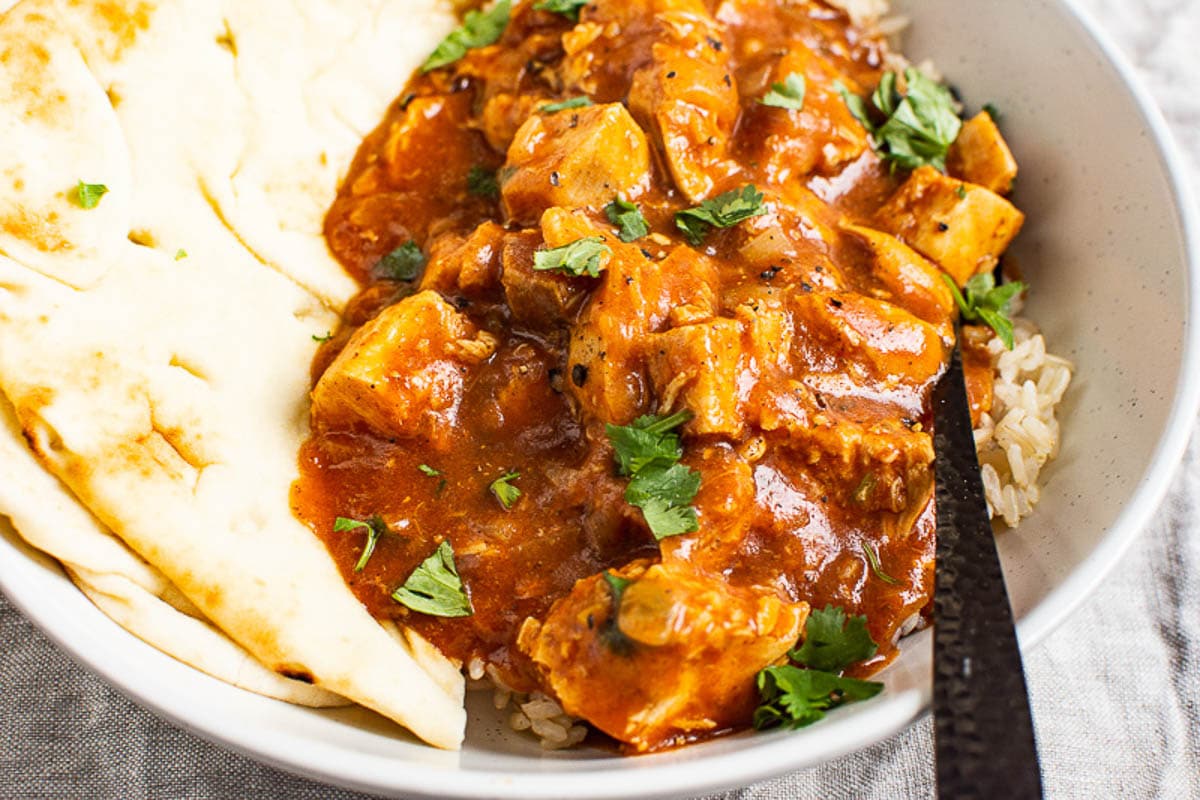 Instant Pot Stir Fry with fresh or frozen chicken, frozen vegetables and healthy easy teriyaki sauce. Do you need to be saved at the end of the work day? Then this Costco dinner with 5 minutes prep is for you!
Instant Pot Chicken and Potatoes is easy one pot chicken stew like my Ukrainian grandma used to make. Set and forget healthy dinner recipe with 10 minutes prep.
Instant Pot Chicken and Rice is absolutely scrumptious one pot meat with chicken breasts or thighs, white or brown rice and veggies. It is ideal for busy weeknights.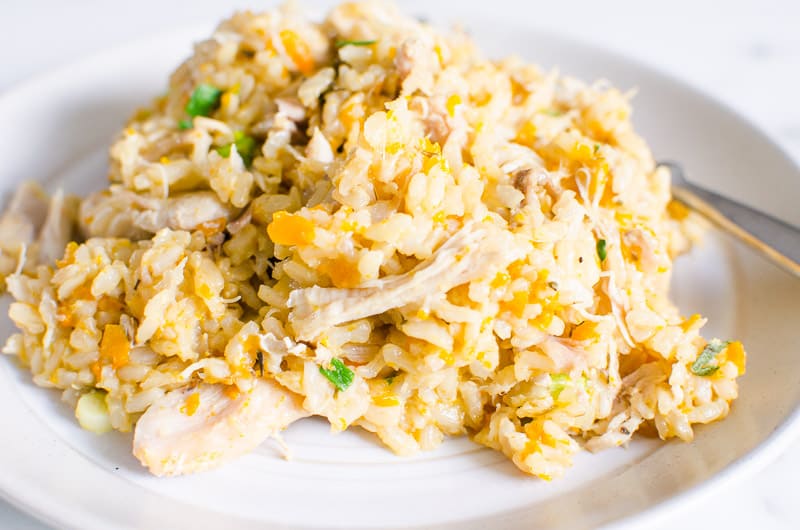 Instant Pot Chicken Tacos are the most easy tacos with fresh or frozen chicken breasts. 30 minute healthy dinner idea I promise will become your go-to!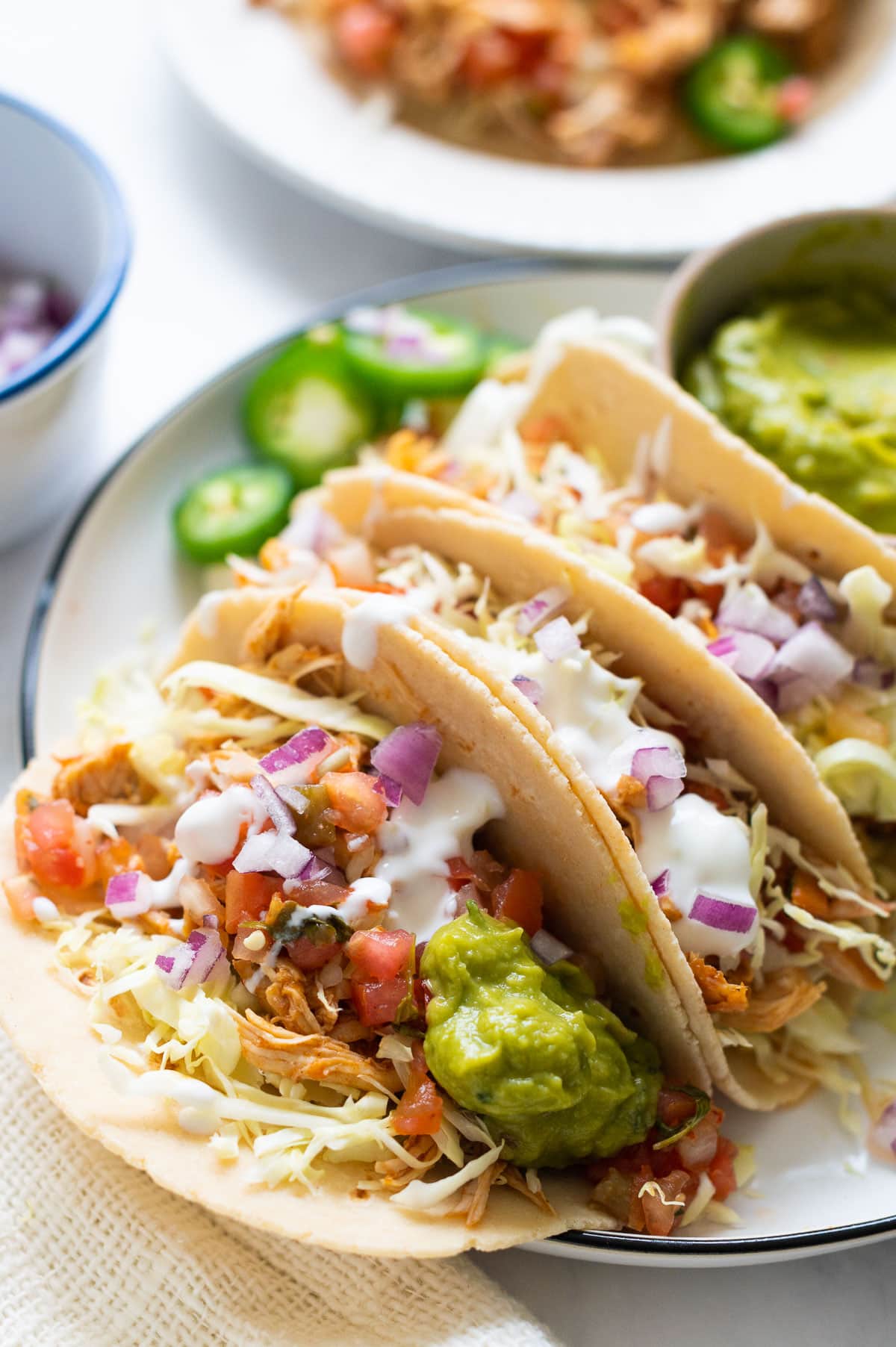 Instant Pot Chicken Alfredo with milk and Parmesan is creamy, saucy and absolutely like a heavy cream restaurant quality alfredo. And nobody will complain. This easy 25 minute weeknight dinner is a family favorite!
Instant Pot Whole Chicken comes out juicy, flavorful, crispy and so tender, even the breast. It is the most easy rotisserie chicken you will ever make with 5 minutes prep in your pressure cooker.
Instant Pot BBQ Chicken makes flavourful and healthy pulled chicken in 30 minutes total. Serve with rice, salad or make wraps and freeze for busy nights.
Instant Pot Parmesan Chicken Pasta is 30ish minute one pot meal with tomato sauce, chicken breasts and gooey cheese on top. Full of staples, kids favorite and so easy!
Instant Pot Chicken Thighs
EPIC Instant Pot Chicken Thighs that are juicy, tender, flavorful and ready in 30 minutes. Not to mention it is 5 ingredient chicken recipe!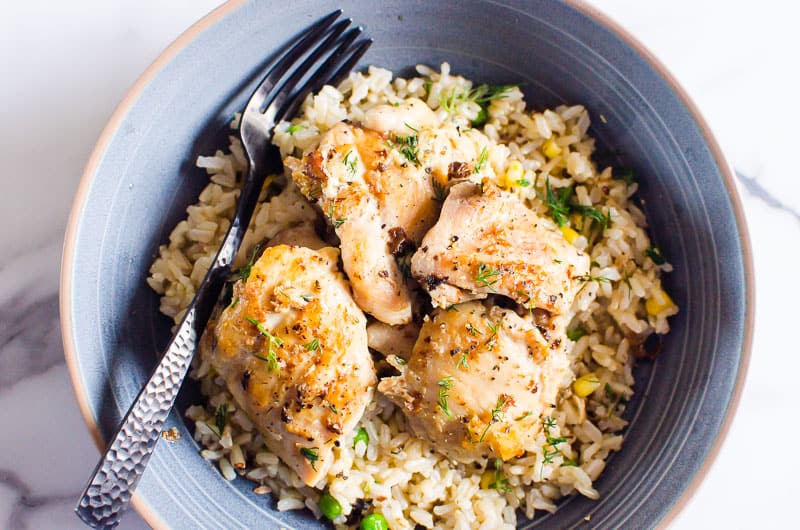 Chicken Skillets
If you want throw chopped chicken with minimum other ingredients on a skillet, so be it. Cook brown rice and serve as a side. Or make skillet with lots of veggies. All these healthy chicken dinner recipes take 30 minutes or less in regular frying pan.
Enjoy this creamy, rich, and aromatic Thai Chicken Curry at home with just one pan, simple ingredients, and in under 30 minutes.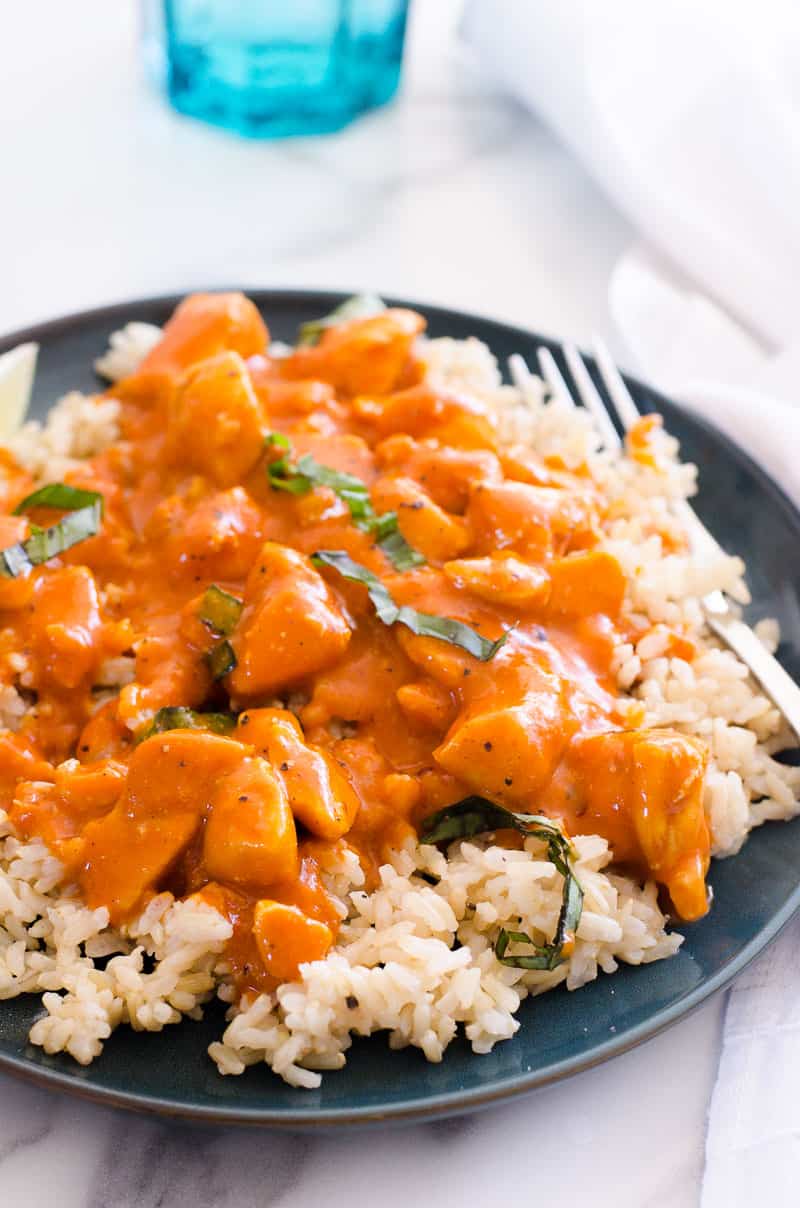 Mexican Chicken and Zucchini cooked in one skillet with black beans, corn, fresh herbs, taco seasoning and melted cheese on top. One pan, low carb and healthy 30 minute meal.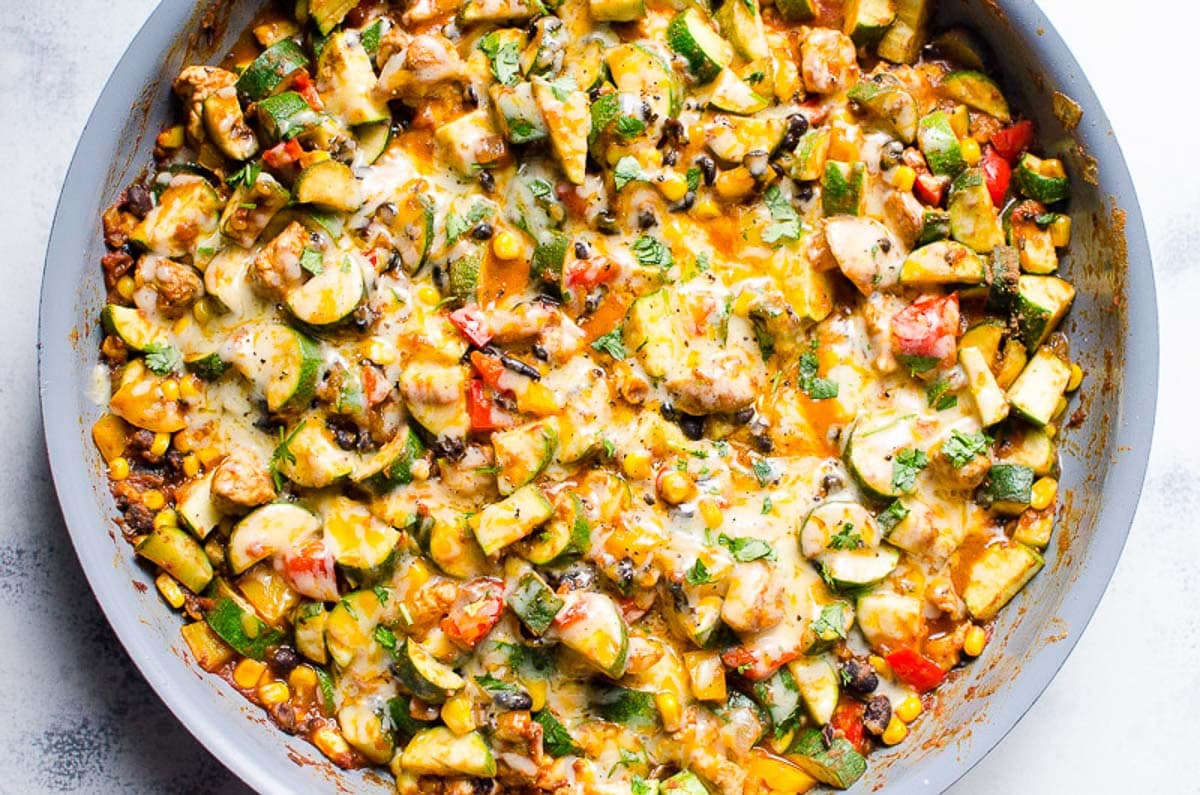 This Healthy Chicken Stir Fry is loaded with veggies and chicken coated in easy sweet and savory sauce. It is a 30 minute meal everyone will love!
This garlic Chicken Zucchini and Corn recipe is a 20 minute healthy weeknight dinner that was inspired by my Ukrainian roots. Low carb, easy and one pan deliciousness!
This Chicken with Tomatoes combines tender pan fried chicken breast with sauteed juicy tomatoes, garlic, and herbs for an easy, flavorful weeknight 30 minute meal.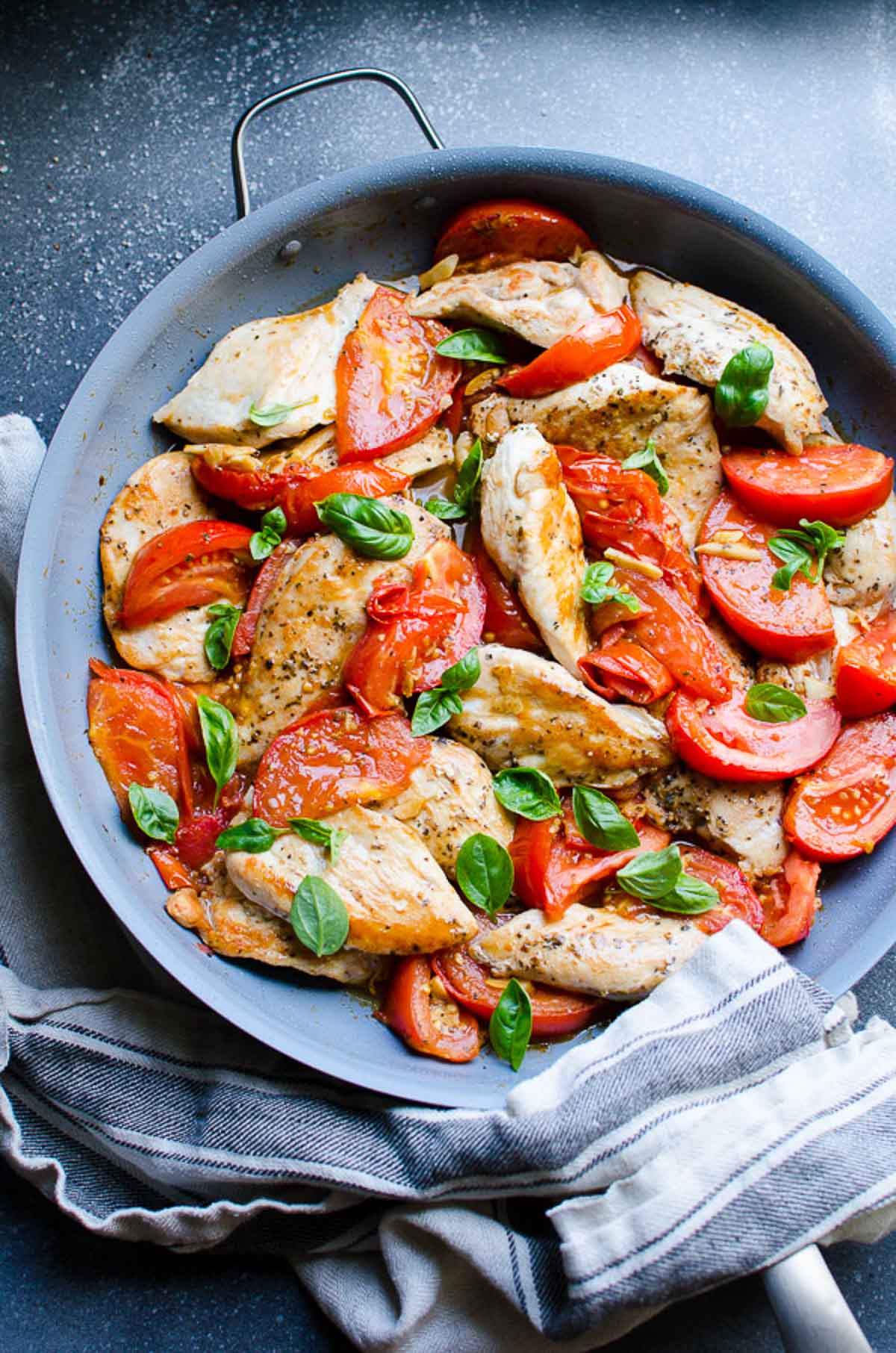 This Teriyaki Chicken and Cauliflower combines juicy chicken, crispy cauliflower, and a sweet and sticky healthy teriyaki sauce. 30 minute dinner that will satisfy all your take out cravings.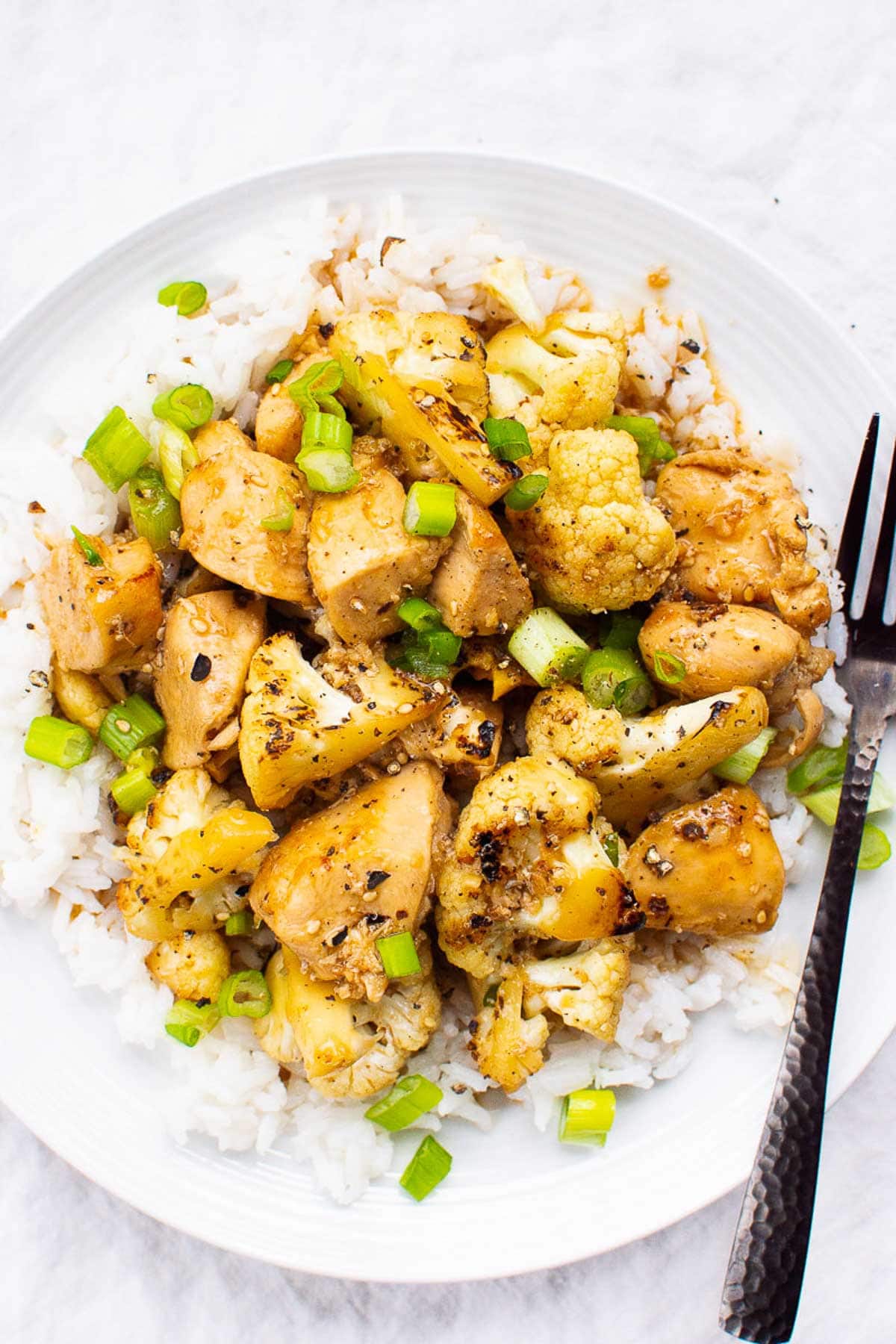 This Chicken Quinoa Skillet combines tender chicken, fresh garden vegetables and nutrient-dense quinoa for a quick 30 minute meal.
Pesto Chicken is bursting with flavor, is easy to make and is a one-pan wonder. Juicy, sweet cherry tomatoes sauteed with fresh basil pesto and then add in chicken breasts with just a sprinkle of salt and pepper. Perfect dinner for summer or to remind you of summer!
This Chicken Curry will be the best you ever tried! Chicken simmered in a flavorful sauce with coconut milk and yellow curry powder, then served over rice is a 30 minute dinner heaven. So aromatic!
Delicious and ready in 30 minutes! Healthy Orange Chicken is lightened up with a lower sugar orange sauce that is just as delicious as your favorite takeout. Serve with Instant Pot steamed vegetables and a grain for a healthy dinner.
Baked Chicken Recipes
Baked chicken is one of the most healthy ways to cook chicken as you need minimum of fat to make meat juicy. The key to tasty baked chicken is to bake it at the right temperature and with a good combination of dried herbs to avoid bottles of unhealthy sauces. I have done my ground work for you.
Baked Chicken and Peppers is a true crowd pleaser dish where boneless chicken thighs are baked with sauteed peppers, onions and mushrooms under a blanket of cheese until gooey. Serve on top of mashed potatoes or rice with the juices and everyone will be blown away!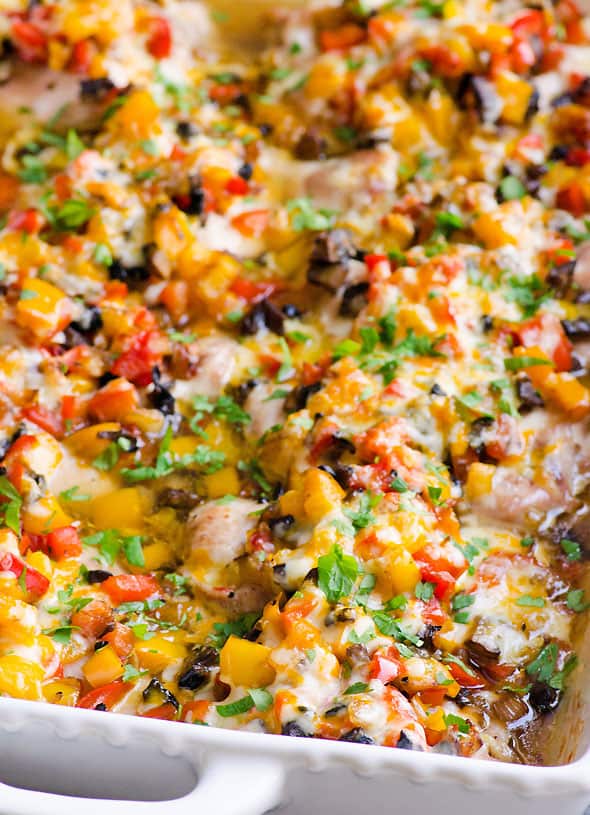 Baked Chicken Breast is easy, juicy and ready with 5 minutes of prep. This simple chicken breast recipe will become your go-to! You will be surprised that juicy chicken breast is baked uncovered.
Easy Chicken Marinade Recipes are perfect for your oven baked chicken! Marinated chicken turns out so juicy and flavorful. Choose from faijta, greek, lemon, teriyaki and ranch marinades.
A classic restaurant favorite lightened up! You will love this Healthy Baked Chicken Parmesan with almond flour breading, sweet marinara and gooey mozzarella cheese!
These healthy Chicken Lasagna Roll Ups made with whole wheat or brown rice pasta, artichoke hearts and white sauce are fun to make with kids and make a fancy tasty dinner.
Crispy Coconut Chicken with chicken tenders breaded in coconut flakes and spices, then baked until golden brown and dipped in your favorite sauce. Your kids will love this healthy version of chicken strips!
Ground Chicken Stuffed Peppers are super easy to make healthy peppers with chicken, rice, mushrooms and tomato pasta sauce.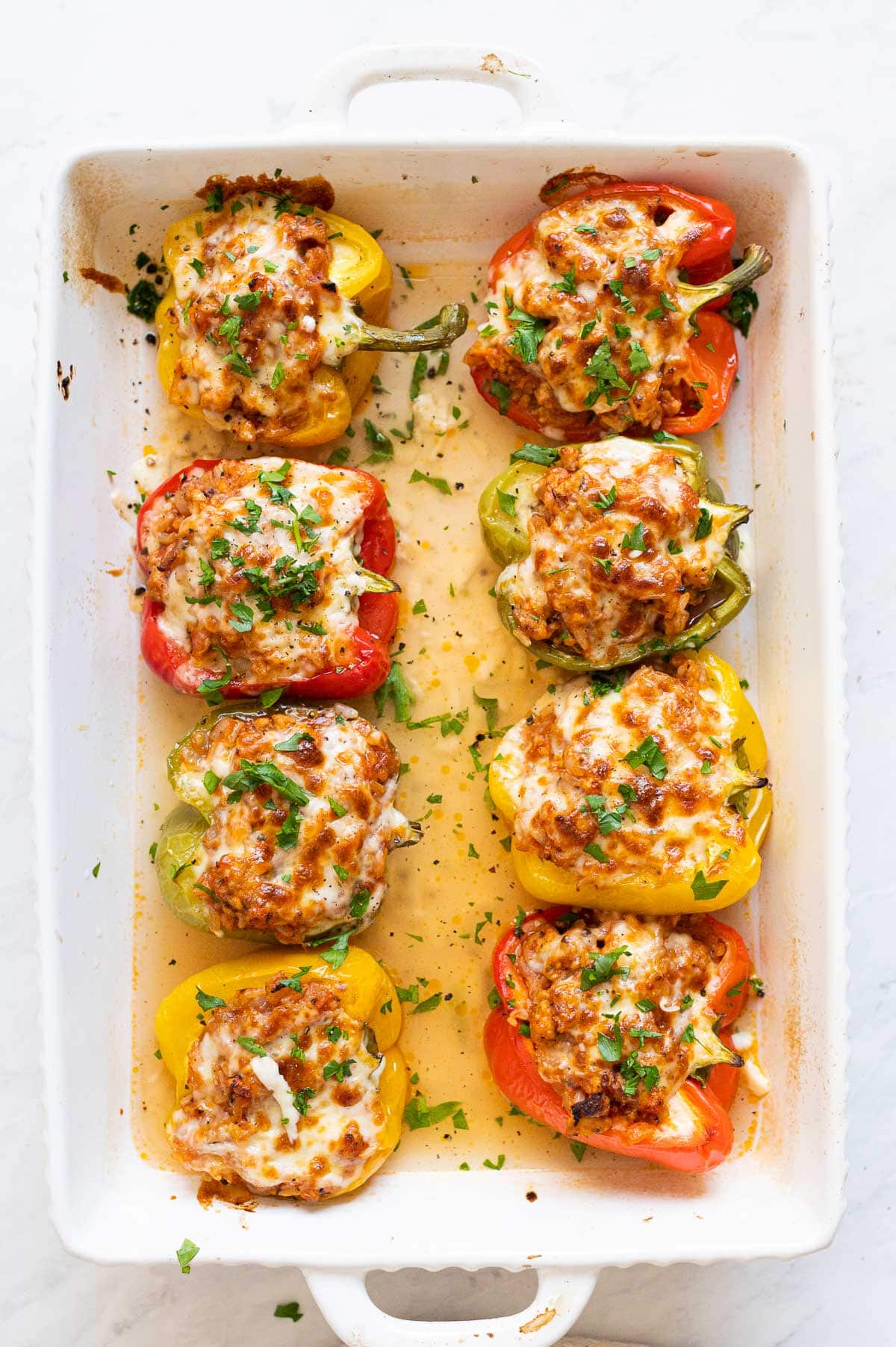 This Healthy Fried Chicken is baked instead of fried without breadcrumbs, cereal, oil or flour. It comes out so crispy outside and juicy inside, you will want to sink in your teeth immediately.
Homemade healthy chicken nuggets baked instead of fried and perfect for dunking into ketchup or honey mustard. Naturally gluten free with almond flour.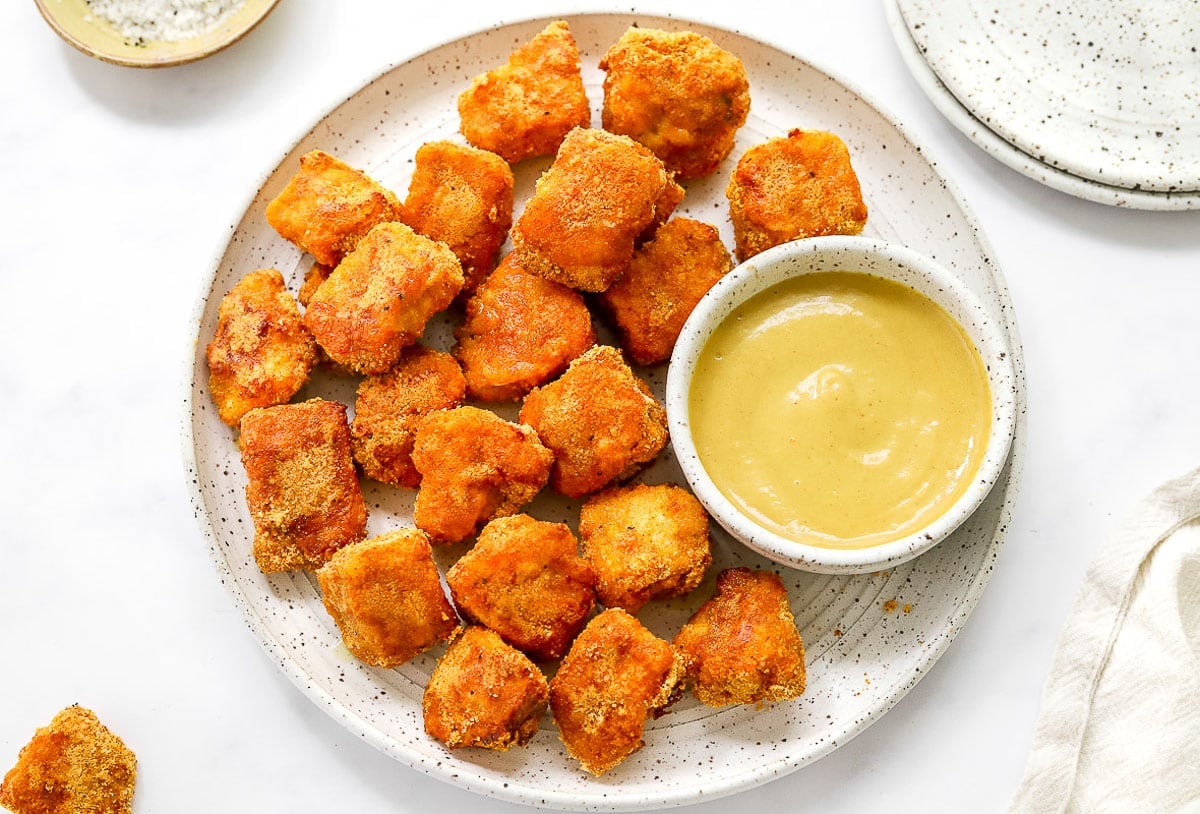 Baked Chicken Thighs with lots of garlic, crispy skin and so juicy inside! Growing up in Ukraine, my mom always baked these chicken thighs and today they "wow" families and guests around the world.
Spinach Stuffed Chicken Breast is a plump juicy golden brown chicken breast stuffed with a creamy cheesy spinach filling. Simmered in a buttery broth, this low carb 30 minute skillet dinner will be an instant hit!
Almond Crusted Chicken is a healthy version of chicken strips that are baked instead of fried, and coated in ground almonds in place of breadcrumbs. These chicken tenders are crunchy on the outside, moist inside and full of flavour.
Our absolute family favourite Chicken Enchiladas stuffed with shredded chicken, beans and green chiles, baked with the best homemade enchilada sauce until cheese is bubbly. This is melt in your mouth, restaurant quality, easy dinner!
Healthy Chicken Pot Pie Casserole has a creamy filling of veggies, juicy chicken and the best crust. This recipe is so easy to make from scratch. Classic comfort food never tasted so good!
Sheet Pan and One Pot Chicken Recipes
You can throw all the ingredients in a Dutch oven or on a sheet pan and have a healthy dinner. No other bowls to dirty. Isn't that amazing?! Veggie packed, flavor dense and calorie low, these healthy family meals are sure to be a hit!
One Pot Chicken Quinoa is loaded with broccoli, wholesome quinoa, juicy chicken and delicious flavours. Nothing is "boring" about this healthy one pot meal perfect for a weeknight dinner!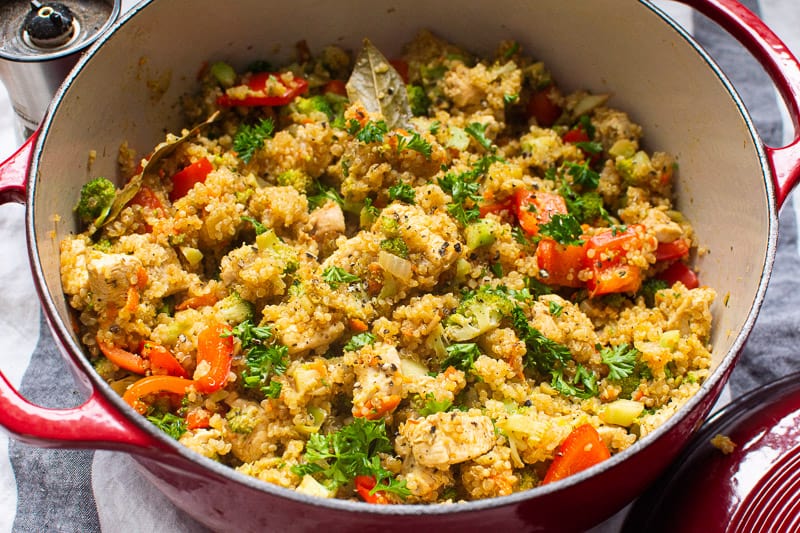 Roasted chicken thighs and potatoes, carrots and onion tossed with simple spices, garlic and oil. Then baked until chicken is juicy with crispy skin and onions are roasted. Delicious one pan dinner!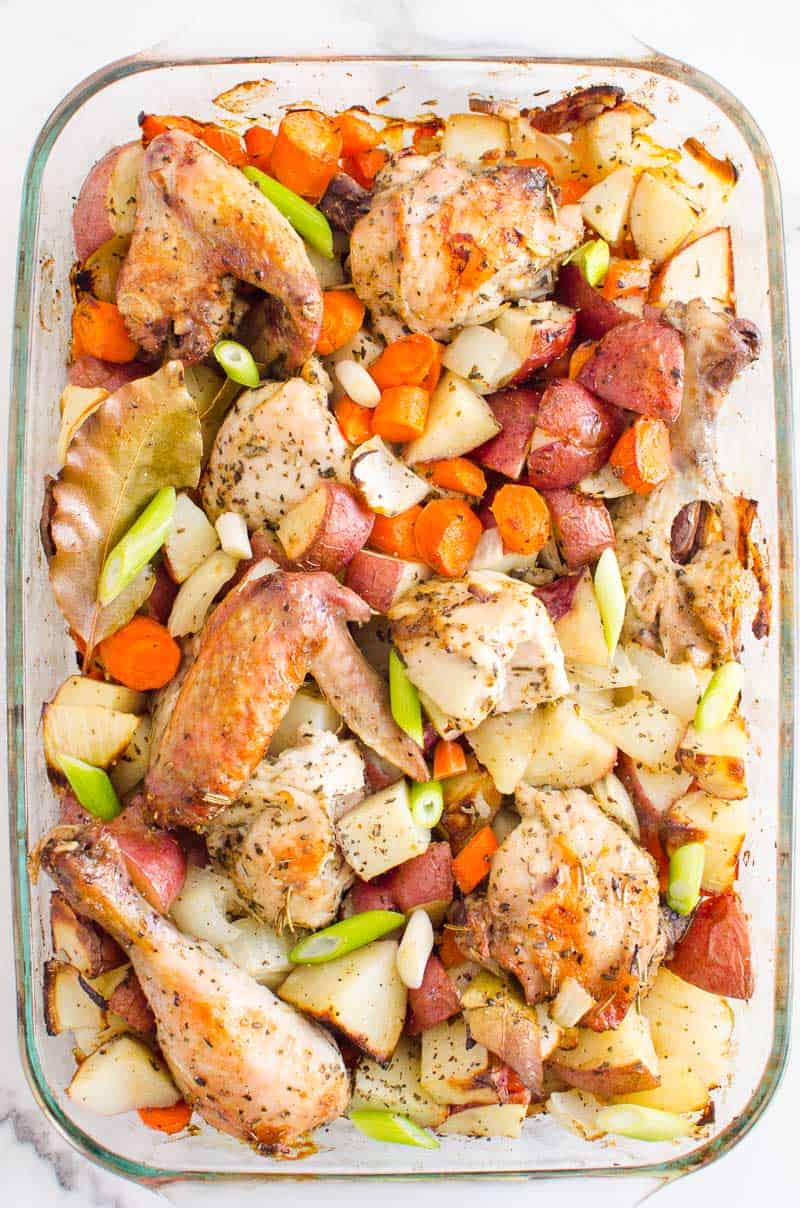 Tuscan Chicken Pasta with healthy creamy garlic sauce, sun-dried tomatoes, spinach and chicken. 30 minute clean eating chicken one pot meal for busy weeknights. Kids will approve!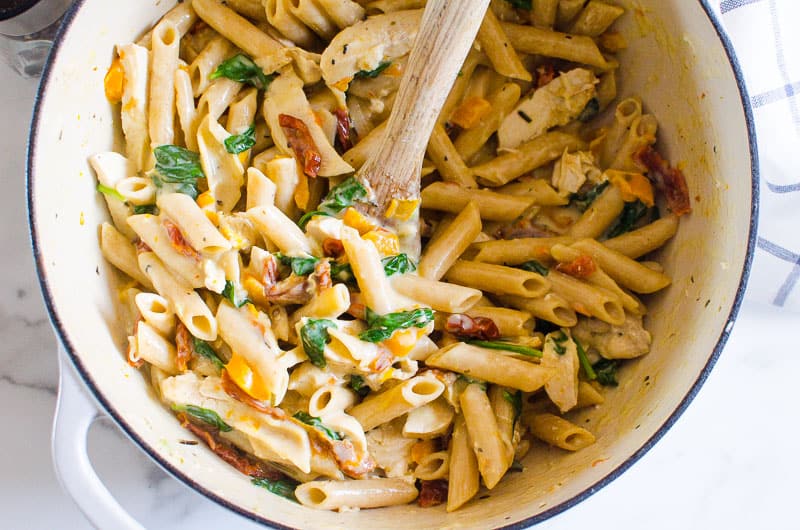 One Pan Chicken and Potatoes prepared and baked with tomatoes, garlic and oregano on same sheet pan. Easy, healthy and absolutely delicious quick dinner solution for busy weeknights.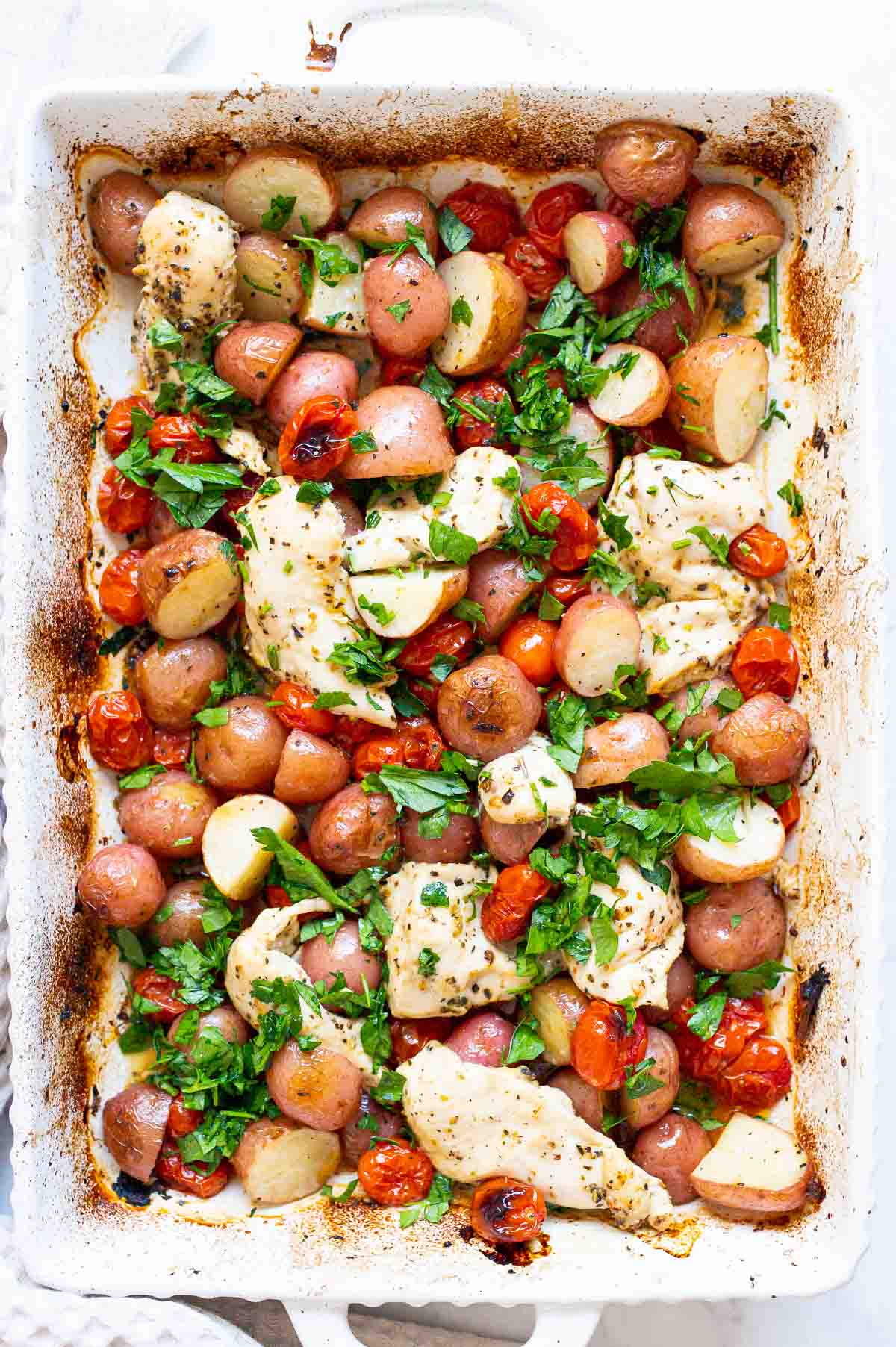 30 Minute Sheet Pan Chicken and Veggies with chicken breast, mixed vegetables and simple spices. So easy, you don't need a trip to a grocery store.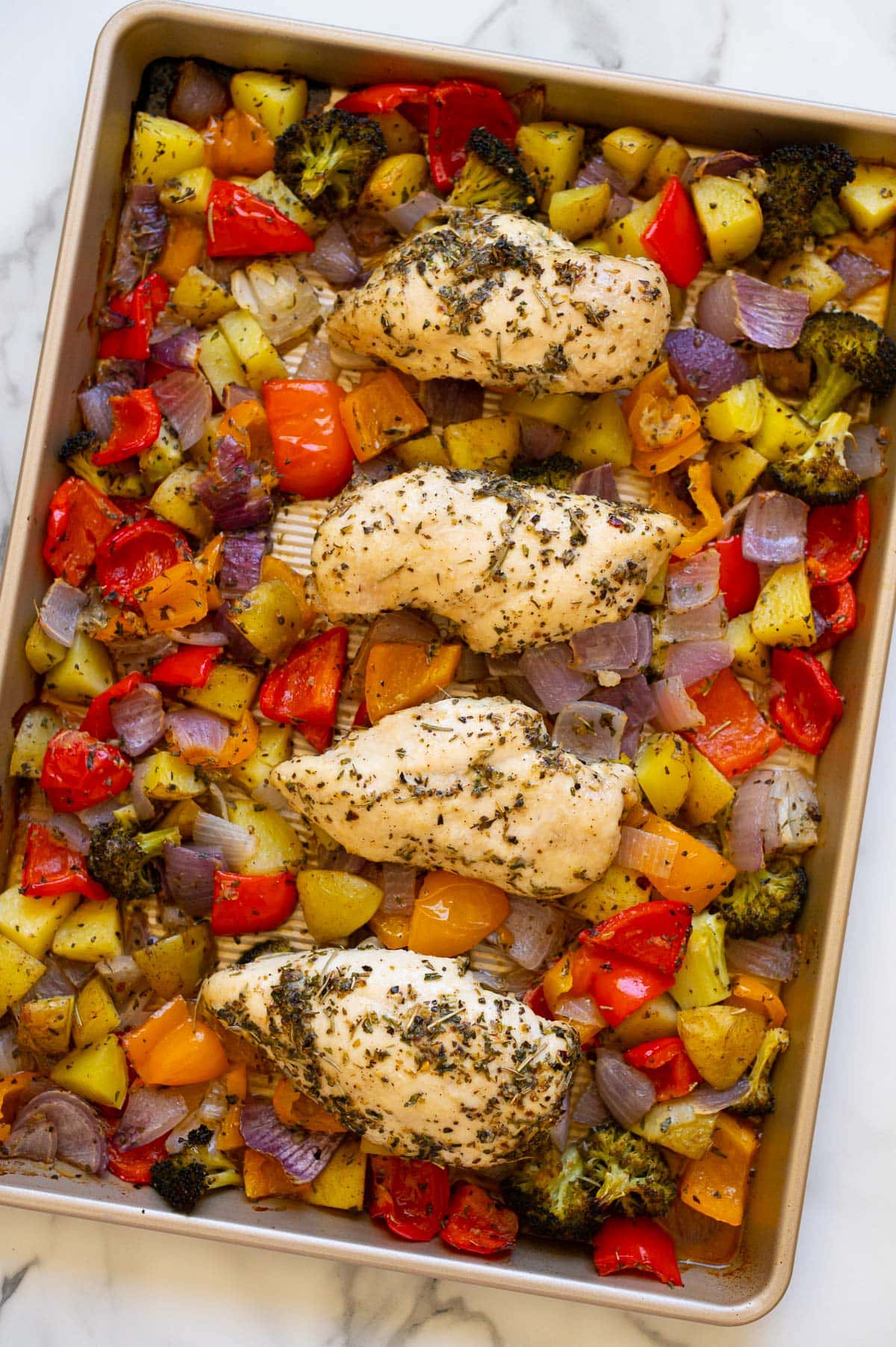 Low Carb Chicken Zucchini Casserole with layers of cooked shredded chicken, zucchini noodles sheets and super easy healthy enchilada sauce. Loaded with fiber, vegetables and protein.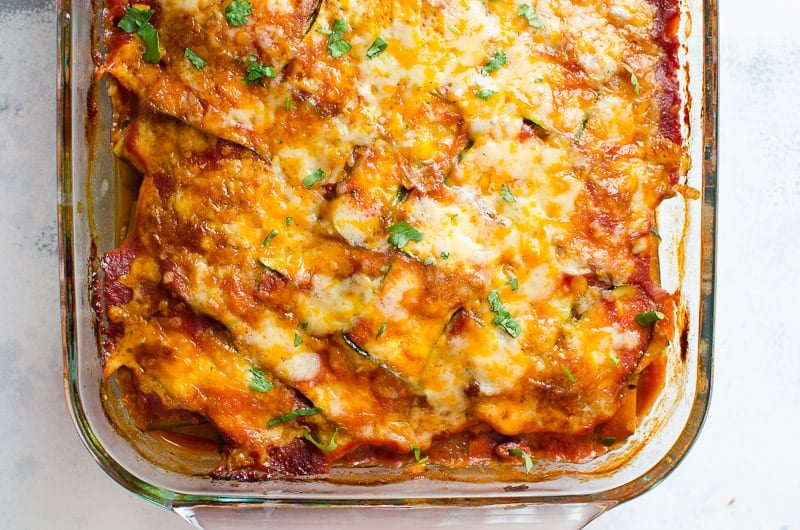 One Pan Mexican Chicken and Rice is easy chicken skillet recipe made with pantry staples. Rice and chicken breasts are simmered in salsa broth, then finished with gooey cheese and served with avocado.
Healthy Chicken and Rice Casserole with brown rice, broccoli and no canned soup makes one easy baked healthy chicken casserole from scratch.
Chicken Soup and Stew Recipes
There is nothing better than a bowl of soup or stew on a rainy or snowy day. Plus soup and stew are very budget friendly! Growing up in Ukraine we ate soup every single day! I still cook soup at least 3 times a week to clean out the fridge and to cut back on the cost of feeding a family with 3 men!
Healthy White Chicken Chili is a 30 minute meal with chicken breast, white beans, corn, cumin and yogurt. This healthy comfort food is easy to make on the stove, crockpot or Instant Pot.
Buffalo Chicken Chili made healthy and yet creamy in slow cooker or Instant Pot. Or turn into a freezer meal.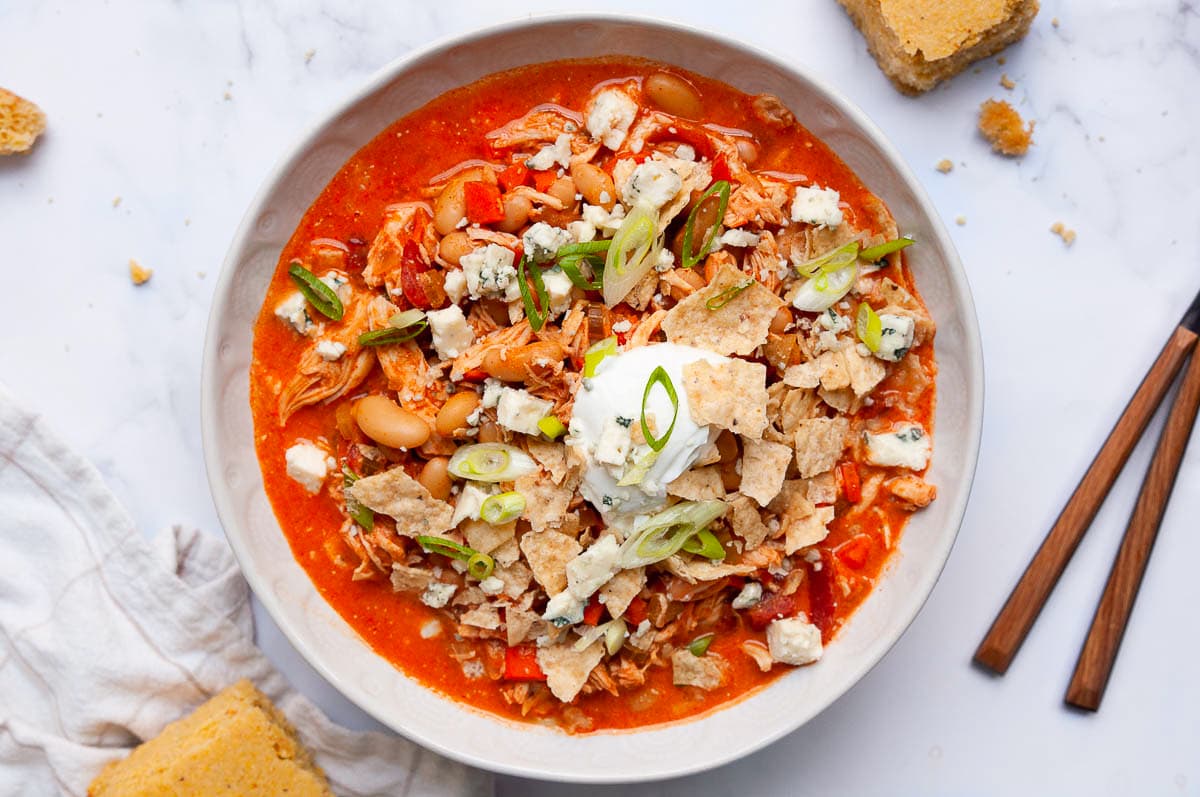 Chicken Tortilla Soup is made with tender chicken, crispy tortilla strips, veggies, and herbs in a deliciously spiced broth. An easy, healthy soup that combines so many fresh Mexican flavours!
Quick Chicken Chickpea Stew recipe with tomatoes cooked on a stove, in slow cooker or Instant Pot. Plus how to turn into a healthy freezer meal instructions for busy families. So good!
Instant Pot Chicken Noodle Soup just like my Ukrainian grandma used to make. It is easy, hearty, healthy and delicious. Serve with fresh dill or parsley, lots of pepper and toasted whole grain bread. Yum!
Chicken Wild Rice Soup is made without heavy cream, flour or butter in your slow cooker, Instant Pot or on the stove. It is easy, creamy, low fat and simply the best healthy comfort food in a bowl!
This flavourful clean eating Chicken Lentil Soup has chicken, lentils, leafy greens, and corn simmering in herb-infused chicken stock with coconut milk. Made in a slow cooker or stovetop, your choice!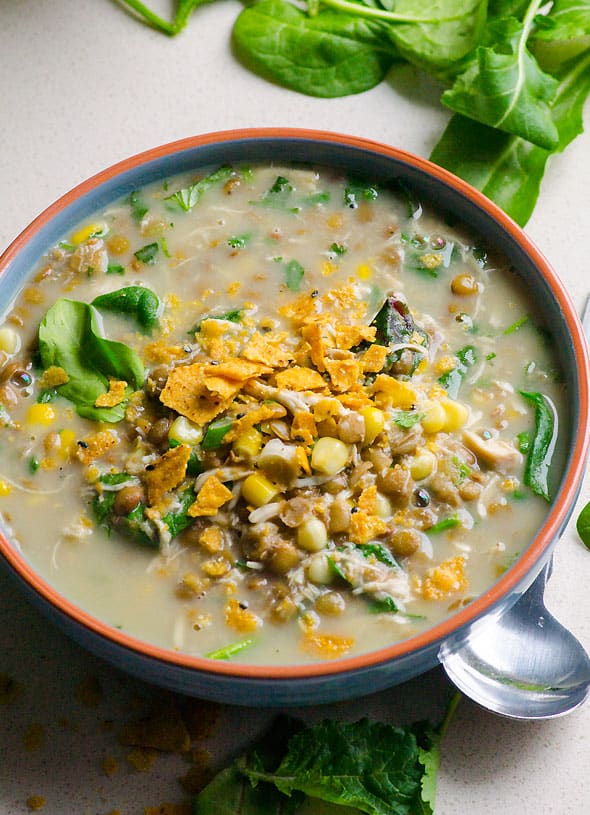 Easy and creamy Instant Pot Thai Chicken Soup with coconut milk, peanuts, cilantro, lime and full of hidden veggies. Make on the stove, slow cooker or turn into a freezer meal.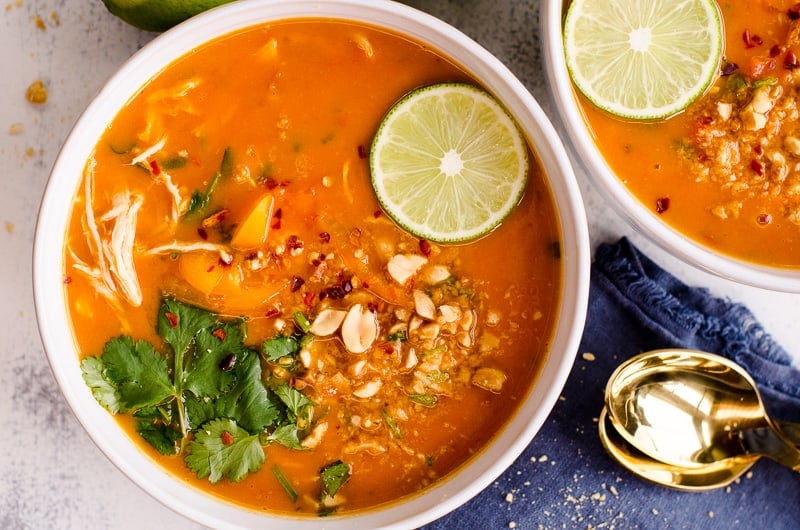 This quick and easy one pot Chicken Stew is made with chicken, potatoes and carrots simmered in a deliciously seasoned broth and garnished with fresh herbs.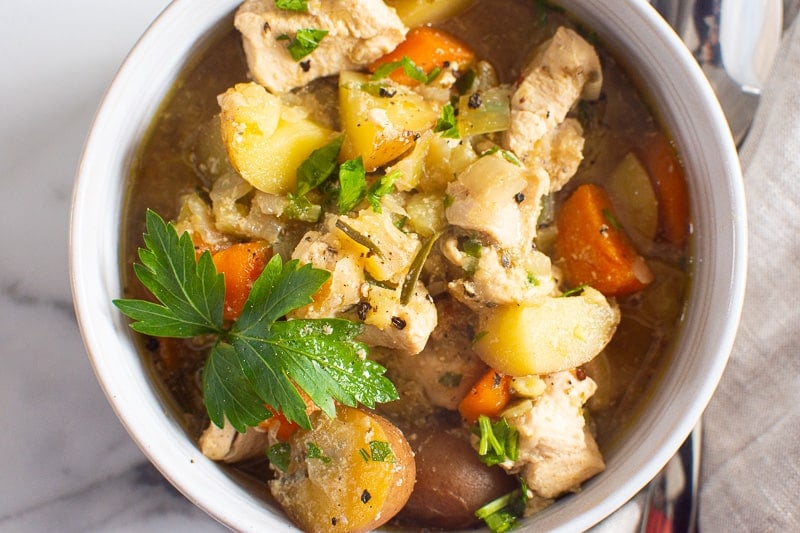 More Healthy Dinner Ideas
Alternately, solve your lunchtime dilemma with these healthy lunch ideas!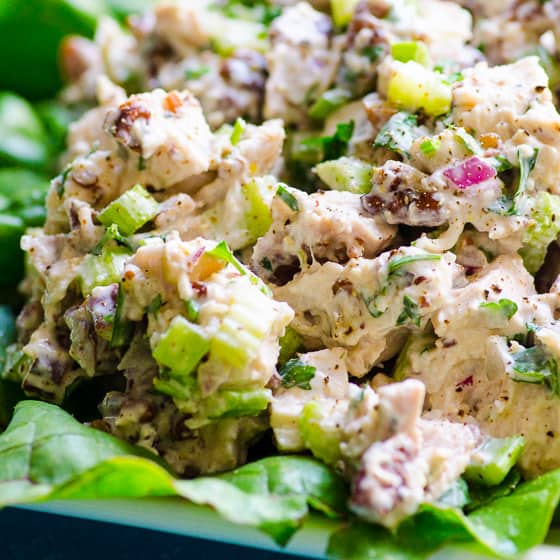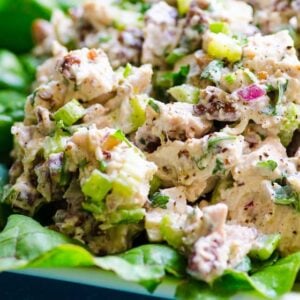 65 Healthy Chicken Recipes: Chicken Salad
One of my most popular healthy chicken recipes. This easy and low fat Healthy Chicken Salad is a must-have recipe for quick lunches, dinner or picnics. Even though it is low on calories, it is big on taste.
Ingredients
1

lb

3 cups cooked chicken, cubed

3/4

cup

3 large celery stalks, diced

1/4

cup

red onion

finely chopped

1/4

cup

parsley or dill

finely chopped (optional)

1

cup

pecans, almonds or cashews

1/2

cup

plain yogurt

2+% fat

1/4

cup

mayo

I used avocado oil mayo

2

tsp

Dijon mustard

1

tsp

any vinegar

except balsamic

1/2

tsp

salt
Ground black pepper

to taste
Instructions
In a small skillet, toast pecans on low-medium heat until darker brown and fragrant. Make sure to stir often. Then, transfer to a cutting board, cool and chop coarsely.

In a medium bowl, add toasted pecans, chicken, celery, onion, parsley, yogurt, mayo, mustard, vinegar, salt and pepper. Stir gently to mix. Adjust the amount of salt to taste.

Chicken salad tastes best cold, so refrigerate for at least 2 hours.

Serve with quinoa, brown rice or greens or make a chicken salad sandwich with whole wheat bread.
Notes
Store: Refrigerate in an airtight container for up to 5 days. I have not tried freezing this salad, but don't think the fresh veggies and herbs would hold up well.
How to cook chicken for salad: Use baked chicken breast recipe. Or if you have an Instant Pot, try making Instant Pot frozen chicken, Instant Pot whole chicken  or Instant Pot chicken breast.
Onions: You can substitute white or green onion for red onion. 
Sweet addition: Try adding sliced grapes or chopped apple for a bit of sweetness. 
Use any mayo: Olive oil mayo or vegenaise work well. I tend to use avocado oil mayo because it is healthier. 
Do not use 0% yogurt: You will definitely want to use plain regular or Greek yogurt with a fat content of at least 2%. Yogurt with less fat will cause the chicken salad to taste flat and chalky (and who wants that?!). 
Nutrition
Serving:
0.5
cup
|
Calories:
180
kcal
|
Carbohydrates:
2
g
|
Protein:
8
g
|
Fat:
16
g
|
Saturated Fat:
3
g
|
Cholesterol:
32
mg
|
Sodium:
173
mg
|
Fiber:
1
g
|
Sugar:
1
g
Pin this recipe now to save it for later
Drumsticks and Legs
1 hr 5 mins