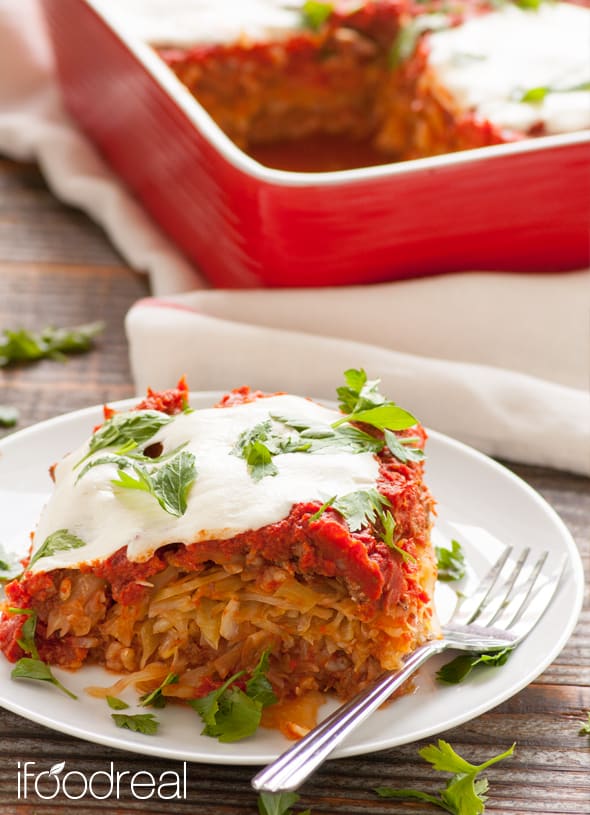 Being from Ukraine, I ate a lot of cabbage rolls in my life. My grandma used to make the best cabbage rolls and they were simple. Over the years in Canada, I have tasted some store-bought and deli made cabbage rolls. They were small, full of rice and bacon and made with sour cabbage. For me, a cabbage roll is the size that you can eat only 2 or 3, meaty and juicy. You mash it in your plate, make a big unappetizing looking mess with sour cream on top and then dip dark rye bread into the juices. That's the real cabbage rolls eating procedure.
And then there were lazy cabbage rolls – the same cabbage rolls ingredients mixed and cooked in a dutch oven. Probably one genius tired Ukrainian babushka came up with this idea. And I don't blame her. Rolling these guys is a pain in a butt, if you ask me. Honestly, most Ukrainian recipes are a big pain and mess in the kitchen.:)
So, I ditched boiling the cabbage, wrapping the filling into the leaves and pre-cooking rice steps. Just a few spices, fresh cabbage, crushed tomatoes, turkey (beef or pork) and no bacon. For the sake of satisfying curious babushka in me, I added a few slices of fresh mozzarella cheese on top during the last 5 minutes of baking. I can't say I was too crazy about it, it was fine. So, don't worry if you don't have the cheese. Just don't skip dressing up the cabbage rolls casserole with a fair amount of Greek yougurt on your plate.
The cabbage rolls casserole came out moist, not mushy, with all the bells and whistles of traditional cabbage rolls sans the pain. This time I sliced the cabbage thinly using the mandoline, which made the cabbage more tender. I used 2.5″deep 9×13 baking dish because the casserole is quite high. And don't be intimidated by the portion size. It might look large but it's a lot of cabbage, that's why I provide the nutritional info based on 8 servings.
We ate the cabbage rolls casserole with a dollop of non-fat Greek yoghurt on top and a slice of German dark rye bread that I got from Costco, which is very similar to Ukrainian rye bread. My kids hate cabbage rolls but they ate this creative mess till the last piece, drip and bite. Go figure these kids. The same ingredients just taken apart. Funny.:)
If you like cooked cabbage, you might also like cabbage and carrots stir fry with brown rice noodles and pan fried cabbage with apples.
Print
Cabbage Rolls Casserole
Healthy Cabbage Rolls Casserole that doesn't require pre-cooking rice, boiling cabbage and wrapping the leaves. Lazy man cabbage rolls.
Author:
Prep Time:

10 minutes

Cook Time:

115 minutes

Total Time:

2 hours 5 minutes

Yield:

8

servings

1

x
Scale
Ingredients
1 tbsp

olive oil

1

large onion, diced

6

cloves garlic, crushed & divided

1.5

lbs extra lean ground turkey

2

cans (28 oz each) crushed tomatoes or tomato sauce, divided

1 cup

long grain brown rice, uncooked*

1 cup

water

2 tsp

brown sugar, divided

5

bay leaves

1/2 tsp

salt

1/4 tsp

ground black pepper

1

medium cabbage (

3

lbs), thinly shredded

1/4 cup

parsley, finely chopped (for garnish)
Greek yoghurt (for garnish)

8

slices fresh mozzarella cheese (optional)
Instructions
Preheat large skillet on medium heat and add olive oil. Add onion and half of garlic. Saute until golden brown stirring frequently, about 5 minutes. Transfer in a separate bowl and set aside.
In the same skillet brown ground turkey, breaking into pieces with a spatula. Add onion and garlic from step 1, 1 can of crushed tomatoes, rice (see Notes), water, 1 tsp brown sugar, bay leaves, 1/4 tsp salt and 1/8 tsp ground black pepper. Bring to a boil, reduce heat to low, cover and simmer for 20 minutes.
In the meanwhile, remove the outer leaves from cabbage. Cut the cabbage in half and using a sharp knife or mandoline thinly slice/shred it. Place in a mixing bowl along with 1/8 tsp salt. Massage cabbage using your hands until the volume of cabbage decreases. This helps to soften the cabbage.
Preheat oven to 350 F degrees. In a 2.5″ deep 9 x 13 casserole dish, spread evenly half of the shredded cabbage topping with half of the meat-rice sauce. Then another layer of remaining cabbage and another layer of meat-rice sauce, until all used up.
To remaining can of crushed tomatoes, add remaining garlic, 1 tsp of brown sugar, 1/8 tsp salt and 1/8 tsp ground black pepper and mix together. Pour over the layered casserole, spreading evenly with spatula. Cover tightly with foil and bake for 90 minutes. Remove from the oven, let rest for 10 minutes and cut with a knife into 8 pieces. Serve warm (I like hot) with a dollop of non-fat Greek yogurt and a slice of rye bread. The casserole tastes even better the next day and makes great leftovers and work lunch.
Store: Refrigerate covered for up to 3 days. Freeze in an airtight container for up to 1 month. To defrost, thaw overnight in the refrigerator or in a microwave.
Notes
*A few readers reported that rice was still uncooked after an hour. I didn't have this problem when creating the recipe, neither I had a chance to re-test this casserole again. Alternatively, you could pre-cook the rice with half amount of water and time as specified on the package.
★ Did you make this recipe? Please give it a star rating in the comments.