Coconut Oil Fudge is a decadent bite made with only 3 simple ingredients. This healthy fudge is perfect as a breakfast, dessert, or anytime snack because its ingredients are good for you!
Love healthy bite-sized treats? You might want to make this fudge a part of your rotation alongside healthy chocolate coconut balls or no bake protein balls!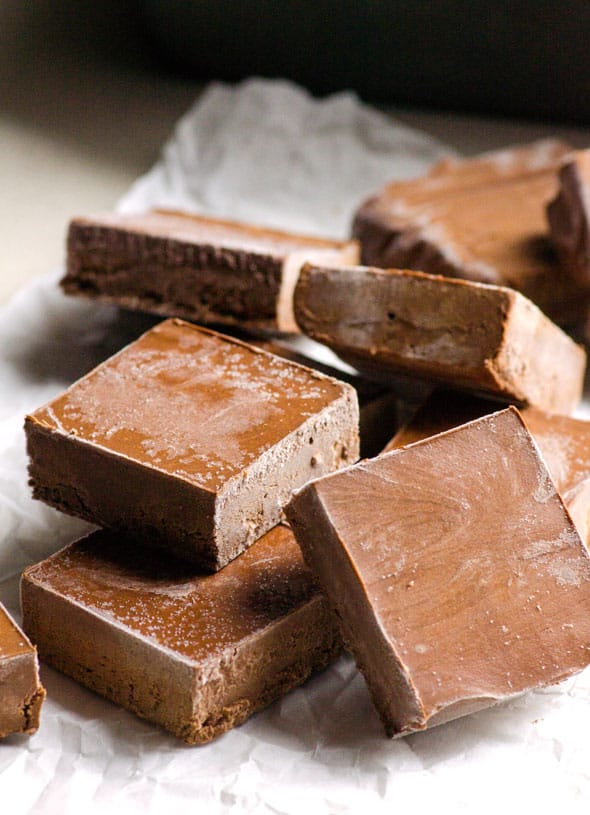 Healthy Fudge
Sinking your teeth into a creamy, chewy piece of coconut oil fudge can be just the answer when you're craving something sweet. Keeping in line with eating healthy during the holidays can be difficult. This is why indulgent treats that are also good for you tend to come in handy!
While I wouldn't exactly call coconut oil a 'hidden ingredient', I do love making treats with hidden elements. Like my healthy zucchini brownies, almond flour brownies, and even healthy pumpkin brownies. You probably sense a theme!
In this healthy fudge there's magnesium, fibre, antioxidant properties, good fats as well as a myriad of other benefits are jam-packed into a small bite of fudge. But the best thing about this is it's so good, you'd never know it!
As much as this is a healthy dessert, it doesn't overpower how melt in your mouth delicious it is. Go ahead, indulge in a piece or three!
Ingredients for Coconut Oil Fudge
Bananas: The riper the better! Ripe bananas bring out their natural sugars. You want to see those brown spots to give sweetness to your fudge with cocoa powder.
Coconut oil: Measure after you've melted it. If you are concerned about the quality of your coconut oil, check the labels. Look for virgin, cold-pressed, organic/non-GMO. This is a must in this recipe as it is an oil that can solidify.
Cacao or cocoa powder: Not to be confused with each other. Notice the spelling! Cacao powder is made from fermented beans not yet processed. Cocoa powder is beans that have been highly processed and usually made with added sugar. Depending on the amount of sugar, that will determine how sweet the cocoa powder will be. Either will work.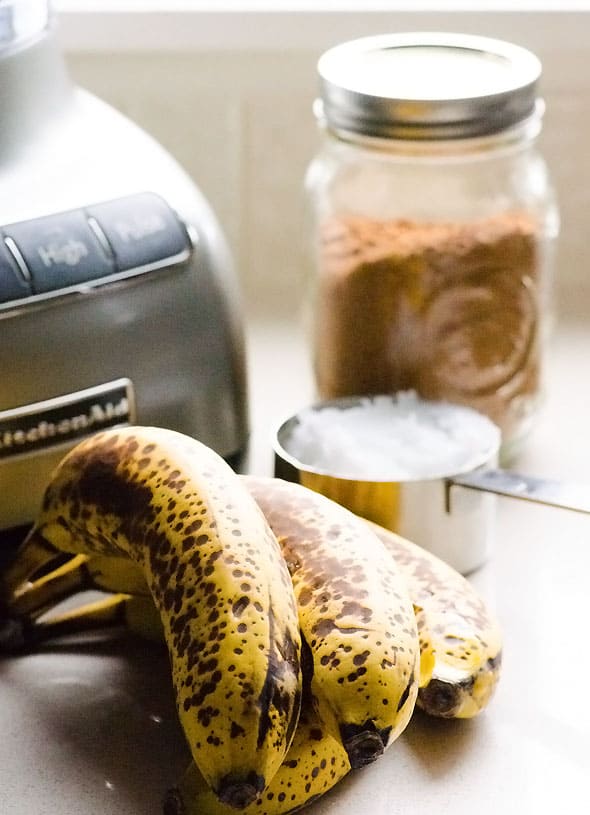 How to Make Coconut Oil Fudge
Prep: Set aside a parchment lined square baking dish. Should be an 8 x 8 dish for this recipe which yields about 16 servings, once cut into pieces. On low heat, melt the coconut oil on the stovetop. Coconut oil can withstand high heat, but you don't want it to get too hot. Just heat it enough to melt it. You can also use the microwave for 30-second increments.
Combine: If you have a food processor or high-speed blender like a Vitamix, add all of your ingredients until smooth. Every once in a while you'll want to pause to scrape down the sides. This way you're making sure to incorporate everything very well.
Pour and Chill: Pour fudge mixture out into the prepared baking dish. Use a spatula to scrape everything out. You don't want to leave any of it behind. Then again, if you do, you get to lick the spoon! Once in the dish, spread it out evenly and freeze for 2-4 hours. This will ensure all ingredients solidify and won't fall apart on you! Upon removing it from the freezer you'll want to let it sit for about 5 minutes. This will bring it back to a chewy, fudge-like consistency and will be much easier to cut.
As you can see, this is a no-fuss recipe that requires very little prep time. The major part of this is the chill time, but you're about to find out how it was worth the wait!
Tips and Variations
Bananas: You may notice this fudge has a banana taste. There is no way around this as the bananas give it structure and sweetness. It also helps with the chewy consistency. Coconut oil and banana work as a team!
Dates: Medjool dates can be blended and added as an additional ingredient if you're looking for a different flavor to mask a bit of the banana. You could also use a bit of raw honey or maple syrup.
Freeze it: Coconut oil fudge will need to be kept in the freezer otherwise it will no longer hold its structure. If you're looking for a fudge recipe to be able to ship to a loved one, this one is not it! This is a treat perfect for having at home or serving guests.
Nut butter: You could play around with nut butter (almond, peanut, cashew). All will give it a bit of added earthy nutty flavor, added texture, and of course another layer of chewiness!
Protein boost: Add a bit of whey protein powder (no plant-based and chocolate flavor would be best) to make these a quick midday pick me up or for a great way to start the day.
Get creative: Add some vanilla or cinnamon. Sprinkle with unsweetened coconut flakes or a pinch of coarse sea salt.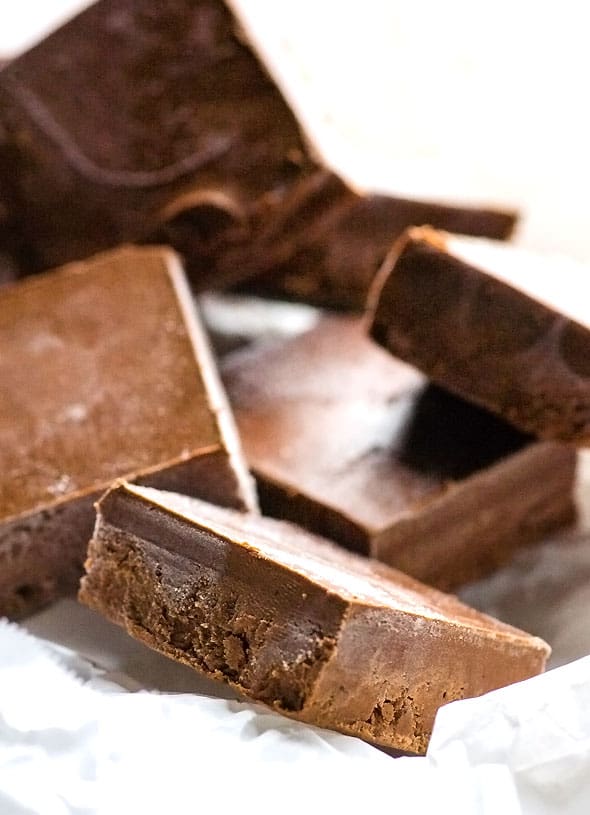 Freezing and Thawing
Store: Cut the fudge into pieces, after initial freezing. Place them in an airtight container or Ziploc bag and freeze them for up to 3 months. If you prefer, you can separate the layer of pieces with parchment paper. This way, you can take out individual pieces as desired.
Thaw: Forewarning, they are addicting, so you may just find yourself taking out 1 piece every day! Leave it out at room temperature for about 10 minutes to soften a bit before biting into it.
More Healthy Chocolate Dessert Recipes
Coconut Oil Fudge
Coconut Oil Fudge is a decadent bite made with only 3 simple ingredients. This healthy fudge is perfect as a breakfast, dessert, or anytime snack because its ingredients are good for you!
Instructions
Line square 8" x 8" baking dish with parchment paper. Set aside.

In a small pot, melt coconut oil on the stove on low heat. Or in a microwave safe bowl in 30 seconds increments.

In a food processor or high speed blender, add bananas, melted coconut oil, cacao powder and process until very smooth, pausing and scraping the walls once or twice.

Pour into previously prepared square dish and freeze for 2 – 3 hours.

Remove from the freezer, let thaw about 5 minutes and cut into 16 squares.
Notes
Store: Freeze cut up fudge in an airtight container for up to 3 months. When ready to eat, remove as many pieces as desired, warm up on a counter for 5-10 minutes to just enough to soften a bit and enjoy!
Does fudge have banana taste? Yes, this coconut oil fudge recipe does have a banana taste.
Can I replace bananas with something else? Unfortunately not. They make the base of this recipe.
Can I use any other oil? No, coconut oil is the only oil that can solidify.
Do I have to store fudge in the freezer? Yes. Therefore, I do not recommend you ship it. For softer fudge before eating, thaw on a counter for 5-10 minutes.
Nutrition
Serving:
1
bar
|
Calories:
120
kcal
|
Carbohydrates:
8
g
|
Protein:
1
g
|
Fat:
11
g
|
Saturated Fat:
9
g
|
Sodium:
1
mg
|
Fiber:
2
g
|
Sugar:
4
g