Instant Pot Chicken Tacos are the easiest way to get healthy tacos with the most flavour in under 30 minutes! Using fresh or frozen chicken breasts, salsa and seasoning, you get perfectly shredded juicy, tender, chicken ready to be added to a warm tortilla and loaded with the most delicious toppings!
We also really love this Instant Pot pulled chicken.
I swear Instant Pot frozen whole chicken turned me into crazy Instant Pot lady, as you can tell by all of the healthy Instant Pot recipes I have on my site.
Making chicken tacos, or any type of chicken, in the Instant Pot, is hands down the easiest way to cook chicken. Toss in your chicken, fresh or frozen, add in your taco seasoning and salsa, then set it and forget it! It really is that simple.
In the 15 minutes it takes to cook frozen chicken breasts (12 minutes for fresh), you'll be able to warm up some tortilla wraps, get your toppings ready, and you've got a healthy and satisfying dinner ready in under 30 minutes!
And what kid doesn't love tacos?! I know mine do, and because they're so quick and easy to make, shrimp tacos and ground turkey tacos are also in our regular rotation.
Serving a crowd? Get this, no matter how many pieces of chicken breast you toss in there, the cooking time remains THE SAME for this Instant Pot taco chicken! Preparing for a game day party, potluck, or backyard BBQ has never been easier. It's one of my favorite summer Instant Pot recipes!
Keep the Instant Pot warm, set out tortillas, and bowls of shredded cheese, sour cream, guacamole, and extra salsa and have everyone serve themselves.
Why This Recipe Works?
Quick and easy, which means it's perfect for weeknight dinners.
Serves a crowd with the same amount of effort.
Can use fresh or frozen chicken with only a difference of a few minutes of cook time.
Very healthy, especially when using homemade taco seasoning.
Versatile, in that you can use leftover shredded chicken for so many other dishes including chicken tortilla soup.
Kid-friendly, just watch how quickly they devour this shredded Mexican chicken!
Ingredients You Will Need
Chicken breasts or thighs: Boneless and skinless chicken breasts or thighs would work. Both will shred nicely. Thighs are dark meat and fattier and therefore juicier. Although, chicken breast is far from dry in this taco recipe. Keep reading.
Salsa: Salsa is the secret ingredient to cook chicken in to permeate a lot of flavour in a short amount of time.
Taco seasoning: Low sodium taco seasoning adds even more flavor without the extra sodium. Otherwise, you will need a lot of salsa.
Fixings: Literally anything you have in the fridge. Meat is that juicy and flavorful!
Corn or whole wheat tortillas: Corn tortillas are gluten-free and add more authentic taco flavour. My family loves flour tortillas cause they fit more and hold together better.
How to Make Instant Pot Chicken Tacos
Cook chicken in salsa: That's right, just add 2 ingredients for these southwest tacos and no water. Meat and salsa will release enough water to build up pressure. No burn, I promise!
How long to cook? 12 minutes for fresh and 15 minutes for frozen chicken. Just make sure pieces are separate if using frozen, otherwise it won't cook through where meat is touching.
Release pressure right away using quick release method and shred chicken in a bowl. Rehydrate the meat by adding 1/2 cup juices from Instant Pot.
Assemble tacos. That's it!
Tips for Best Results
Frozen chicken: Yes, you can. Make sure to separate frozen pieces. To do this quickly, put them in a bowl with warm water for 5 minutes to help separate them. Cooking time will be 15 minutes and the Instant Pot will take a bit longer to come to pressure.
You can double the recipe for this Instant Pot chicken taco meat and keep the same cook time.
The recipe is good for any size Instant Pot, including 3 quart.
Fresh salsa will work as well.
Add ins & Variations
Gluten-free: If you are looking to make this a completely gluten-free meal, stick with corn tortillas rather than flour and if you're using store-bought seasoning, make sure to check the ingredients for hidden gluten.
Added heat: If you want your pressure cooker chicken tacos a little spicier, use a hot salsa over mild or sprinkle in extra chili powder.
Broth: Although your chicken will cook nicely with just the salsa, you're more than welcome to add a cup of broth or even a bit of orange or pineapple juice for additional flavour.
FAQs
Do I need to add liquid to the Instant Pot?

Sometimes the answer will be yes. There are shredded chicken recipes that will require you to add liquid to the bottom and it might even say to use a trivet to place the chicken on. This is not one of those recipes. The salsa is meant to infuse flavour into the chicken as it cooks, so we want it directly on the chicken. The cooking process will naturally create its own liquid.
How long should I cook frozen chicken in the Instant Pot?

Depending on the size of your chicken breast, and even possibly the altitude you live at, will have an effect on how long to cook your frozen chicken breast. Generally speaking, 15 minutes is perfect. If you open your lid and realize parts of your chicken are still pink, feel free to close the lid and continue cooking for an extra 5 minutes or so.
What can I use leftover taco chicken for?

So many things! It's great for meal prep for a few days worth of dinner or lunch. Enjoy chicken tacos with a side of brown rice or as a topping on a salad. You could use it as a topping for nachos, or add it to some Instant Pot taco soup. The most obvious answer might be to have tacos again the next day!
Best Topping Ideas When Serving Tacos
These pressure cooker chicken tacos are quite healthy if you don't add a lot of cheese and use corn tortillas instead of flour ones. And as always, the more veggies you add, the better it is for you!
How to Warm Tortillas
Serving Instant Pot chicken tacos with warmed up corn or flour tortillas is an added bonus!
Preheat cast iron or non-stick skillet really well.
A drop of oil makes tortillas yummier. 🙂
Cook 1-2 minutes per side or until charred.
If you have a gas/propane stove, you can warm them up directly on a burner.
Hope you enjoy this easy pulled chicken tacos Instant pot recipe and share with friends and family!
Making Chicken Tacos in Advance
Any leftover chicken will keep in the fridge in an airtight container for up to 4 days. Without, the toppings, of course! This means that you can cook the chicken well in advance and heat it up just before you're ready to serve.
You can also add leftover chicken to healthy taco pasta for a whole new meal idea!
More Mexican Instant Pot Recipes
You may also love all my favorite healthy taco recipes!
Did you know we have entire Youtube channel dedicated to healthy Instant Pot recipes and tips? My goal is to help you become confident with your Instant Pot by demonstrating each delicious foolproof recipe in step-by-step videos.
Make sure to subscribe and hit the Bell icon not to miss new videos.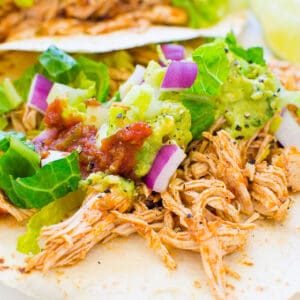 Instant Pot Chicken Tacos
Instant Pot Chicken Tacos are the easiest way to get healthy tacos with the most flavour in under 30 minutes! Using fresh or frozen chicken breasts, salsa and seasoning, you get perfectly shredded juicy, tender, chicken ready to be added to a warm tortilla and loaded with the most delicious toppings!
Ingredients
1 1/2

lbs

chicken breasts or thighs

boneless & skinless

1

tbsp

low sodium store bought or homemade taco seasoning

3/4

cup

salsa

10-14

small corn or flour tortillas

Diced avocado

tomato, red onion and shredded lettuce, fixings for serving

Guacamole

cheese and yogurt, for serving (pick and choose)
Instructions
To any size

Instant Pot

, add chicken breasts, sprinkle with taco seasoning and add salsa on top.

Close the lid, set pressure vent to Sealing and press Pressure Cooking on High for 12 minutes for fresh or 15 minutes for frozen.

Display will say ON, Instant Pot will take about 10 minutes to come to pressure, you will see a bit of steam coming out from a release valve, then float pin will rise and countdown will begin.

After release pressure right away by turning valve to Venting position, wait until the float pin drops down and open the lid.

Remove chicken breasts into a medium bowl and shred with 2 forks. Add 1/2 cup cooking liquid from Instant Pot and stir.

Warm up tortillas on a hot skillet for 1 minute or so per side. Or directly on a gas burner.

Assemble tacos with desired toppings.
Notes
Store: Refrigerate leftover shredded chicken (without toppings) in an airtight container for up to 4 days.
Make sure frozen chicken pieces are separated – not one blob. It helps to place them in a bowl with hot water for 5 minutes.
You can double the recipe and keep same cook time.
Fresh salsa should work as well.
Nutrition
Serving:
2
tacos
|
Calories:
117
kcal
|
Carbohydrates:
11
g
|
Protein:
14
g
|
Fat:
2
g
|
Saturated Fat:
1
g
|
Cholesterol:
36
mg
|
Sodium:
207
mg
|
Fiber:
2
g
|
Sugar:
1
g