Easy Smoked Salmon Salad comes together in 5 minutes without cooking. Made with avocado and cucumber then tossed with fresh greens and a drizzle of vinegar and olive oil, it's perfect for a light meal!
Other simple salmon recipes we love include this canned salmon salad recipe and canned salmon cakes!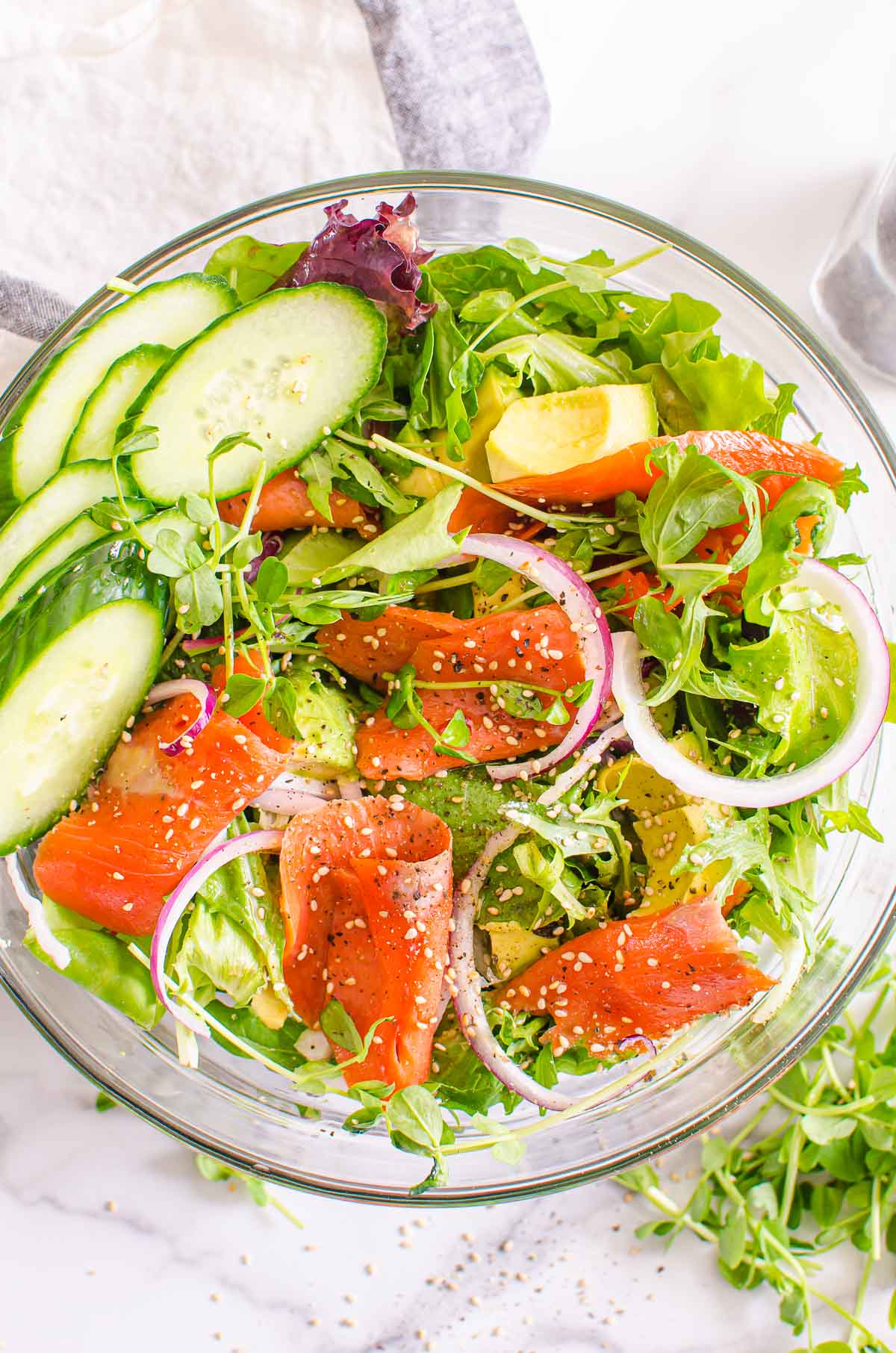 This smoked salmon salad is light, looks impressive, and yet is one of the easiest healthy lunch ideas I have ever made. It's loaded with tons of greens, anti-inflammatory apple cider vinegar, and heart healthy avocados.
All you have to do is fill up a large bowl with refrigerated and pantry items then just slightly toss its delicate ingredients.
And you have a delicious light lunch or quick healthy dinner in 5 minutes. Five!
As much as I love healthy salmon filled summer dishes like healthy salmon burgers or grilled salmon, there's nothing as simple or quick as this smoked salmon salad recipe!
Ingredients and Substitutions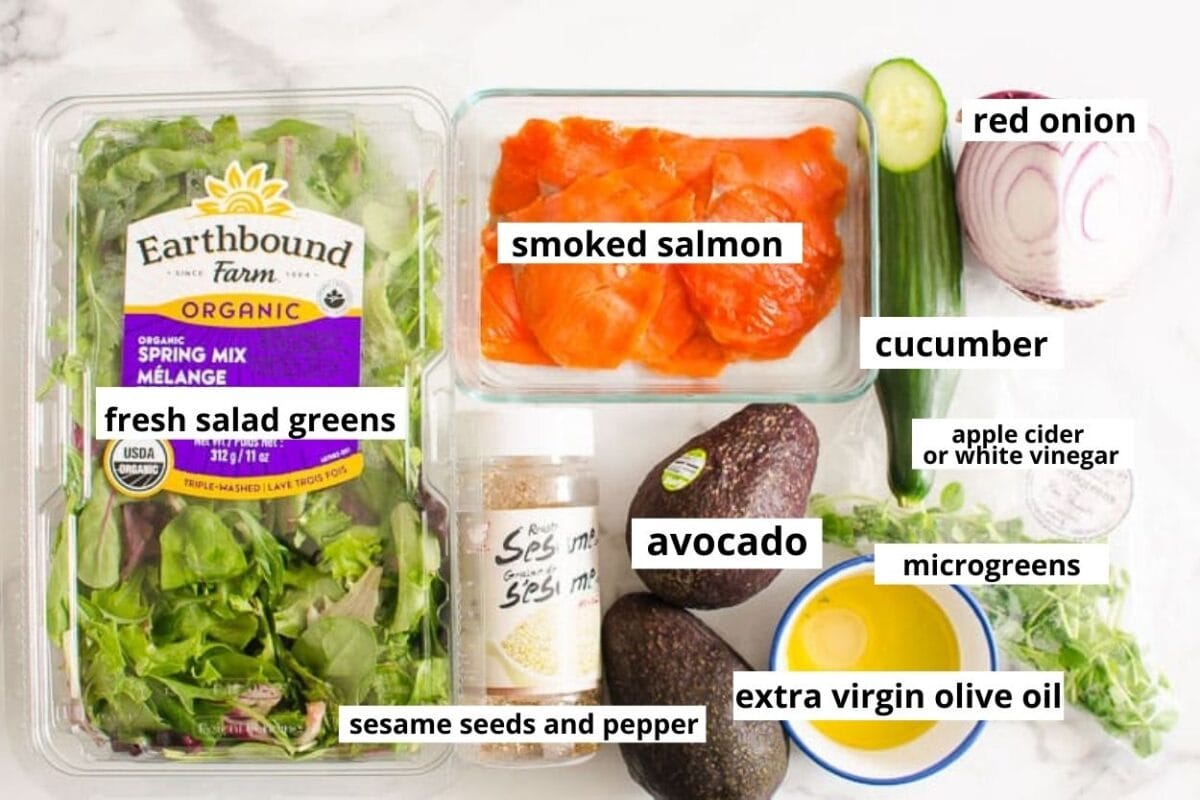 "Easy smoked salmon salad" suggests simple ingredients. And they are highly customizable. Use what you have.
You know me. Or if you are new here, learn more about me. I love garlic, fresh dill and leftovers.:)
Salad greens: Fresh organic spring mix, spinach or arugula make up the based of this salad.
Microgreens: This young vegetables or baby plants of many vegetables are optional but add so many nutrients and antioxidants.
Smoked salmon: Thinly sliced smoked salmon is the star of this salad and adds so much flavor! You could use grilled or even canned flaked salmon if smoked taste is not your favorite.
Cucumber: I like English cucumber for its crisp crunch. You could use garden cucumber or even thinly sliced radishes.
Avocado: Adds a creamy texture to the salad.
Red onion: Thinly sliced you could also use green onion for a bit more mild onion flavor.
For the dressing: Extra virgin olive oil, apple cider vinegar, pepper and sesame seeds. You could use any light vinegar, such as white wine, for a different flavor.
How to Make Smoked Salmon Salad
This is such a festive and fresh dish I crave in spring and I love serving smoked salmon salad at Easter or Mother's Day! During the summer, a side of Instant Pot corn on the cob is all I need to complete it.
Build your Salad Base

We are going to layer all ingredients gently on top of each other. Start by placing mixed greens and microgreens in a medium bowl.
Add Salmon, Avocado and Fresh Vegetables
Add thinly sliced smoked salmon. Smoked salmon is pricey. Tear or cut salmon into smaller pieces to make it go further.
Dice avocado and add to the bowl. Then thinly slice red onion and cucumber and add on top of other ingredients in a bowl. We are done layering the salad.
Dress It Up
Drizzle salad with olive oil and apple cider vinegar. Then sprinkle freshly ground black pepper and toasted sesame seeds on top.
Gently toss salad to combine ingredients. Do so just a few times, just enough to sort of combine everything. Don't toss salad too long otherwise it won't look as pretty and heavier avocado will fall to the bottom of the bowl.
Tips for Making the Salad
More flavor. Skip plain avocado and serve avocado salad on the side.
Leftover salmon: This salad may star smoked salmon, but leftovers of Thai salmon or honey garlic salmon taste great, too!
Other dressing options: I love the simplicity of olive oil and vinegar, but you may love one of these 10 healthy salad dressings for variety or a squeeze of lemon juice!
FAQs
What is the best smoked salmon to use?
I buy wild smoked salmon. Thankfully, smoked farmed salmon has become rare. But still please read the package to make sure it doesn't say "Atlantic salmon" or have any extra flavorings or preservatives.

Can't find smoked salmon? Look near the fresh meat and seafood counter at your grocer. You could also make grilled cedar plank salmon, which has delicious flavor!
Do I need to cook smoked salmon?
No. Smoked salmon is meant to be eaten cold but that being said, if you want to warm it up you could in your oven broil for a few minutes.

You might also just like this salad better with baked salmon in foil, too.
Can I make this salad ahead of time?
This salad is best served right after tossing it with the olive oil and vinegar but leftovers can be refrigerated up to 12 hours.

If you want to make it ahead, you could add all ingredients to a bowl minus the dressing, cover and refrigerate up to 24 hours. Toss with dressing before serving.
Can this be served as a main dish?
This salad is the perfect size for a lunch salad or light dinner main. It serves two.

If you are extra hungry, add quinoa or brown rice to the smoked salmon salad. Sometimes I add leftover hard boiled eggs too!
More Healthy Salads To Try
Just look at this bite of health in a bowl, healthy salad recipes for the win! Enjoy!
Easy Smoked Salmon Salad
Easy Smoked Salmon Salad in 5 minutes without cooking. Made with fresh greens, avocado, cucumber and a light dressing, it's fresh and easy.
Ingredients
Big handful of salad greens, arugula or spinach

Small handful of microgreens

optional

6-7

slices

smoked salmon

preferably wild

1

very large avocado

diced

1/2

long English cucumber

sliced

10

thin slices red onion or 2 chopped green onion sprigs

1

tbsp

sesame seeds

preferably toasted

2

tbsp

apple cider or white vinegar

2

tbsp

olive oil

extra virgin

Ground black pepper

to taste
Instructions
In a medium bowl, add greens and salmon. To stretch salmon further, cut or tear into small pieces.

Add avocado, cucumber and red onion.

Sprinkle sesame seeds and pepper on top and drizzle vinegar and olive oil. Give a gentle toss and be blown away!
Notes
Best salmon: I buy wild smoked salmon. Look near the fresh meat and seafood counter at your grocer. You could also make Cedar plank salmon, which has delicious flavor!
Microgreens: Are young vegetables or baby plants of many vegetables. Look for a bag in refrigerated produce section that says "microgreens".
Use 1-2 large avocados. Mine are Costco size, which often means larger, so I used only 1.
Store: Refrigerate leftovers for up to 12 hours.
Make Ahead: Assemble salad without vinegar and oil. Refrigerate covered for up to 24 hours. Dress and toss before serving.
Nutrition
Serving:
2
cups
|
Calories:
390
kcal
|
Carbohydrates:
11
g
|
Protein:
14
g
|
Fat:
33
g
|
Saturated Fat:
5
g
|
Cholesterol:
14
mg
|
Sodium:
480
mg
|
Fiber:
8
g
|
Sugar:
2
g