These Healthy Shrimp Recipes use real food ingredients for dinner ideas that are both flavorful and easy to prepare! From cold salads to warm stir fries, find the perfect shrimp recipe to suit your taste.
Love all types of seafood? Make baked salmon, grilled white fish tacos and lemon butter baked cod next!
A beloved shellfish, shrimp is a delicious treat for many! Whether you are enjoying shrimp cocktail during the holidays or making healthy shrimp meals, there are many ways to enjoy these small crustaceans of the sea!
These healthy shrimp recipes are also a great way to expand your dinner repertoire with some new ways to prepare shrimp! Enjoy hearty dishes where shrimp is accompanied by other meats and grains or lighter salads where shrimp is the main ingredient.
Why Shrimp Dinner Ideas are Healthy?
Healthier methods of cooking: Less oil, sugar and calories all without sacrificing flavor!
Wholesome ingredients: These shrimp dinner recipes use real food ingredients with a focus on using fresh sources that maximize the nutritional profile of the dish.
Variety: It's the spice of life! Choose healthy shrimp dinner ideas such as cold salads, warm stir-fries and even Instant Pot and air fryer cooking methods.
Nutritious: Shrimp are a great source of protein, low in calories and contain selenium, iodine and other essential nutrients.
FAQs
Is shrimp good for a healthy diet?
While there are concerns about shrimp being higher in cholesterol, according to research most consumers are not affected by dietary cholesterol and it has very small impact on blood cholesterol. Shrimp also contains several nutrients such as omega-3 fatty acids and antioxidants that may actually increase 'good' HDL levels of cholesterol. Of course everyone must decide for themselves as well as consult with their doctor if they are concerned about cholesterol.
Is frozen shrimp healthy?
Yes, if it is from a reputable source (look for shrimp that are not treated with antibiotics, typical of farm raised). For most areas of the world that are not close to the ocean, frozen shrimp may also be your best choice unless you are absolutely sure your shrimp is 'fresh off the boat'.
Can you use frozen shrimp instead of fresh?
Each recipe in this round up of healthy shrimp recipes will list what type of shrimp is best to use, including if frozen (or frozen then thawed) or fresh will have better results.
How many times a week can I safely eat shrimp?
This could vary from person to person, but most experts agree that eating fish or shellfish at least twice a week is great for a healthy diet. Of course remember eating too much of anything can cause problems! Everything in moderation, including healthy shrimp meals and healthy desserts. 🙂
What side dishes go well with shrimp?
Listed below you will find a selection of shrimp dinner ideas including many that are one pot meals and may not even need a side dish. For others, simple sides such as brown rice, quinoa, low carb cauliflower rice or a healthy salad recipe may be sufficient.

For a heartier side, mashed potatoes during cooler months or potato salad during the summer would be delicious! Browse these healthy sides to find a few to accompany these healthy shrimp recipes.
What should I look for when choosing shrimp for dinner?
For healthy shrimp meals, choose wild caught shrimp vs. farm raised which may contain antibiotics.
What type of shrimp is best?
With over 3,000 species of shrimp known it can be daunting to choose from for a healthy shrimp recipe!

As a quick guideline, there are only four wild caught species of shrimp that are considered sustainable – pink shrimp (from Oregon), brown, white and pink shrimp from Gulf of Mexico, any shrimp from the US and Canadian waters of the northern Atlantic, and spot prawns form the Pacific NW.

Further yet, look for brands that follow sustainable practices and have the Marine Stewardship Council certification.
The Best Healthy Shrimp Recipes
Crispy Bang Bang Shrimp Recipe is sweet, spicy and ready in 15 minutes. Healthier than the Bonefish Grill classic, so you can enjoy these addictive shrimps at home!
Easy Bang Bang Shrimp Tacos are creamy, sweet, spicy, and healthier than the Bonefish grill classic. You will have this 30 minute meal on repeat!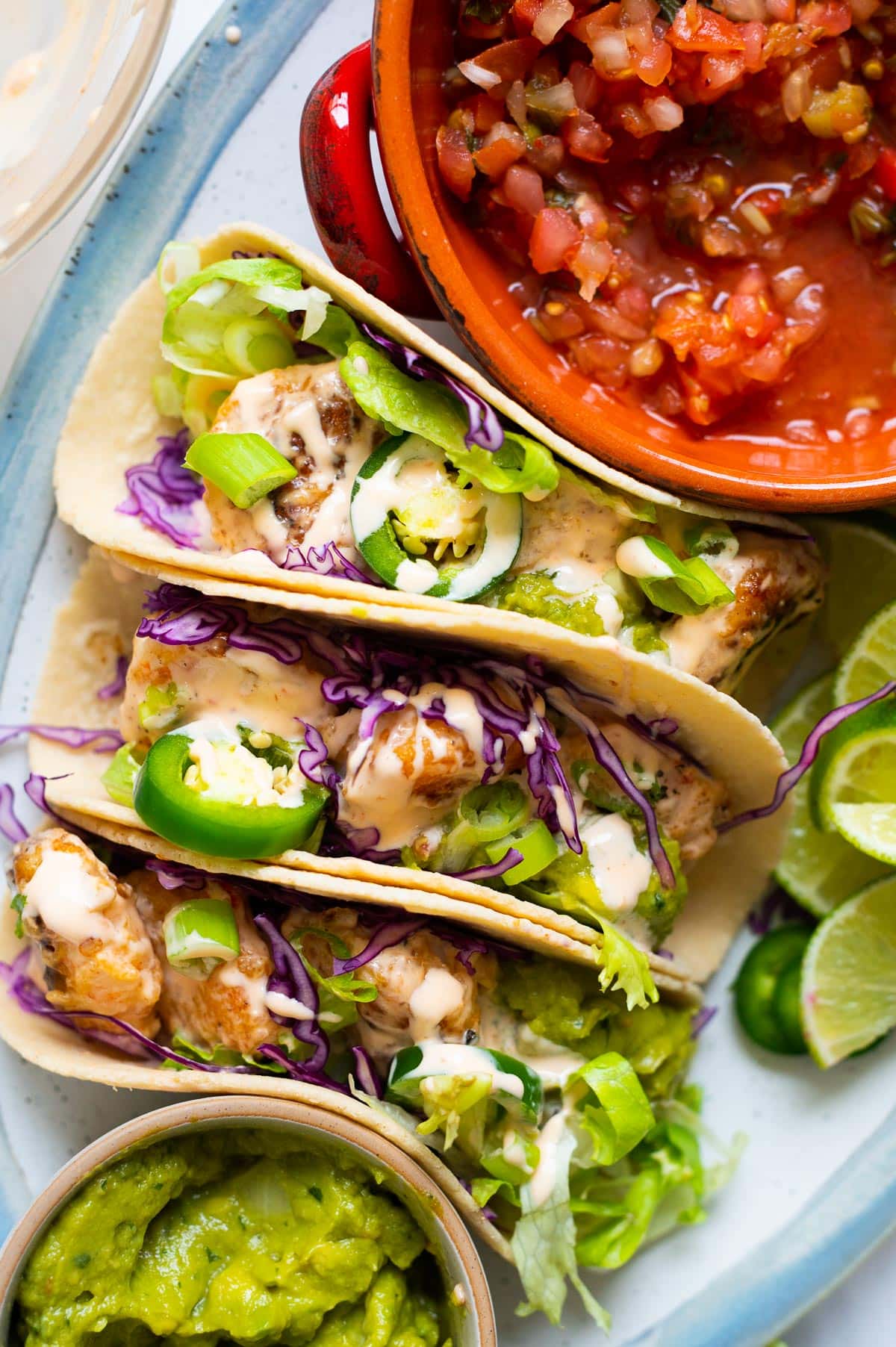 Shrimp Tostadas are a delicious open faced taco dinner idea! Crispy homemade tostada shells accompanied by seasoned air fried shrimp then layered with a quick guacamole and your favorite toppings; the whole family will love this healthy shrimp meal!
Whether you choose to make this for an easy appetizer or to use for a quick dinner, Air Fryer Shrimp is ready in under 15 minutes! Serve with Mexican kale salad or use as a taco filling.
This Garlic Butter Shrimp Quinoa and Asparagus is a simple stir fry filled with amazing taste and whole food ingredients! With 40g of protein per serving it's a healthy shrimp meal perfect for a hearty high protein dinner.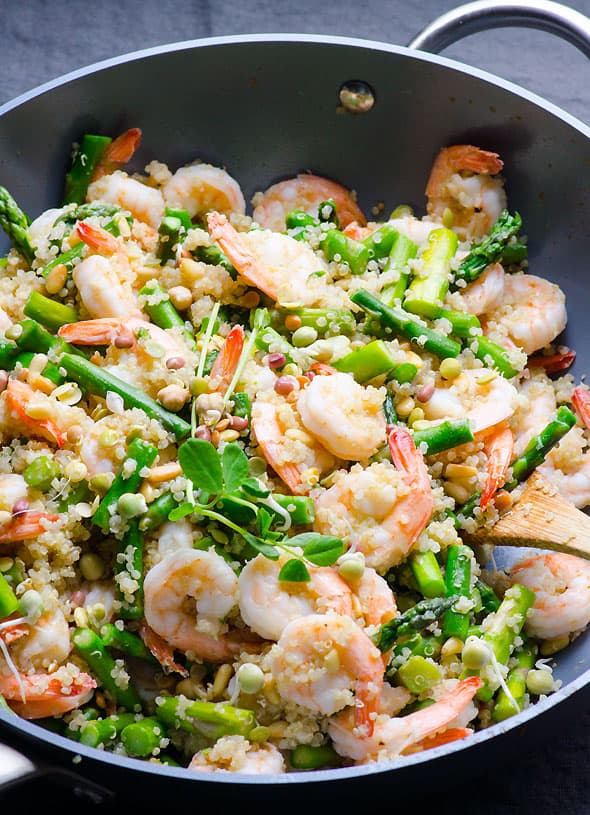 A fun meal made in one pot! Instant Pot Shrimp Boil is a hearty dinner perfect for summer entertaining with shrimp, sausage, potatoes, corn and delicious seasonings.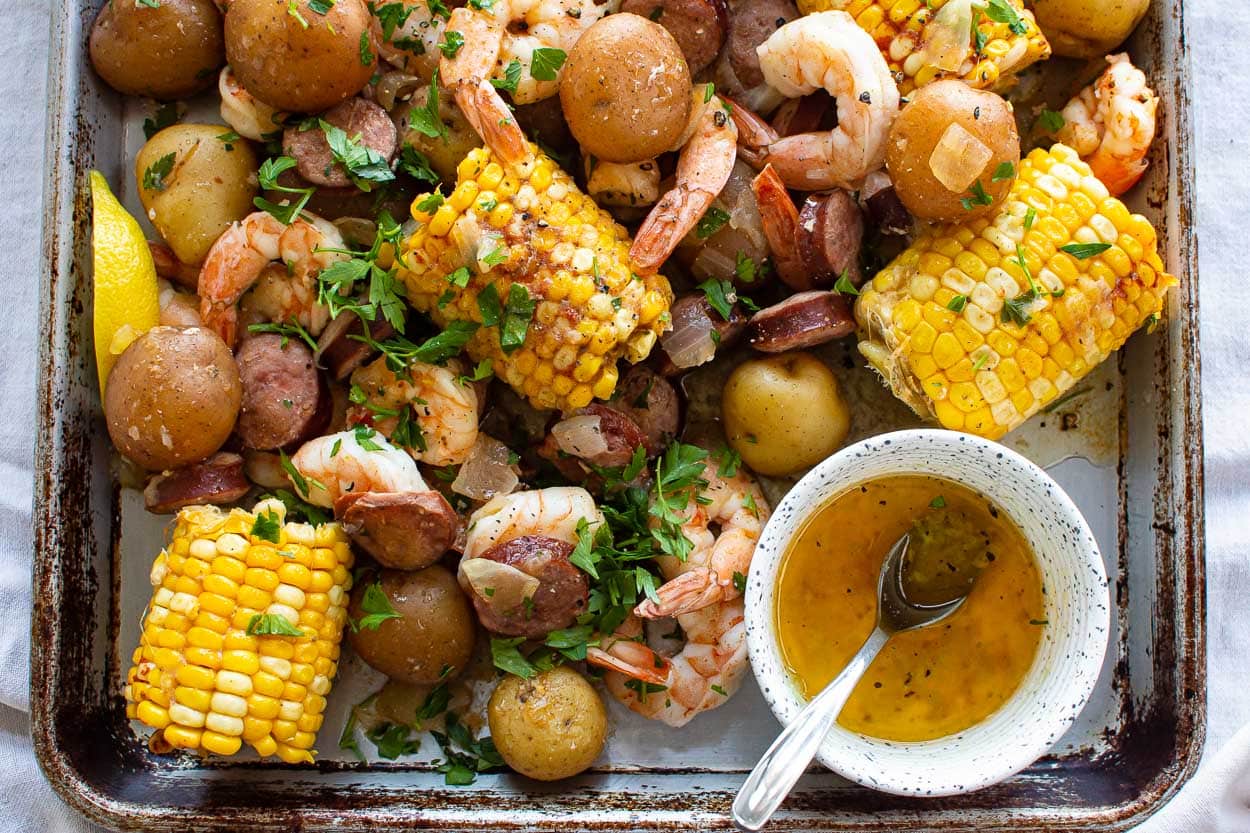 An easy cajun dinner made in one pot! Instant Pot Jambalaya is everything you want in an easy dinner, hearty grains, tender veggies, savory sausage and delicious shrimp ready in under an hour! Serve with easy creamy cucumber tomato salad.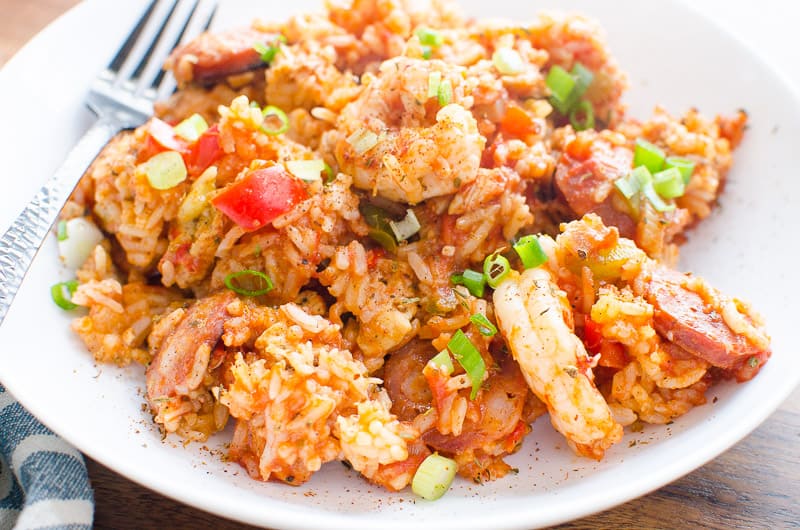 Easy Shrimp Tacos are a family favorite and will make a frequent appearance on your menu, too! Ready in 15 minutes and topped with a delicious creamy slaw (or your favorite taco toppings!), they can be pan fried or grilled for year round tacos!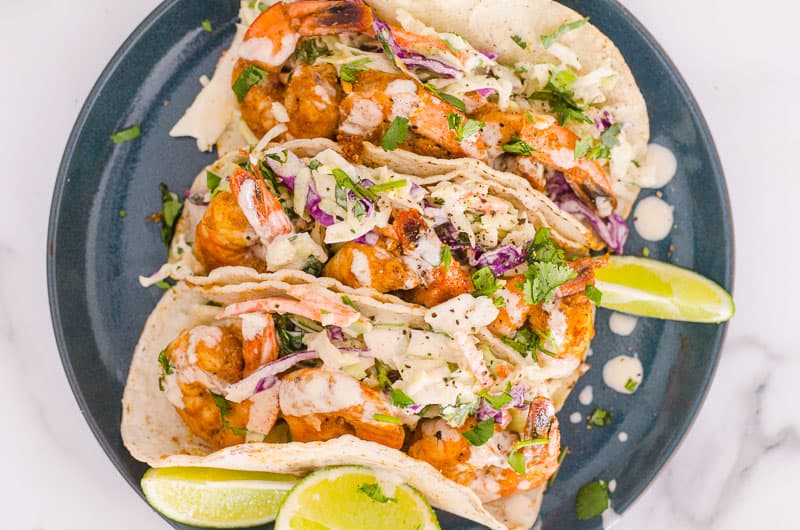 When warmer weather comes, Grilled Shrimp Skewers will be the first to appear on your BBQ! No marinating and brushed with a tasty lemon garlic glaze, these kabobs are ready in only 16 minutes. Serve with a delicious white bean salad or healthy pasta salad for a complete healthy dinner idea.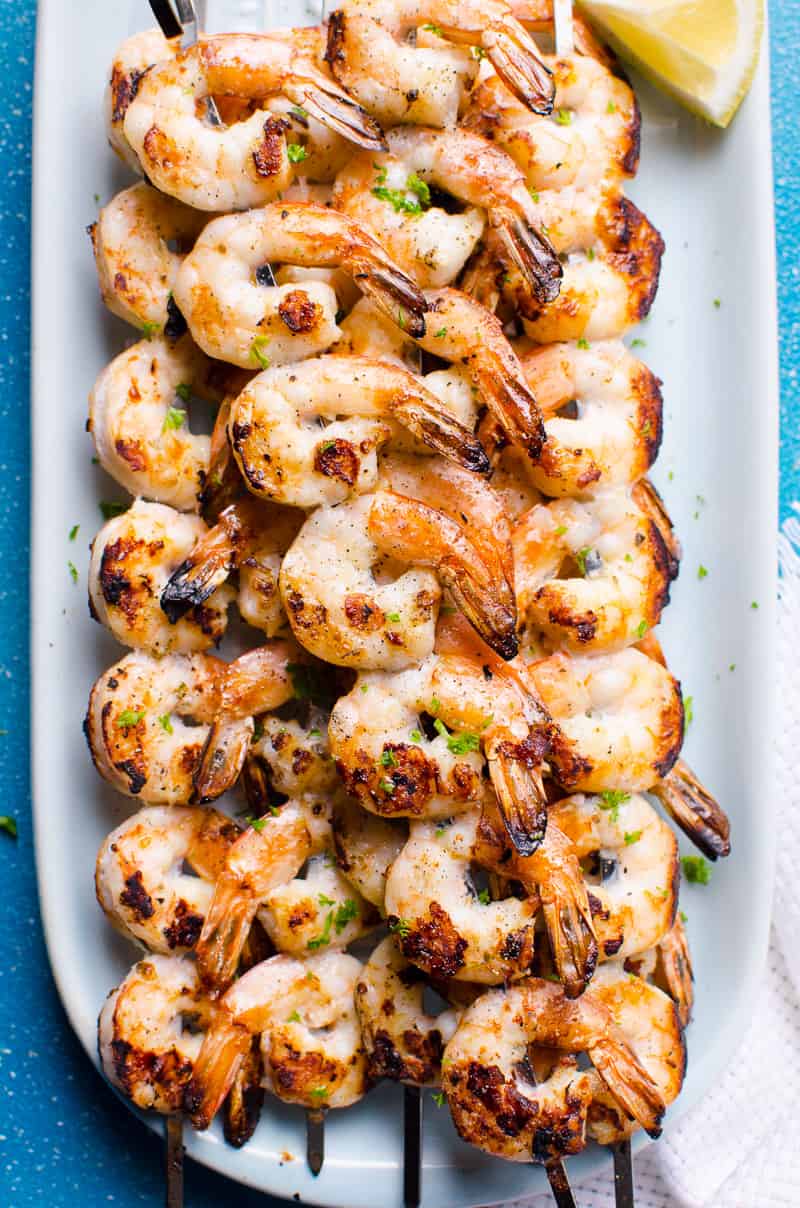 Zesty Shrimp Ceviche is just as perfect as an appetizer as it is in a healthy taco salad or on a tostada! Enjoy this refreshing dish at a summer BBQ or with a glass of sangria watching the sunset.
Shrimp and Vegetable Stir Fry with hearty vegetables and succulent shrimp in a flavorful sauce; it's easier and better for you than any takeout delivery! Serve with low carb cauliflower fried rice to really rival that restaurant vibe.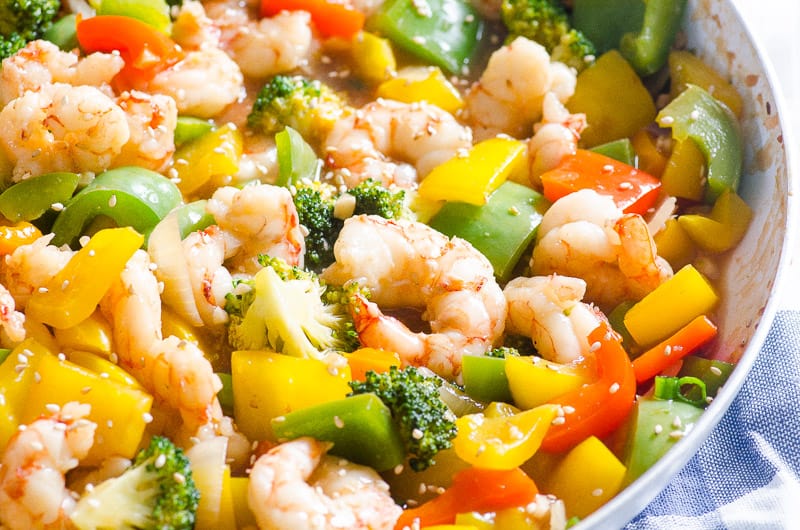 Perfect for a beach day or picnic, this Healthy Shrimp Salad is made with Greek yogurt and just a touch of may for authentic taste. Eat as is or serve it open faced sandwich style on whole grain toast with crisp romaine!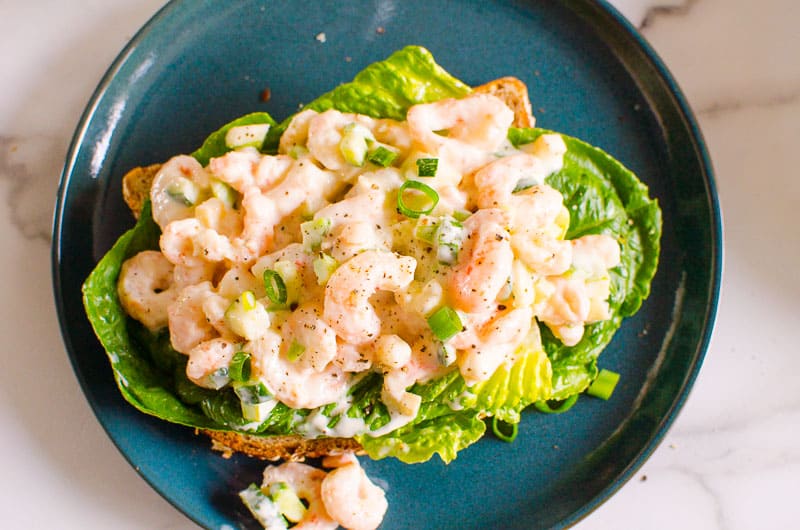 Simple colorful ingredients are at the heart of this Shrimp Avocado Salad! Serve this salad for an Easter or Mother's Day brunch or pack it up for a summer BBQ, it's versatile, light and refreshing.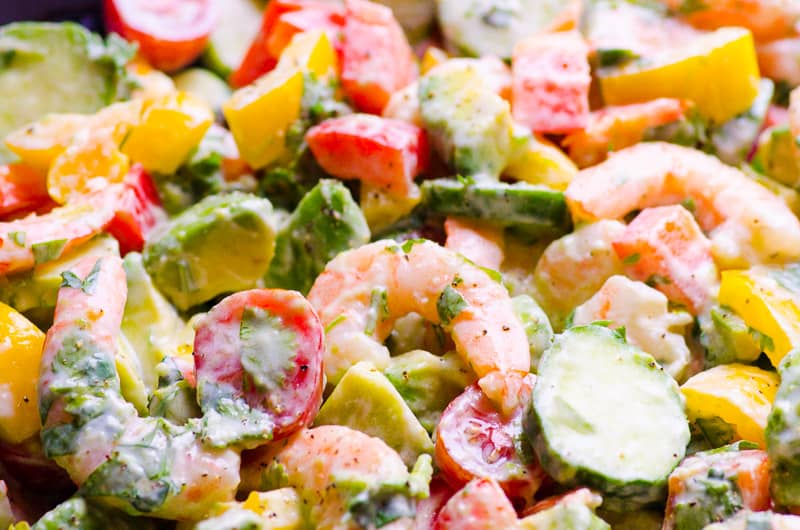 A simple stir fry perfect to welcome spring (or enjoy year round!). Shrimp and Zucchini is ready in 15 minutes and perfect for an easy nutritious dinner with lemon, dill and peas. Serve over quinoa for a hearty meal!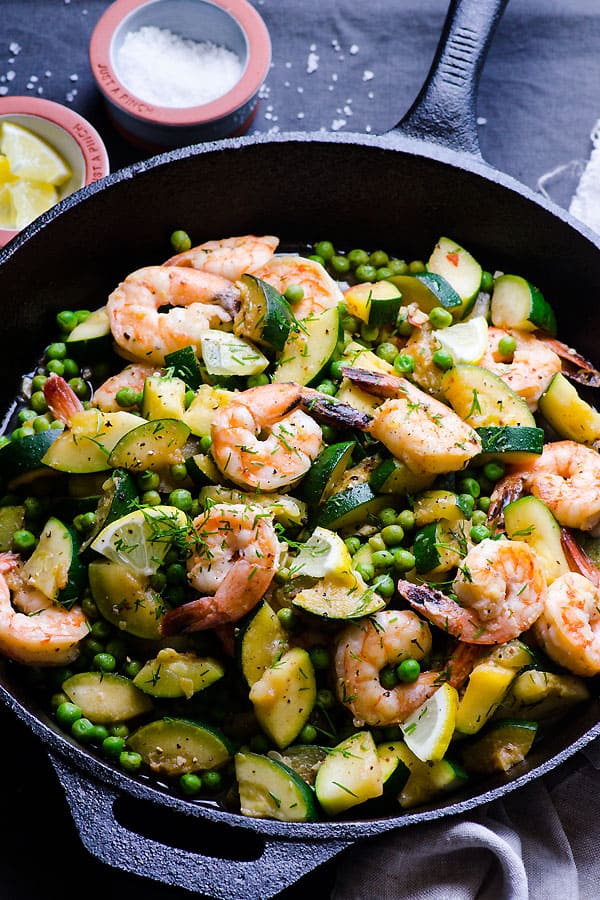 More Healthy Seafood Recipes to Try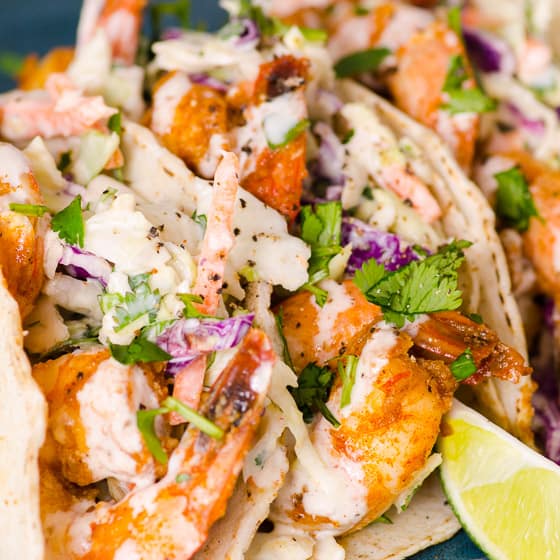 13 Healthy Shrimp Recipes: Shrimp Tacos
Healthy Shrimp Recipes including these favorite shrimp tacos that are spicy, creamy and healthy! Ready in only 15 minutes and topped with an easy cilantro lime slaw, this shrimp dinner recipe can be made year round on the grill or in the skillet.
Instructions
In a medium bowl, add shrimp, 1 tbsp taco seasoning, garlic powder and pepper. Stir and set aside.

In a small bowl, add yogurt, mayo, lime juice, taco seasoning, cayenne and black pepper. Stir and set aside.

Preheat large ceramic non-stick skillet on high heat and add shrimp. Cook until pink on the bottom, flip and cook until no longer gray. For more char, flip once and press on shrimp with spatula. Or you can grill shrimp on a silicone grill mat on high heat.

In a large bowl, add slaw, cilantro, salt and almost all of the sauce, reserving some for drizzling on tacos. Stir gently.

To assemble tacos, warm tortillas in a cast iron skillet on high heat for 10 seconds per side and pressing on with spatula.

Fill each tortilla with 3-4 shrimps, some slaw and drizzle with sauce. Serve immediately, maybe with easy guacamole too. 🙂
Notes
Store: Refrigerate leftover cooked shrimp and slaw covered for up to 24 hours. 
Shrimp: Make sure shrimp is very well drained and dry. 
Yogurt: I do not recommend to use 0% yogurt because slaw will lack flavour. 
Serve in 2 tortillas (double layer) if using small corn tortillas. They are delicate and tend to fall apart if fresh. 
Serve with your favorite salsa and guac. Make mango salsa, pineapple jalapeno salsa, or easy guacamole instead of serving shrimp tacos with slaw. 
To make low carb: Make lettuce wraps or serve over cauliflower rice.
Taco bar: Set up a serving line with all your favorite taco toppings and let family or guests choose how to build their taco. 
Nutrition
Serving:
1
taco
|
Calories:
171
kcal
|
Carbohydrates:
16
g
|
Protein:
13
g
|
Fat:
7
g
|
Saturated Fat:
1
g
|
Cholesterol:
131
mg
|
Sodium:
546
mg
|
Fiber:
3
g
|
Sugar:
3
g