This Instant Pot Shrimp Boil is a one pot meal, ready in under 1 hour! It's a classic Southern favorite that everyone enjoys now made easier as an Instant Pot summer recipe with juicy sweet corn, plump shrimp, tender potatoes, spices and herbs, and simmered in a beer broth.
I love eating seasonally and shrimp is definitely a summertime staple. I usually pick up a big package and keep it frozen for other summer healthy shrimp recipes like shrimp avocado salad, grilled shrimp skewers, and 15 minute shrimp taco recipe.
Instant Pot Shrimp Boil
When we talk about easy one-pot meals, like Instant Pot goulash or chili mac, for example, we want it to serve a crowd, be budget-friendly, and have mouth-watering flavours that are comforting, filling, and satisfying, there's no doubt we're also talking about this Instant Pot shrimp boil because it checks all the boxes. Plus, it's crazy good.
This shrimp boil recipe is made with plump juicy shrimp, tender potatoes, sweet crisp corn, and delicious smoked sausage. It's cooked in a broth of beer and seasoned with old bay and hot sauce. Once it is cooked and drained it is then drizzled with garlic and herb melted butter before serving.
The potatoes and corn absorb the flavours of the seasoning and the broth, and the shrimp is cooked to perfection. With pressure cooker shrimp boil there is no waiting for anything to boil or needing to poke the potatoes to check if they're done, and best of all there's no worrying if your shrimp are going to turn out rubbery and overcooked.
The Instant Pot makes all of this effortless. We also have been loving these shrimp tostadas made easily in the air fryer!
This is a recipe you want to keep in your back pocket for sure, but it's so simple, you'll have it memorized in no time. It's a fun one to put together throughout the summer, when you're at the cottage by the lake, out camping, having a backyard BBQ, or really anytime you want a quick and easy meal during the week.
If there's ever a way to make things a little easier to spend more time enjoying the summer, you bet I'm going to find it!
Why This Recipe for Instant Pot Shrimp Works?
One-pot meals always make for easy prep and easy clean-up.
Packed with flavour both naturally occurring in all of the components but also all of the added seasoning.
Easy-to-follow recipe using simple ingredients readily available at any grocery store.
Comes together quickly in under an hour, with very little hands-on effort.
Easily feeds a crowd which is great for larger families and hosting gatherings.
Ingredients for Seafood Boil in Instant Pot
This recipe is a traditional Southern meal so the ingredients used are meant to keep it authentic while still keeping it as clean and healthy as possible!
Potatoes – I used baby potatoes. They are a perfect size and I didn't have to do anything to them except wash them and toss them in.
Sausage – Smoked kielbasa or andouille sausage, thinly sliced. Andouille is a bit spicier and commonly found in jambalaya. Both work great, it's just about your taste preferences.
Onion – Can use yellow or white onion. Chopped.
Old Bay – I popular seasoning blend that's a bit smoky, spicy, salty, and very flavourful. It's great on all kinds of seafood.
Hot sauce – Your favourite kind is all that's required! Tobasco, Franks, it's up to you. It'll add spice but also give it an intense taste as well.
Corn – I use 3 ears of corn, broken in half, but you can probably use a bit more as long as it fits in the pot with room around it to cook everything evenly.
Beer – A pilsner or lager works best. If you can get your hands on organic beer, that's always a good choice!
Shrimp – Use either fresh or thawed from frozen as long as they are medium-large and still have their shells. Anything smaller than that will get lost.
Butter – I used salted for added saltiness and flavour, but you can use unsalted if you'd like.
Garlic – Grated for flavor in the melted butter. Anytime garlic and butter are combined it's amazing. Especially on seafood and potatoes!
Parsley – A finishing garnish for a fresh herbed flavour. It adds a pop of green to everything which also looks great.
Lemon – Cut in wedges and used as a final squirt for added citrus and to round out the shrimp boil before serving.
How to Make This Shrimp Boil Recipe
So simple. Just follow these steps for a perfectly cooked family-friendly pressure cooker shrimp boil in under 1 hour!
Add potatoes, sausage, and onion to the Instant Pot. Sprinkle with Old Bay seasoning and drizzle with hot sauce.
Lay the corn on top and pour in the beer.
Close the lid, set the valve to Sealing and Pressure Cook on High or Manual for 5 minutes.
Quick-release once the timer goes off by turning the valve to Venting. Open the lid.
Add the shrimp, close the lid, and Pressure Cook on High or Manual for 0 minutes (yes, you read that right). The time it takes to come to pressure will be enough to cook the shrimp. It will take time to come to pressure, so at 7 minutes in, hit cancel to avoid overcooked shrimp. Quick-release and open lid.
Give the shrimp boil a stir and transfer to a baking sheet. Sprinkle with parsley and more Old Bay, if desired.
Melt the butter in a small bowl and stir in garlic. Drizzle over the entire baking sheet and serve immediately along with lemon wedges.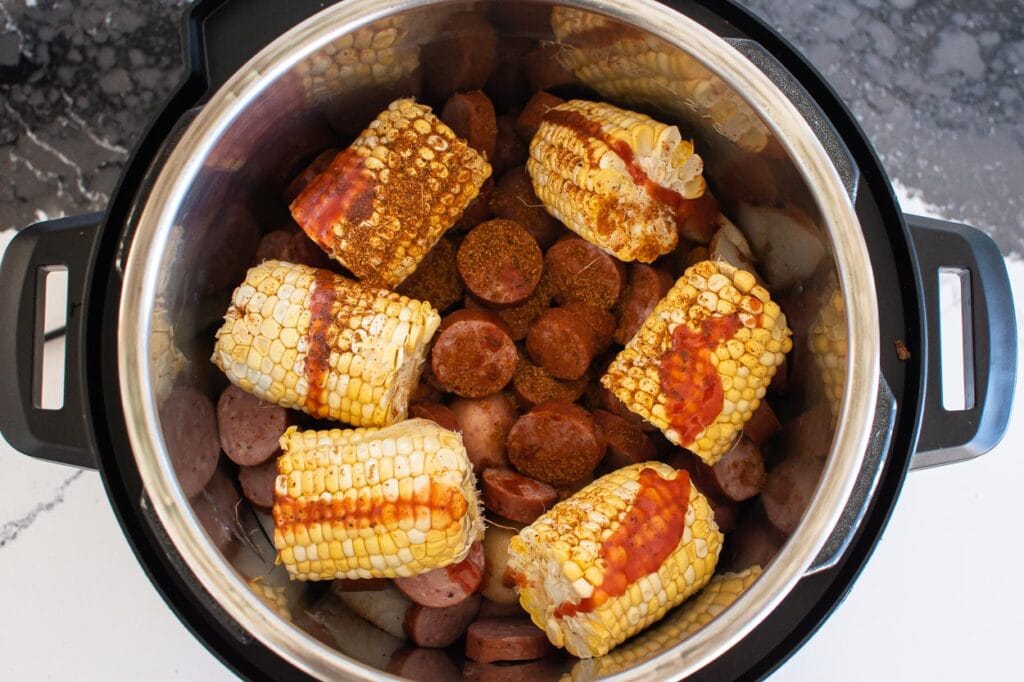 Tips for Delicious Results
Shrimp cooks during the pressure build-up so canceling before that will help avoid rubbery overcooked shrimp, which can happen easily with shellfish.
Extra corn is totally fine if you want to add more. If it ends up past the 2/3 max line it should be fine because it's not liquid.
The alcohol cooks off just a little when using the Instant Pot because there is nowhere for the evaporation to go. Some of it does stay sealed in the pressure cooker, so it's up to you as to whether or not you want to serve it to your kids. It's probably safe for kids to eat, but just keep that in mind.
Use fresh sustainably caught wild shrimp whenever possible. It will have a better taste and possibly texture than farmed.
To add more heat add Old Bay seasoning to the melted garlic butter. Yum!
Add-ins and Variations
Listed below are a few ways to switch up this Instant Pot seafood boil a bit.
Toss in a few red pepper flakes for added heat.
Non-meat eaters can totally omit the sausage and add more shrimp, potatoes, or corn instead.
Use homemade chicken broth or vegetable broth in place of beer for pressure cooker shrimp boil without alcohol.
For a Cajun flare, swap the Old Bay for Cajun seasoning.
Add in other seafood along with it. Crabs, lobster tails, clams, mussels, are all great choices.
If seafood isn't your jam, try adding pieces of chicken breast instead.
FAQs
What other seafood can I boil in Instant Pot?

Lobster, crab, prawns, mussels, and clams are all great for boiling in an Instant Pot. You can also use salmon, tuna, all kinds of white fish, you name it.
What size of shrimp works best?

You want to make sure to use nothing smaller than medium. Preferably, on the larger side, and jumbo is also great. The smaller they are, the faster they'll overcook and get lost in the shuffle. Corn and potatoes are pretty chunky so you want shrimp big enough to hold their own.
Does the alcohol from the beer cook-off?

When using the Instant Pot, the beer does not cook off like it does when boiling or simmering. The liquid is trapped in the steam, so it's really has nowhere to go. There is a bit of evaporation but not enough to say it's completely cooked off. Depending on how much you use, will determine how safe it is for kids to eat. This recipe uses only 1 1/2 cups of beer for the entire recipe which is mostly meant for flavour, so it should be fine for all to consume. Of course, use your judgment.
Will unshelled shrimp work in pressure cooker shrimp boil?

It will. Peeled shrimp is obviously easier to eat and one thing you don't have to worry about when serving. It does, however, add to the flavour and helps keep the shrimp juicy, so there is a method to the madness of keeping the shell on for this shrimp boil recipe.
Can I use sweet potatoes instead of baby potatoes?

You can definitely give that a try, sweet potato Instant Pot seafood boil sounds incredible. They obviously have a different flavour and are sweeter, but it will probably be a very nice contrast to the spice and the salt. Give it a go and let me know what you think.
Should I use my trivet for this shrimp boil in the Instant Pot?

Nah. No need. The trivet is used to elevate the food out of the liquid when for steam and not a direct boil. In the case of pressure cooker shrimp boil, we want the flavour of the beer to infuse the corn, potatoes, sausage and shrimp directly, so there's no need to elevate anything, it won't burn.
Is shrimp healthy?

By nature, shrimp is a bottom feeder which means they easily pick up contaminants and other unpleasantries that find their way into our waters. They are also high in cholesterol. However, with that being said, they also come with a boatload (see what I did there?) of nutritional benefits. They are high in protein, B12, zinc, and niacin, among others. As with anything moderation is key, and it is definitely a healthy choice once in a while. It's also relative to the rest of your food consumption, so making the decision to eat something is always a personal choice!
Serving Recommendations
Serve this shrimp boil recipe all on its own or with some tasty sides as listed below!
Making Instant Pot Low Country Boil in Advance
Make Ahead: If you're not quite ready to serve yet, keep it on the warm setting in the Instant Pot until you're ready to drizzle with garlic butter and serve. You can also lay it out on the tray and keep it warm in the oven. Keep in mind these are only short temporary methods as you don't want to overcook the shrimp or dry anything out.
Store: Store in an airtight container for up to 3 days and enjoy leftovers for lunch or dinner. Or both!
More Shrimp Recipes to Try
More Instant Pot Recipes to Try
Also, browse through our favorite summer Instant Pot recipes.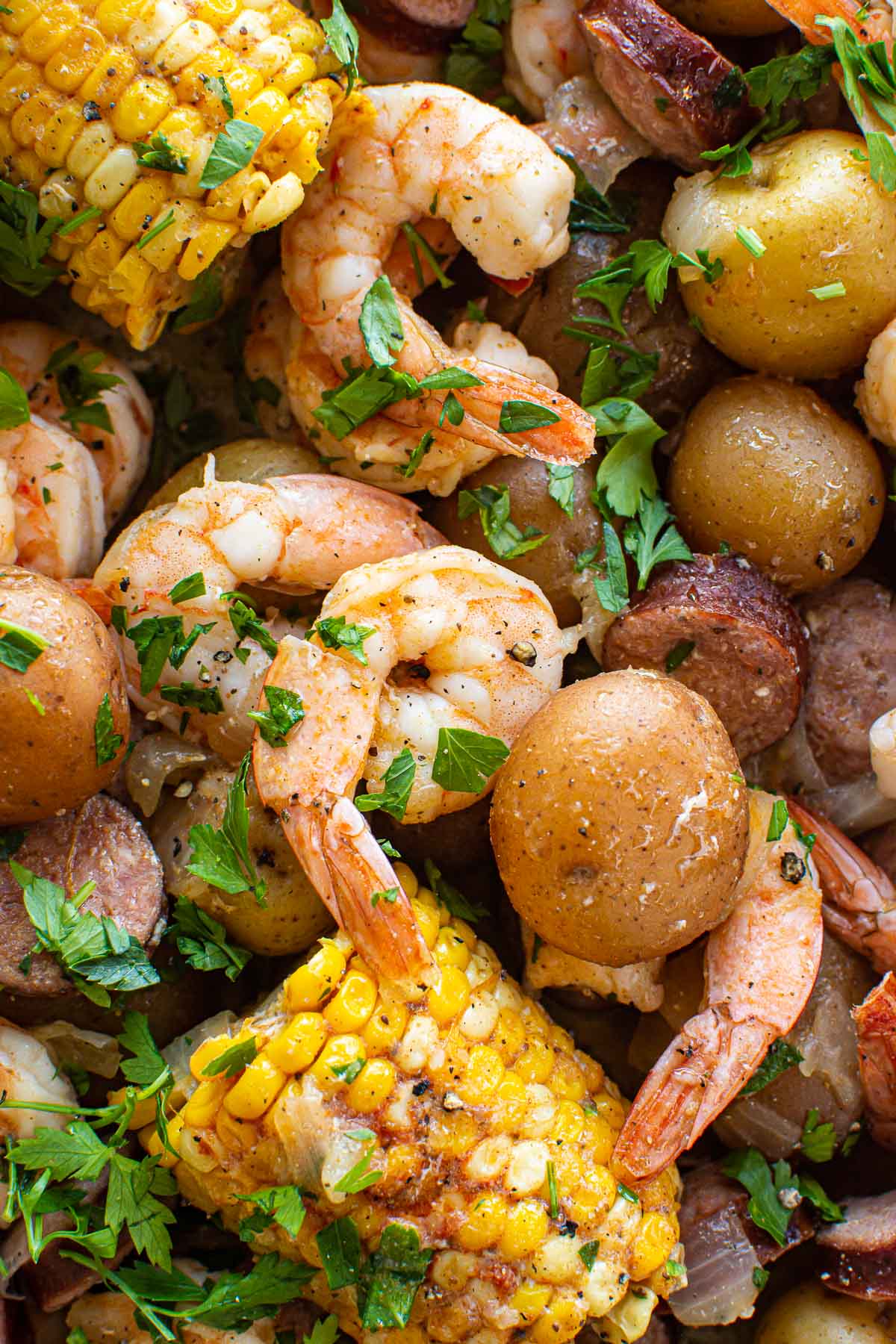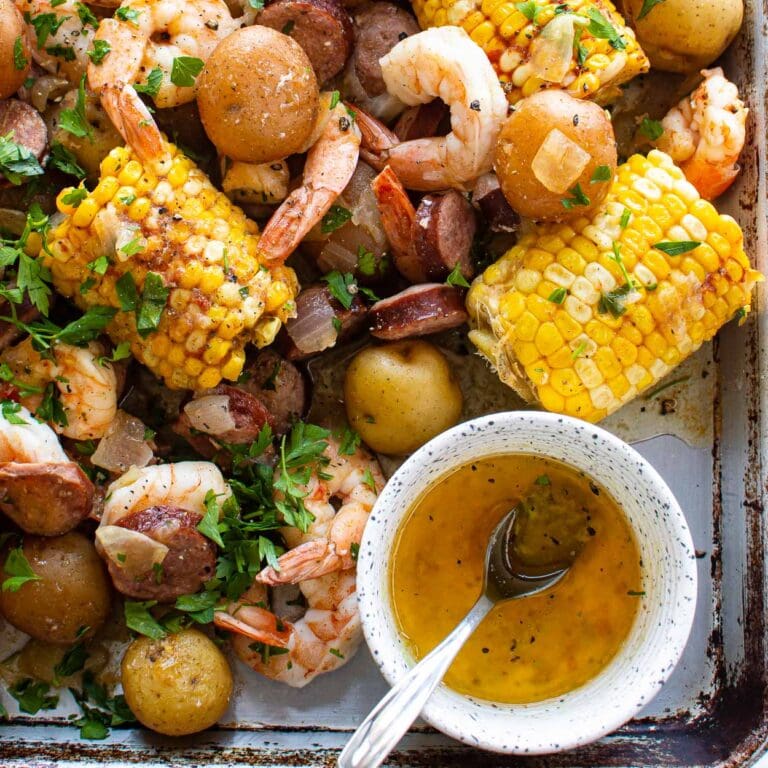 Instant Pot Shrimp Boil
This Instant Pot Shrimp Boil is a one-pot meal, ready in under 1 hour and is a classic Southern favorite that everyone enjoys! It's made with juicy sweet corn, plump shrimp, tender potatoes, seasoned with spices and herbs, and simmered in a beer broth. This shrimp boil recipe is spicy, salty, savory, and amazing. A complete down-home country-style meal that is full of incredible flavour perfect for serving a hungry crowd.
Ingredients
2

lbs

baby potatoes

1

lb

smoked kielbasa or andouille sausage

thinly sliced

1

yellow or white onion

chopped

1

tbsp

Old Bay seasoning

1

tbsp

hot sauce

3

ears corn

halved

12

oz

pilsner or lager beer

1 1/2

lbs

medium-large raw shrimp

shell on, thawed or fresh

3

tbsp

butter

I used salted

1

clove

garlic

grated

2

tbsp

parsley

finely chopped

1

lemon

cut into wedges
Instructions
In Instant Pot, add potatoes, sausage and onion. Sprinkle with Old Bay seasoning and drizzle with hot sauce. Then lay corn on top.

Close the lid, set valve to Sealing and press Pressure Cook on High or Manual for 5 minutes. After, release pressure right away by turning valve to Venting – Quick Release.

Open the lid and add shrimp.

Close the lid, set valve to Sealing and press Pressure Cook on High or Manual for 0 minutes. Instant Pot will take about 10 minutes to come to pressure again but you want to hit Cancel at about 7 minute mark to avoid overcooked shrimp.

In a small bowl, melt butter and stir in garlic. Gently stir shrimp boil inside Instant Pot, transfer on a baking sheet, sprinkle with parsley and more Old Bay seasoning, if desired.

Serve immediately drizzled with garlic butter and a lemon wedge.
Notes
Store: Refrigerate leftovers in an airtight container for up to 3 days. I do not recommend to freeze.
Shrimps will get cooked during pressure build up, that's why you want to cancel cooking mode before that happens. Shellfish cooks fast and if you overcook it, it becomes rubbery.
Extra corn: You can add more corn if you wish. 4-5 ears would be great. Just make sure there is enough room left for pressure to build up. Even if corn is sticking up a bit higher that 2/3 max line, more likely it is fine because corn isn't liquid and there is room in between it.
Add more heat: If you like things spicy, use 1 1/2 -2 tbsp Old Bay seasoning. You can also add a bit extra to the melted butter.
Alcohol: Alcohol in beer cooks off, so it is safe for kids to eat.
Nutrition
Calories:
601
kcal
|
Carbohydrates:
41
g
|
Protein:
39
g
|
Fat:
30
g
|
Saturated Fat:
12
g
|
Trans Fat:
1
g
|
Cholesterol:
354
mg
|
Sodium:
756
mg
|
Fiber:
5
g
|
Sugar:
5
g