Creamy Cucumber Salad is fresh, crunchy and creamy with cucumbers, dill, yogurt or sour cream. A 10 minute salad recipe that is perfect for any potluck, BBQ or backyard gathering.
We also love this Thai cucumber salad and healthy cucumber salad.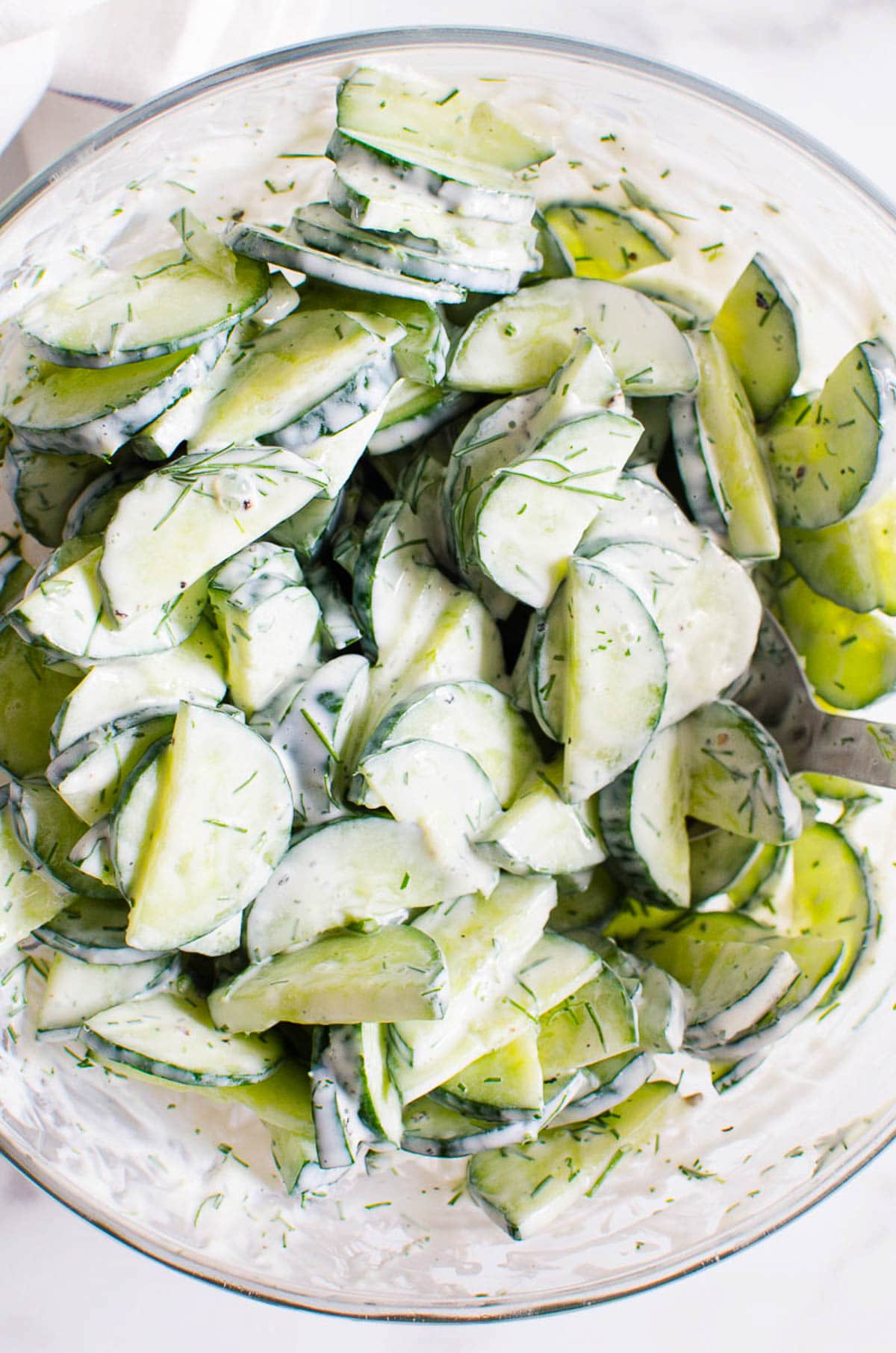 Creamy cucumber salad screams summer due to its light taste and the fact that cucumbers are at their seasonal peak. I grew up eating this salad in Ukraine during July-August.
In North America, we are lucky to make cucumber salad year round, although I do encourage you to try it at least once with some fresh garden cucumbers. So good!
Why You'll Love This Recipe
Simple ingredients: This easy cucumber salad uses only 5 ingredients.
Quick: It takes only 10 minutes from start to finish to make this salad. There is no peeling or deseeding of the cucumber required.
Versatile: Use what you have on hand. We go over many variations below.
Affordable: Cucumber is a budget-friendly vegetable year round.
Goes with anything: Serve this light and refreshing salad alongside any grilled protein like chicken burger recipe, yogurt marinated chicken or even carne asada steak!
Ingredients for Creamy Cucumber Salad
To make this creamy cucumber salad recipe, you will need only 5 simple ingredients, including salt and pepper.
Cucumbers: The best part about this salad is that it tastes very good with available year-round and affordable long English cucumber. Its skin is soft enough to avoid peeling. Mini cucumbers or Persian cucumbers are also great! In summertime, try pickling cucumber or dill cucumbers.
Greek yogurt: 2% and higher fat content would be comparable to the creaminess of sour cream but healthier.
Dill: Fresh dill is the best accompaniment for cucumbers. Please do not use dried dill weed. Swap out the fresh dill for fresh herbs that you have on hand like fresh parsley, chives or green onion.
Salt and pepper: For seasoning.
How to Make Creamy Cucumber Salad
Here is a quick overview how to make creamy cucumber salad in just one bowl. Full recipe card is located below.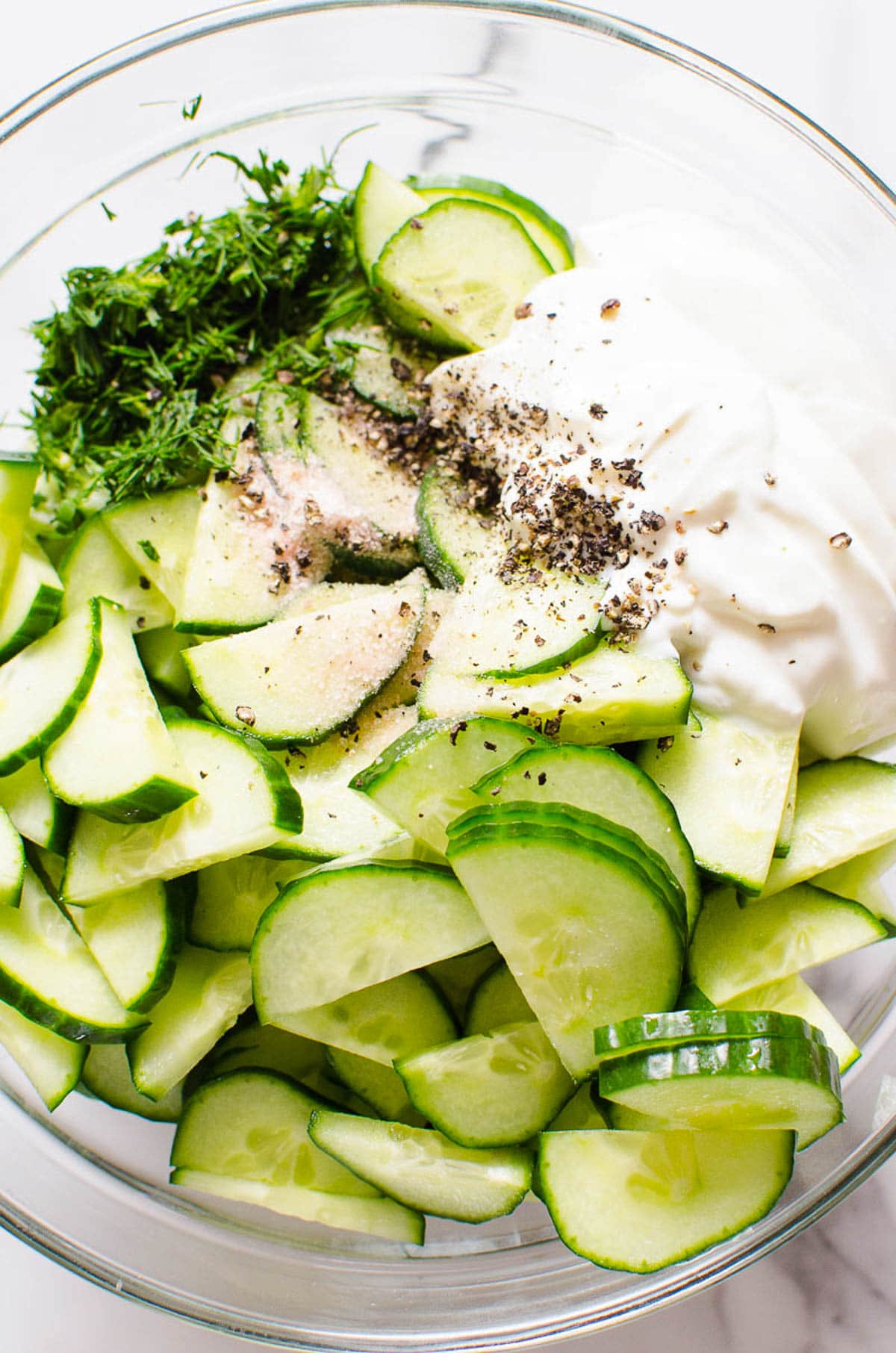 Slice cucumbers thinly into half-moon shapes using sharp knife.
Add chopped dill, yogurt, salt and pepper.
Mix salad well with a wooden spoon. It might appear too dry like not enough yogurt at the beginning, but just keep mixing.
Refrigerate cucumber salad for 10 minutes for best results.
Tips for Best Results
It tastes best fresh: Serve salad right after initial 10 minutes of chilling in the refrigerator. I recommend to enjoy it within 2-3 hours.
Not planning to eat salad right away? Store ingredients separately, combine 10 minutes before serving and let salad chill in the fridge.
Deseed cucumber: If you are worried your cucumber salad will be watery or if you are using field cucumbers with large seeds, deseed the cucumbers before slicing.
Less watery salad tip: Scraping out the seeds of any cucumbers, even long English cucumber, will prevent the salad from getting watery.
Freshen up leftovers: If it has been a day or two, refresh the salad by adding fresh chopped cucumbers or onion and now it has crunch again.
Variations
Use sour cream or mayo: Classic cucumber salad is made with sour cream or even addition of mayonnaise. Use that instead, if you wish. Add 1-2 tablespoons of mayo for additional tang.
Add onion: Add up to 1/4 cup of thinly sliced red onion or white onion.
Other vegetables: Replace half of cucumber with sliced tomatoes like in creamy cucumber tomato salad or radishes for extra crunch.
Add acid or sugar: Add a splash of vinegar, or fresh lemon juice and sugar for more traditional cucumber salad recipe.
Add garlic or garlic powder: Add 1 teaspoon of garlic powder or grate small clove of garlic for a savory taste.
For ranch flavor: Replace the sour cream or yogurt with my healthy ranch dressing or cottage cheese ranch dip.
What Can I Serve Creamy Cucumber Salad with?
Creamy cucumber salad recipe is quick and refreshing side dish for hot summer night dinner, poolside BBQ or unexpected company as it takes only minutes to make!
Since it's light and "cool", you want to serve it with something more bold in flavor. Which is like many dishes and here are my top recommendations: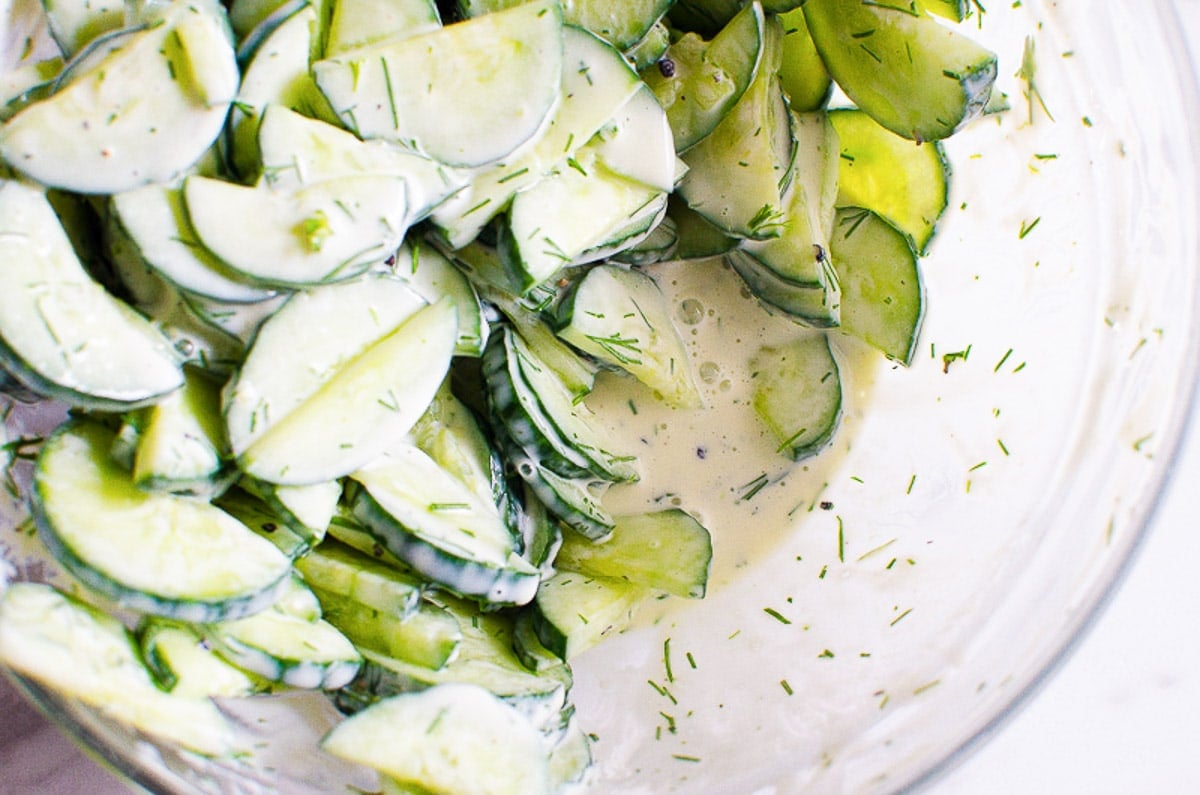 How Long Does It Last?
It is best to consume creamy cucumber salad within 2-3 hours. Cucumbers consist of 99% water, so as soon as you add salt they start to "leak". Photo above shows well how dressing becomes more and more runny and cucumbers lose their crunch within minutes.
Cucumber salad will last in the fridge for 24-48 hours. You can drain the excess liquid or mix it up. You can also add more yogurt or sour cream to freshen up the salad.
FAQs
Can I make it ahead of time?
Yes. I recommend to refrigerate chopped cucumbers and fresh dill in a bowl covered with plastic wrap for up to 24 hours. Then add salt, pepper and yogurt 10 minutes before serving.
What are the best cucumbers for a cucumber salad?
For cucumber salad, I love to use English cucumber as it has thin skin and does not need peeling or de-seeding. Many different varieties can be used though.

In summer, I use pickling cucumbers for all my salads! I recommend using the cucumber your family likes best! See below on which cucumbers need to be peeled.
Do I need to peel cucumbers for this salad?
If using long English cucumber, there is no need to peel it. Persian cucumbers are similar and also do not need to be peeled.

Garden cucumbers might need to be peeled. Often grocery store's field cucumbers are waxed which might have an unpleasant taste. If you buy fresh garden cucumbers at your local farmers market, it may or may not need to be peeled, depending on the thickness of its skin. Dill cucumbers (or pickling cucumbers) can also be used unpeeled in this recipe.
How do you keep cucumber salad from getting soggy?
You can salt your cucumbers to remove excess moisture prior to adding to salad. Sprinkle cucumber slices with salt and let them sit in a colander over a bowl for 1 hour. You will see cucumbers have released a lot of water. Now rinse cucumber slices with cold water and spread on a linen towel or paper towel to pat dry. Proceed with the cucumber salad recipe.
How do you cut cucumbers for this salad?
I recommend to cut cucumber into half moon shapes. Cut the cucumber in half lengthwise and then slice into thin rounds. You could also just cut it into rounds or even dice the cucumber.
More Cucumber Salad Recipes to Try
You might also enjoy browsing through this list of over 50 healthy salad recipes!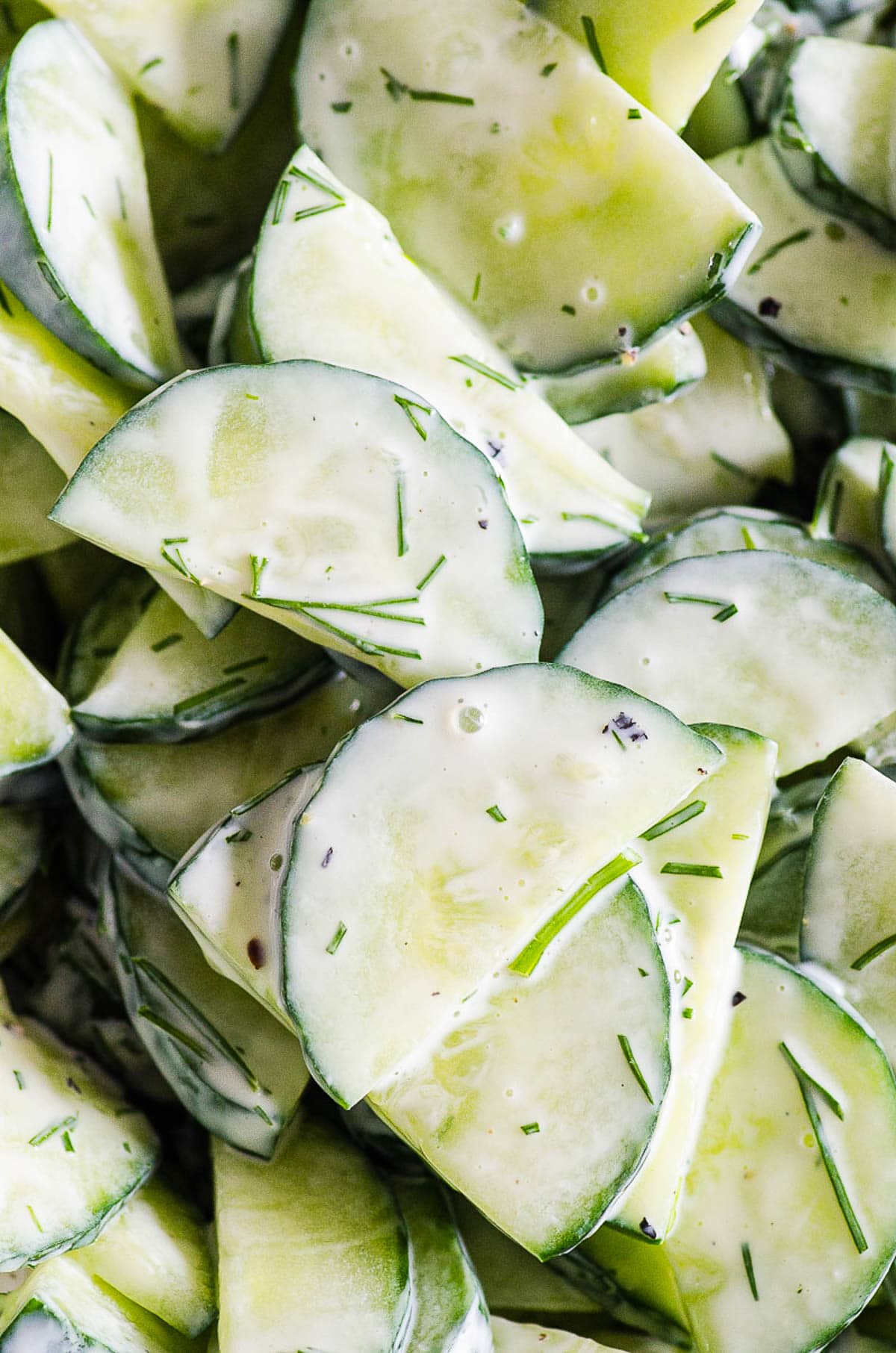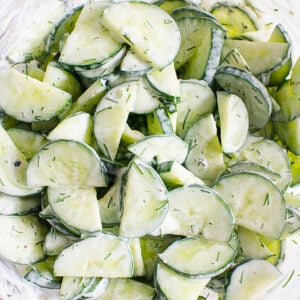 Creamy Cucumber Salad
Creamy Cucumber Salad recipe is fresh, crunchy and creamy with cucumbers, dill, yogurt or sour cream. Easy 10 minute summer side dish!
Instructions
In a large bowl, combine cucumber, dill, yogurt, salt and pepper.

Stir gently with a wooden spoon until well combined.

Let the salad chill for 10 minutes in the fridge.

Serve immediately within 2-3 hours.
Notes
Make ahead: Keep chopped ingredients (without salt) covered in the refrigerator for up to 24 hours. Add yogurt and salt, then stir before serving.
Nutrition
Serving:
0.5
cup
|
Calories:
21
kcal
|
Carbohydrates:
2
g
|
Protein:
2
g
|
Fat:
1
g
|
Saturated Fat:
1
g
|
Cholesterol:
1
mg
|
Sodium:
154
mg
|
Fiber:
1
g
|
Sugar:
2
g