Enjoy these 6 ingredient Peanut Butter Protein Balls as part of your nutrient-dense, high-protein healthy snacks also perfect for breakfast, lunch boxes, or pre-or post-workout. Plus, enjoy a vegan or whey-based version below!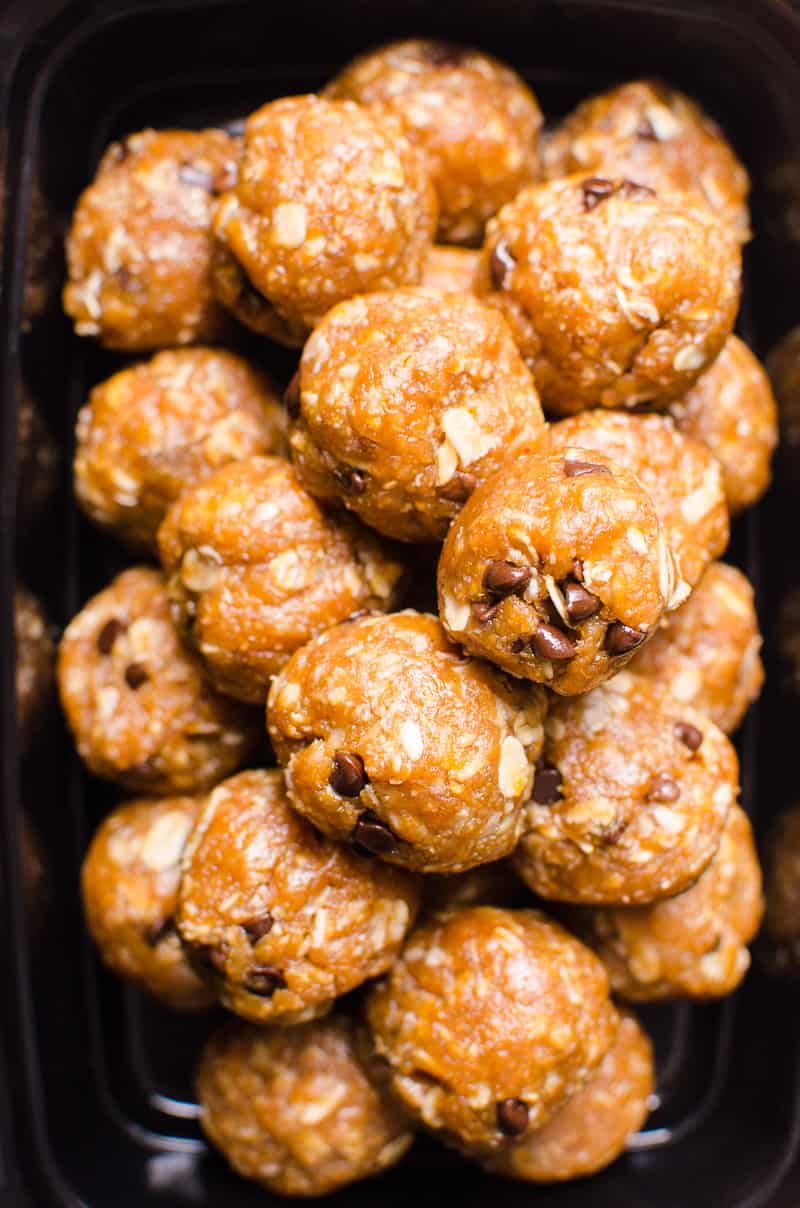 Low Effort, High Protein Peanut Butter Protein Balls
It's no secret that I'm a massive fan of high-protein snacks. I've shared recipes for no bake protein balls and Almond Joy protein balls, and now some delicious peanut butter protein balls (sometimes dubbed peanut butter energy balls, energy bites, oatmeal balls, or even power balls).
I've tested these peanut butter oat balls on my kids multiple times as I was experimenting with different ingredients and protein powders. And they're kid-approved every single time, just like my no bake peanut butter pie and peanut butter cookies. However, for completely protein free peanut butter snack, check out these no bake peanut butter bars.
The balls taste great (like decadent chocolate balls), are packed with nutrition, and come in handy portion-controlled bites. Not only are they great for a snack, but they can also be eaten for healthy breakfast ideas with some fruit or popped into the kid's lunch boxes to keep them going until their next meal. They're also the perfect 'travel' snack for road trips, ferries, and long plane journeys.
Goodness you can even include these in your healthy cookies for Christmas baking routine!
Plus, these peanut butter oatmeal balls are naturally whole-grain, gluten-free, and can be made with whey or plant-based protein powder. In fact, the entire recipe uses just 6 ingredients – most of which are pantry staples. Only protein cookies use less ingredients. Best of all, there's no food processor or blender required, with only a few minutes of hands-on prep time!
The Peanut Butter Energy Balls Ingredients
These ingredients are simple and similar to peanut butter protein pancakes and homemade protein bars.
Peanut Butter: Avoid peanut butter with tons of added sugars. Instead, choose an all-natural peanut butter with a runny consistency, if possible. If it's thicker, then you can heat it up first (like I did).
Sweetener: Honey (non-vegan), brown rice syrup, or date syrup will work. Maple syrup will also work but isn't as 'sticky,' so the protein balls may be a little more fragile.
Flaxseed: Or chia seeds (only in whey version, which is wetter). These add extra protein, fiber, and healthy Omega fatty acids.
Oats: Use quick or rolled oats, using certified gluten-free, if needed. Will add fiber and texture to the peanut butter oatmeal balls.
Protein powder: I use unflavored whey or vanilla plant-based (or vanilla/chocolate). Just note that the type of protein you use will affect how dry/chalky the peanut butter protein balls' consistency is.
Salt: Just a pinch, optional.
Chocolate chips: Make these protein bites taste like cookie dough! You can use semi-sweet, dark, or even sugar-free chocolate chips. Cacao nibs would also work.
How to Make Healthy Peanut Butter Protein Balls
For the full ingredient quantities and recipe, there is a full recipe card below.
Melt the peanut butter: First, melt the peanut butter and honey (if you're using it) on the stovetop or in the microwave (in 15-second intervals until it becomes a sauce-like consistency). If your peanut butter is already runny, you can skip this step!
Combine the ingredients: In a medium bowl, add all the ingredients apart from the chocolate chips (if you did step 1) and mix well to combine. Then refrigerate for 20 minutes to thicken the mixture.
Add the chocolate chips: Mix the chocolate chips into the peanut butter protein mixture (this can sometimes be easier by hand), and then it's time to shape the balls. First, scoop a small amount of the mixture out to test rolling. If it's too dry, you can add a little liquid (check FAQs below for more guidance); if it's too wet, then you can add some extra oats.
Roll the peanut butter protein balls: Using a small ice-cream scoop (or tablespoon measuring spoon), pack it tightly with the mixture, and then roll that into a ball. Repeat this step with the remaining mixture until all the peanut butter protein balls are ready.
With the plant-based version, I just release the scoop without rolling as it tends to work better (and looks good, too!). If you don't have a scoop, you can use a tablespoon and try to use the same amount each time.
Recipe Variations
There are several ways to easily customize these peanut butter oat balls, including add-ins or toppings. Here are a few simple ideas.
Add-ins:
Flavored protein powder: Using different flavored protein powder is one of the easiest ways to adapt this recipe; vanilla, chocolate, coffee, and cookie dough will all work well.
Dried fruit: You can omit the chocolate chips in place of dried fruit; cranberries, blueberries, raisins, etc.
Vanilla extract: A little vanilla extract goes a long way towards upping these peanut butter energy balls' dessert flavor.
Spices: like cinnamon or pumpkin spice will easily adapt these. Add a dash and increase until your preferred level.
Shredded coconut: Will add flavor and texture. You can omit some of the oats in place of shredded coconut.
Toppings:
Using toppings is a great way to easily flavor an entire batch of peanut butter energy balls in different ways. All you need to do is roll (or press) the toppings over the prepared energy bites.
Shredded coconut, freeze-dried fruit pieces or powder, cacao nibs, etc., will all work. Crushed, flaked, or slithered nuts will also work.
How to Store
Storing: The peanut butter oatmeal balls can be stored in an airtight container in the refrigerator for 1 week.
Can I Freeze the Peanut Butter Protein Balls?
Yes, of course. Freeze the balls in a single layer on a baking sheet, then transfer to a freezer-safe bag/container for 3 months. Allow it to sit at room temperature for 15-25 minutes until soft enough to enjoy.
Alternatively, place it in the microwave for 15-30 seconds until just softened (do this on a plate in case you overheat it and it becomes melty. Then you can still enjoy it with a spoon – oops!)
What Can I Use Instead of Peanut Butter?
These peanut butter protein balls obviously won't taste the same without the peanut butter. However, it doesn't mean that you can't experiment.
I would suggest using almond butter or hazelnut butter, which are packed with healthy fats, antioxidants, and protein.
Though hard to find, pistachio butter is also packed with protein (more than hazelnut!).
Cashew butter will also work within the recipe though it doesn't contain as much protein.
For a nut-free version, you can use sunflower seed butter.
Why Are My Protein Balls Chalky/ Not Sticking Together?
This is usually down to the protein powder you've used. Every brand can react differently, and using plant-based (drier) vs. whey protein will also have an effect.
In fact, with the whey protein, my kids can hardly tell it was there. But with the plant-based protein, it's a little 'grittier.'
You can add a little extra liquid (water, milk, coconut whipped cream, or sweetener) to balls to help combat this. I suggest adding a teaspoon of liquid at a time, mixing well in-between until the 'dough' can be rolled. Alternatively, a little coconut oil will help to keep the peanut butter oatmeal balls moist too.
Are Protein Balls Healthy?
Like any high-protein snack, these peanut butter protein balls are definitely healthy – when consumed in moderation. They are packed with protein, healthy fats, and various nutrients and vitamins to keep you going for hours.
For these peanut butter protein balls, I suggest eating 1-2 per sitting!
More Tips and FAQs
For those wanting exact nutrient calculations: I suggest plugging this recipe into a nutrient calculator yourself as the peanut butter, sweetener, and chocolate used can all affect the values.
To turn this into protein bars: You can press the mixture into a paper-lined loaf tin. Alternatively, if you double the recipe, then it should fit an 8×8 or 9×9-inch tin.
To use a food processor: This recipe 100% doesn't need to use anything other than a bowl and spoon. But you could also pulse everything in a food processor for even quicker results.
For vegan peanut butter protein balls: Just make sure to use a vegan protein, sweetener, and chocolate; it's that simple!
More Protein Packed Recipes
You may also like my collection of healthy snacks!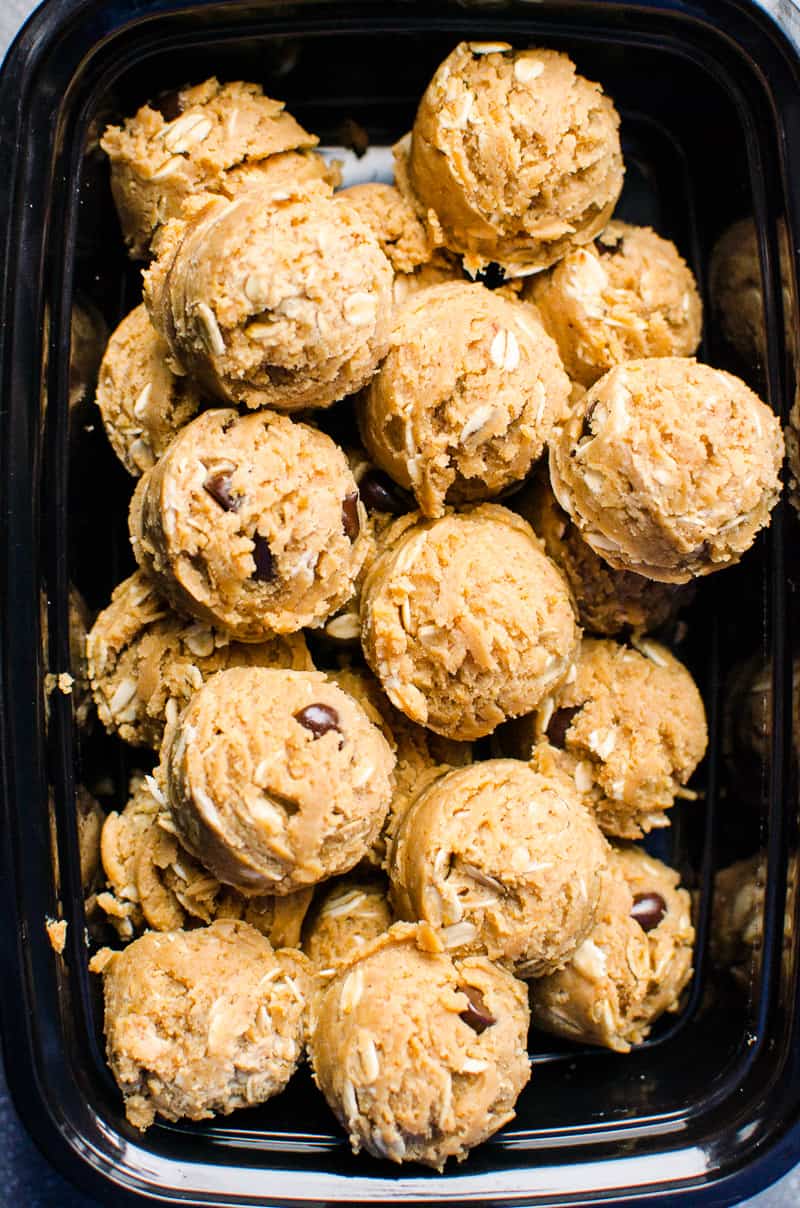 Peanut Butter Protein Balls
Enjoy these 6 ingredient Peanut Butter Protein Balls as a healthy, nutrient-dense, high-protein snack perfect for breakfast, lunch boxes, or a pre-or post-workout snack. Plus, enjoy a vegan or whey-based version!
Ingredients
Whey Peanut Butter Protein Balls
Plant-Based Peanut Butter Protein Balls
Instructions
In a medium mixing bowl, add peanut butter, honey (if using), water, flaxseed (if using), oats, protein powder and salt. Stir well and refrigerate for 20 minutes.

Add chocolate chips and mix with hands or spatula.

Before rolling into balls, scoop a bit of mixture and see if it's rolling nicely. Add a bit of water or oats if necessary. Using small scoop, pack it tightly with mixture and roll. With plant-based version, I just release the scoop without rolling.
Notes
Store: Refrigerate for up to 1 week.
Freeze: Up to 3 months in an airtight container.
If using thick honey, warm it up on a stovetop or in a microwave.
Check the volume/weight of your protein powder scoop.
Other nut butters can be substituted.
Nutrition
Serving:
1
ball
|
Calories:
189
kcal
|
Carbohydrates:
12
g
|
Protein:
10
g
|
Fat:
13
g
|
Saturated Fat:
3
g
|
Cholesterol:
8
mg
|
Sodium:
129
mg
|
Fiber:
2
g
|
Sugar:
5
g