Refreshing Shrimp Orzo Salad is picture perfect and full of flavor. Cooked shrimp is paired with soft orzo, crisp veggies, feta, and herbs for a side dish everyone will love!
Eat light during the summer season with Mediterranean orzo salad and shrimp avocado salad.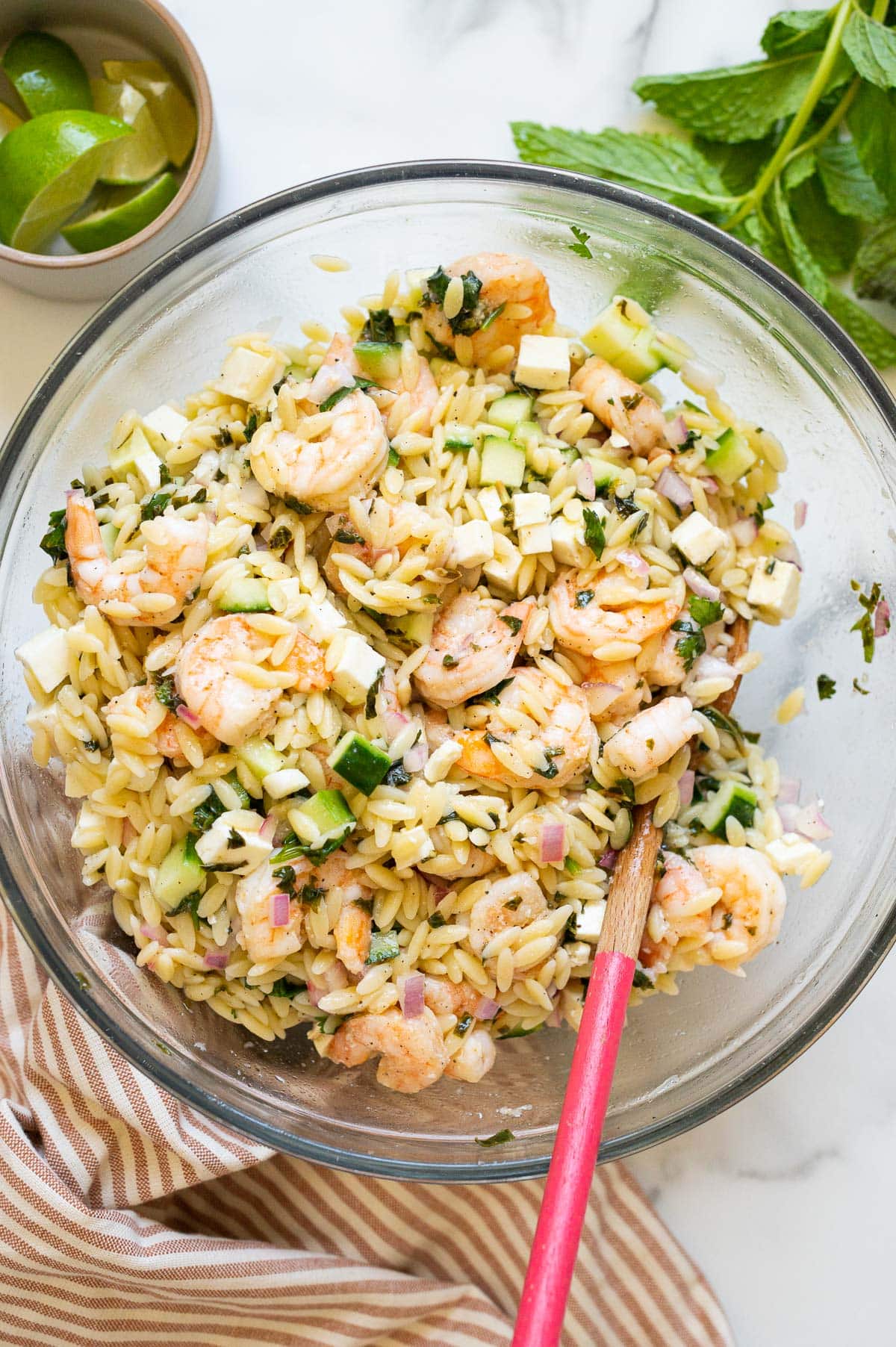 The best part about shrimp orzo salad is everything! I love the levels of fresh, healthy ingredients dressed in olive oil and lime juice then seasoned with salt, pepper, and flavorful herbs. It's 10/10 delicious!
Enjoy a restaurant quality dish that's easy to make in your very own kitchen. We love filling our bowls to the rim for a savory weeknight dinner, and this cold pasta salad is also great for potlucks, picnics, and meal prep.
Why You'll Love This Recipe
Easy: Simply a breeze to make. Once you've cooked the shrimp and pasta, everything is tossed together in one bowl, chilled, and ready to serve.
Tasty: I personally rank this as one of my top tier salad recipes. From presentation to texture and flavor, it's always a huge hit.
Filling: Even with its short list of ingredients, you'll find this shrimp salad with orzo is a protein-packed and filling meal.
Healthy: Made with wholesome, good-for-you ingredients, this is one healthy salad you'll want on repeat all year round.
Ingredients for Shrimp Orzo Salad
All you need to make this shrimp orzo salad recipe are some incredibly simple ingredients, you probably have most in your kitchen already.
Orzo pasta: Cooks up quickly with a soft texture. I always have regular orzo pasta on hand. Whole wheat orzo is hard to find but if you have it, feel free to use it.
Fresh vegetables: Chopped English cucumber and sliced red onion add crunch with a sweet, slightly sharp taste.
Feta cheese: I prefer to buy a block of feta cheese to crumble myself. You can also use goat cheese. Both add a burst of flavor and creamy texture.
Raw shrimp: Look for peeled and deveined shrimp, and remember to take the tails off! You can use any size shrimp, if they are large I would cut them in half or thirds so you can enjoy some in every bite.
Olive oil: We will be using oil to cook the shrimp and to make the salad dressing, I used extra-virgin olive oil.
Simple spices: Salt and ground black pepper.
Garlic cloves: Freshly grated garlic is always best.
Lime juice: Gives the salad dressing an added zing and balances other flavors.
Fresh herbs: Fresh mint and fresh cilantro compliment each other so well. I love this herb combo together with garlic and lime.
How to Make Shrimp Orzo Salad
You need just 30 minutes of prep time to make shrimp orzo salad recipe, and while it chills you can relax.
Here are step-by-step instructions with photos, there's also a full recipe card below.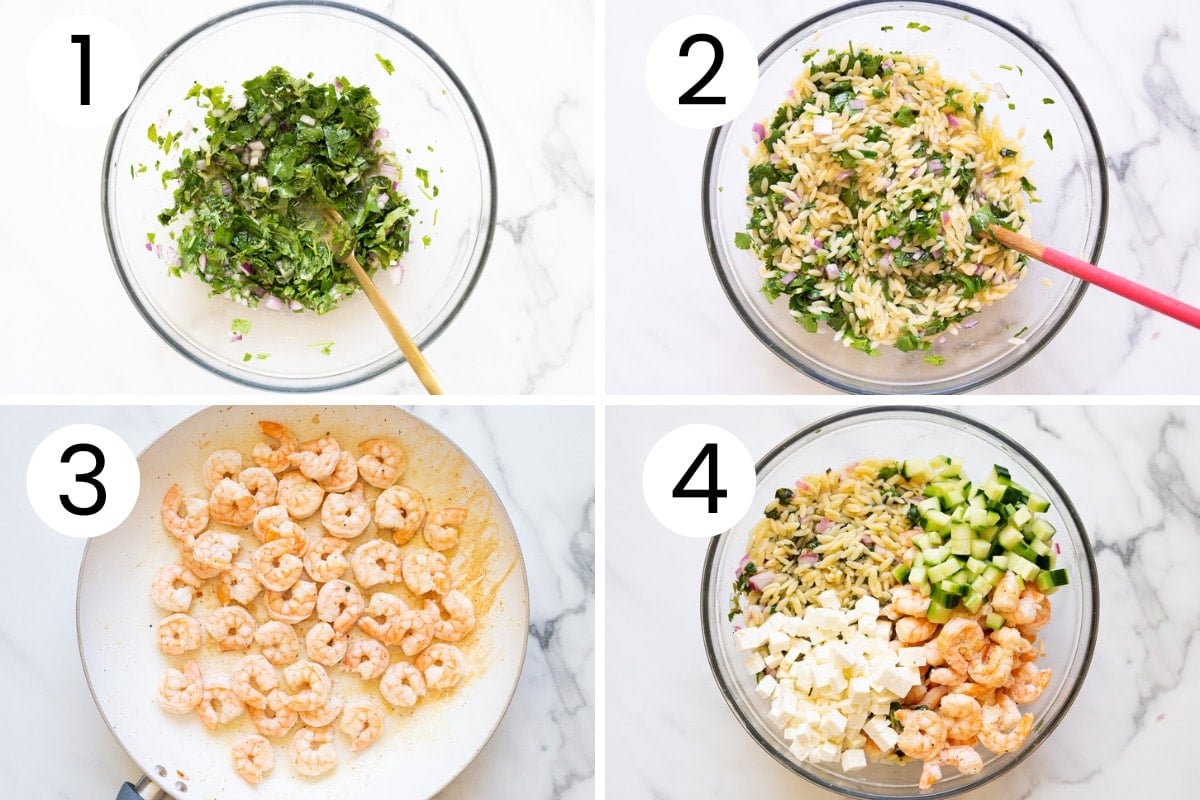 Cook orzo pasta: Add cold water and a pinch of salt to a large pot, bring to a boil. Add orzo pasta and cook for about 6-8 minutes until al dente. Stir occasionally.
Make the salad dressing: Meanwhile, to a large mixing bowl add olive oil, lime juice, garlic, red onion, mint, cilantro, salt and pepper. Whisk to combine and set aside.
Dress the orzo: Once orzo pasta is al dente, drain in a colander, and add it to the bowl with the dressing. Gently stir to combine and set aside so the flavors soak in.
Cook shrimp: Add oil to a hot non-stick skillet and swirl to coat. Place shrimp in the pan, sprinkle with a bit of salt and pepper, and cook undisturbed on medium heat for 2-3 minutes. Once the shrimp is pink and browned on the bottom, flip and cook for 1-2 more minutes until opaque. Add cooked shrimp to the bowl with orzo along with the bits off the bottom of the skillet.
Assemble the salad: Add cucumber, red onion, and feta cheese to the salad bowl. Use a spoon to gently stir, cover and marinate in the fridge for at least 30 minutes.
Tips for Best Results
I've made this shrimp salad a few times now, here are my tested tips for the best results.
Cook orzo al dente: This rice shaped pasta will soak up the dressing and juices from the veggies as it sits. For best results, follow the package instructions and cook until al dente so your salad doesn't turn to mush.
Cook pasta in salted water: The easiest way to get the most flavor, and right from the start. Pasta cooked in salted water will result in evenly seasoned noodles and will not clump.
Pat dry shrimp: Any excess water will yield a steamed, mushy texture to pan fried shrimp. Use a paper towel to pat dry the shrimp before cooking and the result will be delicious crispy shrimp.
Don't overcook the shrimp: Overcooked shrimp will have a tough texture. Watch them closely, shrimps only take a few minutes on each side and are done once opaque in color.
Combine hot orzo with the dressing: After draining the orzo add it to the dressing right away, without rinsing. A lot of recipes will tell you to rinse orzo after cooking, but rinsing removes the light coating of starch which actually helps the dressing cling to the pasta.
Let salad marinate a bit: Trust me on this one, letting the orzo salad marinate will yield the tastiest results. You want all those flavors to blend and mingle.
Variations
Add tomatoes: Toss in some halved cherry tomatoes for extra flavor.
Try it with goat cheese: I always find goat cheese the best substitute for feta, it's similar in taste and creamy texture.
Use avocado: Instead of cucumber add some diced avocado, it pairs well with cilantro and lime here.
Use other herbs: If you're not a fan of mint or cilantro try parsley and fresh dill.
Cook shrimp differently: Feel free to roast the shrimp on a sheet pan, boil them in salted water then squirt with lemon juice, or avoid the oven on a hot day and grill the shrimp.
Other pasta that works: If you don't have orzo, swap with another short textured pasta like penne, fusilli, macaroni or bow tie pasta.
What to Serve Shrimp Orzo Salad with?
Orzo pasta salad is a delicious dish all on its own, and you can serve it year round warm or cold. We like it both ways, the most important thing is let it marinate a bit.
I like to serve it warm in the colder months with a side of roasted asparagus as the perfect comfort meal. For lunches and potlucks, I find cold is best and pairs nicely with a simple spring mix salad.
How to Store and Make Ahead
Store: Orzo salad can be kept in an airtight container and refrigerated for up to 3 days. To reheat, microwave for 20 seconds to "melt" the olive oil.
Make ahead: You can store salad with the dressing mixed in or keep the dressing separate until ready to serve for up to 2 days.
If you keep the dressing separate, add it 30 minutes prior to serving. The orzo will be slightly less flavorful, but still delicious.
Another tip for making ahead, is to rinse cooked orzo with cold water, drain and mix with a bit of oil to prevent it from sticking during storage.
FAQs
Can I use different shape of pasta?
Yes, I recommend any short noodle and something with texture so the dressing can make its way into all crevices. Penne, fusilli, macaroni, ditalini or bow tie pasta are great choices!
Can I freeze it?
I do not recommend to freeze pasta salads. I find the pasta and vegetables get soggy once thawed.
Can I make shrimp orzo salad with chicken?
Yes you can replace shrimp with cubed chicken, shredded chicken, or rotisserie chicken.
Do I have to rinse pasta?
No. For this recipe I recommend skip rinsing cooked orzo, so the dressing clings to the noodles better. If you are making it ahead of time, then I suggest to rinse orzo and then mix with oil, so the noodles don't stick together.
More Pasta Salad Recipes to Try
Shrimp Orzo Salad Recipe
Ingredients
For the Salad:
1 1/2

cups

orzo pasta

uncooked (10 ounces)

1/2

long

English cucumber

cubed

1

cup

feta cheese

cubed

1

pound

raw shrimp

peeled & deveined

2

teaspoons

olive oil

extra virgin

Pinch of salt and pepper
Instructions
Bring a pot of salted water to a boil and add orzo pasta. Cook until al dente, stirring occasionally, for about 6-8 minutes.

While pasta is cooking, in a large bowl add olive oil, lime juice, garlic, red onion, mint, cilantro, salt and pepper. Whisk and set aside.

Drain orzo pasta in a colander, add to the bowl with the dressing and stir gently to combine. Set aside to soak up the flavors.

Preheat large non-stick skillet on medium heat and swirl oil to coat. Add shrimp, sprinkle with a bit of salt and pepper and cook undisturbed for 2-3 minutes or until pink and browned on the bottom. Flip and cook for 1-2 more minutes or until opaque. Transfer to the bowl with orzo, scraping the bits off the bottom of the skillet.

Add cucumber and feta cheese. Stir orzo salad gently with a spoon, cover and let marinate in the fridge for 30 minutes.
Notes
Store: Refrigerate orzo salad in an airtight container for up to 2-3 days. Reheat 20 seconds in a microwave warm to "melt" the olive oil.
Make ahead: You can store salad with the dressing mixed in or keep the dressing separate until ready to serve for up to 2 days. Combine orzo and dressing 30 minutes prior serving. Orzo will be a bit less flavorful this way because it won't be hot, but still salad will be delicious. If making ahead, I recommend to rinse cooked orzo with cold water, drain and mix with a bit of oil to prevent it from sticking during storage.
Nutrition
Calories:
236
kcal
|
Carbohydrates:
20
g
|
Protein:
12
g
|
Fat:
12
g
|
Saturated Fat:
3
g
|
Trans Fat:
0.004
g
|
Cholesterol:
71
mg
|
Sodium:
452
mg
|
Fiber:
1
g
|
Sugar:
1
g