Slow Cooker Cauliflower Mashed Potatoes made creamy, buttery, and lighter without heavy cream! A low carb delicious alternative to regular mashed potatoes which leaves room for more turkey!
You can never have too many healthy mashed potato recipes. Instant Pot mashed potatoes and healthy mashed sweet potatoes are just a couple more!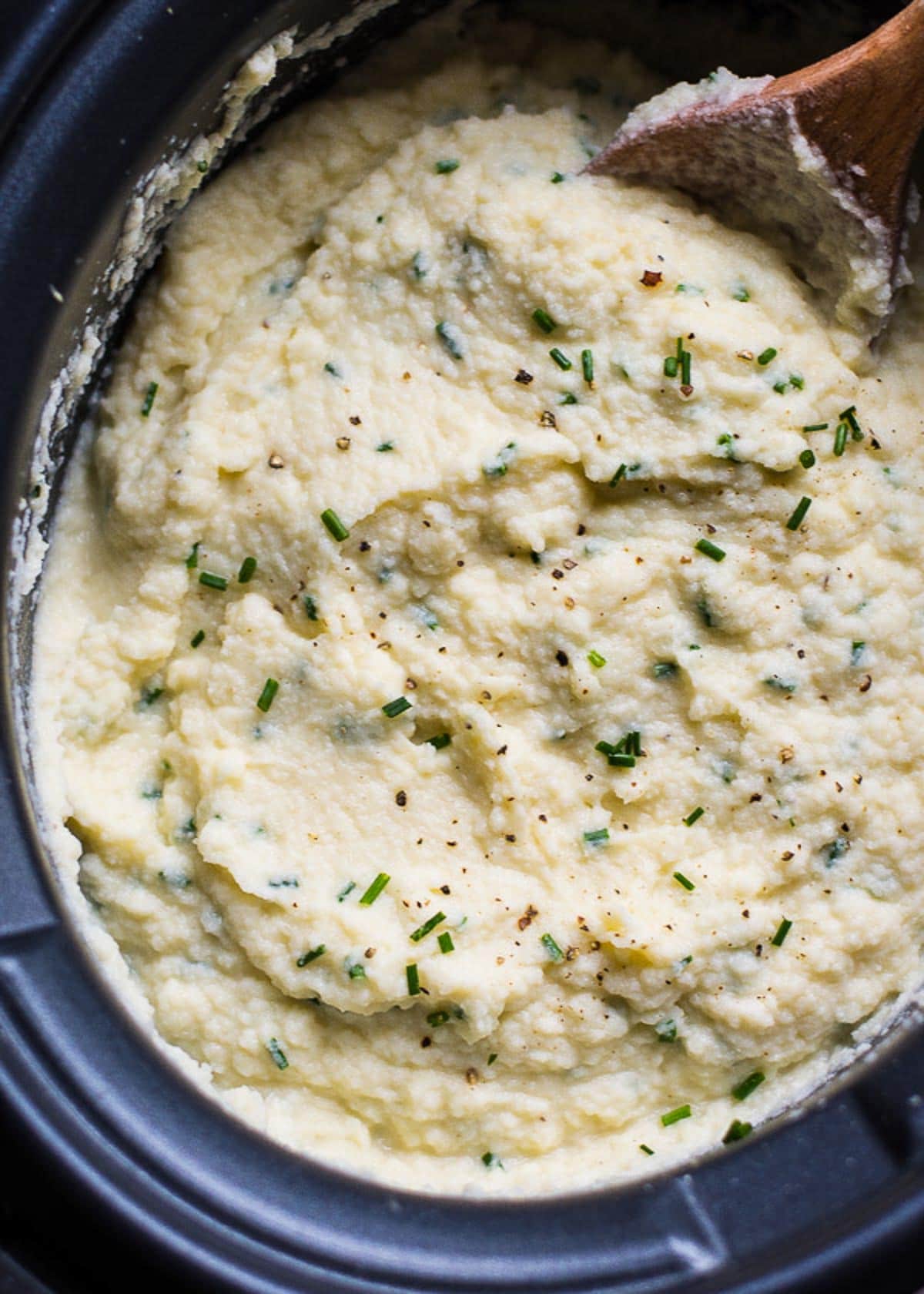 This is a low carb, budget friendly, and a lighter option that comes together even easier than regular mashed potatoes!
There's no peeling or boiling involved and your guests will appreciate the lighter option. If they didn't know better, they might mistake them for traditional mash!
They're whipped, thick, and creamy just the same but without the use of any milk or heavy cream. You can season them as desired and make them as buttery as you like. Also, a little extra garlic never hurt anyone!
I have prepared cauliflower mashed potatoes numerous times but the slow cooker makes it so that you're not standing over the stove watching it boil.
This is helpful during the holidays when you have a lot of things on the go and helps to save space on the stove for other healthy sides like cauliflower potato salad, cauliflower biscuits, or one of these cauliflower rice recipes.
I mean, even if you have regular mashed potatoes on the table, it's nice to give people a low calorie option. Especially when you're hosting a crowd!
Ingredients You'll Need
Just 6 ingredients go into it and you've probably already got most of them on hand.
Cauliflower
Large garlic cloves
Butter
Salt
Chives
Cold water
How to Make Slow Cooker Cauliflower Mashed Potatoes
This simple recipe couldn't be easier. Waiting to eat it is the hardest part!
I decided that 4 lbs is the perfect amount that yields enough for a table full of turkey and other sides. This is equal to 2 large cauliflower heads.
Remove the leaves, rinse and chop the head of cauliflower into large pieces. You can discard the core, or keep it with your other veggies scraps for when it comes time to make broth.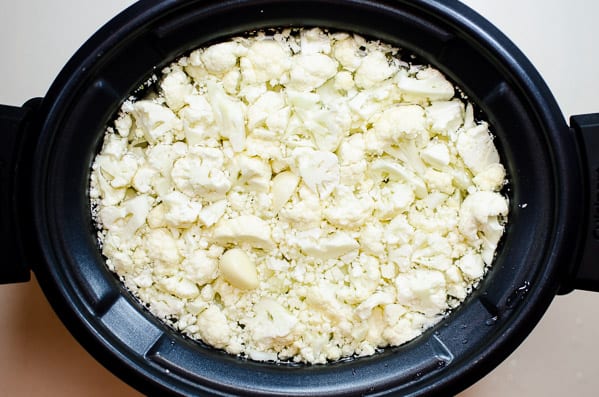 Add florets and garlic to a slow cooker. Garlic adds flavor, we don't discard it but rather incorporate with the purée later.
Pour in enough cold water to cover the veg. I can't stress this point enough!
Stir with a spoon to help submerge the cauliflower under water. If you don't, it will turn brown and won't taste good. Trust me.
Drain cauliflower well, in a colander! Don't be lazy and try to drain it with a lid a tiny bit open on the pot. It will mess up the consistency you want for cauliflower mash recipe at the end. Add it back into the slow cooker along with soft garlic cloves, butter, and salt.
Use an immersion blender to puree everything for 4-5 minutes, it will come around a bit slower than regular potatoes because there is no starch.
Garnish with chives and serve as you would your everyday mash!
Variations
Dress up your cauli mash with some extras for a twist!
Blend it with other veggies like carrots, butternut squash, or parsnips.
Add some shredded cheese or Parmesan for cheesy mash.
Toss in some cooked spinach for added nutrients and a bit of color.
Serve with bacon bits on top. Because, bacon!
How Long to Cook Crock Pot Cauliflower Mash?
If you're leaving it on low, you'll want to cook it for 8 hours. If it's on high, 4 hours is enough.
How to Thicken Cauliflower Mash?
The trick is to get rid of as much moisture as you can once cauliflower florets have been cooked. Drain them, but then also carefully squeeze out excess water with a towel, once they've cooled a bit.
You can also simmer cauliflower mash once it's been puréed to allow some of the liquid to evaporate.
Serving Recommendations
From a casual dinner to a holiday side dish, this versatile side can be used with almost anything. Replace regular mashed potatoes in any of the following ways:
How to Store
Keep it stored in an airtight container in the fridge for up to 1 day. 36 hours is maximum, as it's best consumed sooner rather than later!
Make ahead? I wouldn't recommend it. It's best consumed the day of, or at the most 36 hours later. Technically, it can be done, but if you can avoid it, do so.
Freeze? You can but I don't like to. It's something else I don't recommend because it becomes very watery and loses a bit of flavor and texture.
More FAQs
Is slow cooker cauliflower mashed potatoes healthy?
Absolutely. Not just because of the vitamins, iron, and fiber the cruciferous vegetable provides, but this recipe itself is low carb and keto friendly.
Can I use frozen cauliflower to make this?
Definitely. Use it the same way, the only difference is it will take a little while longer for it to start cooking.
Can I make this in the Instant Pot?
You can! When making it in a pressure cooker, you'd place the cauli in a steamer basket rather than having the florets sit directly in the water. For added flavor use chicken or vegetable broth instead. Then drain and purée.
More Healthy Cauliflower Recipes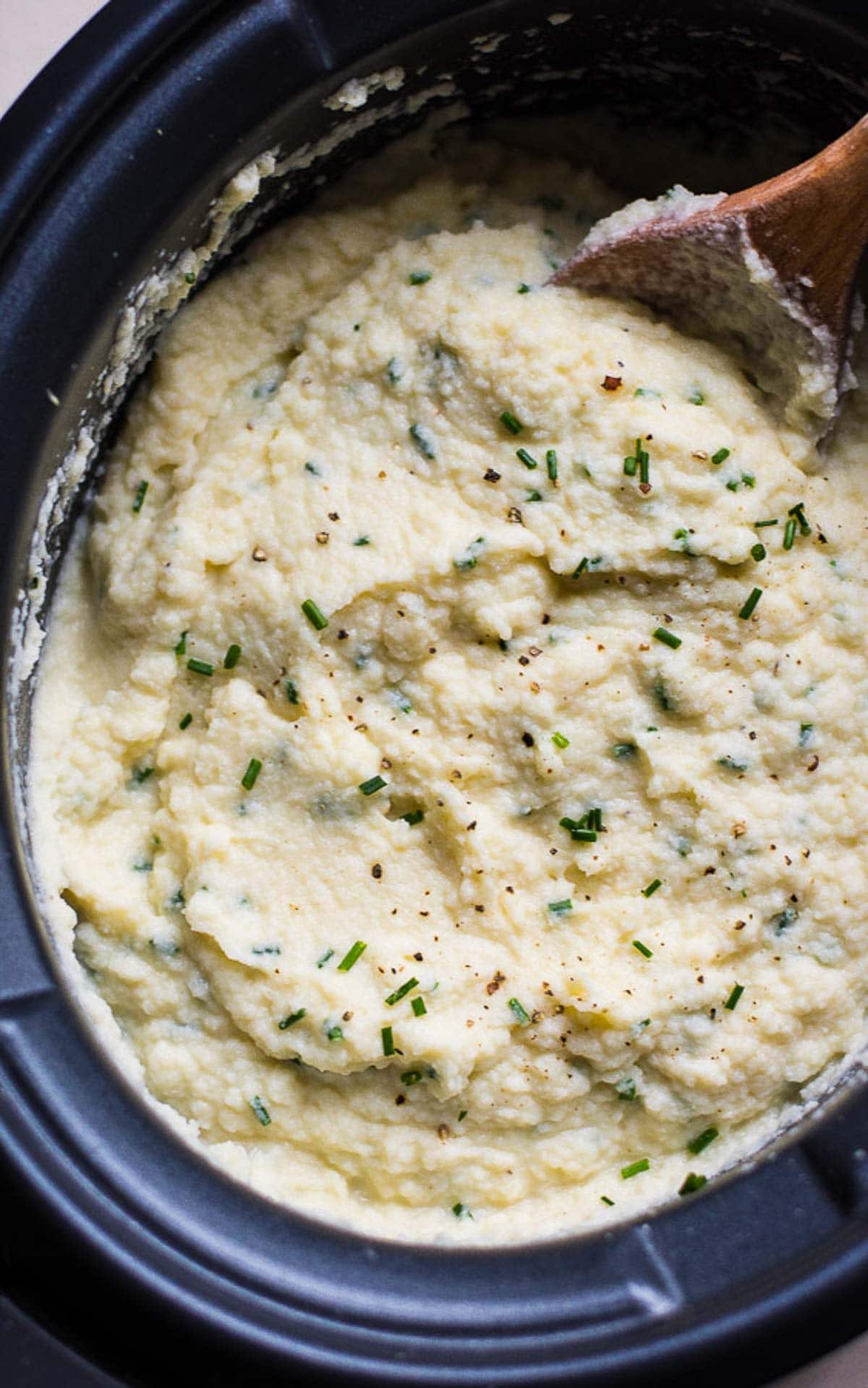 Slow Cooker Cauliflower Mashed Potatoes
Slow Cooker Cauliflower Mashed Potatoes made creamy, buttery, and lighter without heavy cream! Delicious low carb side dish.
Instructions
Remove outer leaves, wash and chop cauliflower into large pieces. Discard the cores.

Add to a large slow cooker, along with garlic and enough water to cover. Stir to make sure no cauliflower is sticking out, cover and cook on Low for 8 hours or on High for 4 hours.

Drain cauliflower and garlic (do not discard) in a colander really well, otherwise mashed cauliflower consistency will be off. Return to a slow cooker, add butter and salt, and stir to let butter melt faster.

Puree with an immersion blender until smooth. Be patient, it will take 4-5 minutes because cauliflower has no starch unlike potatoes.

Add chives, stir and serve like you would serve mashed potatoes.
Notes
Store: Refrigerate covered for up to 1 day. Cauliflower mashed potatoes taste best consumed within 24-36 hours.
Add more salt to taste if using unsalted butter (I used salted).
Nutrition
Serving:
2
scoops
|
Calories:
129
kcal
|
Carbohydrates:
16
g
|
Protein:
6
g
|
Fat:
7
g
|
Saturated Fat:
4
g
|
Cholesterol:
15
mg
|
Sodium:
529
mg
|
Fiber:
6
g
|
Sugar:
6
g