Teriyaki Chicken Meal Prep with lean chicken breast, bright crispy snap peas coated in healthy teriyaki sauce, and brown rice is a dish that will make your co-workers jealous!
Looking for more meal prep inspiration? Here are some healthy breakfast meal prep options. Alternately, browse through 65 healthy lunch ideas!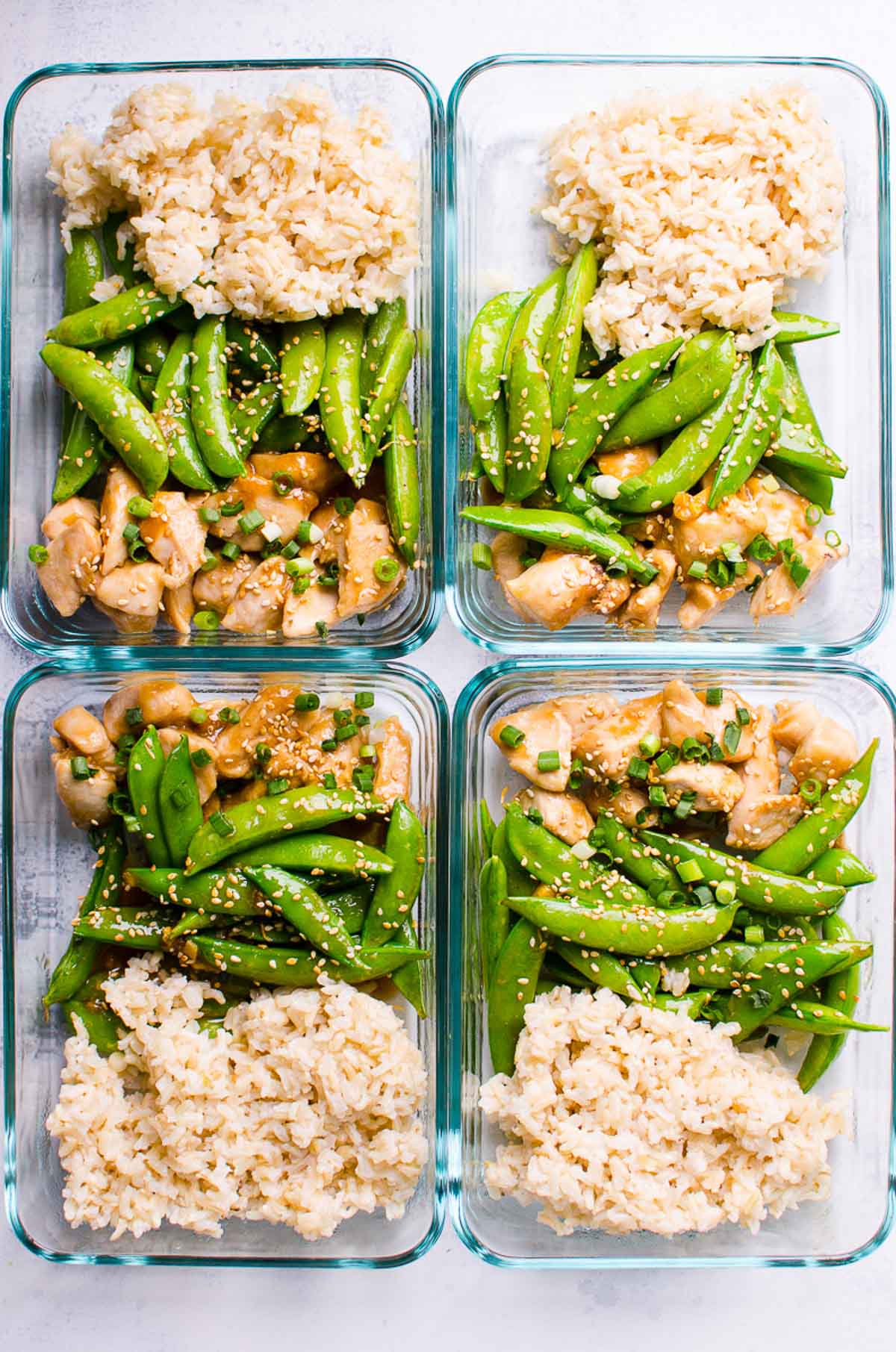 It is always so much easier to eat healthy when you plan ahead!
When you are starving and haven't done your healthy meal prep you're far more likely to reach for the first thing you see, whether it's healthy or not.
For this reason alone, learning how to make this easy teriyaki chicken meal prep recipe and putting it to good use will be a game changer! Plus, it only takes 35 minutes!
It's something easy to grab after a workout, or even dinner on the go for busy weeknights when you're in between activities with your kids. Instead of grabbing fast food, have an entire delicious meal prepped and ready to go!
Baked teriyaki salmon, teriyaki chicken and cauliflower, and Instant Pot teriyaki chicken are some more recipes you can plan for!
This recipe comes complete with brown rice, juicy teriyaki chicken, and crispy snap peas coated in a sweet and savory healthy teriyaki sauce. The sauce is lighter than you're used to because we're not adding a ton of soy sauce or brown sugar.
You can cook the veg more or less, depending on the amount of crunch you enjoy in vegetables.
I have to mention that everything is cooked in the same pan while the rice is cooking nearby. So simple and so tasty!
Why You'll Love This Recipe
Delicious: Everything has so much flavor!
Healthy: Lean chicken, veggies, aromatics, naturally sweetened, low sodium, and low carb ingredients are used. This complete meal provides energy, nutrients, and tons of protein and veggies.
Customizable: You can replace brown rice with quinoa, or snap peas with broccoli. This recipe yields 4 meal prep containers. Make more if you need to.
No stress: It takes the guesswork out of what you're going to eat which can be a huge stress reliever!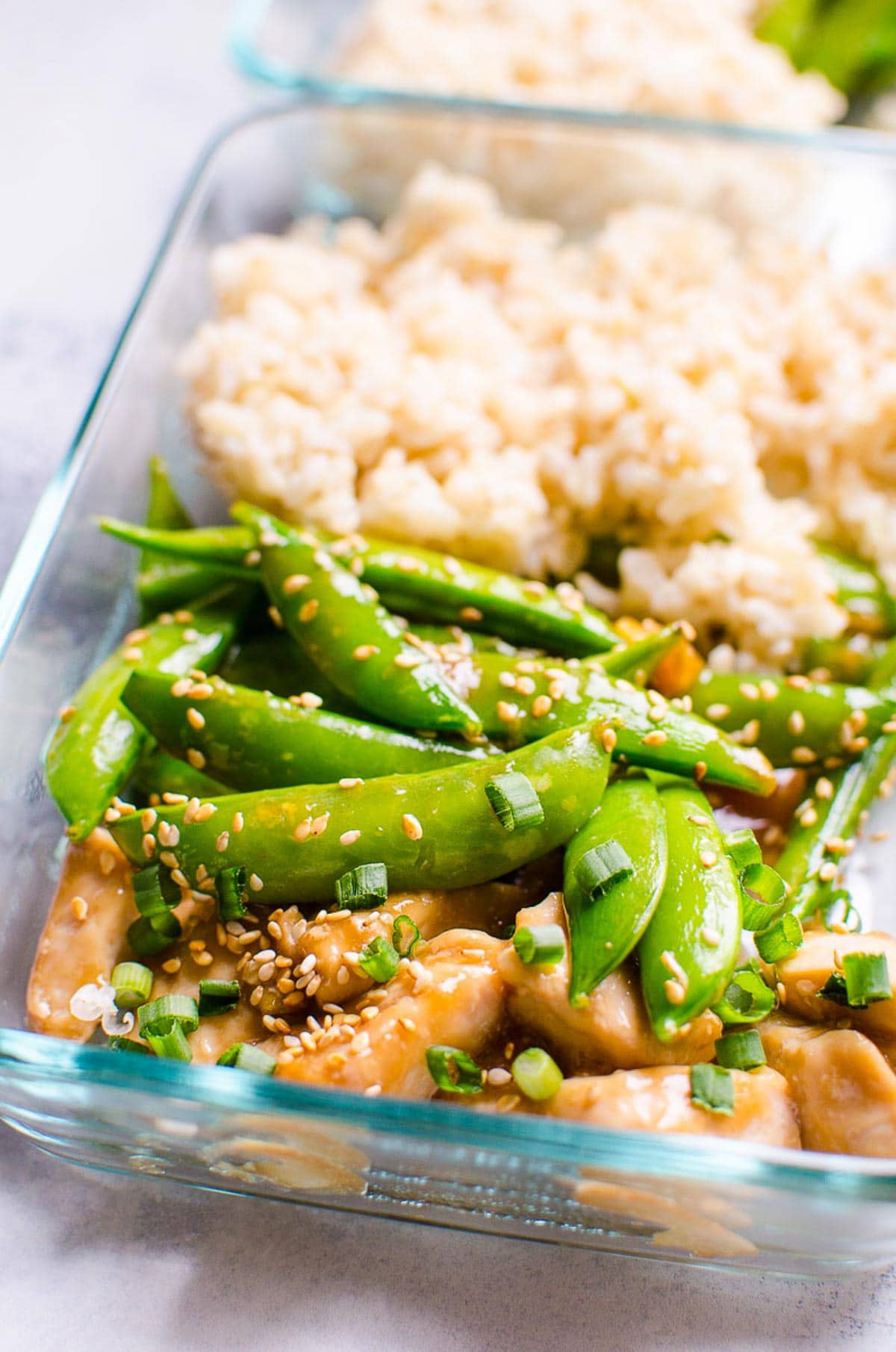 Ingredients You Will Need
Here's what you'll need to get you started:
Brown rice
Boneless chicken breasts
Snap peas
Soy sauce
Maple syrup or honey
Water
Rice vinegar or white vinegar
Cornstarch
Garlic cloves, grated
Ginger, minced
Green onion
Sesame seeds
Avocado oil
How to Make Teriyaki Chicken Meal Prep
Sometimes it takes a bit more effort on the front end, but the rewards are worth it. Take 35 minutes on a Sunday afternoon, and reap the benefits all week long.
Cook the rice: Follow package directions. You can use the stovetop method or make Instant Pot brown rice.
Now the chicken: Cut the chicken into 1-inch pieces right in the packaging tray to reduce cleanup. Preheat a large skillet over medium-high heat and once the oil is hot, cook the chicken for 7 minutes. Stir occasionally.
Add ingredients for the sauce to the chicken: In a small bowl, whisk together soy sauce, syrup, water, vinegar, and cornstarch. To the skillet with the chicken, add garlic, ginger, and half of the sauce mixture. Cook until the sauce has thickened and coats the chicken nicely. Remove the saucy chicken and divide them into 4 meal prep bowls with lids.
Cook the snap peas and add more sauce: Return the skillet to medium heat and add the remaining oil, snap peas, garlic, and ginger for a minute. Whisk the remaining sauce once more in case the cornstarch has settled. Then pour it into the skillet and cook until it has thickened, coating the peas.
Divide portions: Divide the peas into each container, add rice to each one, then sprinkle with sesame seeds and green onion. There you have it. Meals for days!
FAQs
Is teriyaki chicken meal prep healthy?
Absolutely. Not only in terms of ingredients used, but even just having a healthy meal in place for you, prevents you from making choices you might regret later!
How can I thicken my teriyaki sauce?
The cornstarch helps with this. It also thickens as it cools.
Do I refrigerate or freeze this meal prep?
Both! Keep a couple in the fridge and a couple in the freezer. Thaw what you need the night before, or if you don't, at least it will be there when you need it.
How long can I keep cooked chicken in the fridge?
It'll stay fresh for up to 5 days in an airtight container.
Tips and Substitutions
Other vegetables: Broccoli, bell pepper, cauliflower, carrots, or asparagus can be used instead or with.
Make it low carb with cauliflower rice or quinoa as mentioned above.
Keep it stored for up to 5 days in the fridge. Longer in the freezer if you want to extend its freshness for a later date!
Swap the protein: Try it with air fryer tofu for a change!
More Healthy Chicken Recipes
You might also like to browse through this list of 65 healthy chicken recipes!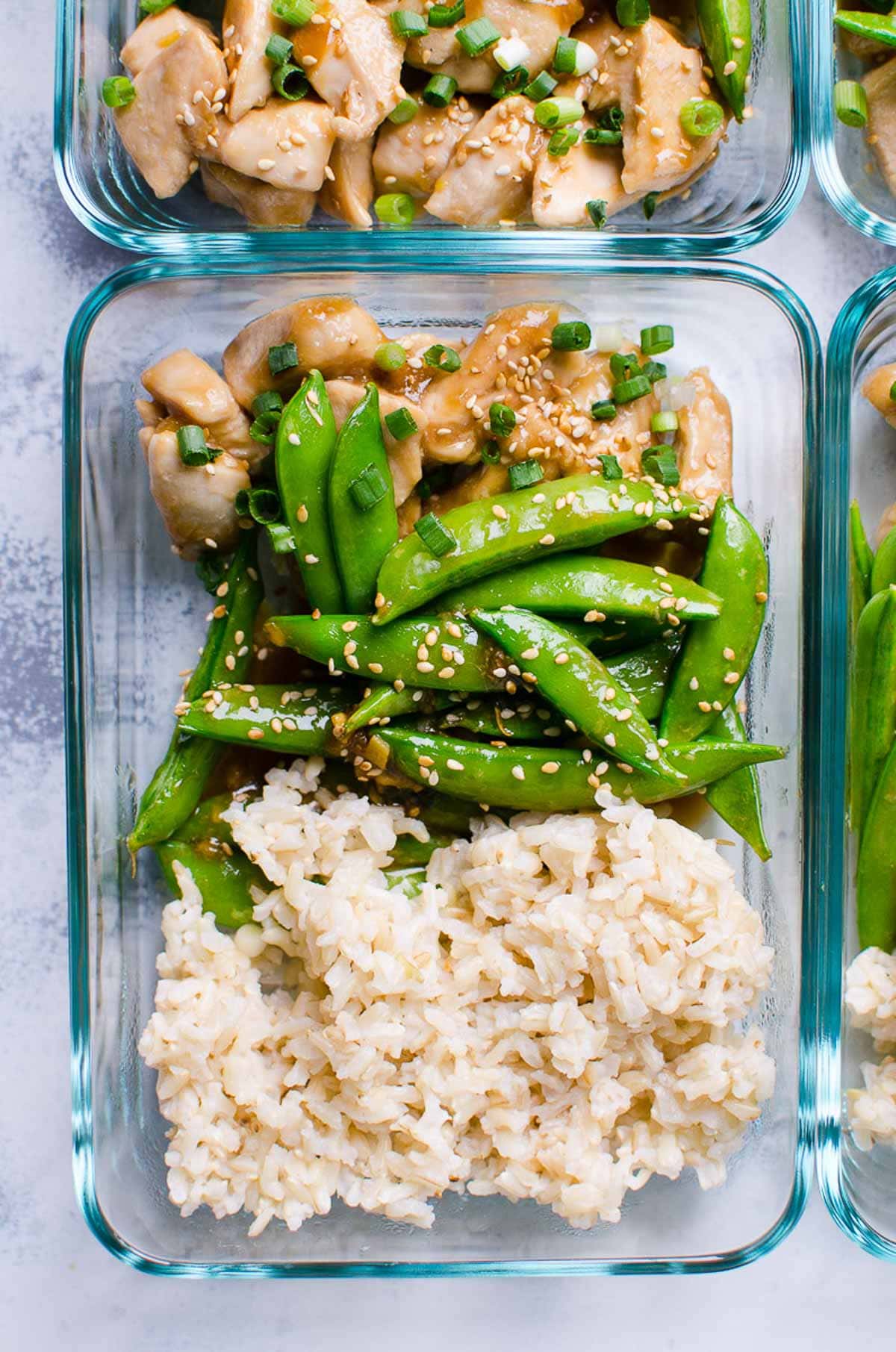 Teriyaki Chicken Meal Prep
Teriyaki Chicken Meal Prep with lean chicken breast, bright crispy snap peas coated in healthy teriyaki sauce, and brown rice is a dish that will make your co-workers jealous!
Instructions
Cook brown rice as per package instructions.

In the meanwhile, cut chicken using scissors right in the packaging tray. Preheat large ceramic non-stick skillet on medium-high heat and swirl oil to coat. Add chicken and cook for 7 minutes, stirring occasionally.

In a small bowl, add soy sauce, maple syrup, water, vinegar, cornstarch, and whisk well. Cornstarch settles to the bottom quickly, so make sure to whisk well again before adding to the skillet.

To the skillet, add 1 garlic clove, 1 tsp ginger, half of the sauce and cook until sauce has thickened and is sticking to chicken, about 3 minutes. Divide between 4 glass meal prep containers.

Return skillet to medium heat and add remaining 1 tsp of oil, snap peas, 1 garlic clove and 1 tsp of ginger; cook for 1 minute, stirring occasionally. Add remaining sauce (whisk again). Cook until sauce has thickened, about 1 minute.

Divide between 4 meal prep containers. Then add rice to each container. Sprinkle chicken and snap peas with sesame seeds and green onion.
Notes
Store: Refrigerate for up to 5 days.
Nutrition
Serving:
1
container
|
Calories:
489
kcal
|
Carbohydrates:
58
g
|
Protein:
30
g
|
Fat:
15
g
|
Saturated Fat:
4
g
|
Cholesterol:
73
mg
|
Sodium:
479
mg
|
Fiber:
4
g
|
Sugar:
16
g