Tomato Cucumber Bell Pepper Salad is flavorful and ready in 10 minutes. Tossed in a simple olive oil dressing, it's a delicious way to showcase summer's finest veggies.
Use up more produce with my traditional Greek salad and Thai cucumber salad.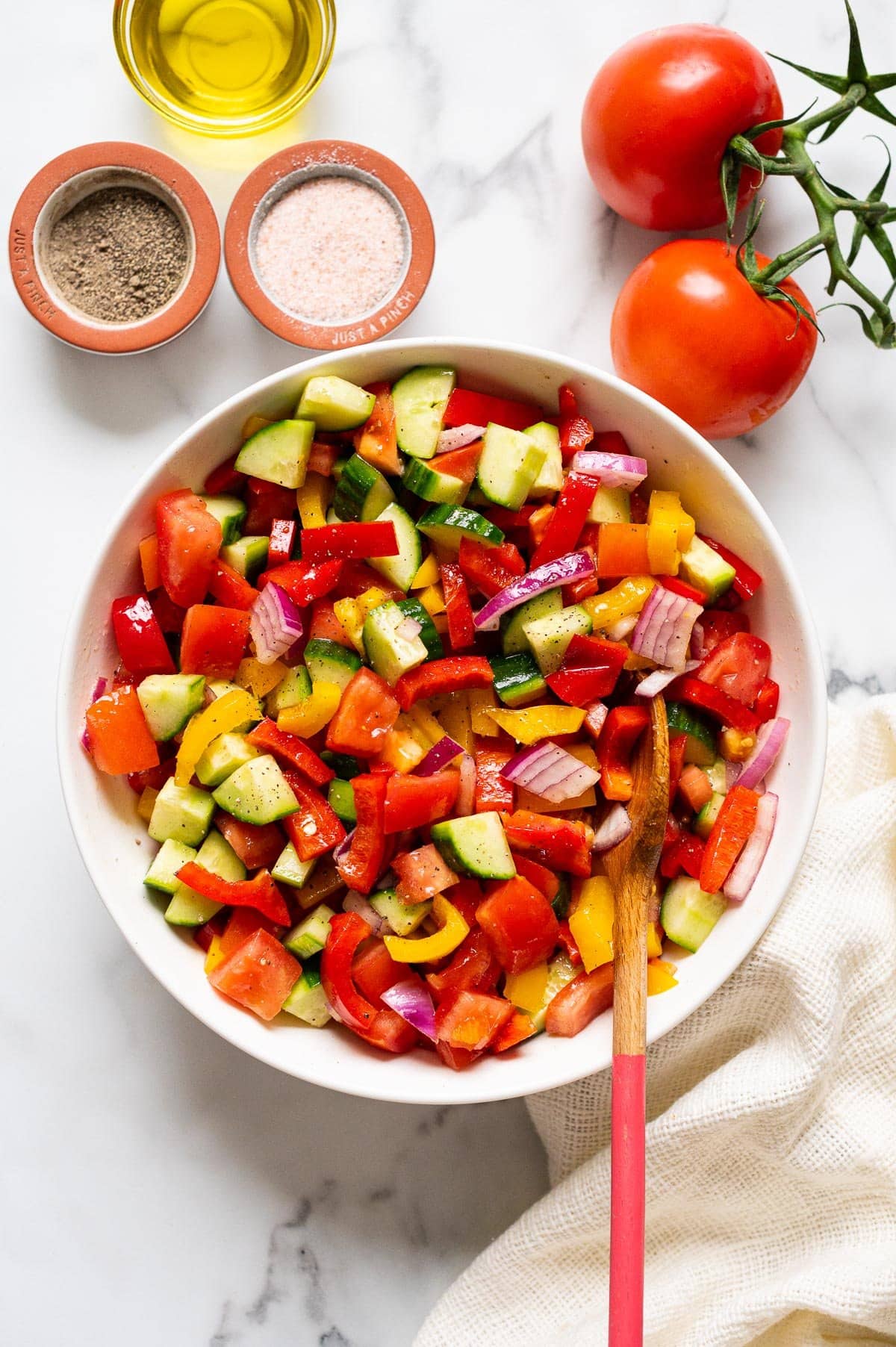 This is my kind of salad! A little crunchy, a little juicy, and a lot healthy. When I was a kid, we made cucumber bell pepper salad often. It's always been a vibrant addition to the dinner table.
It's a simple variation of cucumber and tomato salad with the addition of bell peppers. We'll add, or not add, fresh herbs depending what's on hand. This time I wanted a more simple salad with a bright olive oil flavor dressing.
Why You'll Love This Recipe
Easy: As many know already, I absolutely love easy, one bowl salad recipes with little prep time and minimal clean up. You just need 10 minutes to make this amazing side dish.
Beautiful: Super bright and flavorful, this veggie salad has a rainbow of color, texture, and taste.
Healthy: This bell pepper salad is light, delicious, and gluten-free! Instead of a heavy dressing, the fresh ingredients are tossed in olive oil then seasoned with salt and pepper.
Ingredients for Cucumber Bell Pepper Salad
You'll need a healthy mixture of fresh, wholesome ingredients to make this cucumber bell pepper salad.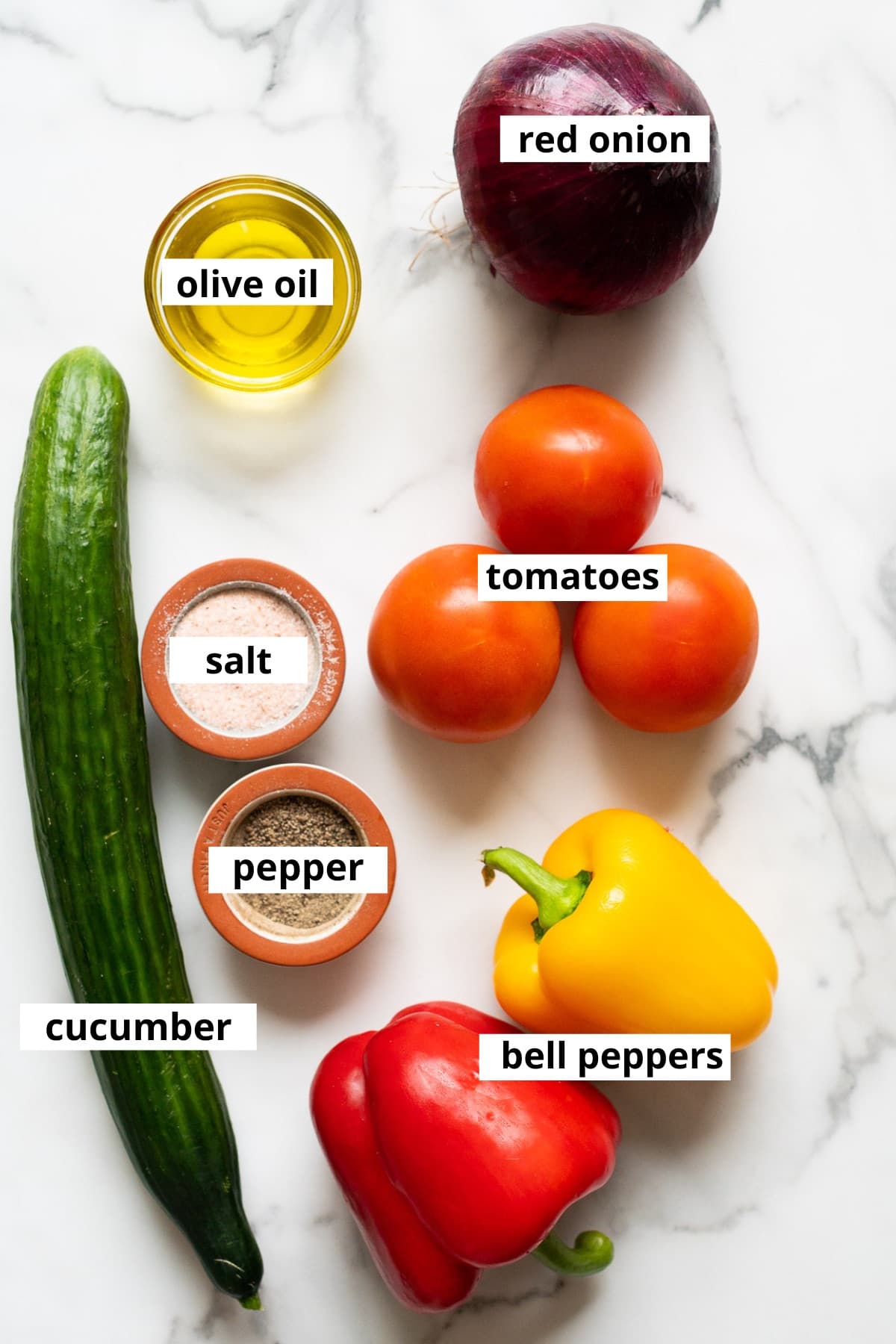 Bell peppers: Use any color of sweet bell pepper you like. I used yellow bell pepper and red bell pepper this time, you can also add orange bell pepper.
Cucumber: I like English cucumber because it is sweeter, adds the perfect crunch, and you can leave the skin on.
Tomatoes: Any tomato in season such as heirloom tomatoes or Roma tomatoes will add juiciness and a balanced tangy taste. My preferred store-bought kind is "tomatoes on the vine". Cherry tomatoes or grape tomatoes are always great for salads too.
Red onion: I love adding sharp flavor and crispy texture with thin strips of red onion.
Salad dressing: Extra virgin olive oil, salt and pepper perfectly coat the vegetables, add a hint of nutty flavor, and some healthy fats.
Recipe Tip
In Ukraine, we add up to 1/4 cup chopped fresh dill. Feel free to do so. Also any type of light color vinegar and a tiny grated garlic clove is added based on a cook's taste. This time I wanted the taste of extra virgin olive oil to truly shine in a salad, so I kept it very simple. But sky is the limit!
How to Make Bell Pepper Salad
All it takes to make this bell pepper salad is chopping up your veggies then tossing in a simple dressing. Here's a quick overview, there is a full recipe card below.
Combine vegetables: Add all chopped bell peppers, cucumbers, tomatoes and red onion to a large mixing bowl.
Add dressing ingredients: Drizzle vegetables with olive oil, then sprinkle with salt and pepper.
Stir and chill: Using a big spoon or fork, start from the bottom of the bowl in the center and gently stir until well combined. Set the mixed salad in the fridge for 10 minutes, this is important to let the flavors blend and mingle. Give it a taste, adjust any seasonings to taste, and toss once more.
Serve: This tomato bell pepper salad is best served fresh, enjoy!
Tips for Best Results
This salad recipe is super easy to make, here are some easy tips that make it the best!
Use sharp knife: Always slice vegetables with a sharp knife. It's much easier and won't mash the veggies.
Pick fresh vegetables: Your salad will have the best flavor and texture when you pick fresh vegetables.
Don't use green bell pepper: This is a sweet, tangy salad and green bell peppers are too bitter, they'll throw off the flavor.
Let it chill: Even a short 10 minute chill gives the flavors time to mingle for a much tastier salad.
Adjust seasonings to taste: Season as per recipe first and then adjust after sitting with more salt, pepper, and fresh herbs if you wish.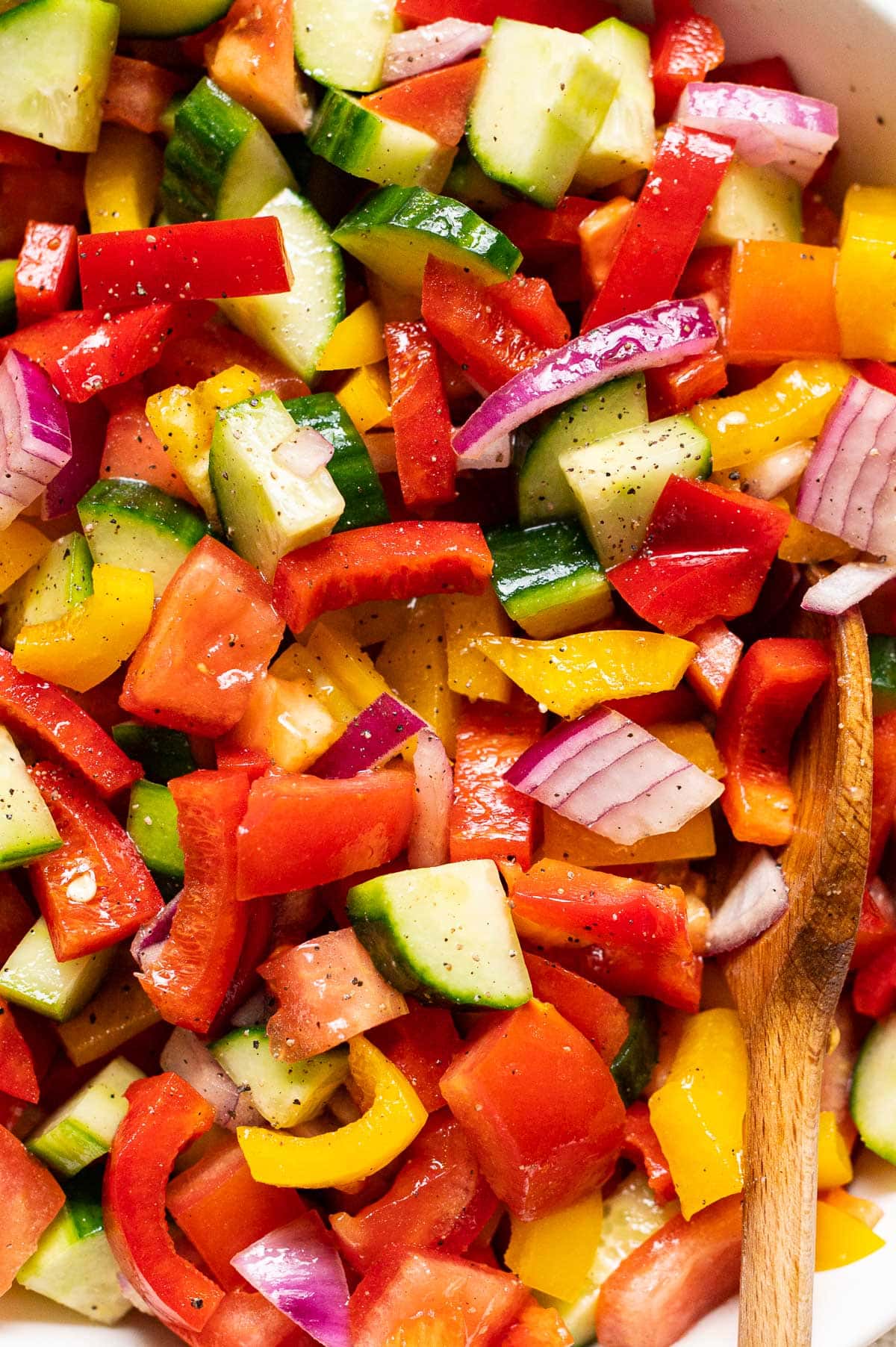 Variations
With all great salads comes a wide range of variations. Here's a few ways you can make it your own and use what you have on hand.
Use sunflower seed oil: Original bell pepper salad recipe calls for unrefined sunflower oil. It adds a very distinct flavor. You can find it in many Slavic and Eastern European stores.
Add toasted sesame oil: Another oil with a very distinct taste. Add 1-2 tablespoons instead of some olive oil and this salad will taste next level amazing! But be sure to use only toasted sesame oil not just regular sesame oil.
Add fresh herbs: I think most fresh herbs would add a nice finishing touch. Try fresh dill, flatleaf parsley, cilantro, or oregano. You can even add green onion as a garnish.
Add white vinegar: Make a vinaigrette dressing by adding 1-2 tablespoons of white vinegar in addition to the olive oil. This also softens the bite of the red onion. If you don't like vinegar, swap with fresh lemon juice.
Add cheese: I'll always add freshly crumbled feta cheese if I have it.
Make it taste like viral salad: Sprinkle some everything but the bagel seasoning, chili crisp or red pepper flakes, and dress it with a sesame ginger dressing and it will taste like the viral cucumber bell pepper salad. I'm excited to give it a try!
What to Serve Bell Pepper Salad with?
This colorful salad is the perfect side dish to pair with all roasts, summery chicken, or your favorite grilled meat. Our favorites include boneless leg of lamb, chimichurri chicken, ground chicken burgers, and grilled salmon.
If you'd like to make it a meal just mix in some protein or grains. Make a veggie-loaded tuna salad, add chickpeas for a vegetarian main dish, or mix in some cooked quinoa.
How to Store
Store: What I love about this salad is you can store it in an airtight container for up to 24 hours and it stays crisp and tasty.
Freeze: This salad is not freezer friendly, the vegetables will go mushy once thawed.
FAQs
Can you eat fresh bell peppers raw?
Yes, bell peppers are incredibly versatile. You can enjoy them raw, grilled, roasted, or fried.
Can I use mini bell peppers?
Mini bell peppers can be used. They are sweeter than bell peppers making them a great substitute for this recipe.
Can I make this salad ahead of time?
To make this salad ahead of time refrigerate all chopped veggies in a covered bowl. When ready to serve, add oil, salt, pepper, and gently stir to combine.
More Salad Recipes to Try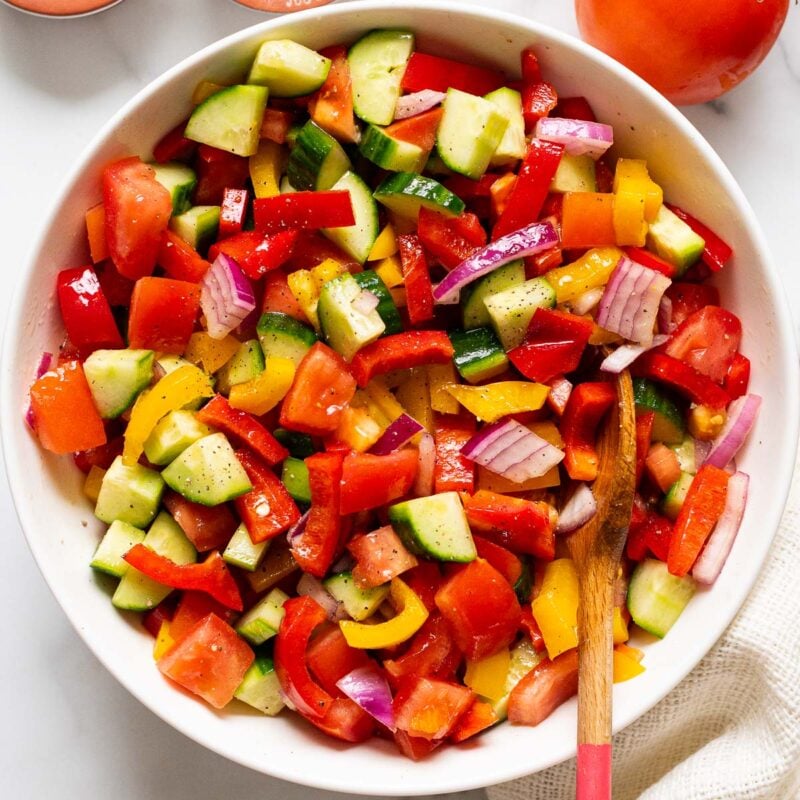 Tomato Cucumber Bell Pepper Salad
Easy Tomato Cucumber Bell Pepper Salad is flavorful, refreshing, veggie loaded with simple olive oil dressing. Takes only 10 minutes to make!
Instructions
In a large bowl, add bell peppers, cucumbers, tomatoes and red onion.

Drizzle with olive oil and sprinkle with salt and pepper.

Stir gently from the bottom of the bowl in the center until well combined. Let salad chill in refrigerator for 10 minutes (don't skip!). Then taste and adjust any seasonings to taste, if you wish.

Salad tastes best when served immediately.
Notes
Store: Refrigerate salad for up to 24 hours.
Make ahead: Refrigerate all vegetables in a bowl covered. Then add oil, salt and pepper right before serving.
Best tomatoes to use: In summer heirloom varieties, Roma tomatoes. Year-round we love tomatoes on the vine.
Other additions to taste: Fresh dill or parsley, grated garlic clove, white vinegar, a touch of toasted sesame oil.
Nutrition
Calories:
83
kcal
|
Carbohydrates:
5
g
|
Protein:
1
g
|
Fat:
7
g
|
Saturated Fat:
1
g
|
Sodium:
295
mg
|
Fiber:
2
g
|
Sugar:
3
g