Sweet and spicy Thai Cucumber Salad is fresh, crunchy, and quick to make. This refreshing side dish is perfect for summer and ready in 10 minutes!
Another favorite cucumber recipe of mine is grandma's creamy cucumber salad and cucumber bell pepper salad.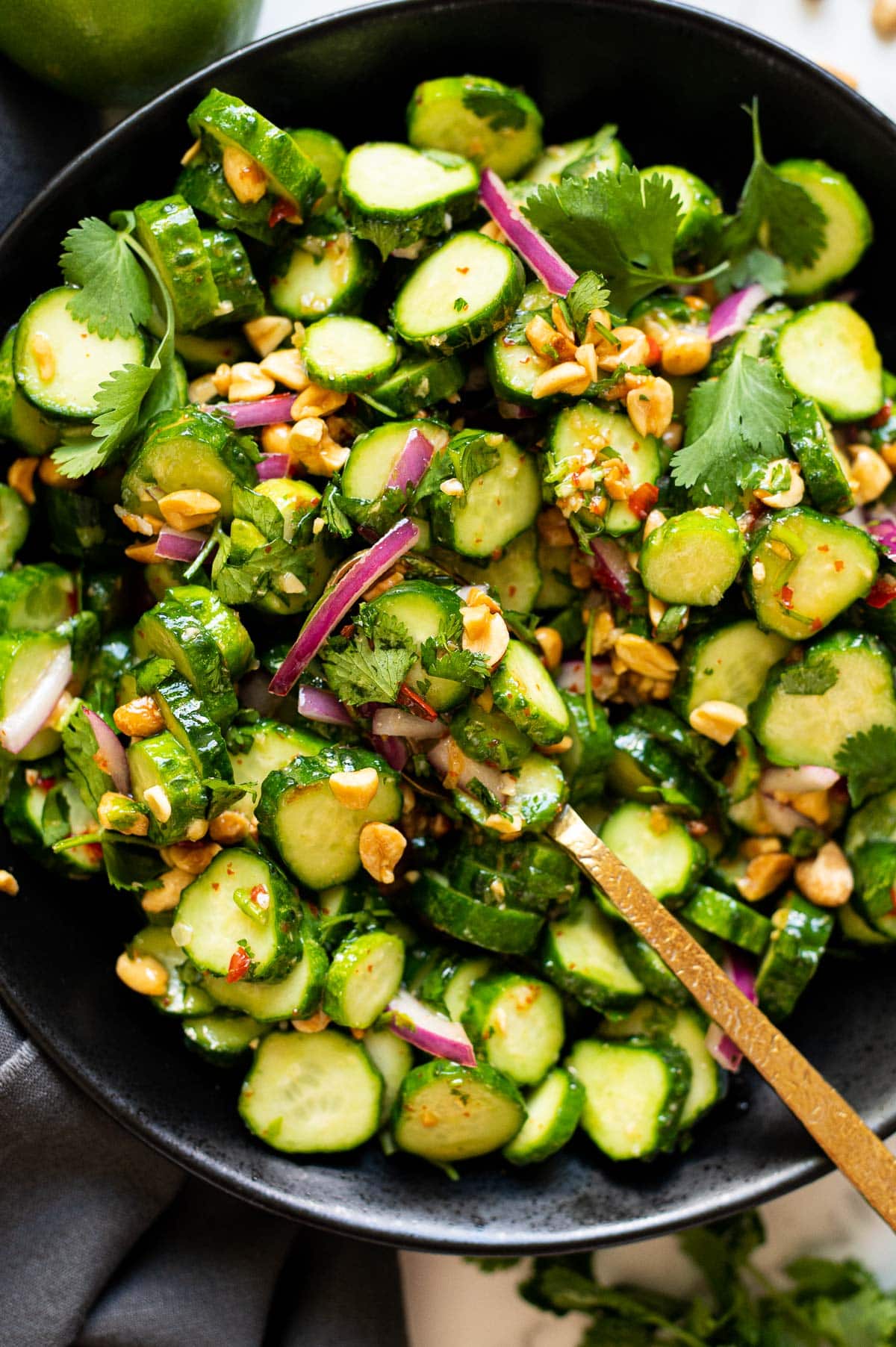 This Thai cucumber salad recipe is my newest obsession. It's so good, I could eat the whole bowl on its own! It's one of those fresh, healthy salads that's perfect on a hot day.
The combination of sliced cucumber, red onion, peanuts, cilantro, and a homemade rice vinaigrette is mouth-watering. I love it for lunch, but you can also serve it with Thai food or your favorite grilled protein.
It tastes good the next day too, so meal prep away!
Ingredients for Thai Cucumber Salad
My Thai cucumber salad is full of fresh ingredients with a super easy 4 ingredient salad dressing, unlike other recipes you'll find.
Cucumbers: This salad is great year round with any cucumber variety. You can thinly slice English cucumbers, Persian cucumbers, and mini cucumbers. Garden field cucumbers work too, but I recommend peeling them.
Red onion: Colorful with a mild, sweet taste.
Fresh herbs: Add a layer of citrusy flavor with fresh cilantro. You can also use fresh mint or Thai basil.
Peanuts: A staple ingredient in Thai cuisine. I used unsalted roasted peanuts, if you have salted peanuts just use less salt.
Thai dressing: Thai sweet chili sauce, olive oil, rice vinegar, and salt make the perfect sweet and spicy salad dressing.
How to Make Thai Cucumber Salad
This cucumber salad comes together in one bowl and takes just a few minutes to prepare. Here's a quick overview with step-by-step instructions.
There is a full recipe card below.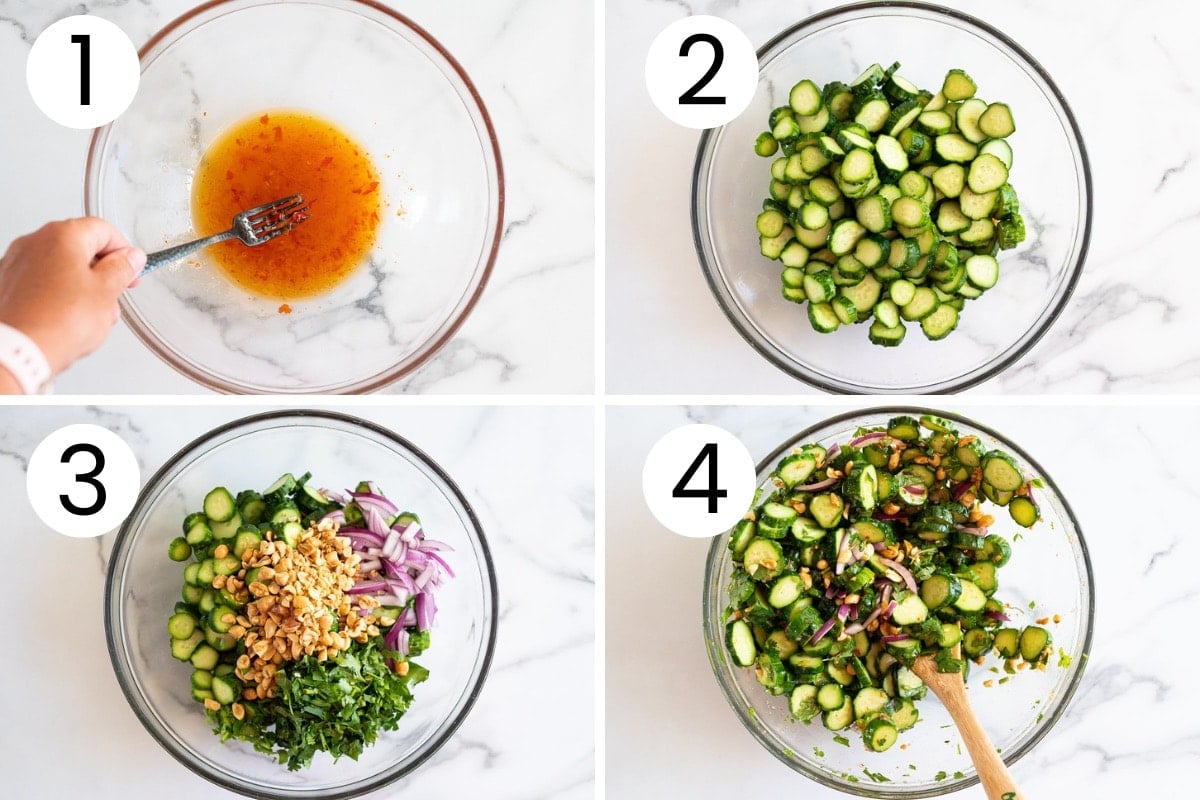 Make the salad dressing: Add Thai sweet chili sauce, olive oil, rice vinegar, and salt to a large salad bowl. Whisk to combine.
Combine ingredients: Add cucumber slices, red onion, cilantro and peanuts to the large bowl with dressing. Use a large spoon and gently toss to combine.
Cool: I like to refrigerate salad for 30 minutes so the bold flavors really blend together.
Serve: Serve with chicken, pork or beef entrée. Or on its own with a slice of crusty bread.
Tips for Best Results
Follow these helpful tips to make Thai cucumber salad recipe your go-to summer side dish.
Pick crunchy cucumbers: Thai food is known for its fresh ingredients so fresh, crunchy cucumbers are best. I recommend English cucumbers or Persian cucumbers, they have fewer seeds and tender skin.
Make beautiful presentation: This salad recipe is already bright and colorful, you can improve the presentation even more by slicing the cucumber into thin rounds or matchsticks. Best way to do this is with a mandoline slicer or sharp knife.
Peel thick skin: If your garden cucumber has a thicker skin I recommend peeling it first for better texture and taste.
Let it chill: To increase its refreshing taste and allow the flavors to meld.
Omit peanuts: If you are allergic to them. Substitute with toasted sesame seeds or sunflower seeds.
Add nuts before serving: If you know this salad will last you a few days, keep the peanuts separate. Divide cucumber salad into individual bowls and then add peanuts, they'll stay crunchy this way.
Variations
Here are some optional add-ins and variations to make this cucumber salad your own, and add oomph.
Add more vegetables: Julienned carrots, corn, bean sprouts, edamame, snap peas, red peppers, or even broccoli will go well with cucumbers.
Make it creamy: Add diced avocado to make salad naturally creamy.
Mix in some fruit: Apple, pear, or mango will make the salad even more sweet.
Add more heat: If you like spice, Thai chiles, jalapeno peppers, chili peppers, or red pepper flakes are great additions.
Garnish with citrus flavor: Before serving, add a squeeze of fresh lime juice or fresh lemon juice.
Add protein: Add shredded chicken, shrimp, or chickpeas for vegan option.
Try a different sauce: You can add a dash of soy sauce or fish sauce for a different dressing. Or swap olive oil with sesame oil.
Play with seasonings: Freshly minced garlic would add another layer of flavor.
What to Serve Thai Cucumber Salad with?
Thai cucumber salad makes the perfect light lunch, mid afternoon snack, and great at any potluck or gathering.
For a full Thai-inspired dinner it pairs well with Thai sweet chili salmon, Thai chicken curry, Thai chicken thighs in crock pot, and grilled cedar plank salmon.
We also love this Asian cucumber salad recipe next to pasta, cottage cheese pizza, pan fried lamb chops, or grilled shrimp with crusty bread on the side.
How to Store
Store: Place any leftovers in an airtight container and refrigerate for 2-3 days. Next day, serve cucumber salad with a slotted spoon and leave juices at the bottom of the bowl. Cucumbers will lose some of their crunch but overall this salad doesn't taste bad at all the next day.
Freeze: I do not recommend to freeze cucumbers, they become mushy once thawed.
FAQs
Can I use regular cucumbers instead?
Yes, you can use whichever cucumbers you prefer and have on hand. If they have a thick skin, I do recommend peeling them first.
Is this cucumber salad spicy?
I found it mildly spicy and my boys ate it no problem. If you're not a fan of spicy foods you can add slightly less Thai sweet chili sauce, and add in some soy sauce.
Do I have to peel the cucumbers?
No. Most cucumber varieties do not need to be peeled. Some grocery store bought cucumbers have a wax coating, and often field cucumbers have a thick skin, so you may want to peel those.
Can I make it ahead of time?
Cucumber salad tastes best when fresh and served immediately. Good news is you can make it ahead of time. Store peanuts separately in a cool dry place in a container. Refrigerate chopped vegetables in a bowl covered with plastic wrap and salad dressing in another airtight container for up to 2 days. Dress the salad 30 minutes before serving.
More Cucumber Salad Recipes to Try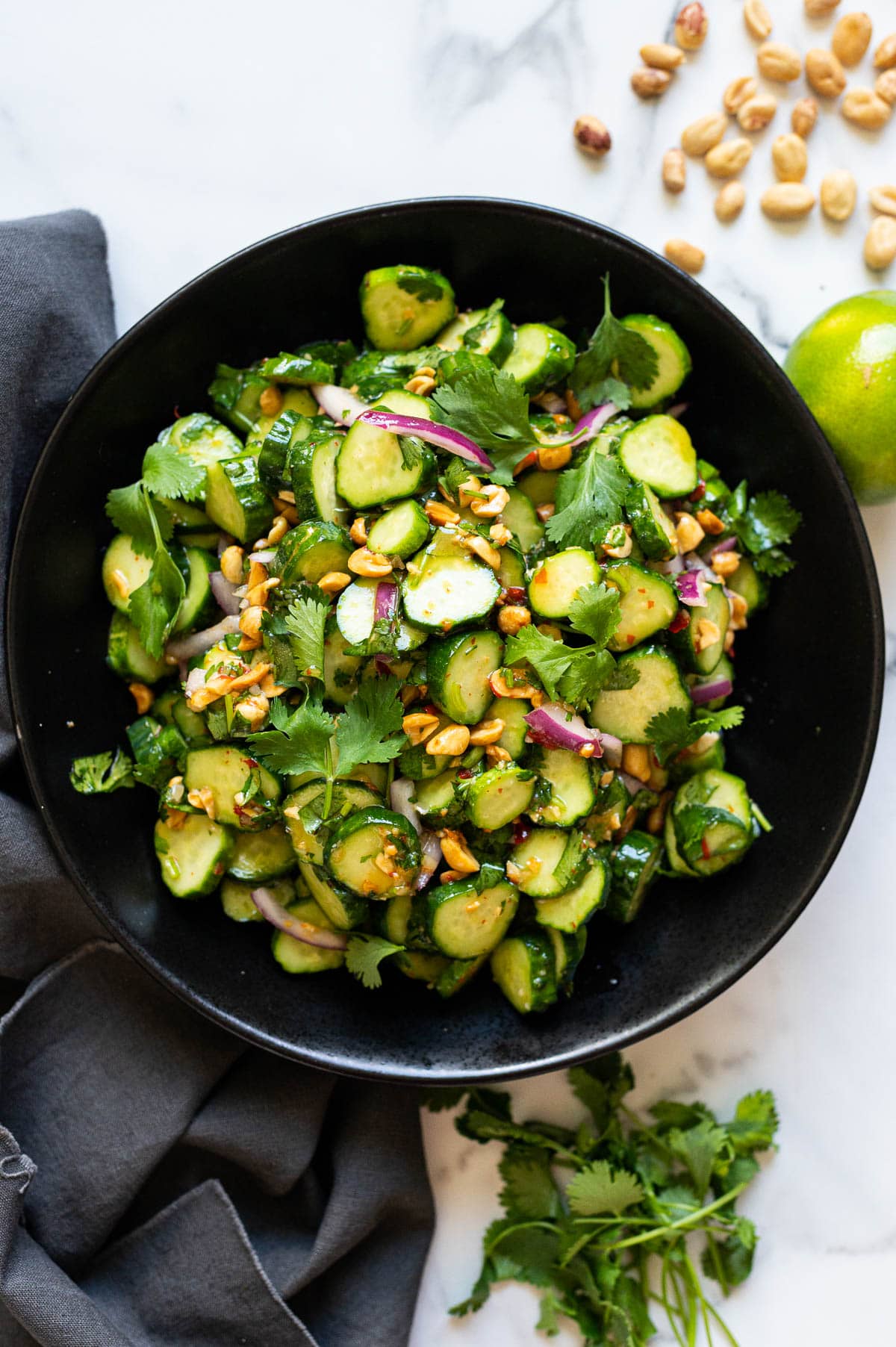 Thai Cucumber Salad Recipe
Sweet and spicy Thai Cucumber Salad is fresh, crunchy and ready in 10 minutes. Easy 4 ingredient Thai salad dressing is to die for!
Instructions
In a large bowl, add Thai sweet chili sauce, olive oil, rice vinegar and salt. Whisk to combine.

Add cucumbers, red onion, cilantro and peanuts. Gently stir to mix with a large spoon.

Refrigerate for 30 minutes to allow flavors to meld.

Serve cold as a side dish with chicken, pork or beef. Or enjoy on its own with a slice of crusty bread.
Notes
Store: Refrigerate leftovers in an airtight container for 2-3 days. Do not freeze. You can also store peanuts in a pantry and add them right before serving to maintain their crunch.
Nutrition
Calories:
177
kcal
|
Carbohydrates:
11
g
|
Protein:
4
g
|
Fat:
14
g
|
Saturated Fat:
2
g
|
Sodium:
357
mg
|
Fiber:
2
g
|
Sugar:
8
g