Fresh Cucumber Tomato Feta Salad tossed with a simple olive oil dressing, fresh garlic, and dill. This summer must have is perfect as a light lunch or side dish.
Add it to your summer menu along with cucumber tomato salad and arugula feta salad.
I call this cucumber tomato feta salad "summer in a bowl". Sweet and juicy tomatoes, crisp cucumbers, and Mediterranean flavors are three of my seasonal favorites.
There are many salads labelled as the perfect summer salad like my Mediterranean quinoa salad and traditional Greek salad, but this cucumber tomato salad with feta has very little prep and no cooking making it the easiest!
Why You'll Love This Recipe
Simple and delicious: Made with 9 simple ingredients, including salt and pepper! We use fresh summer produce, creamy feta, and a homemade dressing that's full of flavor.
Quick: You'll only need 10 minutes total time for this fresh salad.
Versatile: Perfect on a hot day and it goes with anything you'll find at a BBQ, picnic or potluck. It's also a pretty basic salad recipe so you can easily add other vegetables, herbs, and even salad dressing.
Healthy: This low carb side dish is full of veggies, healthy fats, vitamins, and minerals.
Ingredients for Cucumber Tomato Feta Salad
Cucumber tomato feta salad recipe comes together easily with a short list of simple on hand ingredients.
English cucumber: Don't worry about peeling, just chop it into even pieces for the perfect amount of crunch.
Tomatoes: Enjoy this veggie salad year round and use whatever tomatoes are ripe in season. For summer, heirloom varieties are my favorite, and I will always opt for tomatoes on the vine for store-bought. Cherry tomatoes or grape tomatoes will work too because of their sweet flavor.
Feta cheese: Adds a creamy, salty kick. If you know me, you know I love to crumble my own fresh feta cheese but for this recipe I cut it into cubes for better texture and presentation.
Red onion: Add color and texture to any salad with red onion. You can also use sweet onion or shallots, or omit all together. If you want a milder flavor, you can soak the sliced red onion in cold water for 30 minutes before using.
Fresh dill: Fresh herbs enhances the flavor and increases the aroma of any dish. I added finely chopped dill for a classic Greek salad taste.
Garlic: Grated fresh garlic clove spreads flavor throughout the dish.
Olive oil: I used extra virgin olive oil, it is the best quality for salad dressings.
Spices: Salt and pepper to taste.
How to Make Cucumber Tomato Feta Salad
Make cucumber tomato salad using one large bowl in 10 minutes or less, it's super easy! Here's a quick overview, I have also included a full recipe card below.
Make the salad dressing: Add olive oil, garlic, salt, and pepper to your large salad bowl, then whisk with a fork.
Add remaining ingredients: Next you'll add the chopped cucumbers, tomatoes, feta cheese, red onion and dill.
Toss salad with dressing: Use a large spoon and gently stir until well combined. Treat yourself to a taste and adjust any seasonings if you wish.
Serve: Tomato cucumber feta salad tastes best fresh and served within a few hours.
Tips for Best Results
Here are my top tips for making even the simplest of healthy salad recipes the tastiest.
Cut ingredients into same size pieces: With a short list of ingredients, you'll want to taste each one in every bite, so cut everything into uniform bite-sized pieces, including feta, for best results.
Don't crumble feta cheese: The taste will be much better when the feta is cut in cubes, and this salad looks a bit messy when it's crumbled.
Mix gently: Don't squish those perfectly ripe tomatoes, make sure to mix gently.
Dress before serving: It's always best to dress tomato salad right before serving and consume within a few hours. Tomatoes will let off their juices as soon as they are mixed with salt and dressing, so your salad will become watery.
Let chill: If you have time you can let it chill in the fridge, but it's not mandatory. Even if it's just 10 minutes, while you set the table to allow the flavors to develop.
Other fresh herbs that work: You can add fresh basil, fresh cilantro, fresh parsley, fresh mint, green onion, or dried oregano.
Adjust seasoning to taste: I always try my salad after it chills to see if anything needs to be adjusted. If you don't love garlic, or going to be around people, you can skip it.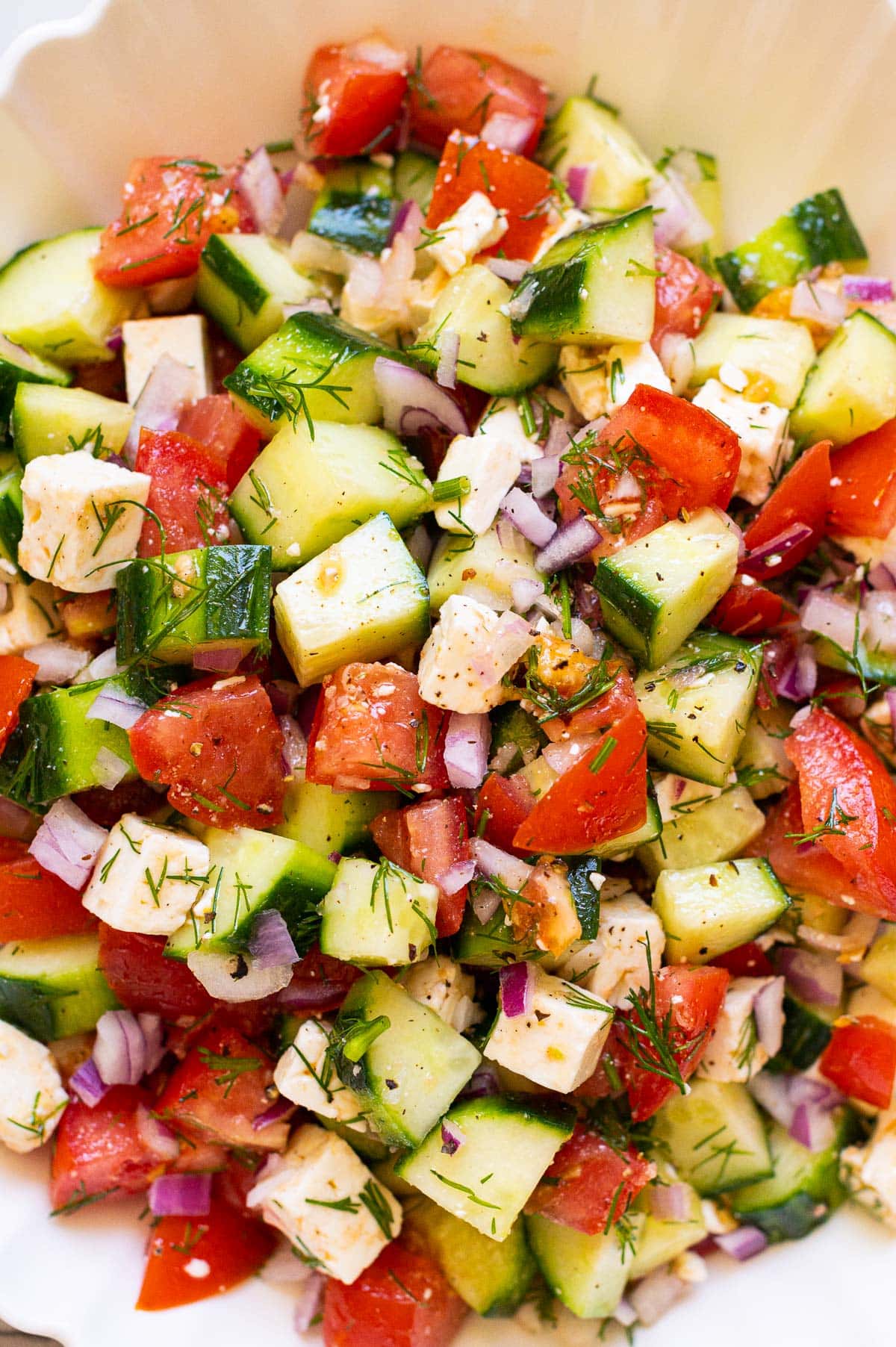 Variations
Add other vegetables: Take this opportunity to load up on veggies and use what you have. Add some bell peppers, celery, corn, lettuce, or kalamata olives.
Try different cheese: There are many cheeses that pair well with cucumber and tomato. Goat cheese is a personal favorite, and fresh mozzarella or bocconcini would create a variation of a Caprese salad or my tomato mozzarella avocado salad.
Experiment with salad dressings: Toss the vegetables in your favorite salad dressing or add a splash of balsamic vinegar, or red wine vinegar. You can also add a bit of zest with a squeeze of fresh lemon juice.
Try it with protein: Sometimes I want a heartier lunch or a quick and easy dinner, so I'll add in some leftover chicken, shredded rotisserie chicken, or top it with tuna.
Add canned beans: Keep it vegetarian and mix in some plant-based protein with chickpeas or cannellini beans.
What to Serve This Salad with?
You can serve this gluten-free, low carb, delicious salad as a side or an entrée, the options are endless.
The Mediterranean inspired flavors pair incredibly well with various lamb recipes. We love it with air fryer lamb chops, braised lamb shanks, and lamb loin chops.
We're still firing up the grill almost every night while we can and this refreshing salad is delicious next to yogurt marinated chicken. It's also great alongside grilled steaks, grilled chicken burger or grilled salmon with an extra side of grilled zucchini.
And during the cooler months, you can never go wrong with baked chicken for a simple weeknight dinner. Our favorites are juicy oven baked chicken, baked chicken caprese and baked BBQ chicken breast.
How to Store
Store: If you do have leftovers, you can place them in an airtight container and refrigerate for up to 24 hours. I recommend using a slotted spoon to serve the leftovers, so the juices stay on the bottom of the dish.
FAQs
What is the best way to cut tomatoes for a salad?
Start with serrated knife or very sharp paring knife or chef's knife. Cut a small sliver off the top and bottom, so the tomato is flat on both ends. Make even parallel cuts, then rotate and make equally sized cuts in the opposite direction.
Do I have to peel the cucumbers?
No. I like the English cucumber for salads because it has a very thin skin and very little seeds. If you have a garden or field cucumber with thicker skin, it would be best to peel it first. Their thick skin can have a bitter taste.
What if I don't like feta cheese?
If you don't like feta cheese, you can replace it with goat cheese, mozzarella cheese, or bocconcini balls.
Can I make it ahead of time?
Yes but it's best to keep vegetables and dressing separate until you are ready to serve. Prep all your vegetables and refrigerate in a covered bowl. Add oil, garlic, salt and pepper right before serving.
More Salad Recipes to Try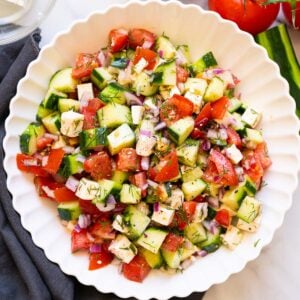 Cucumber Tomato Feta Salad
Fresh Cucumber Tomato Feta Salad tossed with a simple olive oil dressing, fresh garlic, and dill. 10 minute lunch or side dish!
Instructions
In a large bowl, add olive oil, garlic clove, salt and pepper. Whisk with a fork.

Then add cucumbers, tomatoes, feta cheese, red onion and dill.

Stir gently with a large spoon until well combined. Adjust seasonings to taste, if you wish.

Salad tastes best when served within a few hours.
Notes
Store: Refrigerate salad for up to 24 hours.
Make ahead: Refrigerate all vegetables in a bowl covered. Then add oil, garlic, salt and pepper right before serving.
Best tomatoes to use: In summer heirloom varieties and tomatoes on the vine tomatoes are the best when it comes to store-bought tomatoes.