These Mediterranean Baked Zucchini Sticks are stuffed with peppers, tomato, olives, and feta- and then baked to perfection for a healthy, flavorful appetizer, side, or part of a main! A delicious summer
Looking for more ways to appreciate zucchini during Summer? You might also like this simple grilled zucchini, crustless zucchini quiche, and zucchini sticks with Parmesan!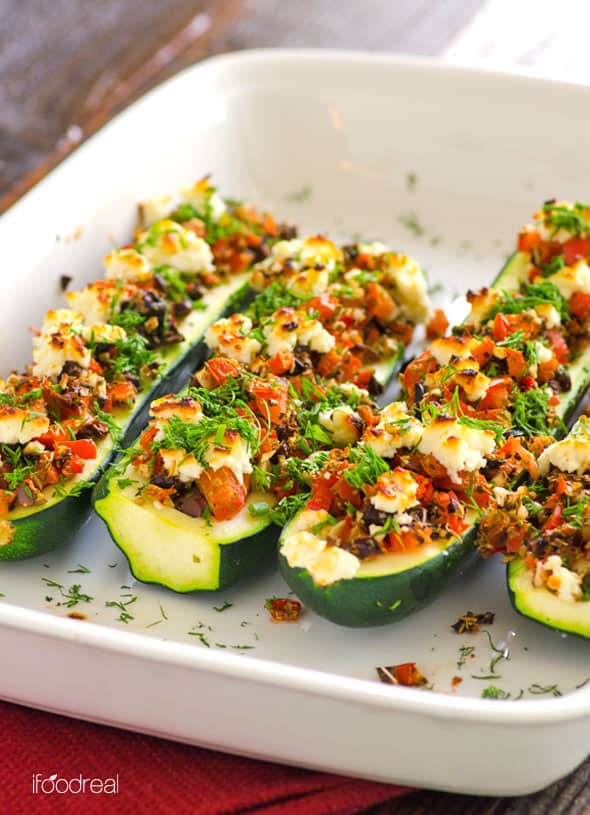 /parmesan-zucchini-sticks/
It's zucchini season, yay! I have recently discovered my love for raw zucchini, especially in a form of chips. Slice them thinly and use instead of chips to dip into strawberry mango salsa, garlic hummus recipe or Greek salad layered dip. This way, you can enjoy more of an appetizer itself. Even with a healthy dip, calories add up quickly when digging into it with chips.
However, you can also enjoy them lightly cooked to make healthy pad Thai zucchini noodles, zucchini tuna fritters, and a delicious 15-minute shrimp with zucchini!

I made these Mediterranean Baked Zucchini Sticks a few weeks back, when the heat wave hasn't hit Vancouver yet. I was in a mood for a lighter zucchini boats, without the sauce and cheese. The ones you can pick up with your hands, more of a side dish or even a cold appetizer. Mmmm, sounds good in a mid of July… 

I oven roasted them stuffed with tomatoes, bell peppers and Kalamata olives until soft but still crunchy. Then topped with feta cheese and placed under the broiler until cheese became golden and crisp, and sprinkled with fresh dill (parsley works better but I was out). These zucchini sticks are the case when food tastes great even cold. So, serve hot or eat straight out of the fridge.
I have never been a fan of zucchini as a kid. In Ukraine, we had these big fat light green coloured zucchini, more of a squash type. No cute long dark green or yellow ones. My grandma would cut zucchini in rounds, dip in a flour and panfry with oil. Now I would take a few but back then I was silly. I often envy my kids' metabolism, don't you?!
Now I use it for everything even within my baking like these healthy zucchini muffins.
.


These zucchini sticks keep well refrigerated for a few days. If you are serving more than 4 people, I recommend doubling the recipe, they disappear fast.
More Healthy Mediterranean Recipes
Olive, goat cheese, and tomato penne pasta
You might also enjoy this chickpea salad with avocado, baby kale salad, or this list of healthy zucchini recipes!
Mediterranean Baked Zucchini Sticks
Mediterranean Baked Zucchini Sticks Recipe is crunchy oven roasted zucchini with feta cheese, fresh parsley and no breading.
Ingredients
4

zucchini

medium

1

cup

red bell pepper

finely chopped

1/2

cup

tomatoes

finely chopped

1/2

cup

Kalamata olives

finely chopped

3

large garlic cloves

minced

1

tbsp

oregano

dried

1/4

tsp

ground black pepper

1/4

cup

feta cheese

crumbled

1/4

cup

parsley

finely chopped
Instructions
Preheat oven to 350 degrees F. Cut zucchini in half lengthwise and scoop out the middle with a spoon or melon baller. Discard or eat the flesh ( I love raw zucchini!). Set aside.

In a medium bowl, mix to combine bell pepper, tomato, olives, garlic, oregano and black pepper. Fill each zucchini with a mixture distributing evenly. Place in a large baking dish or rimmed baking sheet and bake for 15 minutes. Top with feta cheese and broil on high for 3 more minutes or until cheese has browned. Remove from the oven, sprinkle with parsley and serve hot or cold.
Notes
Store: Refrigerate covered for up to 2-3 days.
Nutrition
Serving:
1
zucchini stick
|
Calories:
53
kcal
|
Carbohydrates:
6
g
|
Protein:
2
g
|
Fat:
3
g
|
Saturated Fat:
1
g
|
Cholesterol:
4
mg
|
Sodium:
194
mg
|
Fiber:
2
g
|
Sugar:
4
g