Tex-Mex Rice and Beans with Zucchini is a flavorful, fresh side dish – perfect for serving up alongside your favorite protein  – ready in under an hour!
Why not serve it alongside chili lime chicken, carne asada, or Mexican meatballs?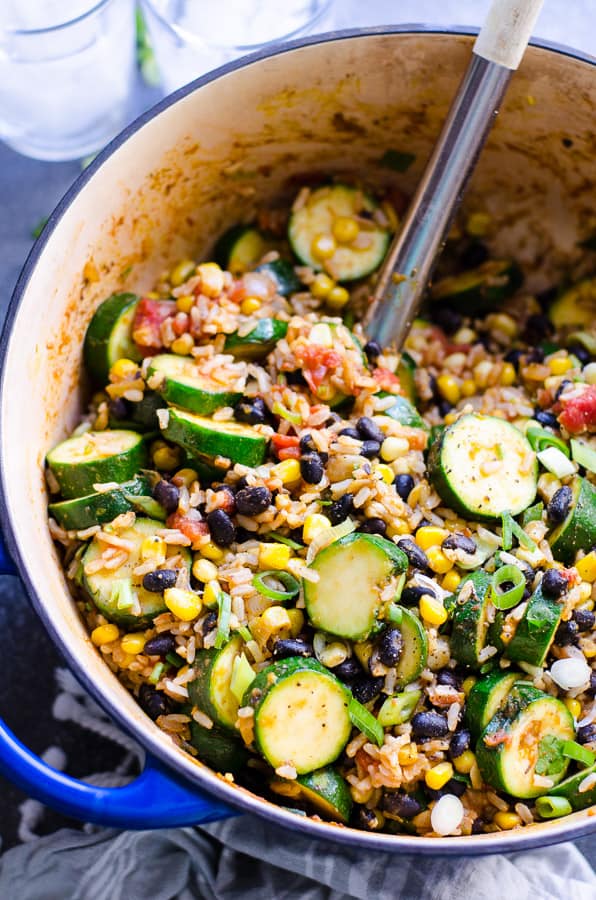 Well, hello there. I'm back. I disappeared from here for like 4 days, which is unusual for me. I feel like Friday – Sunday, and even Monday this week, have been a blur. A good blur of happy family life but still a blur of hundred bank/car/mall/paperwork errands, kids' hockey at 7AM and socializing with a bunch of screaming kids and the most fun adults. Which is all great because this is normalcy you crave once the real-life problems strike! We all go through black and white phases in life, while black taught me to appreciate white ones hundred times more, I know black one will hit eventually again, which makes this white one even whiter.
I spent so much money on kids clothing and new furniture, that I don't want to know how much exactly. However, I sold old furniture on Craigslist and came to a conclusion that me and Alex deserve to have weekend coffee on a comfortable contemporary couch instead of a 15-year-old leatherette chair our butts slide off of. Life goes on, money comes, money goes.
At-least my family is still enjoying my cooking – phew! I don't know what I'd do if they suddenly decided they didn't like some of their current favorites like Tex-Mex chicken and zucchini, pasta with zucchini and tomatoes, and this delicious Tex-Mex rice and beans served alongside proteins like cilantro lime chicken and sides like avocado salad and pico de gallo!
On Friday morning, before the blessed storm called "weekend" has hit, I knew I had to make a huge pot of something wholesome to help us survive this storm we call in Americas "a dream life". It is basically a race of being everywhere at same time while buying everything you can. I usually try to opt out of this Canadian tradition as much as I can, but this weekend I couldn't and frankly didn't want to. Honestly, how can weekends of a young family be considered relaxing?! What a bunch of BS LOL.
I made this tex mex rice and beans with affordable organic jasmine brown rice I recently so happily found in Superstore's ethnic aisle, black beans (learn how to cook dried beans), a package of going bad organic mini zucchini from Mexico via Costco and frozen Costco corn.
I even had some leftover zucchini and ended up whipping up some 5-minute sauteed zucchini ready to have as a side for another meal
This rice dinner is so easy to make, I was chatting with a friend in my kitchen while cooking this tex mex rice. I have never been to a tex mex restaurant so popular in the US so can't vouch how authentic this Mexican rice is, but I think I got the idea. Main thing is that it is healthy, tasty, cheap and easy! Chock full of vegetables too – healthy Mexican food.
You could add in cheese, crushed tortilla chips, cilantro, green onions, jalapeño, avocado. Sky is the limit with the tex mex – sweet potato skillet, butternut squash noodles and spaghetti squash boats. And if you are looking for more rice and beans recipes, try my black beans and brown rice with cauliflower, olives, and Parmesan cheese.
I paid only $4 for this organic jasmine brown rice. We all loved it way more than long brown rice because it is fluffier and doesn't stick together, each grain is separate and the house smelled like the most authentic Thai restaurant. I decided that I will trust the USDA organic seal on this one. I still can't buy anything from China though.
I decided not to do What I Ate Weekend post this week because I would like to write about how to feed kids real food post, and I have only so much time. There are so many things I would like to get done and only so much time. I don't know why I keep decluttering, deep cleaning and updating furniture while getting ready for a 3 day hockey tournament trip and then a vacation (Alex calls it crazy OCD wife syndrome). We are leaving to our month long tropical adventure in 15 days!!!
I can't believe it and can't wait to blog for that month because it will be so much fun and so different! I love reading other people's adventures and can't wait to offer you mine, I think it will be epic because first time in last 17 years we are boarding a plane to not an all-inclusive tropical vacation. Yes, we are that lazy haha. I have no plan on what I will be cooking because I have no idea where and for what I will be shopping. Only thing I can tell you that my new home is beachfront with 24/7 ocean view. But that's in two weeks. Right now, I'm still dealing with expired passports, hepatitis vaccinations, swimming lessons, hockey, field trips, work, and everything that a blessed mom's life entails.
Other Healthy Zucchini Recipes
You might also like this list of 30 healthy zucchini recipes or 18 healthy one-pot meals!
Tex Mex Rice and Beans with Zucchini
Tex Mex Rice and Beans Recipe is a 30 minute one pot easy and healthy Mexican rice with zucchini, brown rice, black beans, corn, diced tomatoes and spices.
Print
Rate
Ingredients
1

cup

brown rice

I used jasmine*

1

large onion

finely chopped

3

garlic cloves

minced

1

tbsp

coconut or avocado oil

2

tsp

taco seasoning

2

tsp

cumin

ground

1

tsp

coriander

ground

1 1/2

tsp

salt

more or less to taste

Ground black pepper

to taste

3

medium zucchini

cut in half moon shapes

2

cups

corn

frozen or canned

14

oz

can black beans

rinsed & drained (I cook my own)

14

oz

can diced tomatoes

Cilantro

green onions, tortilla chips, cheese, optional and to taste
Instructions
Cook brown rice as per package instructions. Personally, I like to cook it 1 cup rice : 1.5 cups water ratio, and for 30 minutes. This way rice comes out al dente and fluffy. The secret is not to peek inside, do not open the lid. While rice is cooking, prepare other ingredients and start cooking about half way rice is done.

Preheat

large dutch oven

or soup pot on medium heat and swirl oil to coat. Add onion and garlic, and cook for 5 minutes, stirring occasionally. Add taco seasoning, cumin, coriander, salt and pepper, and cook for 30 seconds, stirring frequently.

Add zucchini and cook for 3-5 minutes for al dente version or longer if you like your vegetables very soft. Add corn, black beans, diced tomatoes and fluffed with a fork previously cooked rice. Stir gently, turn off the heat and adjust seasoning and toppings to taste. Serve hot.
Notes
*Long grain would work too but it is not as fluffy as jasmine. Short grain brown ice mill make the dish mushy but still will taste delicious.
**You can also add boneless and skinless pieces after spices are browned, cook for 10 minutes or until opaque inside.
Nutrition
Calories:
217
kcal
|
Carbohydrates:
35
g
|
Protein:
5
g
|
Fat:
3
g
|
Saturated Fat:
2
g
|
Sodium:
517
mg
|
Potassium:
373
mg
|
Fiber:
4
g
|
Sugar:
5
g
|
Vitamin A:
255
IU
|
Vitamin C:
17
mg
|
Calcium:
29
mg
|
Iron:
1
mg
Join today and start saving your favorite recipes
Recipes and images are a copyright of ifoodreal.com. It is against the law to republish recipes anywhere including social media, print and all world wide web. Nutritional info is provided for informational purposes only and to the best knowledge.