This Tex Mex Rice and Beans with Zucchini is a delicious meat-free side that's packed with summer veggies, beans, and tons of flavor. Serve this zucchini black bean and rice skillet with the protein of your choice for a flavor-packed, nutrient-dense meal in under an hour!
And if you enjoy this, you might love to make some other meat-free Tex Mex/Mexican recipes like veggie quesadillas, one-pot chili mac, or black bean nachos.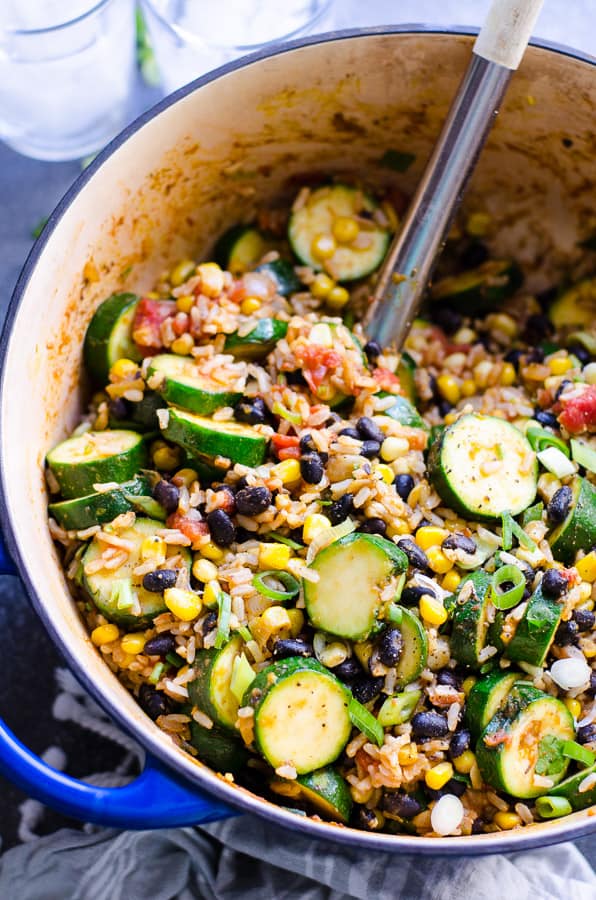 Easy Tex Mex Rice and Beans with Zucchini
If there's one thing that my family will never get enough of, it's dishes that perfectly combine hearty, wholesome, comforting food – but made healthier. Luckily for me, this simple Tex Mex rice and beans combines several of my favorite elements; brown rice, black beans (cooked from dry beans), fresh zucchini, tomatoes, corn, and several aromatics and spices to give it a Tex Mex twist.
The result is a super hearty and flavor-packed vegetarian side dish or main! in fact, I'm so obsessed with black beans and rice that I've also shared an Instant Pot version and this Mexican chicken and rice.
As usual, I've kept this recipe nice and healthy, too, swapping out white rice for more nutritious brown rice and making cheese 100% optional (though I won't blame you for adding some). Honestly, Tex-Mex and Mexican casseroles along with simple dishes are currently a favorite in this house. Of course, you can never go wrong with meat, beans, cheese, and veggies – like this chicken burrito skillet, healthy Mexican casserole, taco skillet, and one-pot skillet enchiladas.
This Tex Mex black beans and rice is 100% meat-free, too, though I've included options below on how to add in meat if preferred, as well as my favorite ways to adapt and serve the dish. Honestly, as a simple side dish, this zucchini black bean casserole ticks all the boxes. It's tasty, cheap, easy to make, and healthy – wahey!
You can then choose to make the dish more decadent with toppings or it's perfect for healthy dinner sides alongside the protein (or veggies) of your choice. I will admit, though, that I've never tried a version of this dish in a Tex Mex restaurant, so I can't vouch for any kind of authenticity – but family and friends have all loved it. That's enough for me!
Want more Tex-Mex inspiration? You might also like this Tex Mex chicken and zucchini, skillet sweet potatoes, spaghetti squash boats, or butternut squash noodles!
Why This Recipe for Black Beans and Rice Works?
This Tex Mex rice and beans recipe is packed with veggies for a nutrient-dense, healthy, wholesome dish!
A single serving contains just 217kcal (and 5g protein from the beans)!
It's ready in under 45 minutes – perfect for serving up alongside baked proteins that take similar times.
The recipe requires just two pans too! Which means less washing up – yay!
The Tex Mex rice and beans recipe consists entirely of pantry basics and just a few fresh vegetables!
This recipe is meat-free, dairy-free, and gluten-free– a delicious plant-based side for meatless Mondays or for serving alongside meat!
This zucchini black bean casserole is also a great 'clean-out-the-fridge' dish, perfect for using up all those 'almost stale veggies, leftover proteins, and the beans you have on hand!
Ingredients for Zucchini Black Bean and Rice Skillet
Brown rice: I used jasmine rice, but regular brown rice works well too. Long-grain rice isn't quite as fluffy, and short-grain can become slightly mushy (but still delicious). This recipe would also work with quinoa.
Aromatics: This zucchini black bean and rice skillet uses a simple combination of onion (I used white, but red would work too) and garlic – adjust the amount to taste.
Oil: Use any neutral cooking oil- like coconut or avocado oil.
Vegetables: This recipe requires zucchini (or summer squash), corn (frozen or canned), black beans (canned or pre-cooked from dry), and a can of regular diced tomatoes (or fire-roasted tomatoes).
Seasonings: This zucchini black bean casserole recipe packs in tons of flavor with the combination of homemade taco seasonings, ground cumin, coriander, and salt & pepper.
To garnish: Cilantro, parsley, or scallions, tortilla chips, and cheese (like sharp cheddar or Colby Jack- dairy or vegan) are all optional and to taste.
Read below (after the recipe how-to) for more information on recipe add-ins and recipe variations!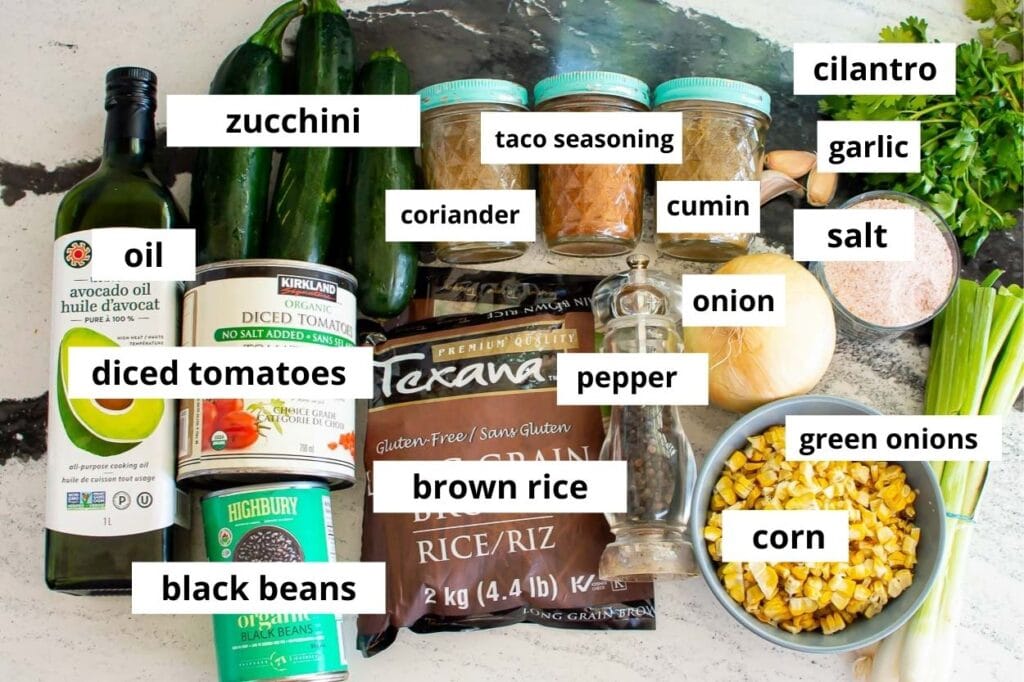 How to Make Zucchini Black Bean Casserole
Cook the rice: First, cook the brown rice according to the package instructions.
Make sure not to lift the lid while the rice cooks, and that's the secret to perfect results every time! For extra flavor, cook the rice in vegetable broth, chicken broth or Instant Pot chicken broth rather than salted water.
Prepare the vegetables: Wash and slice the zucchini into half-moon pieces (around 1/4-inch thick). At the same time, finely chop the onion, mince the garlic, and drain and rinse the beans (if using canned).
Sauté the aromatics: Heat a large Dutch oven/soup pot over medium heat and add a swirl of oil. Once heated, add the onion and garlic and sauté for 4-5 minutes, stirring occasionally. Then add all the seasonings and cook for a further 30 seconds, frequently stirring to avoid burn.
Add the remaining ingredients: Add the zucchini and cook for 3-5 minutes until al dente (or slightly longer if you prefer them tender). Next, add the corn, beans, tomatoes, and cooked rice and stir gently. Turn off the heat, mix well, and taste. If any of the seasonings need adjusting, do so now. Then serve warm and enjoy!
Don't overcook the zucchini. Otherwise, it will start to release liquid and become quite soggy (as well as make for a more watery dish).
Optional Add-Ins and Variations
Spice: Feel free to increase the spice with the addition of fresh chilies or cayenne/chili powder. Alternatively, you could use a can of spicy tomatoes like tomatoes with chipotle (or Rotel).
Salsa: You can add in some ready-made salsa (or pico de gallo) for extra flavor, stirring it through before serving.
Greens: Spinach or kale would add extra nutrients to this zucchini black bean and rice skillet without impacting flavor too much.
Low carb: You could use cauliflower rice, as I did with this Mexican cauliflower rice recipe.
Protein: Add ground beef, turkey, or chicken to the skillet too. Alternatively, add diced boneless/skinless chicken after the spices are browned and cook for 10 minutes (or until opaque inside), or even cooked Instant Pot shredded chicken breast to this Tex Mex black beans and rice.
Other vegetables: diced bell peppers, sweet potato (par-boiled), or even eggplant could work well.
Fresh tomatoes: During the summer, you can take advantage of the ripe tomatoes, using them in place of the tinned tomatoes with an extra splash of stock to make up for the loss of liquid.
Tips for Best Tex Mex Rice and Beans Results
An oil–free version: Instead of oil, you can use a little vegetable/chicken broth or water to sauté the ingredients.
When adding cheese: I recommend sprinkling the cheese over the zucchini black bean casserole. Then turn the heat to low, and cook for several minutes until the cheese melts.
Use leftover rice: For a dish that's ready in under 15 minutes, use leftover brown rice for this recipe!
FAQs
Are rice and beans healthy?
They sure are – the combination packs in fiber, protein, carbs, and tons of vitamins and minerals. Plus, this zucchini black bean and rice skillet uses brown rice for an even more nutritious choice. Just try not to ruin it all with tons and tons of cheese when serving.
How many cups is 3 zucchini?
I used 3 medium zucchini which are around 6-8 cups (as an estimate).
Can I use Spanish rice for Tex Mex rice and beans?
Yes, you sure can. In fact, the recipes are very similar.
Why is my rice still crunchy?
Sounds like it's undercooked. If all the water was absorbed, I recommend adding in a little more, replacing the lid, and allowing to cook for a further 5-10 minutes before checking again.
Can I use red beans?
Yes, that's fine – you could even use a can of mixed beans.
Serving Recommendations
Before even talking about what to serve the Tex Mex rice and beans with zucchini, let's first talk about how to garnish the rice. Here are just a few options:
With sour cream
Avocado slices or guacamole
Serve with lemon wedges – the extra flavor is delicious
Extra salsa – like pico de gallo to top
Plus, as previously mentioned, with cheese, fresh herbs, and/or tortilla chips. Once garnished, here are a few dishes to enjoy with this Tex Mex rice and beans dish:
Making Black Beans and Rice in Advance
Storing: Store the leftover zucchini black bean and rice skillet in an airtight container in the fridge for between 3-4 days.
Freeze: I don't recommend freezing the Tex Mex rice and beans unless you omit the zucchini; otherwise, it can become very watery upon thawing.
Reheat: Reheat the Tex Mex rice and beans either in the microwave or on the stovetop. The zucchini may become slightly more watery – but this is normal.
More Black Bean Recipes
Other Healthy Zucchini Recipes
You might also like this list of healthy zucchini recipes or one-pot meals!
Tex Mex Rice and Beans with Zucchini
This Tex Mex Rice and Beans with Zucchini is a delicious meat-free side that's packed with summer veggies, beans, and tons of flavor. Serve this zucchini black bean and rice skillet with the protein of your choice for a flavor-packed, nutrient-dense meal in under an hour!
Instructions
Cook brown rice as per package instructions. Personally, I like to cook it 1 cup rice : 1.5 cups water ratio, and for 30 minutes. This way rice comes out al dente and fluffy. The secret is not to peek inside, do not open the lid. While rice is cooking, prepare other ingredients and start cooking about half way rice is done.

Preheat large Dutch oven or soup pot on medium heat and swirl oil to coat. Add onion and garlic, and cook for 5 minutes, stirring occasionally. Add taco seasoning, cumin, coriander, salt and pepper, and cook for 30 seconds, stirring frequently.

Add zucchini and cook for 3-5 minutes for al dente version or longer if you like your vegetables very soft. Add corn, black beans, diced tomatoes and fluffed with a fork previously cooked rice. Stir gently, turn off the heat and adjust seasoning and toppings to taste. Serve hot.
Notes
*Long grain would work too but it is not as fluffy as jasmine. Short grain brown ice mill make the dish mushy but still will taste delicious.
**You can also add boneless and skinless chicken pieces after spices are browned, cook for 10 minutes or until opaque inside.
Nutrition
Calories:
217
kcal
|
Carbohydrates:
35
g
|
Protein:
5
g
|
Fat:
3
g
|
Saturated Fat:
2
g
|
Sodium:
517
mg
|
Fiber:
4
g
|
Sugar:
5
g