Healthy Almond Flour Pumpkin Bread is moist and fluffy, packed with warming pumpkin pie spices and topped with crunchy pumpkin seeds. Naturally gluten free, refined sugar-free, oil-free, keto/paleo optional, and can be enjoyed for healthy breakfast ideas, brunch, or dessert!
For more fall-fantastic almond flour bakes, you might also like almond flour cinnamon bread, healthy pumpkin cake (with frosting), or healthy pumpkin bars!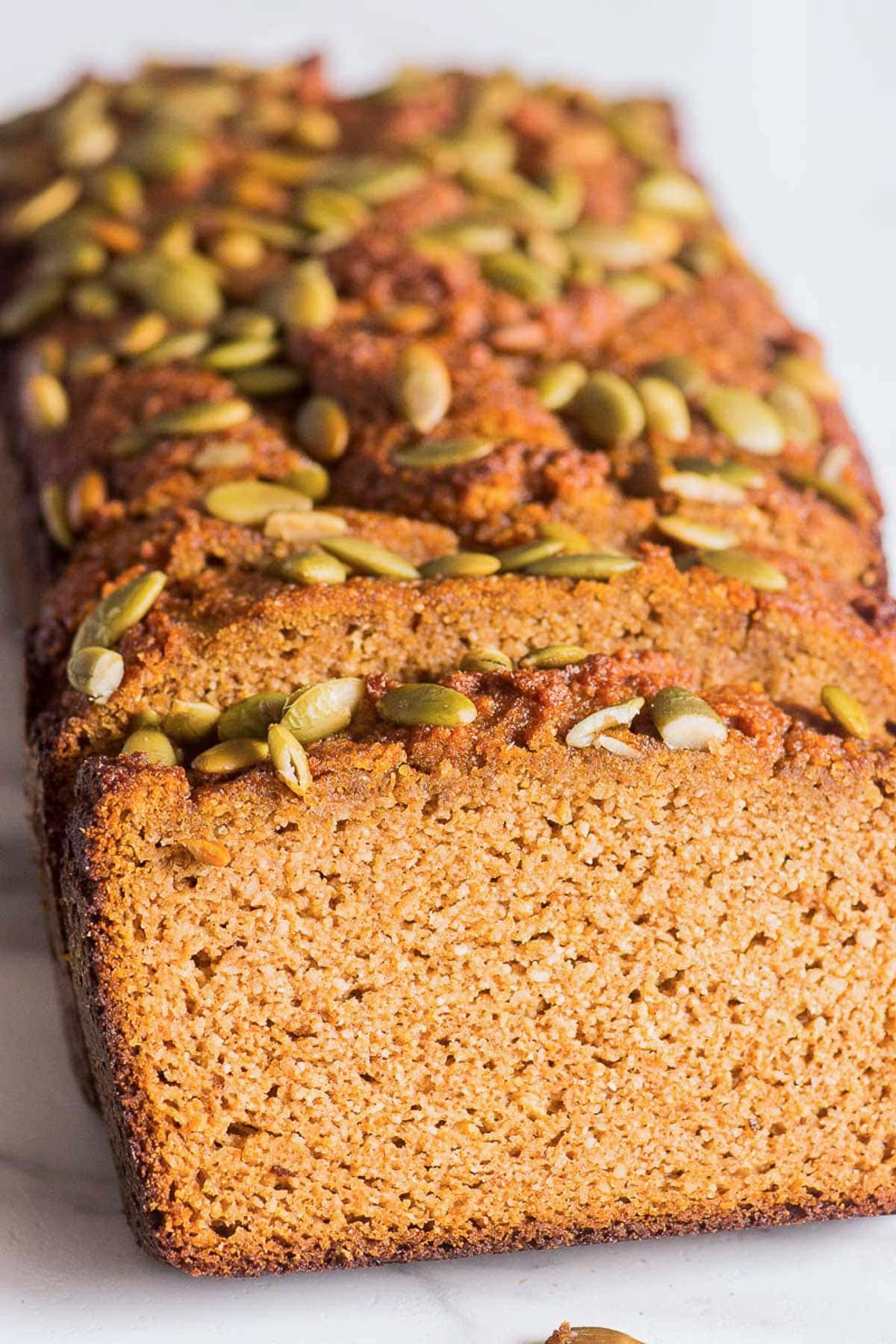 Almond Flour Pumpkin Bread
When the fall weather hits, warming spices and seasonal produce are a must in this kitchen. So along with cozy healthy apple bread and healthy pumpkin muffins, healthy pumpkin cookies, and healthy pumpkin brownies – I'm also whipping up batches of this gluten-free almond flour pumpkin bread!
With a combination of pumpkin pie spice topped up with extra cinnamon, this fall-fantastic bake will fill your kitchen with warming fall spices and the ultimate 'cozy vibes.' We also love these healthy pumpkin pancakes!
Plus, by swapping out regular flour, this almond flour bread with pumpkin puree (fresh or canned) is amazingly moist and tender.
Not to mention that the almond flour also helps to create a nourishing gluten-free pumpkin bread packed with protein, healthy fats, and fiber! Even more so with optional add-ins like nuts, seeds, dried fruit, or even chocolate (antioxidants, please!).
Why Make Almond Flour Bread with Pumpkin?
Fall flavor loaded: Warming spices like ground cinnamon, nutmeg, ginger, and cloves fill your kitchen and belly with warmth!
Nourishing: With no empty calories or processed flours and sugar, nourishing paleo pumpkin bread is packed with protein, healthy fats, fiber, vitamins, minerals, and antioxidants!
Diet-friendly: Naturally gluten free, grain-free, refined-sugar-free, oil-free, and can be made keto (including a sugar-free pumpkin bread) and paleo.
Moist and fluffy: Pumpkin puree and almond flour contribute to keeping bread moist and eggs with leavening agents keep it light and fluffy!
Easily customizable: Swap out the topping or add extra fillings like dried fruit, nuts and chocolate. Even make almond flour pumpkin muffins!
Fuss-Free: One bowl, a spoon/spatula, and a baking pan – easy-peasy fuss-free cleanup. That's my type of bake!
Meal–prep friendly: Store the pumpkin spice bread for 5 days at room temperature, a week in the fridge, or three months in the freezer!
You may love to browse my collection of over 20 almond flour recipes!
Ingredients for Gluten Free Pumpkin Bread
Almond flour: Superfine blanched almond flour is best for a tender, fluffy, melt-in-the-mouth texture. Coarse almond flour may work too but will produce a denser texture. You may also be able to use cashew flour – though I haven't tried. I wouldn't recommend using almond meal (with the skins).
Pumpkin: Use homemade or canned pumpkin – make sure to use regular pumpkin puree, NOT pumpkin pie filling.
Spices: For this almond flour pumpkin bread, you'll need pumpkin pie spice, with extra cinnamon, and a pinch of salt (which will enhance the other flavors). I use homemade pumpkin pie spice substitute. Store bought is fine.
Eggs: You'll need 3 large room temperature eggs.
Sweetener: I use maple syrup, as it pairs well with the pumpkin spice bread flavors. However, other sweeteners like honey, brown rice syrup, date syrup, granulated sugar, or even a sugar-free option like xylitol/erythritol would work. You could also use a low-carb 'maple syrup.' Almond flour bread uses only 1 1/2 Tbsp liquid sweetener.
If you use an alternative sweetener, make sure to adjust the amount accordingly. For example, reduce the amount to 1/3 cup when using erythritol, as it's naturally sweeter.
Baking Powder and Baking Soda: These leavening agents provide lift and fluffy texture to the pumpkin bread.
Salt: All you need is a pinch to balance and enhance the flavors.
Pumpkin Seeds: (Optional) I used ¼ cup pumpkin seeds to top the paleo pumpkin bread for texture.
You'll also need a little cooking spray (I use Misto) for the loaf tin.
How to Make Almond Flour Pumpkin Bread
Prepare the loaf pan: First, preheat the oven to 350F/125C and then line a 9×5-inch loaf pan with (unbleached) parchment paper. Then, spray it with a bit of cooking spray and set aside.
Mix the pumpkin spice bread batter: In a large bowl, combine the (wet ingredients) eggs, maple syrup, pumpkin, leavening agents, and spices and whisk well to combine. Then add the almond flour and mix gently with a spatula.
Bake the almond flour bread: Pour the prepared pumpkin spice batter into the prepared loaf pan and sprinkle the top with the pumpkin seeds. Then bake the almond flour pumpkin bread for 40-50 minutes, or until a toothpick inserted in the center comes out mostly clean (with a few crumbs is fine, but not 'wet').
I used a light pan, and it took 50 minutes. However, when using a dark pan, it will cook faster. So, I recommend checking on it at 40 minutes.
Allow it to cool: Then, remove the loaf pan from the oven and allow it to cool for at least 20 minutes before removing it from the pan and allowing it to cool for a further 60 minutes. Finally, you can slice the gluten-free pumpkin bread with a serrated knife and enjoy!
Almond flour bread is fragile while still warm, so don't skip the cooling time!
Optional Add-In's and Variations
I recommend using around 1 cup of 'fillings' in total from the options below.
Dried fruit: Add around 1/3 of cranberries, raisins, or even chopped dates. You can add these on their own or alongside nuts or chocolate (below).
Vanilla Extract: Use natural extract or paste for the best results- just ½-1 tsp should be enough.
Nuts/seeds: Chopped pecans or walnuts work particularly well with pumpkin spice baked goods. However, you could also use pepitas (pumpkin seeds) within the cake or sunflower seeds.
Chocolate Chips: You can use chocolate chips or chunks – I prefer dark chocolate for this gluten-free pumpkin bread. Although mini chocolate chips are a close second favorite, as I get some in every bite, just like with healthy cookie dough!
Orange zest: Use the zest from one orange for extra flavor.
Pumpkin spice latte: I recommend adding around 2 tsp espresso powder or slightly more instant coffee powder. Adjust the amount to personal preference.
Cinnamon topping: Instead of the pumpkin seed topping, you could sprinkle the pumpkin spice bread with a little cinnamon sugar (or granulated sweetener) for a crunchy sweet topping.
Icing: Alternatively, you could drizzle the top of the almond flour pumpkin bread with a quick icing (like I used for these healthy cinnamon rolls). Another option is to use healthy cream cheese frosting!
Sweet potato: For a fun twist, you can skip the pumpkin entirely and use sweet potato puree in its place. It has the same earthy tones and textures but just a slightly different flavor. Well worth a try (and possible to make year-round!)
Tips for Best Almond Flour Pumpkin Bread Results
Ensure you use the spoon and level method: When measuring the almond flour (rather than scooping the cup directly into the flour bag). Spoon the flour into your cup, then use the back of a knife to level the top. If you use too much flour, the almond flour bread will end up dense.
Use liners: I highly recommend using lightly greased (I sprayed with cooking spray) parchment paper to line the baking pan, as the almond flour pumpkin bread WILL stick otherwise.
Using homemade pumpkin puree: The moisture content of homemade vs. canned pumpkin puree can vary, so you may need an extra spoonful of almond flour if it seems very watery.
If you want to use a dry sweetener: Make sure to make up for the loss of moisture with yogurt or applesauce. You can also do this if you want to reduce the amount of liquid sweetener added.
FAQs
Can I make almond flour pumpkin muffins?
Absolutely- divide the batter into a lined muffin tray and then reduce the baking time (20-30 minutes should be enough). Likewise, I'd probably check at the 12–15-minute mark for mini muffins and test with a toothpick until ready.
How do I make this gluten-free pumpkin bread egg-free?
I haven't tried this recipe with an egg alternative, so I can't guarantee any results. However, readers have had luck subbing other almond flour recipes with chia seed egg or learn how to make a flax egg. Though, with almond flour, your bake will usually be flatter and denser.
How does almond flour affect bread?
When using almond flour in quick breads, not only will the bake be wonderfully moist and tender (thanks to the natural heart-healthy fats), but they're also naturally gluten-free. While technically denser than regular AP flour, when combined with the right ingredients and leavening agents, you can make wonderfully light and fluffy almond flour bread – that doesn't even taste like they use almonds! Like this lemon zucchini almond flour bread, almond flour carrot cake, or almond flour brownies!
Is this almond flour bread low carb?
There are 16g Net carbs per portion in this almond flour pumpkin bread recipe, as written. However, the maple syrup alone contains 70g+ of carbs in this recipe. You can remove 7-8g net carbs per portion by swapping the sweetener for a low-carb alternative.
Is almond flour pumpkin bread keto?
Following on from the above – as the recipe is written, it isn't technically keto due to the high carbs. However, a low-carb sweetener could have a single slice at around 7-9g net carbs, and the remaining ingredients are all keto-friendly.
Serving Recommendations
You can enjoy a slice of almond flour pumpkin bread (or an almond flour pumpkin muffin) in several ways (chilled, room temperature, or warmed), including with:
Butter: Spread a little butter or go one step further with honey butter (just a little is all you need).
Nut butter: Double up on the pumpkin of this paleo pumpkin bread with a topping of nut seed butter. Almond, cashew butter, or even homemade Nutella (cacao hazelnut butter) would also work.
Other spreads: You could also enjoy this moist almond flour pumpkin bread with cinnamon honey butter, a sweetened cream cheese spread, or apple/pumpkin butter.
Yogurt and fruit: Serve a pumpkin bread slice with a dollop of Instant Pot yogurt and optionally some fruit or a drizzle of maple syrup. Alternatively, you could use coconut whipped cream. For extra flavor, fold some cinnamon or pumpkin pie spice into the yogurt/cream with a little sweetener.
Ice-cream: Add a small scoop of ice cream (like this vegan vanilla ice cream) over the warmed slice.
You can also enjoy the leftovers in fun ways, including turning them into French toast or even reheated in a skillet with a bit of butter for a more decadent, toasty treat!
Making Paleo Pumpkin Bread in Advance
Make ahead: You can prepare the batter (minus the leavening agents) a day in advance. Store it, covered, in the fridge. When you're ready to bake, fold in the leavening agents and bake as usual. You may need an extra minute or two in the oven for the chilled batter.
Storing: Store the pumpkin almond bread covered in a cool, dry location for up to 5 days (or in the fridge for around a week). Make sure to keep it covered, so it doesn't dry out.
Freeze: Place the slices separated on a baking tray and freeze until solid. Then transfer to a Ziplock bag and freeze for up to three months. When you want a slice, allow it to thaw on the countertop.
Reheat: You can enjoy slices of the almond flour pumpkin spice bread warm by using a toaster oven or the microwave (in 15-20 second increments). If you want to heat a large amount, you could loosely wrap it in foil and reheat it in the oven at 400F/205C until warm (around 10-12 minutes).
More Almond Flour Recipes
Almond Flour Pumpkin Bread
Moist and fluffy Almond Flour Pumpkin Bread packed with warming pumpkin pie spices and topped with crunchy pumpkin seeds. It's the best healthy fall treat!
Instructions
Preheat oven to 350 degrees F, line 9 x 5 loaf pan with unbleached parchment paper and spray with cooking spray. Set aside.

In a large mixing bowl, add eggs, maple syrup, pumpkin puree, baking powder + soda, pumpkin pie spice, cinnamon and salt. Whisk well until combined.

Add almond flour (don't forget to skim the top of measuring cup with a knife) and mix gently with spatula to combine.

Pour batter into previously prepared loaf pan, sprinkle with pumpkin seeds and bake for 50 minutes or until the toothpick inserted in the middle comes out somewhat clean. This bread burns fast, so don't over bake and remove from the oven while top still appears semi soft. They key to moist and firm bread is to let it cool down.

Remove bread from the oven and transfer to a cooling rack to cool off for 20 minutes. Holding onto the flaps of parchment paper remove bread from a loaf pan and let it cool off for another 60 minutes before slicing with sharp serrated knife.
Notes
Store: Store covered in a cool dry place for up to 5 days.
Freeze: In an airtight container for up to 3 months.
Sweetener: You can use erythritol but I recommend to cut amount to 1/3 cup as it is more sweet. Granulated sugar you may need to add yogurt or applesauce to balance the moisture.
Egg free: Eggs are binding, especially for almond flour. I personally have not tried any replacements, chia egg may work but it will be more dense/flatter.
Color of loaf pan: Dark loaf pan will cook bread even faster, so keep an eye on it at 40 minutes.
Use liners: Use lightly greased (I sprayed with cooking spray) parchment paper to line pan, as the almond flour pumpkin bread WILL stick otherwise.
Nutrition
Serving:
1
slice
|
Calories:
272
kcal
|
Carbohydrates:
21
g
|
Protein:
10
g
|
Fat:
19
g
|
Saturated Fat:
2
g
|
Cholesterol:
49
mg
|
Sodium:
255
mg
|
Fiber:
5
g
|
Sugar:
12
g