Frozen Banana Snickers are chocolate-y, creamy, and so delicious. Made with just 5 ingredients, they're the best no bake healthy dessert!
These frozen banana snickers are perfectly sweet and salty. Snickers is one of my favorite candy bars and I am thrilled to have a healthier option that will satisfy my sweet tooth, guilt free!
We really enjoyed the viral cottage cheese ice cream, and now with these savory sweet banana snickers bites, it's safe to say our freezer will be well stocked with frozen dessert recipes all summer long.
What Are Frozen Banana Snickers?
Frozen banana snickers are a healthy twist on the classic Snickers bar. Ripe bananas are layered with a creamy peanut butter nougat and crunchy peanuts, then coated in rich, melted chocolate and chilled.
I make them in a silicone muffin tin which is different than others. There's less mess and waste, it's easier to assemble, and easy to store.
Ingredients for Banana Snickers
You'll need a short list of basic ingredients to make this banana snickers recipe. You most likely have most on hand, all you need is room in your freezer!
Bananas: I used 3 large bananas. Look for yellow bananas that are just ripe and sweet. Overripe bananas will be too mushy.
Peanut butter: Use smooth peanut butter for easy spreading.
Peanuts: Salted roasted peanuts add that signature Snickers taste and crunch.
Chocolate chips: Use whatever you have on hand, I had semi-sweet chocolate chips.
Coconut oil: Combined with the chocolate to thin it out, making it easier to drizzle and coat. It also helps the chocolate harden.
How to Make Banana Snickers
These banana snickers need less than 15 minutes of prep time with no baking or cooking. They're so easy, you'll be making these healthy banana snacks all the time!
Melt chocolate: Add chocolate chips and coconut oil to a small pot. Set burner to low heat and cook until melted, stirring constantly. Remove from heat. Alternatively, you can add them to a microwave-safe bowl and melt in the microwave.
Add chocolate to muffin tin: Drizzle a bit less than a tablespoon of melted chocolate into the bottom of each muffin cup. No need to measure exactly, just eyeball it and leave half the chocolate for topping.
Layer remaining ingredients: To each cup add 4 or 5 slices of banana, followed by 1 tablespoon of peanut butter, and 1 tablespoon of peanuts. Drizzle with the remaining chocolate and sprinkle with optional crushed peanuts.
Freeze: Place muffin tin in the freezer and freeze for 2 hours. Once the chocolate has set and the bananas are firm, carefully pop the frozen banana bites out by pushing from the bottom of each mold. Enjoy!
Tips for Best Results
By following these simple tips, you're banana snickers will taste just like a snickers ice cream bar.
If using metal muffin tin: Make sure to use muffin liners so the chocolate doesn't stick to the pan after freezing.
Use sweet bananas: They should be ripe but firm so you get the sweet taste and creamy texture. Unripe bananas won't be sweet enough, and overripe may be too soft.
Measure ingredients approximately: I use just regular tablespoon to drizzle all ingredients. This recipe would be very hard to do with proper measuring spoons. It's OK to eat more of wholesome ingredients.
If you don't have coconut oil: You can use equal amount of melted butter.
Variations
When you buy a Snickers bar there's only one option, but these healthier frozen banana snickers have tons! Here are few fun and creative ways to dress them up.
Chocolate: Feel free to use your favorite chocolate. Dark chocolate would be the healthiest option with low sugar, or make them dairy-free and vegan with your go-to vegan chocolate. You can even try white chocolate chips or any flavored baking chips like caramel, butterscotch, Skor, or Reese's, you name it!
Nuts: If you have a peanut allergy or want to experiment with flavor, swap peanuts for another type of nut. Chopped almonds, cashews, or walnuts will all add crunch and nutty flavor.
Nut butter: Peanut butter and banana have been a pair for decades, but any unsweetened nut butter will work. Try almond butter, cashew butter, sunflower seed butter, or WOWbutter.
Add dried fruit: Dried fruit can enhance the flavor and add a pop of color! Dried cranberries would add a tart taste, adding raisins would make it similar to a fruit and nut bar, or make it a tropical snack with coconut flakes and dried pineapple or apricot.
Add sea salt: A pinch of sea salt sprinkled on top would balance out the sweetness.
How to Store Banana Snickers Bites
At first you'll have to freeze them for 2 hours and then you can enjoy. To fully freeze banana snickers it will take about 4 hours.
Once they're frozen, transfer to an airtight container or freezer-safe bag and keep frozen for up to 3 months.
You don't need to thaw snicker banana bites before enjoying because it is full of ingredients with healthy fats that do not freeze much.
FAQs
Can I use frozen bananas to make banana snickers?
You can use frozen bananas if you let them thaw a little bit, so you can slice them.
Can I make banana snickers without a muffin tin?
Yes. Slice the banana in half lengthwise and lay them flat side up on a baking tray lined with parchment paper.
Spread drippy peanut butter on top, sprinkle with roasted peanuts, and drizzle with melted chocolate.
What makes these banana snickers healthy?
Bananas are an excellent source of potassium, and peanuts are high in protein, vitamins, and minerals. If you use natural peanut butter and either dark chocolate chips or sugar free chocolate chips, these homemade banana snickers make the perfect healthy treat any time of day.
More Frozen Treats to Try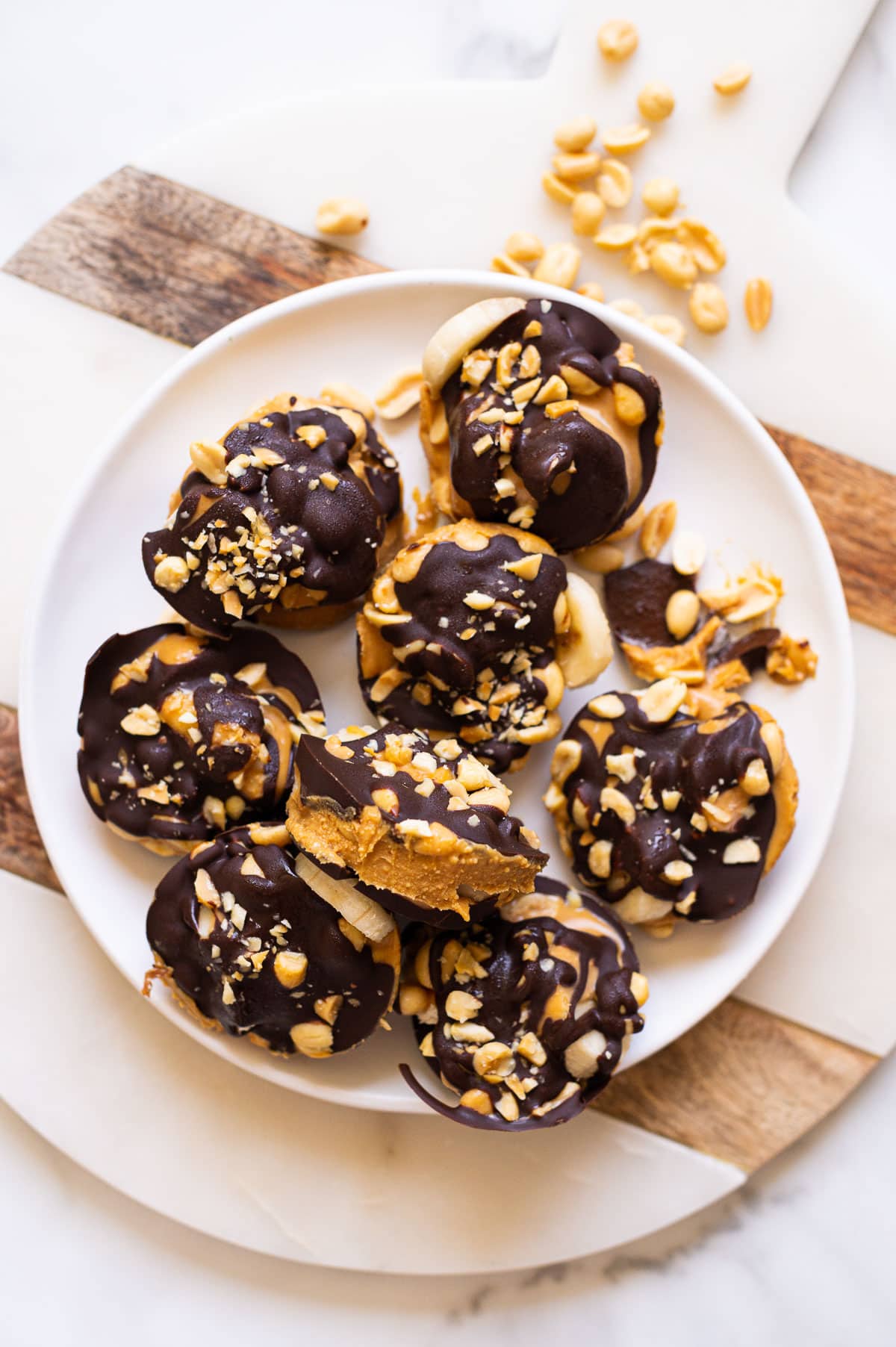 Frozen Banana Snickers
Frozen Banana Snickers are chocolate-y, creamy, and so delicious. Made with just 5 ingredients, they're the best no bake healthy dessert!
Instructions
In a small pot, add chocolate chips and coconut oil. Cook on low heat until melted, stirring constantly. Remove from heat.

Drizzle a bit less than a tablespoon of melted chocolate into each muffin tin cup. Just eyeball to leave the half for topping and if you run out, you can always melt more.

Then add about 4-5 slices of banana, 1 tablespoon of drippy peanut butter and 1 tablespoon of peanuts into each cup. Drizzle with remaining chocolate and sprinkle with a bit of crushed peanuts, if you wish.

Freeze for 2 hours, carefully pop banana snicker by pushing from the bottom of a mold and enjoy!
Notes
Store: Keep banana snickers frozen. Once fully frozen for about 3-4 hours, transfer to an airtight container and freeze for up to 3 months. No need to thaw, enjoy from frozen!
Metal muffin tin: You can use regular muffin tin but be sure to line it with paper liners, so you can get frozen banana snickers out.
Nutrition
Serving:
1
banana snicker
|
Calories:
269
kcal
|
Carbohydrates:
20
g
|
Protein:
8
g
|
Fat:
19
g
|
Saturated Fat:
8
g
|
Cholesterol:
0.2
mg
|
Sodium:
89
mg
|
Fiber:
3
g
|
Sugar:
11
g