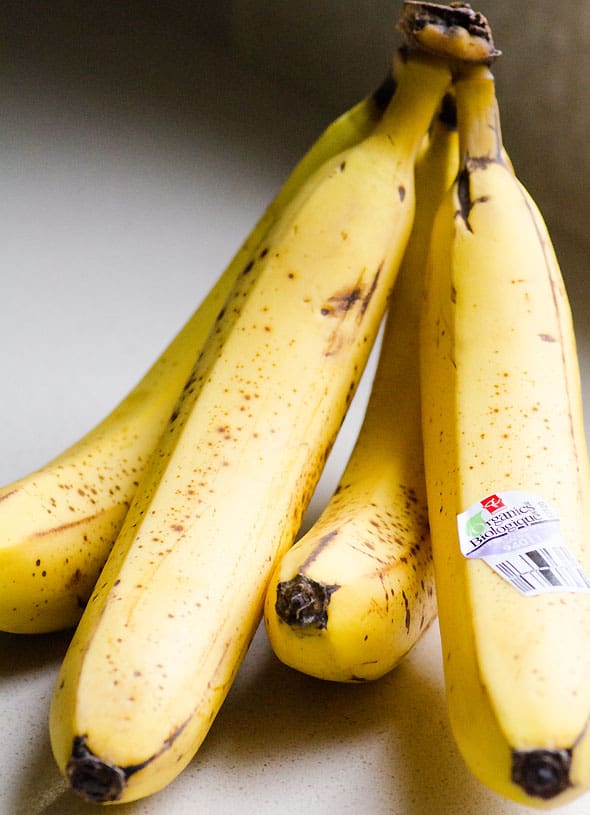 Banana is the cheapest available year round fruit. It happens to be MY favourite fruit too. Besides making perfect on the go snack wisely "pre-packaged" by the Mother Nature, banana can do so much more for your health and menu repertoire.
However, keep in mind that for baking, you will need to use very ripe or over ripen bananas.
I often freeze bananas that are past their prime eating time. If you have bananas that "are not quite there yet", check out this tutorial how to ripen bananas faster.
Banana is a natural sweetener.
Its meaty texture makes a great base for healthy desserts.
It makes baked goods moist.
It's full of potassium, fiber and vitamins.
Homemade banana baked goodies replace sugar loaded store-bought snacks.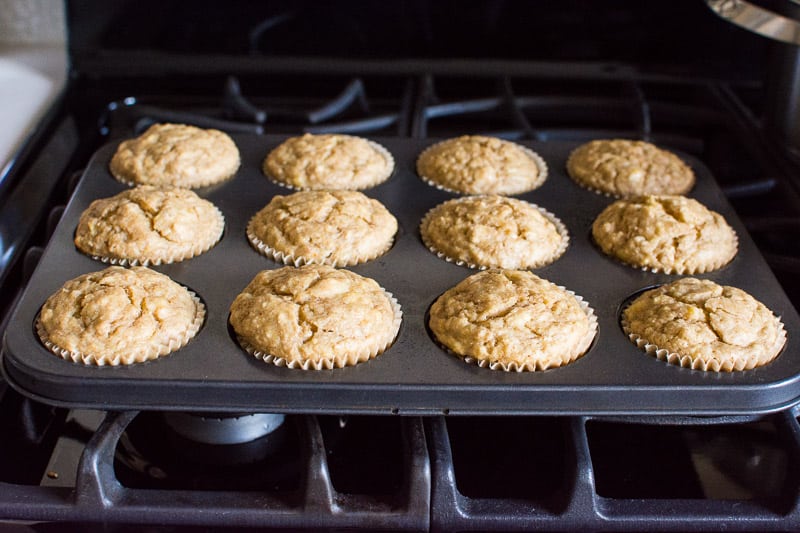 So, shall we put your browning bananas to use?! All recipes are freezer friendly.
Kids love these! Moist muffins with a simple list of good for you ingredients. Perfect for lunch boxes, add chocolate chips and/or nuts. Whatever you do, make a double batch. These muffins have rave-rave reviews. Most popular muffins recipe on iFOODreal.

Tracy says: "This is the BEST banana bread I've ever made. I was out of applesauce and too lazy to make some, so I used an extra banana. The lightest banana bread I've ever made. Thank you."
And I agree with Tracy. It's THE BEST healthy banana on the net! Truly healthy with applesauce, maple syrup and whole wheat or spelt flour.

These bars make a perfect snack on the go and are made without any kind of sugar, even maple syrup or honey, but rather are packed with nuts, dates and flaxseed. One reader made them into a baby approved recipe by using Cheerios instead of nuts and raisins in place of dates. Her twins went crazy for the bars!

If you are watching your macros, this whey protein cookie is for you. It contains nothing more than a banana, oats, whey protein powder and peanut butter.

Rebecca says: "Just made these and they are FANTASTIC. Had 1.5 bananas on hand so added a bit more yogurt and did a mix of strawberries and blueberries. I was pleasantly surprised at how sweet these muffins still are without any sugar – still sweet enough to be a treat. I cut up some cheese to eat alongside to balance them out. Can't wait to make these again and try more recipes, thanks for sharing!"
If you don't have time to cook oatmeal in the morning, bake it into the muffins and eat all week.
Peace says: "Olena, I have been making delicious recipes from your blog, today I made these muffins for my boyfriend who is going on a trip and will otherwise eat unhealthy snacks and drink beer, ha. These muffins came out fantastic! They are moist, light, and fluffy. I followed the recipe as is but added dry cranberries to the mix. Thank you for always posting easy, delicious, ideas here for us."

If you love peanut butter and have coconut flour that has to be used (that is what happened to me), this version of banana bread is for you. Less fluffy than a whole wheat flour banana bread but super moist and filling (great for those who are watching macros).

These sugar free cookies are perfect for hiking, biking, backpacking, camping and you name it activity. Trail mix a.k.a oatmeal cookies made without any flour, transport well and their nutrition profile will keep you satisfied for hours.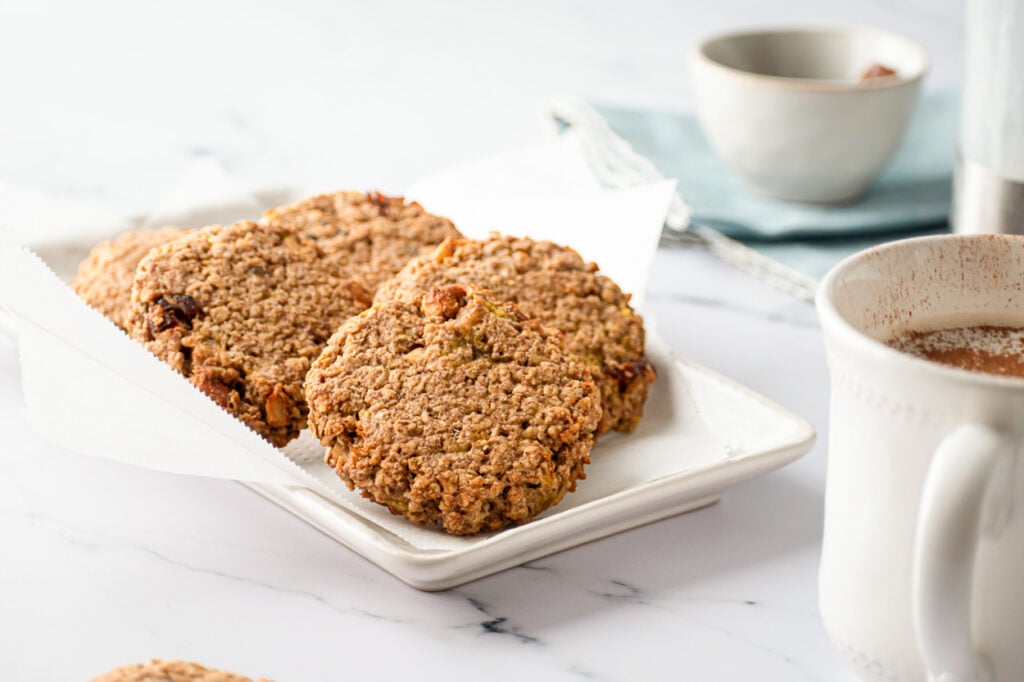 Healthy banana pancakes made with wholesome ingredients and no added sugar! Perfect for meal prep breakfast or an afternoon snack.
More Healthy Snacks to Try