Chicken Alfredo Spaghetti Squash is a savory low carb, gluten-free dinner filled with rich, creamy flavor. It's easy comfort food perfect for weeknights and special occasions.
Also try my other spaghetti squash boats recipes like Tex Mex stuffed spaghetti squash and butter chicken spaghetti squash.
Fall marks squash season! Spaghetti squash chicken alfredo is true fall comfort food made in a healthy way! It is an old recipe of mine from 2017 that I have retested and updated with new photos.
This lighter take on chicken alfredo is every bit as indulgent as the classic Italian dish. The boats are filled with spaghetti squash strands, juicy chicken, and homemade sauce, they're delicious!
Why You'll Love This Recipe
Full of flavor: Heavy cream is substituted for healthier Greek yogurt. But I promise, the taste remains creamy! My healthy alfredo sauce is full of garlic and freshly grated Parmesan cheese flavors.
Lower in carbs: In this recipe, tender spaghetti squash noodles replace traditional pasta.
Extra vegetables: With spaghetti squash alfredo you get all the creamy sauce, chicken, and cheese with an extra serving of veggies aka spaghetti squash.
Can be made ahead: This recipe is meal prep friendly and great for busy weeknights or healthy lunches. Make all components ahead for easy assembly, or assemble as per the recipe, refrigerate, and reheat.
Ingredients for Chicken Alfredo Spaghetti Squash
Here's a short list of everything you'll need to make chicken alfredo spaghetti squash. You most likely have most of these wholesome ingredients already.
Spaghetti squash: The recipe calls for 1 medium spaghetti squash. You can also use 2 smaller spaghetti squash.
Chicken: I use Instant Pot shredded chicken breast. You can also use store bought rotisserie chicken (add less salt to the sauce then), or pan fried chicken breast or slow cooked chicken breast.
Garlic cloves: Use fresh garlic cloves for more flavor.
Oil: You'll need a bit of oil to sauté the garlic, I like avocado oil or olive oil.
Chicken broth: Low sodium chicken broth or chicken stock is used as the liquid for the sauce.
Cornstarch: Thickening the sauce with cornstarch yields the right consistency, without losing flavor.
Spices: A dash of salt and pepper to taste.
Parmesan cheese: Freshly grated parmesan cheese from a block is always best for flavor and texture.
Greek yogurt: I swap heavy cream for Greek yogurt or plain regular yogurt to make a thick and creamy sauce. I recommend full fat or low fat yogurt, fat free yogurt will curdle from the heat.
Mozzarella cheese: Top with cheesy mozzarella. Freshly grated is best, pre-packaged cheese has anti-caking agents which don't melt as nice.
How to Cook Spaghetti Squash
First step is roasting the spaghetti squash. Start by preheating your oven to 375 F, and lining a baking sheet with parchment paper.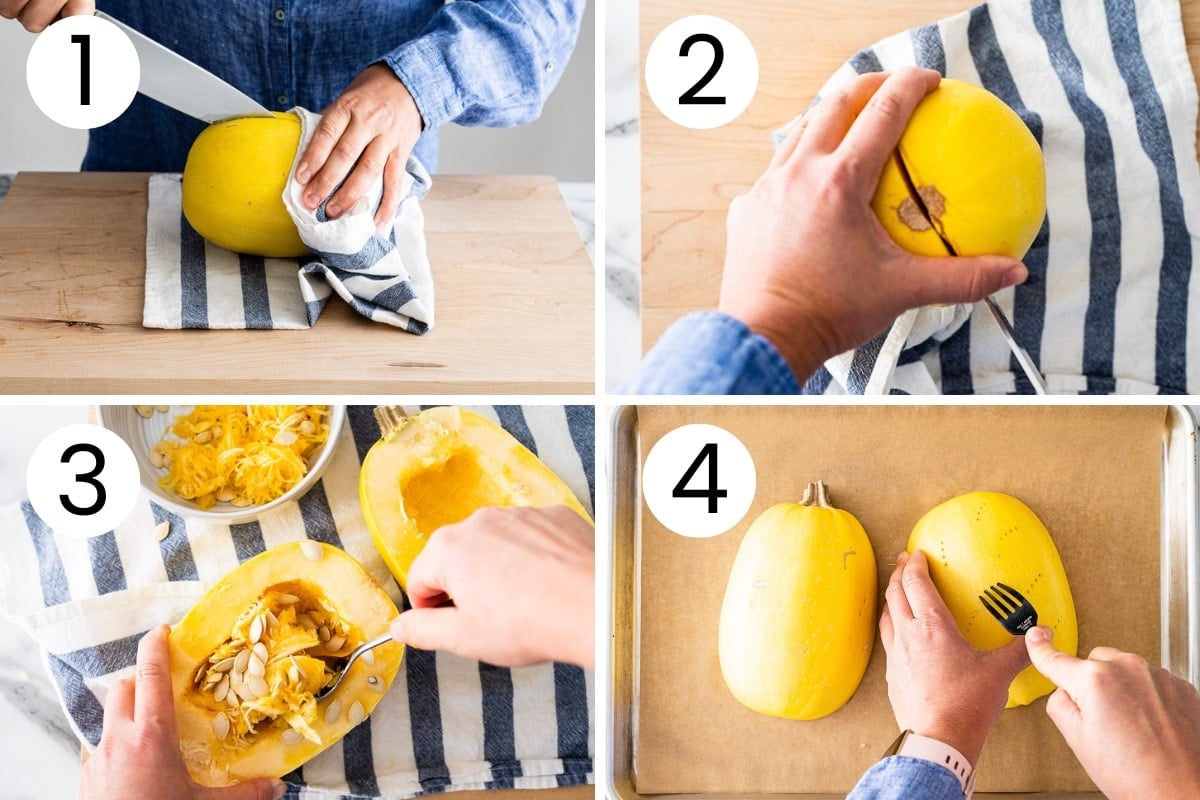 Cut spaghetti squash: Cut the squash in half lengthwise. If you're nervous, here's a quick tutorial on how to safely cut spaghetti squash. The key is to use a very sharp knife, I love my Henckels chef's knife.
Scoop out the seeds: Use a big spoon to scoop out the seeds from the inside of the squash.
Bake: Place spaghetti squash halves cut side down on the prepared baking sheet, poke skin with a fork, and bake for 30-40 minutes. The skin should be dark and glossy.
Cool: Remove baking sheet from the oven, and cool squash for about 15 minutes while you make the filling.
Recipe Tip
You can also air fry spaghetti squash instead of baking. I wouldn't recommend any other methods of cooking it because results are more watery and less flavorful, but air fryer works wonderfully.
How to Make Spaghetti Squash Chicken Alfredo
Here's an easy-to-follow photo overview of how to make the filling for chicken alfredo spaghetti squash.
There is a full recipe card below.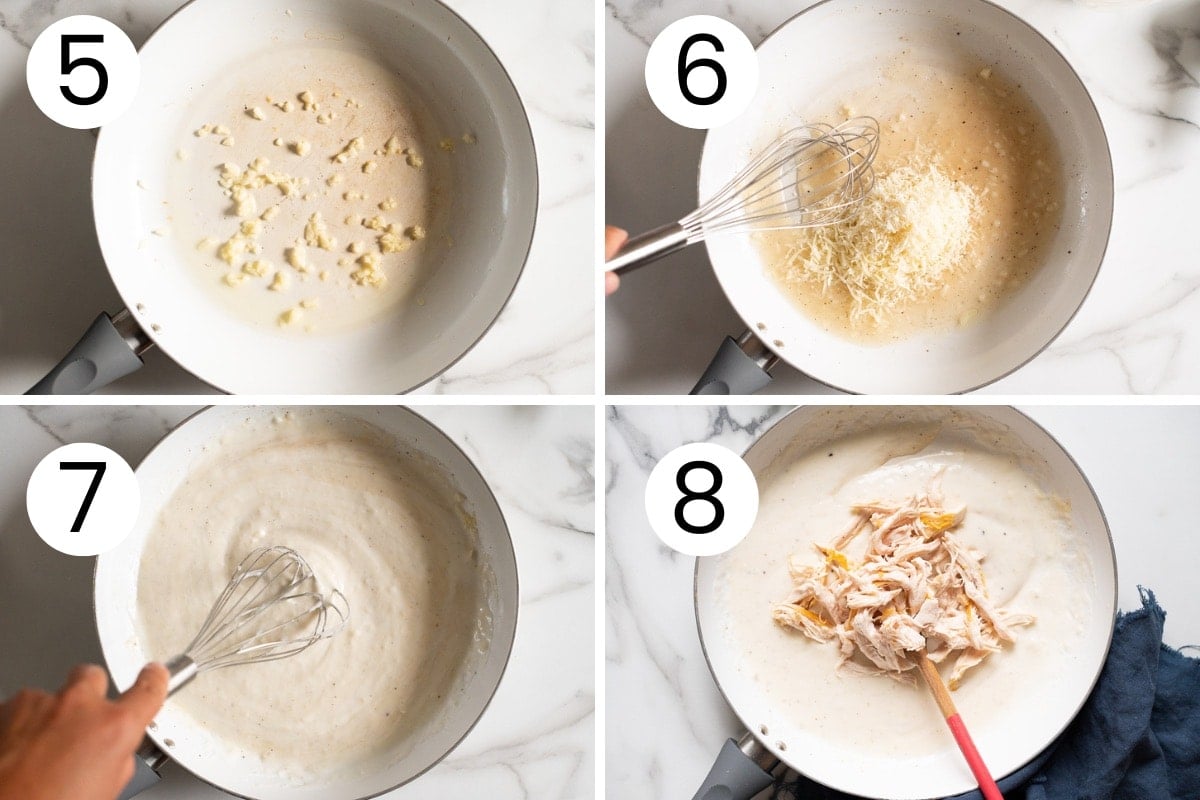 Make alfredo sauce: First, sauté garlic in a large non-stick skillet until fragrant. Then add chicken stock, cornstarch, salt and pepper. Bring to a boil and simmer until the sauce has thickened. Remove from heat, add Parmesan cheese and whisk until cheese has melted.
Add yogurt: Next, add Greek yogurt to the pan and stir well until smooth.
Add chicken to the sauce: Stir in the pre-cooked shredded chicken into the sauce, stirring well.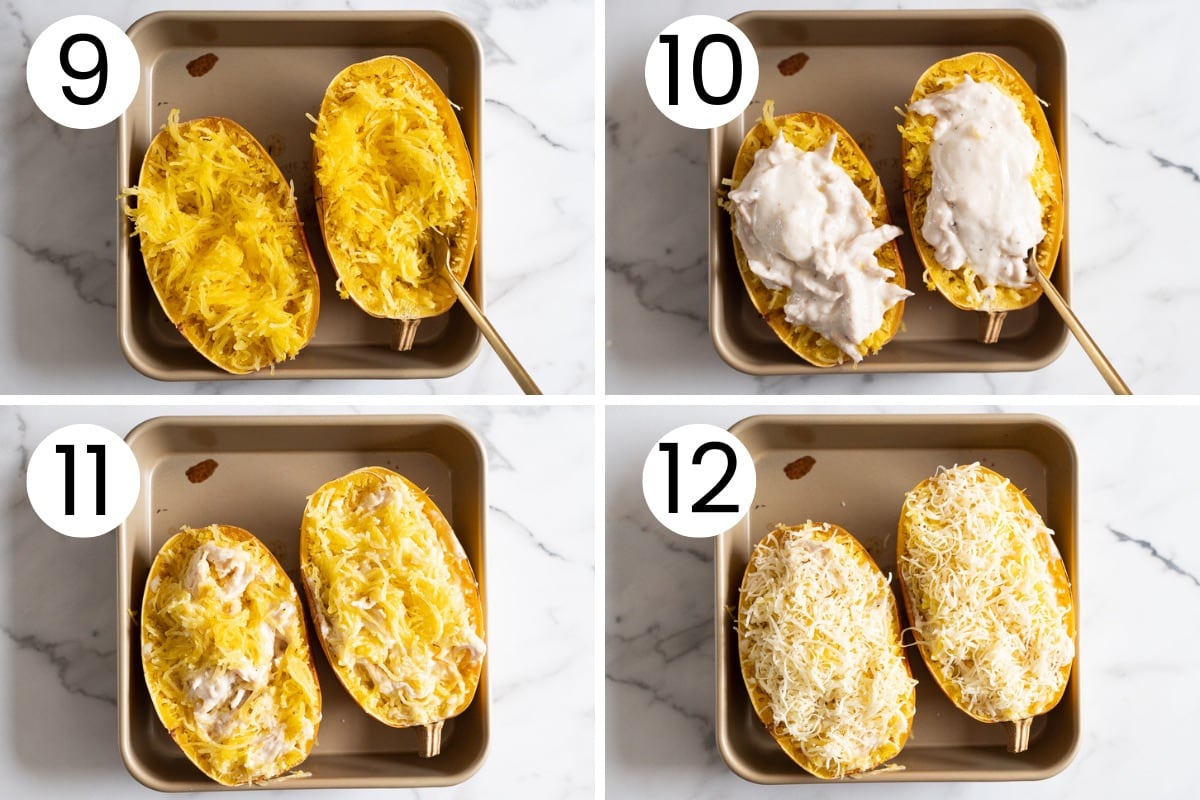 Shred spaghetti squash: Once squash is safe to touch, separate strands with a fork leaving them inside the shells.
Combine: Scoop chicken alfredo sauce on top of each spaghetti squash shell. Use a fork to combine the sauce and squash strands.
Add topping: Just sprinkle the top of each shell with 2 tablespoons of shredded mozzarella cheese.
Bake and broil: Roast for 10-12 minutes at 375 degrees F, then broil on low for 5 minutes until tops are bubbly and golden.
Tips and Variations
Here are some helpful tips for making this spaghetti squash recipe with chicken a huge hit!
Don't overcook spaghetti squash: Just like regular pasta, al dente strands are best. Overcooked squash can leave the strands watery.
Add yogurt off the heat: The yogurt should be added to the sauce last, off heat so it doesn't curdle.
Make it vegetarian: For a savory vegetarian dish simply omit the chicken and follow the same recipe.
Use other winter squash: This recipe is flexible! You can roast butternut squash halves or bake acorn squash halves and then stuff with the same filling.
Turn it into a skillet meal: Scoop out spaghetti squash strands and add them to the skillet with sauce and chicken.
What to Serve Chicken Alfredo Spaghetti Squash with?
Stuffed spaghetti squash makes a healthy meal on its own and perfect for the whole family to enjoy. Of course, you can always serve it up with a favorite veggie or leafy greens.
How to Store and Reheat
Store: Leftovers can be placed in an airtight container for 3-5 days.
Freeze: Spaghetti squash does not freeze well.
Reheat: Reheat in a microwave or in the oven covered at 375 F for 10 minutes. Don't cook too long, sauce can separate.
FAQs
What can I use instead of yogurt in the alfredo sauce?
If you don't like tangy taste of yogurt, sour cream is a good substitute but will be higher in calories.
Can I make it dairy-free?
Yes. Make the sauce with dairy-free plain yogurt and vegetarian parmesan cheese.
What other methods can I use for cooking spaghetti squash?
The best way is to roast spaghetti squash or make air fryer spaghetti squash. If you make it into a skillet instead of stuffing the halves, you can cook spaghetti squash whole or make spaghetti squash in Instant Pot. These methods aren't good for stuffing the boats though, too hard to cut afterwards and less flavor.
What can I use instead of spaghetti squash noodles?
If you're not a fan of spaghetti squash you can swap with zucchini noodles, baked butternut squash, or angel hair pasta.
More Spaghetti Squash Recipes
More Alfredo Recipes to Try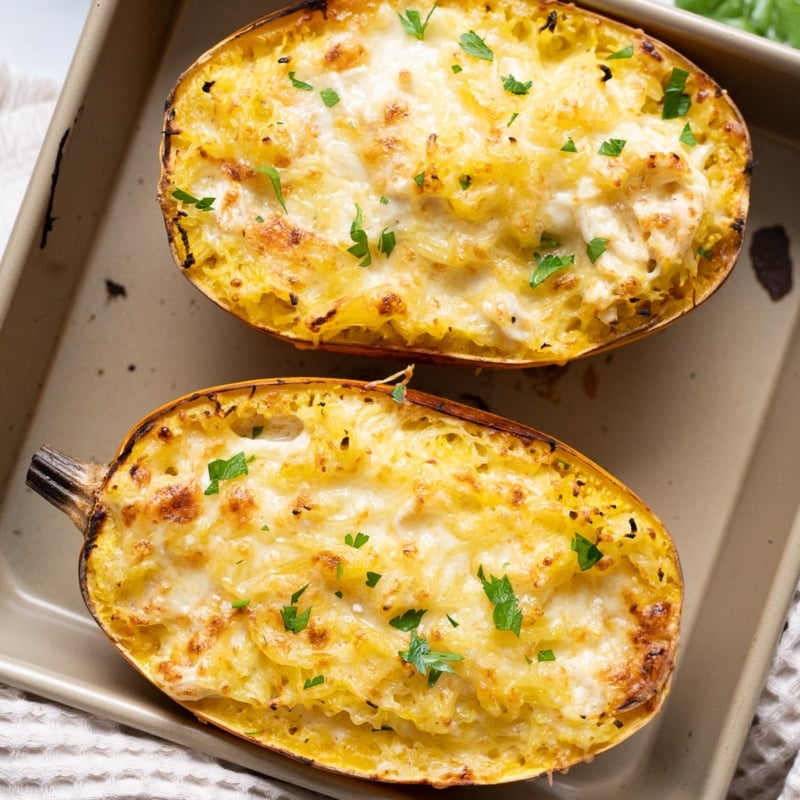 Chicken Alfredo Spaghetti Squash
Chicken Alfredo Spaghetti Squash is comfort food made lighter and healthier. This dinner recipe is big on taste, but low on carbs without sacrificing flavor.
Instructions
Preheat oven to 375 F degrees F. Cut spaghetti squash in half lengthwise and scoop out the seeds out. Place cut side down on a baking sheet lined with parchment paper and bake for 30-40 minutes or until skin is dark and glossy and inside flakes with a fork. Don't overcook.

Remove from the oven and set aside to cool down until safe to the touch, about 15 minutes.

Meanwhile, preheat large skillet on medium heat and add oil. Add garlic and saute for 1-2 minutes, stirring frequently.

Add chicken stock, cornstarch, salt, pepper and whisk until smooth. Bring to a boil, reduce heat to low and simmer for 1-2 more minutes until sauce has thickened a bit.

Remove from the heat, add Parmesan cheese and whisk until smooth and cheese has melted. Add Greek yogurt and stir again until smooth. Add chicken and stir to combine.

Using a fork, separate spaghetti squash into strands leaving them inside the shells. Scoop chicken alfredo filling on top of each shell and gently move around with a fork to make the sauce settle deeper into the spaghetti squash.

Top each shell with 2 tablespoons of mozzarella cheese and place in a baking dish. Bake for 10 – 12 minutes and then broil until golden.

Stir the squash with a sauce a bit before serving and serve hot.
Notes
Store: Refrigerate leftovers in an airtight container for up to 3-5 days. Do not freeze.
Nutrition
Serving:
0.5
shell
|
Calories:
331
kcal
|
Carbohydrates:
21
g
|
Protein:
35
g
|
Fat:
13
g
|
Saturated Fat:
5
g
|
Trans Fat:
0.003
g
|
Cholesterol:
76
mg
|
Sodium:
659
mg
|
Fiber:
4
g
|
Sugar:
8
g