Making Spaghetti Squash Breakfast with avocado and egg in under 1 hour is only made better with the addition of zesty salsa and organic ketchup on top. Pack all the goodness into your day in one single serving!
If you love spaghetti squash recipes, try Tex Mex spaghetti squash boats or chicken alfredo spaghetti squash.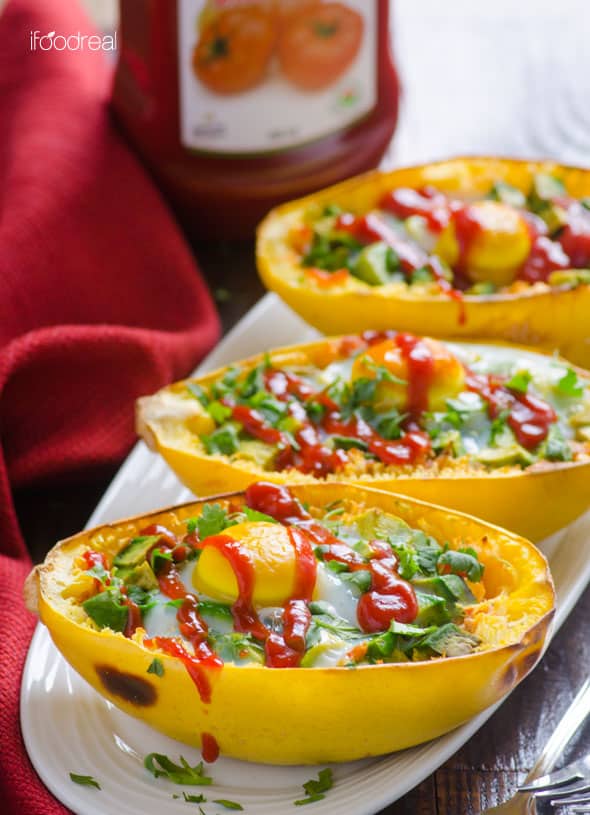 Healthy and lazy are kind of an oxymoron but when it comes to easy, healthy egg recipes like this spaghetti squash breakfast with avocado and egg, I just call it good sense!
Having a healthy weeknight dinner or protein filled breakfast is as easy as cutting spaghetti squash, fluffing it with a fork, dicing an avocado, and cracking the egg. Then it bakes in just enough time to work out, play with your kids, or catch up on a show!
This beauty of a low carb recipe delivers fork tender squash boats with avocado, a baked egg, and salsa finished off with a drizzle of organic ketchup in under 1 hour!
Ingredients
A short list of ingredients that delivers a ton of flavor!
Small squash: Great for individual servings. Sure, it's a winter squash but this recipe is perfect for summer too!
Salsa: A zesty, tomato flavor with loads of herbs for a refreshing flavor.
Avocado: Want to learn how to cut an avocado properly? I got you! You'll want one creamy but not overly ripe.
Large eggs: Have one egg for each boat. You'll love avocado and egg nestled in some spaghetti-like veggies.
Ketchup: A tablespoon of organic ketchup is only 15 calories and 150 mg of sodium. That's why I skipped the salt in this recipe. I use it sparingly, just like in turkey meatloaf recipe, but trust me, use it!
How to pick a good spaghetti squash. It should have a smooth bright yellow outer shell. No brown spots, or soft indents. A firm dry stem on the end, and will be heavy to lift.
How to Cook Spaghetti Squash for Breakfast
Oven roasted spaghetti squash tastes amazing! Save time and even make spaghetti squash in Instant Pot in 15 minutes or cooking spaghetti squash in air fryer takes only 30 minutes.
For this recipe we're roasting it at first, getting it all kinds of tender and stringy. Then we load it up and bake it. It's scrumptious!
Making the Spaghetti Squash Breakfast
Preheat the oven to 400 degrees F. Grab your squash and set it on a flat surface. Cut spaghetti squash in half lengthwise and scoop out the seeds.
Line a baking sheet with parchment paper. Grab the two halves of the squash and place them both face down. Bake for 30 minutes and then let them cool out of the oven for 15 minutes.
Turn up the oven to 425 degrees and start fluffing the strands, pulling them apart as you go. Leave them in the boat shells!
Mix in the salsa tossing the strings around. Top with the diced avocado and finish it off with a cracked egg on top!
Place the spaghetti squash breakfast with avocado and egg back into the oven. Bake for 20-22 minutes until the egg whites are fully cooked.
Enjoy every bite served hot, drizzled with ketchup!
How do you like your eggs? I make mine with a runny yolk because I like poached eggs. If you love hard boiled eggs, sink it further into the squash, don't just rest it on top.
FAQs
Is this spaghetti squash breakfast recipe healthy?
Squash provides tons of fiber, vitamin B6 & C, potassium, avocado is healthy fat and eggs provide Omega 3s and protein. This squash and eggs breakfast bake is vegetarian and naturally gluten free!
Why is my spaghetti squash watery?
This can happen if you overcook your spaghetti squash! This also tends to happen when you cook a whole squash without slicing it first. The steam has nowhere to go but back into the strands.
What other toppings would be great on spaghetti squash breakfast bowl?
Swap the ketchup for sriracha, spicy mayo, or Buffalo sauce. Crumble some blue cheese, cheddar cheese, or swiss cheese on top!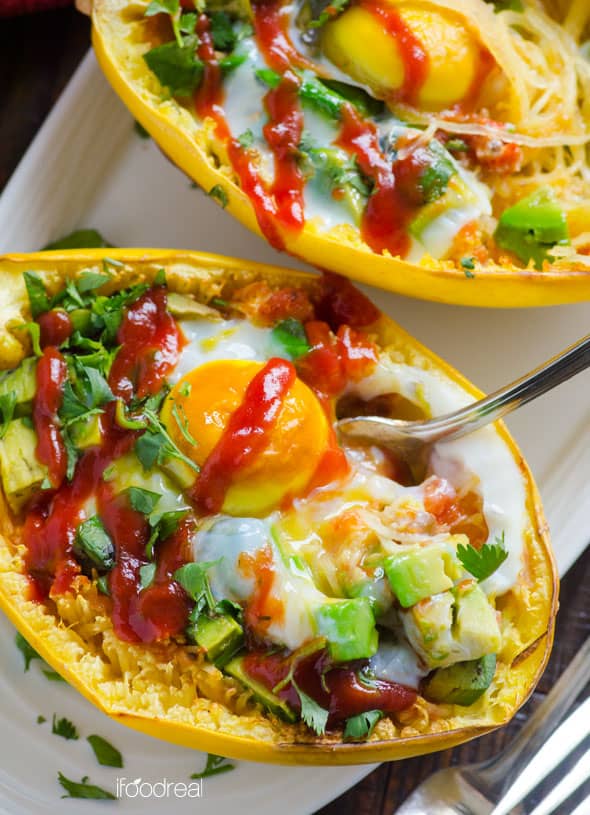 More Healthy Recipes to Try
Spaghetti Squash Breakfast with Avocado and Egg
Making Spaghetti Squash Breakfast with avocado and egg in under 1 hour is only made better with the addition of zesty salsa and organic ketchup on top. Pack all the goodness into your day in one single serving!
Ingredients
1

small spaghetti squash

4

tbsp

salsa

divided

4

tbsp

low sodium ketchup

divided
Instructions
Preheat oven to 400 F degrees F. Cut spaghetti squash in half lengthwise and scoop the seeds out. Place cut side down on a baking sheet lined with parchment paper and bake for 30 minutes.

Remove from the oven and let cool until safe to the touch, about 15 minutes. Increase oven temperature to 425 degrees F. Using a fork, separate spaghetti squash into strands leaving them inside the shells.

Add 2 tbsp of salsa to each half and mix gently with a fork. Top with 1/2 avocado and break 1 egg on top of each shell. If you like runny egg yolk, do not make a well in the middle of the squash and break the egg on top. For a fully baked egg, sink it more into squash.

Bake for 20 – 22 minutes or until the egg whites appear to be set. Serve hot drizzled with ketchup.
Notes
Store: Refrigerate covered for up to 1 day.
Baking at high temperatures is key to tender squash with perfectly cooked egg.
Underdone squash: If your spaghetti strands aren't loose and come apart easily, they may need a few more minutes in the oven.
Cracking the egg: If you're nervous about cracking an egg over your spaghetti squash breakfast, crack it into a bowl first. Then, you can remove the shells first, then carefully pour the egg overtop the squash.
Jazz it up: Try sprinkling some everything bagel seasoning, salt, pepper, garlic powder, chili powder, or smoked paprika to start!
Nutrition
Serving:
1
shell
|
Calories:
417
kcal
|
Carbohydrates:
53
g
|
Protein:
12
g
|
Fat:
22
g
|
Saturated Fat:
4
g
|
Cholesterol:
164
mg
|
Sodium:
677
mg
|
Fiber:
15
g
|
Sugar:
22
g