These cacao nib brownie bites are a delicious and nutritious grab and go snack, perfect for pre/post-workouts and when chocolate cravings hit! They're packed with antioxidant-rich, fiber-full ingredients and unrefined sugars!
Love grab n' go bites? why not also try these healthy carrot cake truffles, coconut protein balls, or peanut butter protein bites?!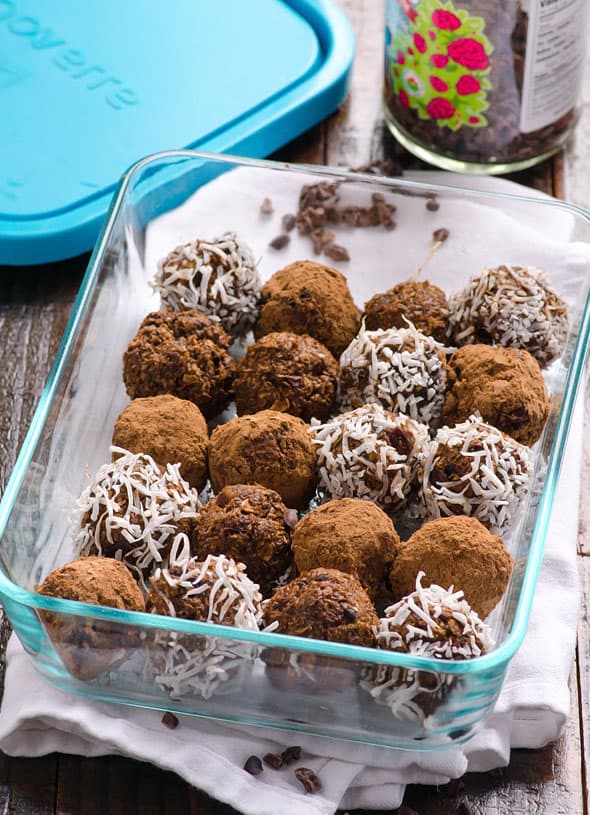 If you need a late afternoon kick in the butt, these Cacao Nibs Brownie Bites are for you. I have an issue with a word "balls" lately, for example moist balls, let's stick to bites…
When it comes to healthy snacks, chocolate isn't exactly the first thing that comes to mind. But I'm here to tell you there's no need to avoid 'chocolatey' snacks as long as they're made 'right' – like these chocolate protein cookies, superfood chocolate bars, chocolate coconut balls, or even no-bake black bean brownies – delicious and nutritious, every single one!
So, this cacao nibs recipe is naturally sweetened and full of a caffeine kick from raw cacao powder and cacao nibs crunch. I just love the crunch, so more brain-satisfying than just a smooth snack. Skip metabolism and sleep scrutinizing cup of coffee, and stay away from messing with your brain processed sugars. Have an antioxidants-rich bite with only 6 g of naturally occurring sugar! And this sugar in combination with fiber will metabolize differently, in a good way.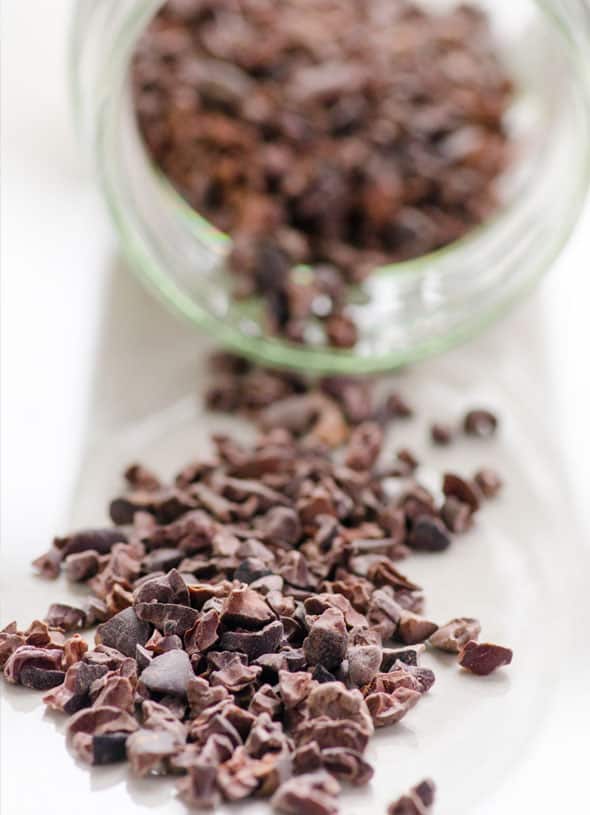 Have you ever seen or heard of cacao nibs?! You are looking at them above. Cacao nibs are made of pure cacao beans with nothing added – nature's chocolate chips. Super crunchy with 0 sugar, cacao nibs are an excellent source of antioxidants, iron, magnesium and fibre. In fact, cacao nibs are one of THE most rich in antioxidants foods => superfood. Last month, I picked up a bag and fell in love with a crunch and chocolate taste without added sugar right away. For the longest time, I thought they are too expensive and had no idea what to do with these bitter "chocolate chips". Now, I add cacao nibs to almost anything sweet (like this avocado mint fudge with cacao nib 'choc chips') and a little goes a long way. Kids love them too! It's the crunch…
Next superfood that I used in this cacao nibs recipe was cacao powder, which not to be confused with highly processed cocoa powder. To enjoy antioxidants' benefits, buy only cacao powder.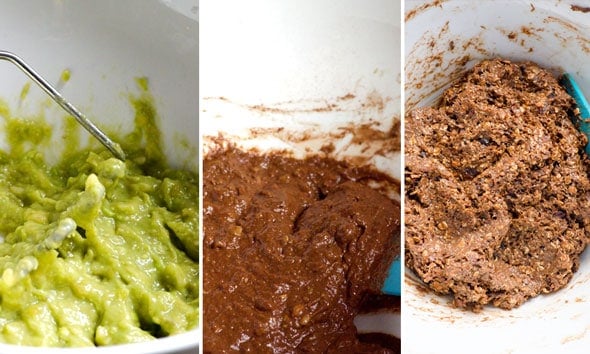 Unlike many other bites and "balls" recipes using nut butters and honey (maple syrup) as a base, I chose a few ripe bananas and avocado instead. Mashed together they become a base full of naturally occurring sugars, healthy fats, and saving a few calories- too.
I also skipped food processors and blenders for the sake of simplicity and texture. I love to use those appliances but I dislike to scrape the dough out of them, wash sticky parts with hard-to-reach areas, and I like the chunkier texture old-fashioned mashing and stirring has to offer- just like I did with these carrot cake truffles.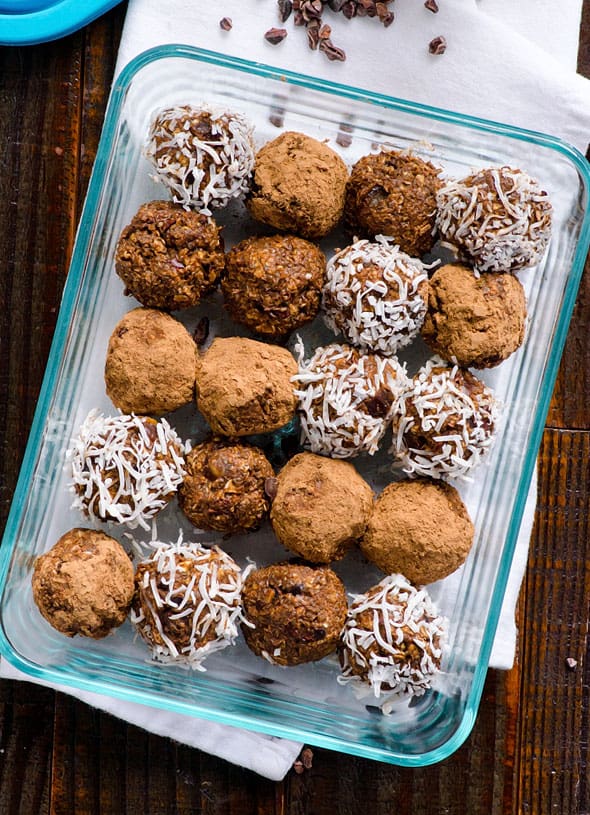 Coatings are optional but oh so good! Cacao powder bites are reminiscent of truffles. And I truly enjoyed those organic long coconut flakes I finally found – their chewy texture can't compare to short ones. I stopped buying sulphured long shred coconut flakes long ago and was missing them! I often envy unhealthy eaters because many of artificially maintained foods are so pretty and have that desirable crunch, chewiness or a kick. But not the health benefits. Haha, always something, right?!
I like to keep my bites in the freezer and thaw for a few minutes before enjoying. 2 bites are plenty to wake me up and keep energy going for a busy night with family until it's bed time at 8…9 PM ( the earlier the better LOL). These are totally transportable to work, hike, park etc. Nut free too.
Enjoy this cacao nibs recipe and be healthy!
Other Healthy Chocolate Snacks
You can also browse you my entire collection of healthy dessert recipes for more inspiration!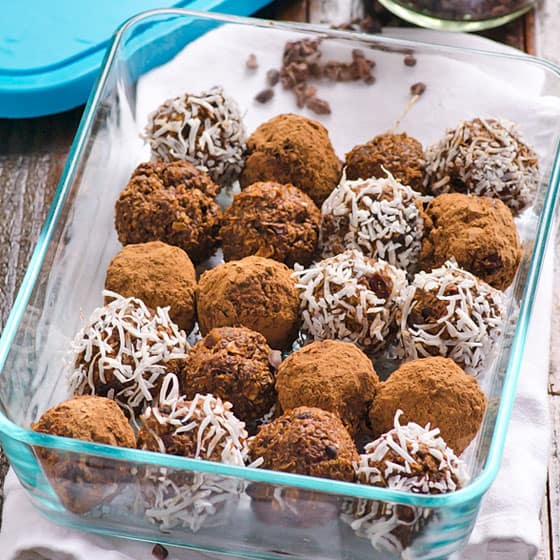 Cacao Nibs Brownie Bites
Cacao Nibs Brownie Bites Recipe is crunchy, naturally sweetened, nut free and full of antioxidants healthy snack. Plus ideas how to use cacao nibs.
Print
Rate
Instructions
In a medium bowl, add bananas, avocado, coconut oil and vanilla; mash with a masher until smooth. Add remaining ingredients and mix until well combined.

Scoop some dough using small cookie scoop and roll into a golf size ball between the palms of your hands. If desired, spread coatings on plates and roll bites in them. Place in storage container and repeat this step until run out of dough. Enjoy chilled or thawed from a freezer.
Store: Refrigerate in a glass airtight container for up to a few days or freeze for up to 3 months.
Nutrition
Serving:
1
bite
|
Calories:
92
kcal
|
Carbohydrates:
14
g
|
Protein:
2
g
|
Fat:
4
g
|
Saturated Fat:
2
g
|
Sodium:
1
mg
|
Potassium:
179
mg
|
Fiber:
3
g
|
Sugar:
7
g
|
Vitamin A:
33
IU
|
Vitamin C:
2
mg
|
Calcium:
22
mg
|
Iron:
1
mg
Join today and start saving your favorite recipes
Recipes and images are a copyright of ifoodreal.com. It is against the law to republish recipes anywhere including social media, print and all world wide web. Nutritional info is provided for informational purposes only and to the best knowledge.