Quick and easy Classic Chicken Salad Recipe with grapes, celery, and pecans. This cold summer salad is perfect for a light lunch, quick dinner, or potluck.
I do have healthy chicken salad recipe but I wanted to create a chicken salad only with mayonnaise.
This chicken salad recipe is one of our all-time favorite summer dishes. Super simple, protein packed, and I didn't use a lot of mayo yet salad tastes amazing.
There are so many ways to enjoy homemade chicken salad! Make a delicious chicken salad sandwich, over salad, on a protein bagel, or in lettuce wraps.
Other chicken salad recipes we love is this avocado chicken salad and BBQ chicken salad.
Ingredients for Chicken Salad Recipe
You just need a few staple ingredients to make this easy chicken salad recipe.
Cooked chicken: My favorite way to cook chicken is to make chicken breast in Instant Pot but below I cover other methods.
Pecans: I toasted pecans lightly in a skillet to add more crunch and flavor. Dice the nuts into bite sized pieces.
Grapes: For a hint of sweetness. I like red seedless grapes for added color but you can also use green grapes.
Celery and red onion: Add crunch and flavor.
Fresh herbs: My favorites for chicken salad are fresh parsley or fresh dill.
Mayonnaise: Adds creaminess and binds everything together. Any mayo will work, we always have avocado oil mayo or olive oil mayo on hand.
Dijon mustard: For a little spice.
Salt and pepper: Season to taste!
How to Cook Chicken for Chicken Salad
You can use leftover chicken or make it fresh. Here are some quick and easy ways for this simple chicken salad recipe. Feel free to use your favorite method.
Air fryer chicken breast ready in just 25 minutes. And if you forgot to thaw the chicken use this frozen chicken breast in air fryer method.
Pan fry chicken breast with a light golden crust and simple seasonings. All you need to do is pan cook the chicken, and coat with a simple sauce made of butter, garlic, and broth.
Oven baked chicken breasts are juicy and easy to make, but I try to avoid my oven on really hot days.
Poach the chicken – A low and slow process but healthy and flavorful. Simply place chicken in a wide pan or pot, cover with cold water, season with salt, bring to a gentle simmer, cover on low, and simmer for about 10 minutes or until internal temperature reads 165 F.
Instant Pot chicken breast the easiest and my personal favorite! No searing, use fresh or frozen chicken breasts, and takes 25 minutes from start to finish.
Grill chicken breast because who doesn't love grilled meat in summer?! This method takes a bit longer but also easy. You can make it the day of or use up leftovers from the night before.
Rotisserie chicken saves a lot of time, whip up this recipe for chicken salad any time.
How to Make Chicken Salad
Here's a quick photo summary of how to make chicken salad recipe. Full recipe card with measurements is below.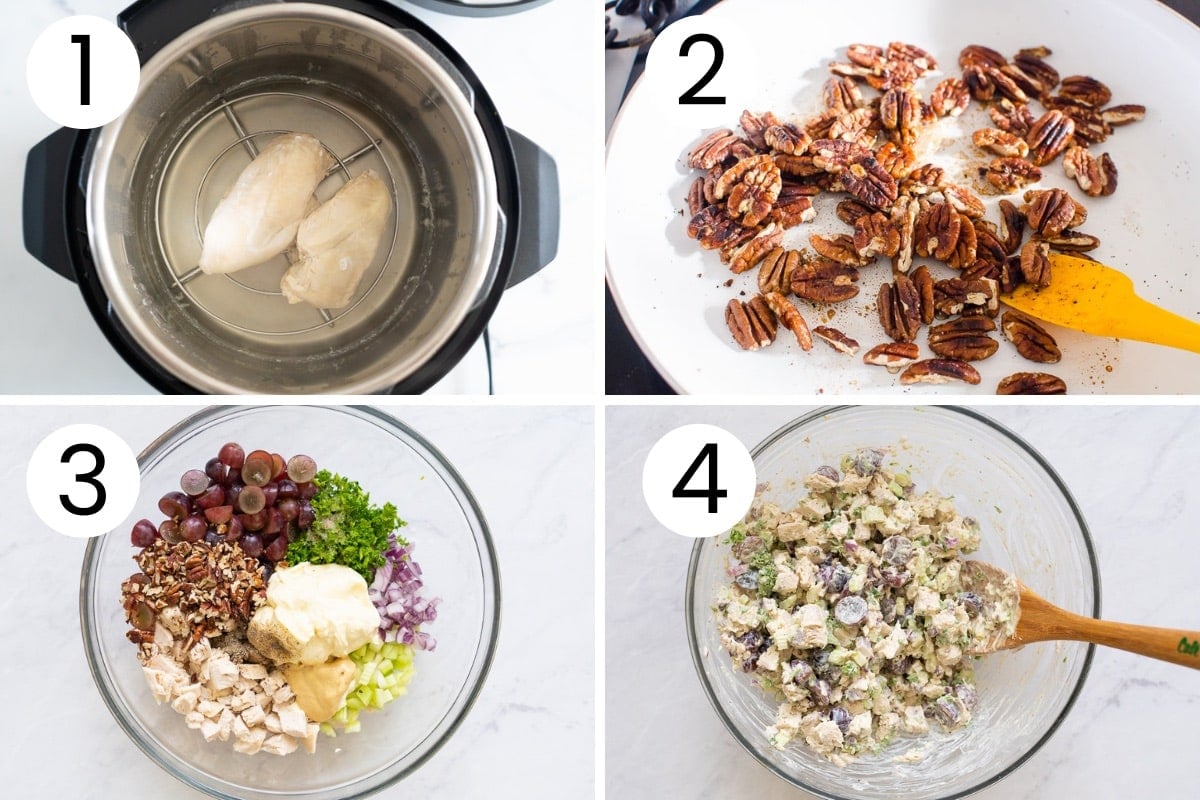 Cook chicken: Use leftovers from meal prepping or your preferred method. I stuck with Instant Pot chicken breast this time.
Toast nuts: Add pecans to a small skillet and toast on low-medium heat until fragrant and brownish. Stir often, so they don't burn. Transfer to a cutting board, let cool, and chop.
Combine all ingredients: In a large salad bowl, toss in your toasted pecans, cubed chicken, grapes, celery, parsley, red onion, mayo, mustard, salt and pepper the stir gently to combine.
Refrigerate: Let the mixture chill for at least 2 hours as this chicken salad tastes best cold. Adjust any seasonings to taste and serve.
Variations
This is the best chicken salad recipe with simple add-ins for crunch and flavor. Here are some other ways to play with texture and taste.
Use different nuts or seeds: You can use cashews, almonds, pine nuts and walnuts.
Vary the fruit: I love grapes but they can get expensive at times. Add diced apples, fresh cherries, pineapple, or dried cranberries.
Mix up the fresh herbs: Fresh basil leaves, fresh cilantro or fresh tarragon would add a lot of flavor.
Change the onion: You can add or substitute with white onion, green onion, or chives.
Other spices: Sprinkle in some onion powder and garlic powder.
Make it more creamy: Add a splash of chicken broth to make chicken salad more creamy without extra calories.
Make mayo free chicken salad: Replace mayonnaise with Greek yogurt and some sour cream, or all of Greek yogurt possibly with just a tablespoon of mayo for a bit of a tang.
Ways to Serve Classic Chicken Salad
Chicken salad with grapes is the perfect make ahead meal with so many serving options, the sky is the limit!
Sandwiches and wraps: For an easy lunch throughout the week, serve between slices of your favorite bread, a protein bagel, or lettuce wraps. Roll in a whole wheat tortilla or grain-free tortilla.
Low-carb option: Serve over a bed of lettuce, spinach, or kale. You can even add more veggies like cucumber, cherry tomatoes, or avocado. Or wrap the same way as these chicken lettuce wraps.
Picnic spread: Next time you host, serve alongside Mediterranean pasta salad, and spring mix salad.
Dip: For a light snack serve with crackers or pretzels.
How to Store It
Store: Place chicken salad leftovers in an airtight container and store in the refrigerator for up to 5 days.
Freeze: I have not tried freezing this salad. I do not believe the grapes will freeze well and salad will become watery when thawed.
FAQs
What's the best way to cook chicken for a chicken salad?
It's all about preference. My go-to is Instant Pot chicken breast because it comes out perfect every time. Poaching is popular as well as it keeps the chicken soft and moist.
How do you make bland chicken salad taste better?
Adjust herbs and spices to taste. You can also add lemon juice or dill pickles for extra zesty flavor.
How do I fix dry chicken salad?
Mix in a splash of chicken broth or yogurt.
Can you make chicken salad with canned chicken?
Yes, use cup for cup canned chicken.
More Chicken Salad Recipes to Try
More Classic Salad Recipes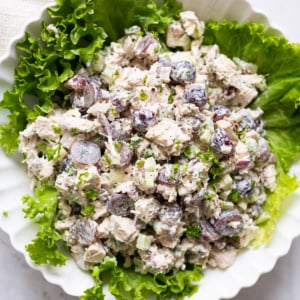 Chicken Salad Recipe
Quick and easy Classic Chicken Salad Recipe with grapes, celery, and pecans. This cold salad is perfect for a light lunch, dinner, or potluck.
Instructions
In a small skillet, add pecans and toast on low-medium heat until fragrant and brown-ish, stirring often. Transfer to a cutting board, let cool a bit and chop coarsely.

In a large bowl, add toasted pecans, chicken, grapes, celery, parsley, red onion, mayo, mustard, salt and pepper. Stir gently to combine.

Refrigerate chicken salad for at least 2 hours as it tastes best cold.

Taste and adjust any seasonings to taste, if necessary. Serve with greens or make a chicken salad sandwich.
Notes
Store: Refrigerate in an airtight container for up to 5 days. I have not tried freezing the salad and am not sure grapes will hold up well to it.
How to cook chicken for salad: Here is how to bake chicken breast. If you have Instant Pot, you can make Instant Pot chicken breast. You can also grill chicken breast or here is how to air fry chicken breast.
Use any mayo: I use avocado oil mayo because it is healthier and we always have it on hand. Olive oil mayonnaise will work as well.
Nutrition
Serving:
0.5
cup
|
Calories:
239
kcal
|
Carbohydrates:
5
g
|
Protein:
15
g
|
Fat:
18
g
|
Saturated Fat:
3
g
|
Trans Fat:
0.03
g
|
Cholesterol:
48
mg
|
Sodium:
234
mg
|
Fiber:
1
g
|
Sugar:
4
g