Avocado Chicken Salad with crisp red onion, sweet corn, and drizzled with a tangy lime dressing. Layered with flavor for a refreshing lunch or dinner!
A twist on my classic chicken salad recipe, it's avocado salad meets healthy chicken salad.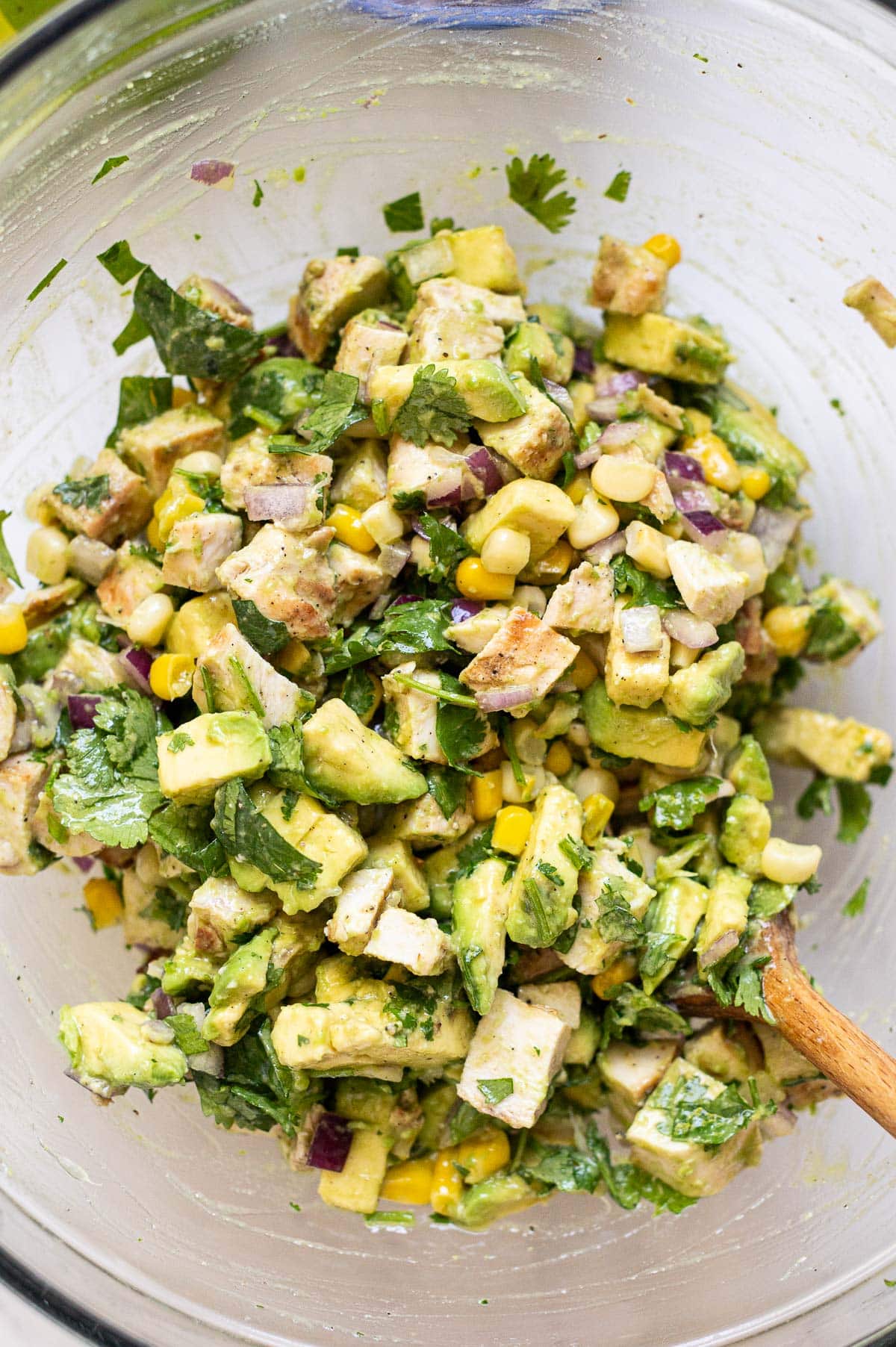 Avocado chicken salad is everything you love about guacamole, toss in tender chicken and fresh vegetables and you have a colorful salad recipe the entire family will love!
This amazing no-mayo chicken avocado salad is a delightful change to our regular salad rotation. Similar to avocado egg salad and avocado tuna salad, it's great in sandwiches, wraps, or on its own.
Another favorite healthy salad is Thai chicken salad. Sweet, savory, and spicy, I love this chicken salad recipe folded in a lettuce wrap and make it year round.
Ingredients for Avocado Chicken Salad
Avocado chicken salad is easy to make with a handful of simple ingredients and one bowl.
Cooked chicken breasts: I used leftover grilled chicken breast. You can use oven baked chicken breast, pan fried chicken breast, chicken breast in Instant Pot. Leftover rotisserie chicken or air fryer chicken breast work great too.
Diced avocado: Adds creaminess without using mayo or a heavy dressing. Choose ripe avocados that are dark green and a bit soft to touch.
Corn: Brings sweetness to chicken salad with avocado. Fresh corn is more flavorful and great during summer months. In colder months, I use frozen corn.
Red onion: Finely chopped adds a nice bite.
Fresh cilantro: A popular pairing with avocado but you can also use fresh parsley.
Olive oil, lime juice, salt and pepper: Make a light and flavorful healthy salad dressing. Fresh lime juice is best but you can use bottled in a pinch.
How to Make Avocado Chicken Salad
Make avocado chicken salad recipe in 4 simple steps, 15 minutes, and one bowl.
Here's a quick overview, there is a full recipe card below.
Cube chicken: Cut your cooked chicken into bite-size pieces.
Combine all ingredients: Add chicken, avocado, corn, red onion, cilantro, olive oil, lime juice, salt and pepper to a large bowl.
Stir: Gently stir to avoid mashing the avocados. Adjust any seasonings to taste and carefully mix once more.
Serve: Chicken avocado salad is an easy, healthy lunch or dinner best served fresh.
How to Pick Ripe Avocados?
Perfectly ripe avocados will really make this avocado chicken salad shine. Here are my top tips for picking ripe avocados.
Gently squeeze: They should give a little when you gently squeeze them. Stay away from ones that are rock hard or gives way too easily.
Check the stem: Looking under the little stem "nub", can tell you the ripeness of the fruit. If it's hard to pull off, the avocado is unripe. If it's browning under the stem, it is overripe and likely has brown spots. If it comes off easily and is green beneath, your avocado is ripe!
The color: Generally an avocado is ripe when the outside is dark and has a few specks of green. This is not the best method because there are different varieties of avocado with different coloring, in general and underripe avocado will be very green, and overripe are completely dark with wrinkles.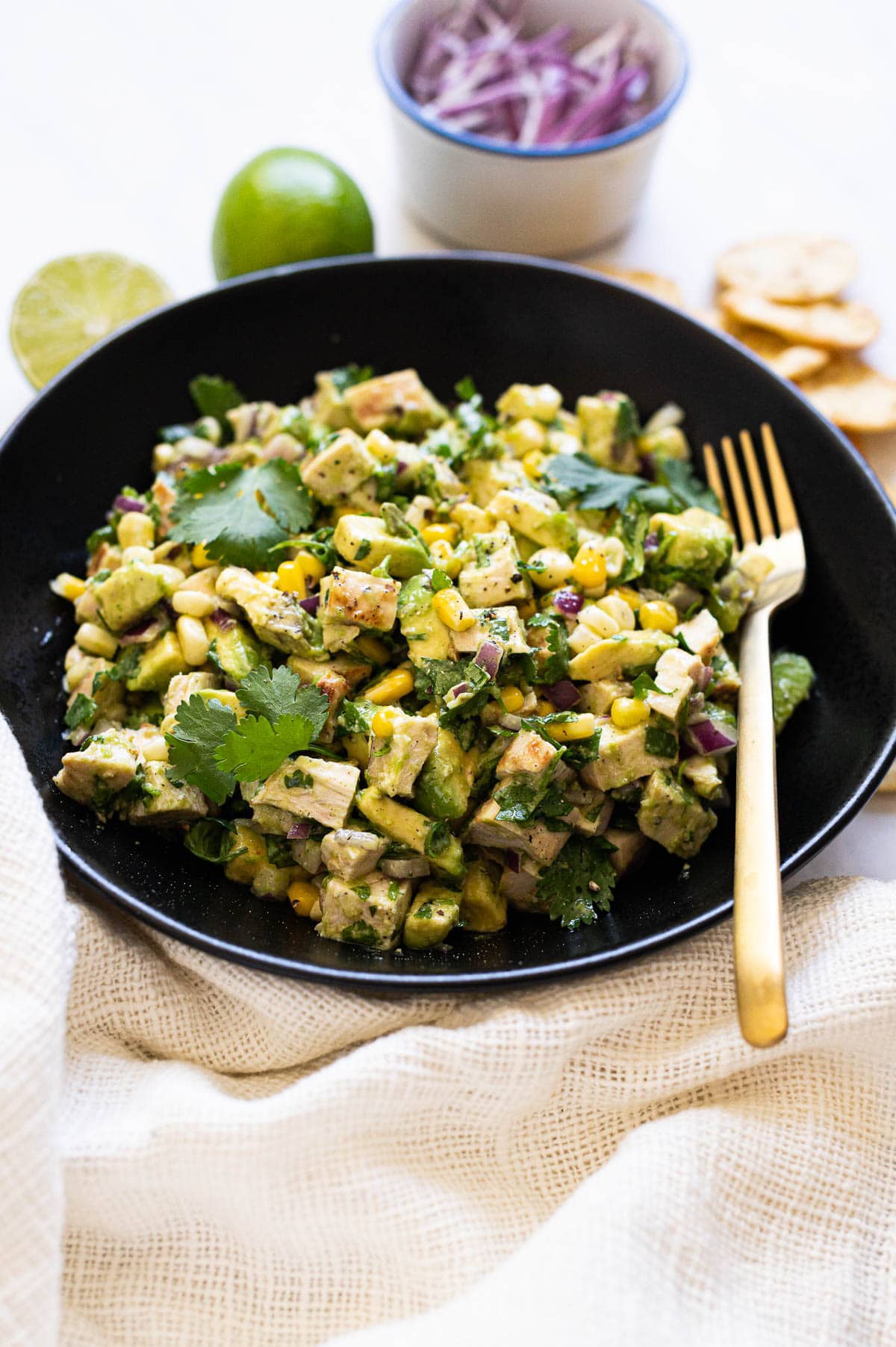 Tips for Best Results and Variations
Don't you love how incredibly versatile salads recipes are?! Even if you make your favorite over and over, there's always fun ways to mix it up.
Here are a few add-ins for this easy avocado chicken salad.
Mash avocados instead of dicing: This is great if you want to serve it as a dip with your favorite crackers. I recommend mashing the avocado together with some lime juice, salt and pepper, then stir in remaining ingredients.
Use what you have on hand: Depending on the season and what's in your kitchen, try adding:
Orzo pasta for a more hearty dish
Diced cucumber
Cherry tomatoes
Chopped hard boiled eggs
Pickles or celery for crunch
Add hot sauce for a little kick of heat
Serving Suggestions for Chicken Salad with Avocado
Chicken salads are one of my boys' most requested recipes. They're delicious, a quick dinner option, and picnic favorite.
Serve avocado chicken salad on its own for a simple healthy meal.
Make it into a sandwich by spreading between almond flour bread or rolled in a wrap. You can also spread it on a toasted piece of bread or crostini.
Keep it low carb with a side of veggies, or added to a lettuce wrap.
Does Chicken Avocado Salad Turn Brown?
It will turn brown after a day or two but it won't be too bad. There are few things you can try to keep this salad from browning, especially if you plan to make ahead.
Add avocado last: Prep and combine the chicken, red onion, corn, and cilantro. Add diced avocado, oil, and lime juice when you are ready to serve.
Add more lime juice: This won't prevent browning but will slow it down.
How to Store
Store: Keep the air out by placing leftovers in an airtight container and refrigerate for up to 2 days.
Freeze: I have not tried freezing this salad, but I have used frozen avocado in other recipes.
You could try freezing it in an airtight container for up to 3 months. To thaw, place it in the fridge overnight.
More Salad Recipes to Try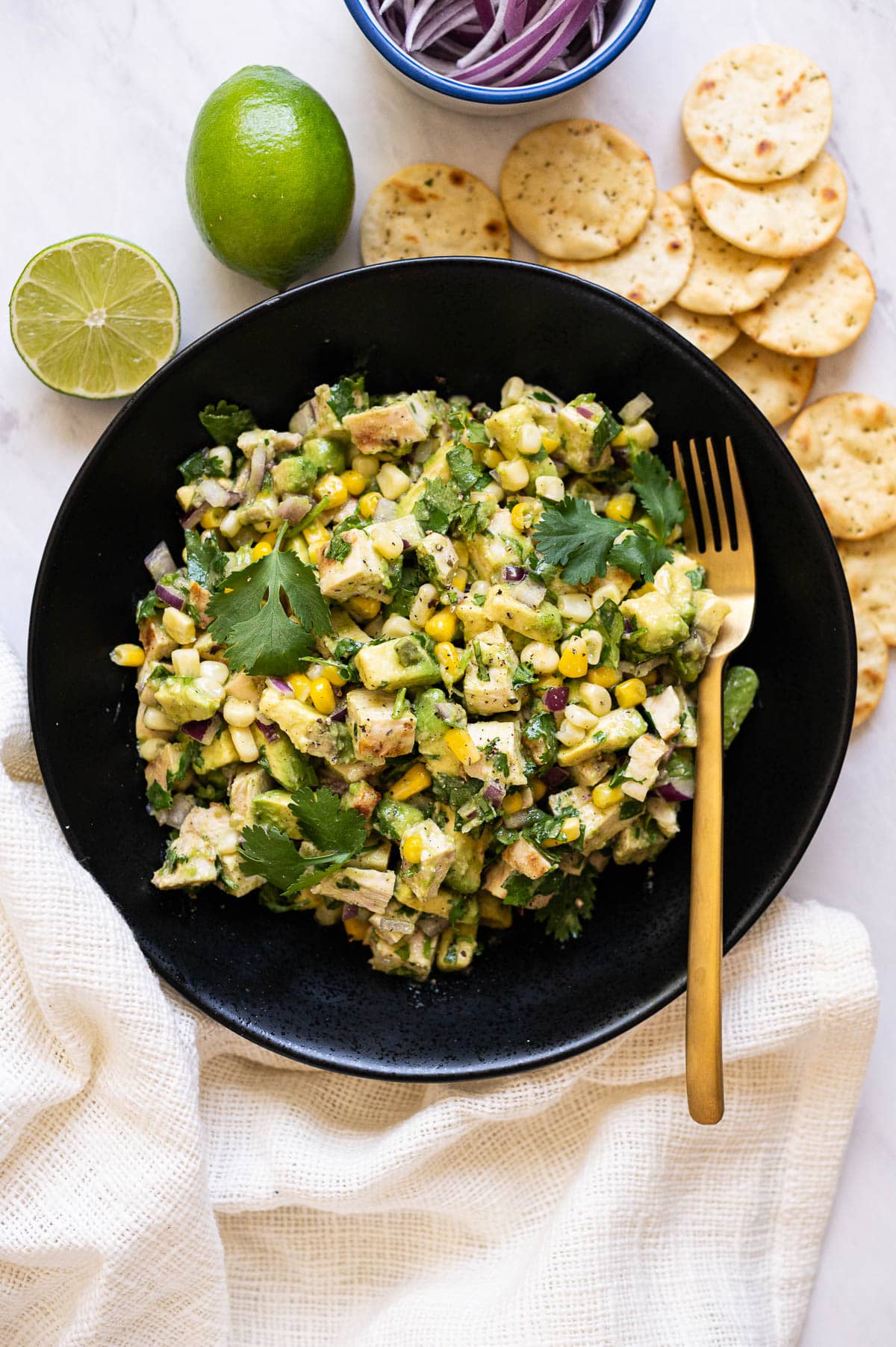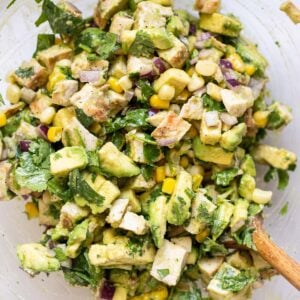 Avocado Chicken Salad
Avocado Chicken Salad with crisp red onion, sweet corn, and drizzled with a tangy lime dressing. Ready in 15 minutes!
Instructions
In a large bowl, add chicken, avocado, corn, red onion, cilantro, olive oil, lime juice, salt and pepper.

Stir gently to combine and adjust any seasonings to taste.
Notes
I used grilled chicken breast, so didn't have to add a lot of salt. Adjust based on what chicken you use.
Store: Refrigerate in an airtight container for up to 2 days. Salad does turn a bit brown on day 1 and more brown on day 2 but not that bad.
Freeze: I think you can freeze this salad in an airtight container for up to 3 months. Thaw in the fridge overnight.
Nutrition
Calories:
263
kcal
|
Carbohydrates:
10
g
|
Protein:
20
g
|
Fat:
17
g
|
Saturated Fat:
3
g
|
Cholesterol:
49
mg
|
Sodium:
242
mg
|
Fiber:
5
g
|
Sugar:
2
g