I used to hate cauliflower. Then I saw how many of you guys like it. I made Roasted Garlic & Parmesan Cauliflower and then my cauliflower world was totally rocked by this Cauliflower Crust Pizza Recipe. Cauliflower is white, mild in taste and low in calories. Hello, what not to like?!
Wohoo, let's abuse cauliflower for the next 50 recipes. It's dirt cheap, which is quite important as I'm spending hundreds of $$$ on organic chicken breasts on my quest to see the abs.
Last weekend we went to our friends' house for dinner. My girlfriend, Danielle, is all things cilantro and lime. I think she even makes cilantro pancakes, mac and cheese and ice cream. The girl likes Mexican food, obviously. The same night I made and brought Mexican Bean Salad Recipe. And then we ended up having Indian Chicken Korma along these hispanic dishes. Go figure.
Anyways, she gave me a head of cauliflower to chop and then said to toss it in lime juice and cilantro. At first I was like "Whaaaaat, where is my Parmesan cheese?!" and Danielle was like "Duuuuh!". And then I was like "Why not?!". So, here we go, my friends. Easy and clean cilantro lime cauliflower for our abs. And it's cheesy and delicious!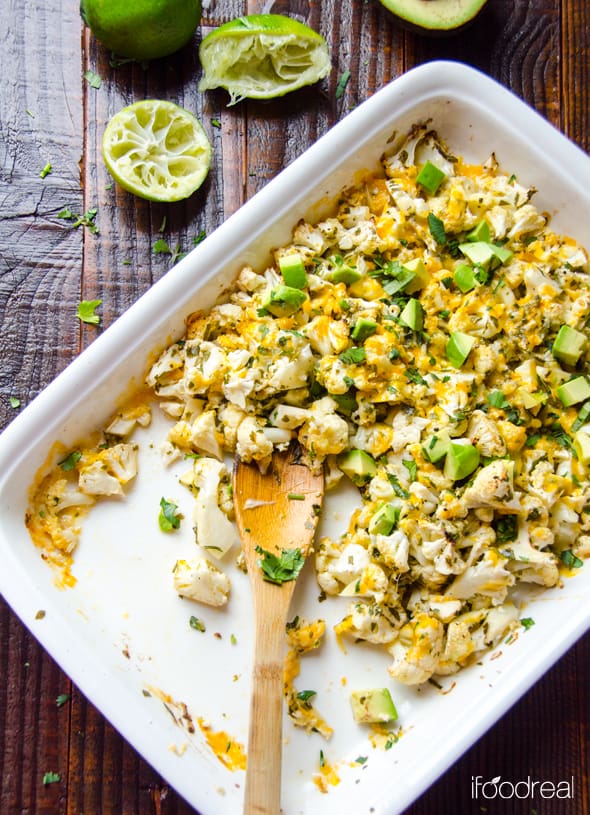 Let's begin.
First, you chop the cauliflower into bite size pieces. Danielle likes them super small because she says she has a small mouth. I honestly don't know but I did like she said. Then you add cumin, cilantro, lime juice, salt and pepper and mix. Let it stand for 5 – 10 minutes. You know what would be cool?! Let the cauliflower marinate in this brine overnight and eat it the next day. No cooking required. I'm gonna try.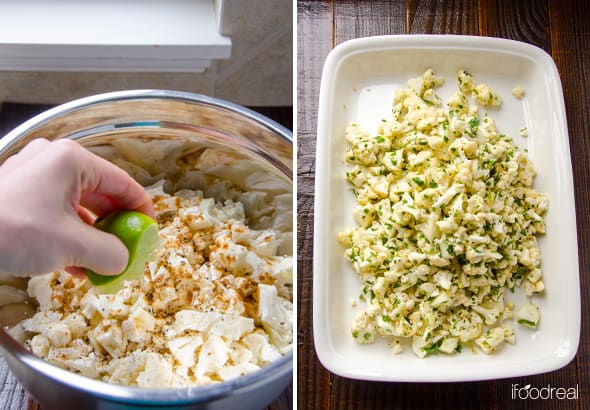 Transfer cauliflower into baking dish. 8 x 11 or 9 x 13 inches work, any glass/ceramic ovenproof dish. Hey, even pie dish would work. And level the cauliflower. I know the picture above might be confusing but it's pretty.
Now, see those bits of cauliflower, garlic and cilantro left on the walls of the mixing bowl? Save them and add to baked cilantro lime cauliflower along with cheese for extra flavour. When garlic and cilantro bake, they lose the intensity of their flavours. And you want to taste that fresh garlic and cilantro here. Trust me on this one.
After the cauliflower is cooked and still crunchy, for about 15 minutes, take it out. Top with the cilantro and garlic bits and pieces. Then sprinkle cheese on top. Any blend of white yellow cheese like Colby Jack or Tex Mex would work. You could even use mozzarella cheese. Low or full fat is up to you.
I prefer full fat dairy and try to limit its use overall. I used 1 cup of Colby Jack cheese. I had a package of Organic Creamery cheese slices for my kids. I took a few slices, cut them in half, then pounded to stick together really well and shredded/crumbled. Yeah, that's how ghetto I am. But really use what you have. I had cheese but in a different shape and form. Who cares, it melts anyways.
By the way, you can use less or no cheese at all. I wanted a bit of cheesy vegetables in my diet. Like this cheesy…
I drink enough green smoothies and eat plain vegetables every day. I was in for some cheese with cilantro lime cauliflower.
All you have to do after is melt the cheese under the broiler. Don't overcook. There is nothing worse than dry and mushy vegetables. Take out of the oven, top with diced avocados and fresh cilantro. Voila. Delicious vegetable side dish with all your favourite Latin flavours – lime, cilantro, cumin and garlic.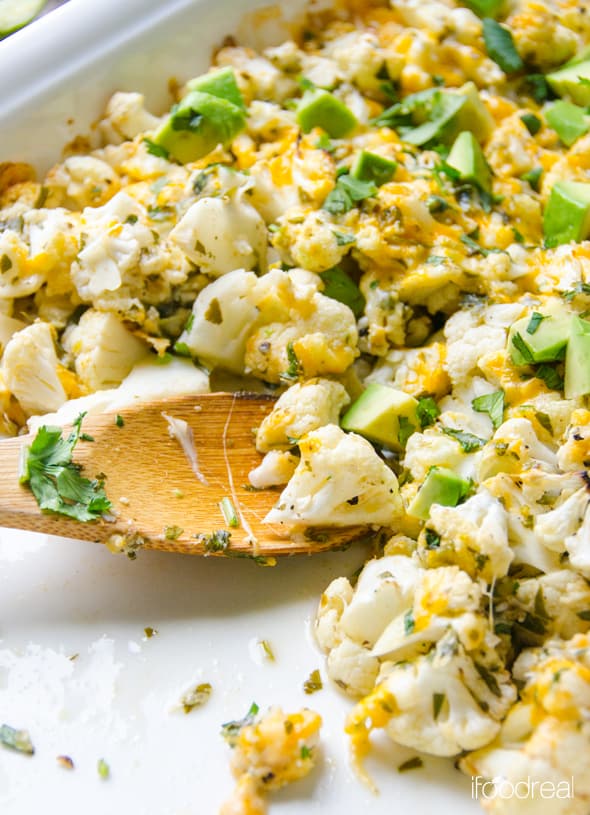 This cilantro lime cauliflower was delicious! Crunchy, tangy and so fresh with cilantro and avocado on top. I think it tasted best fresh. I reheated it later in the evening for the boys and it was good but not as cheesy. Still good and kids ate it with a big pleasure. What kids do not like cheesy food?! Present it as Roasted Cauliflower Mac and Cheese. Serve as a side dish to accompany any meat, grains and salad. Cauliflower is quite versatile. We had it with Grilled Chicken Chimichurri Recipe and quinoa. It was delish!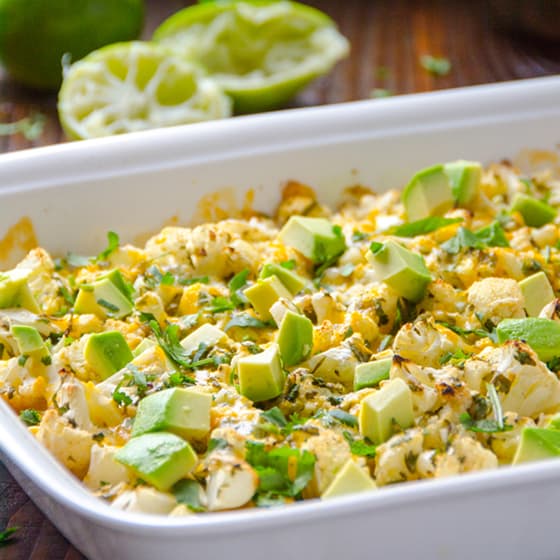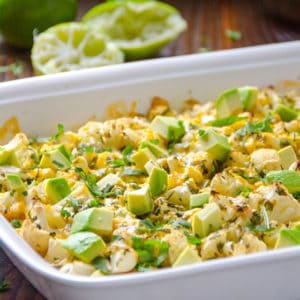 Lime and Cilantro Cauliflower with Avocado
Cilantro Lime Cauliflower with Avocado is delicious baked cauliflower with cumin and garlic. And it's cheesy and gluten free recipe.
Print
Rate
Ingredients
1

large cauliflower head

chopped into bite size pieces

1

lime

juice of

4

garlic cloves

crushed

1/2

cup

cilantro

finely chopped + more for garnish

1

tsp

cumin

1/4

tsp

salt

1/2

tsp

freshly ground black pepper

1

cup

Tex Mex/Colby Jack/Mozzarella cheese

shredded

1/2

avocado

diced (optional)
Instructions
Preheat oven to 425 degrees F. In a large mixing bowl, add cauliflower, lime juice, garlic, cilantro, cumin, salt and pepper. Mix to combine and let stand for 5 - 10 minutes. You can also let it marinate overnight and proceed to Step 2 the next day.

Transfer cauliflower into baking dish (I used 8 x 11"), reserving the garlic and cilantro on the sides of the bowl. Bake for 15 minutes. Remove from the oven and top with reserved garlic and cilantro, and cheese. Broil until cheese is melted. Top with additional fresh cilantro and avocado. Serve hot immediately.
Store: Refrigerate covered for up to 1 day.
Nutrition
Calories:
162
kcal
|
Carbohydrates:
10
g
|
Protein:
9
g
|
Fat:
11
g
|
Saturated Fat:
5
g
|
Cholesterol:
24
mg
|
Sodium:
295
mg
|
Potassium:
502
mg
|
Fiber:
4
g
|
Sugar:
3
g
|
Vitamin A:
364
IU
|
Vitamin C:
63
mg
|
Calcium:
203
mg
|
Iron:
1
mg
Join today and start saving your favorite recipes
Recipes and images are a copyright of ifoodreal.com. It is against the law to republish recipes anywhere including social media, print and all world wide web. Nutritional info is provided for informational purposes only and to the best knowledge.