Cilantro Lime Cauliflower Rice is the perfect low carb side dish that's ready in 15 minutes! Served warm or cold, it adds zesty flavor to any lunch or dinner.
Not a cilantro fan? Make my Mexican cauliflower rice or cauliflower fried rice instead.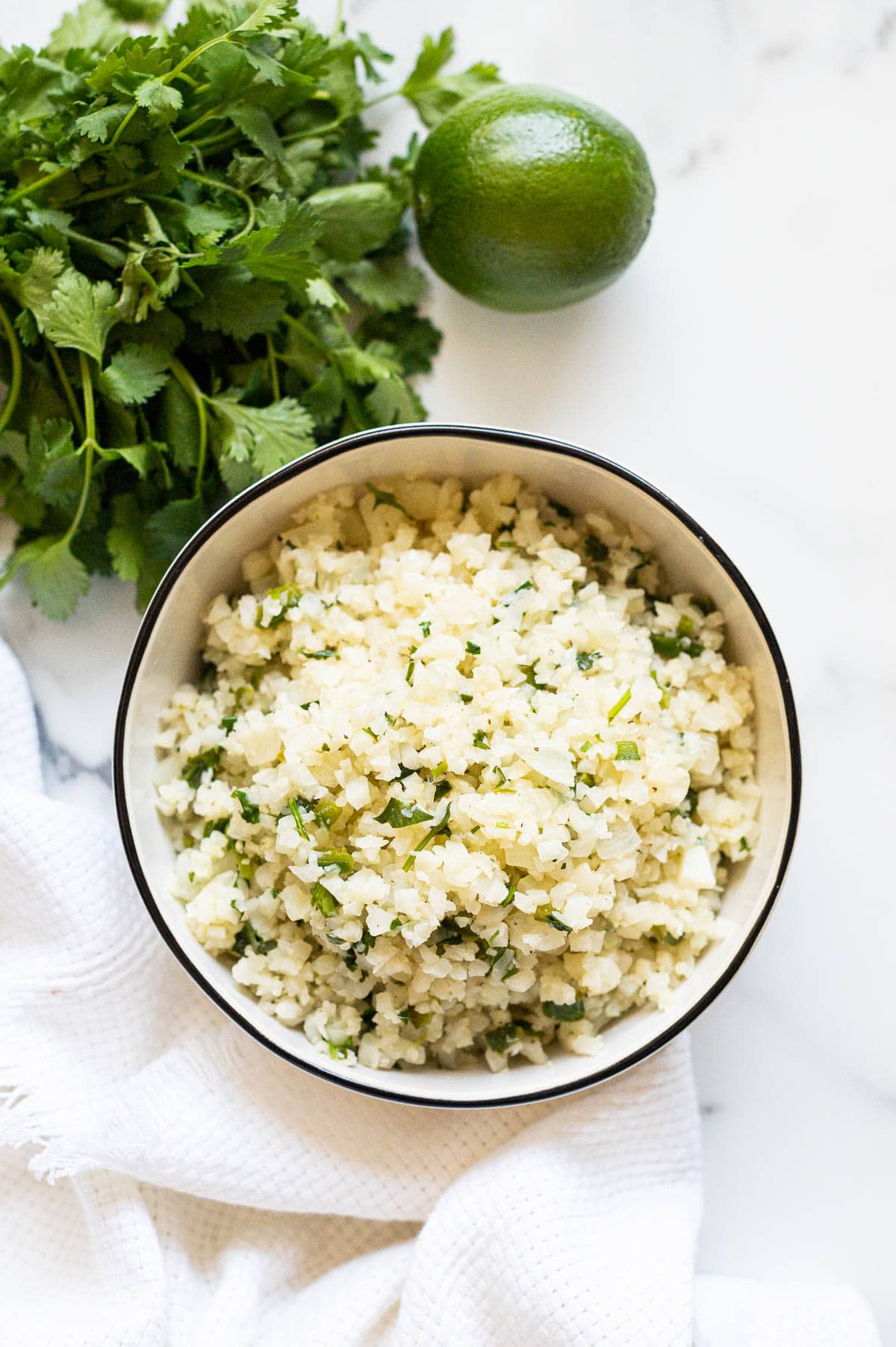 This easy cilantro lime cauliflower rice recipe is filled with tender riced cauliflower, a spritz of lime juice, and a ton of fresh cilantro. I've also added garlic and a kick of jalapenos for a more flavorful dish that will never disappoint.
I am a huge rice fan and was hesitant to try cauliflower rice recipes, but this herby veggie alternative is here to stay as part of my go-to Tex-Mex recipes.
Why You'll Love This Recipe
Taste: I love how cilantro and lime balance each other out. Once combined, you have a bright Mexican flavor.
Easy: A simple one pot recipe that's ready in 15 minutes!
Versatile: Add cauliflower rice with cilantro and lime to veggie taco bowls, fill in a burrito, or bulk up a salad.
Healthy: This vegetable side dish is naturally low carb and fits into to any diet plan. It's gluten free, vegan, paleo, and keto friendly.
No-mess method: Use a bag of store-bought cauliflower rice to keep your kitchen clean with no flying bits.
Ingredients for Cilantro Lime Cauliflower Rice
Take bland cauliflower up a notch with these simple ingredients. Here's what you need to make cilantro lime cauliflower rice.
Cauliflower rice: You can save time and money with a frozen bag from the store or rice your own cauliflower rice. Here's an easy guide how to make cauliflower rice using a food processor.
Onion: Finely chopped, sautéed onions add a wonderful depth of flavor.
Garlic: Freshly minced garlic cloves will yield the best results. You can use jarred in a pinch.
Jalapeño: Add a slight level of heat and bright color with fresh jalapenos. You can omit, if you like.
Spices: All you need is salt and ground black pepper to taste.
Fresh cilantro: Cilantro is one of the most flavorful fresh herbs. If you're not a fan, swap with fresh parsley or chives.
Lime juice: The juice of one lime adds zesty flavor, feel free to add in the lime zest too! You can substitute with lemon juice but the taste will be different or try both, the combination would add a bright, tangy taste.
Oil: Use any cooking oil for frying. I prefer avocado oil or olive oil.
How to Make Cilantro Lime Cauliflower Rice
Cilantro lime cauliflower rice is super easy to make, follow these step-by-step instructions and photos.
There is a full recipe card below.
Sauté aromatics: Add oil to a heated large skillet and swirl to coat. Add onion, garlic and jalapeno and cook on medium-high heat for 3-4 minutes, stirring occasionally to prevent burning.
Sauté cauliflower rice: Stir in cauliflower rice, salt and pepper. Cook for 3-5 minutes until warmed through and still a bit firm, then turn off heat.
Add finishing touches: Sprinkle with chopped cilantro, squeeze in lime juice, and stir. Taste and adjust any seasonings.
Serve: Serve warm or cold with your favorite Mexican or seafood dish.
Tips for Best Results
Make the perfect low carb side dish with these helpful tips.
Do not thaw frozen cauliflower rice: The excess moisture from defrosting cauli rice will result in a watery mess.
Don't overcook: To achieve a rice-like texture cook cauliflower rice for a maximum of 5 minutes, you want to cook it al dente.
If making your own cauliflower rice: Follow my step-by-step cauliflower rice tutorial. Do not over process into mush. Use stalk from the head of cauliflower as well for large bits and pieces.
For more heat: Turn up the heat by leaving jalapeno seeds in or add in some cumin, chili powder, cayenne pepper, or red pepper flakes.
What to Serve Cauliflower Rice with?
On the weekend, I used cilantro lime cauliflower rice as the base for grilled cedar plank salmon, then topped it with mango salsa. Wow, it was delicious!
This Mexican style cauliflower rice is great alongside so many weeknight favorites and is meal prep friendly! We especially love it next to cilantro lime chicken, carne asada steak, low carb chicken enchiladas, and healthy chicken enchiladas.
It's also a healthy addition to burritos, burrito bowl, or tacos with a heaping spoonful of guacamole.
How to Store and Reheat
Store: Transfer leftovers to an airtight container and store in the refrigerator for up to 3 days.
Freeze: Once completely cooled, cauliflower rice can be kept in a freezer safe storage container for 2-3 months.
Reheat: Quickly warm up in the microwave or sauté it again in a preheated skillet on medium heat for about 2 minutes.
Meal prep: Cauliflower rice can be made 2-3 days in advance. Store in glass meal prep containers, add your favorite protein and you have the perfect easy lunch.
FAQs
Why did my cilantro lime cauliflower rice turned out soggy?
Most likely you cooked it for too long. If cauliflower rice is cooked for more than 5 minutes, it will be soggy and mushy.
Is it better to use frozen or fresh cauliflower rice?
The choice is yours, both will have delicious results. You can purchase fresh or frozen prepared cauliflower rice, or make your own in 10 minutes. Here's how to make cauliflower rice at home.
Can you substitute parsley for cilantro?
Yes. If you don't like the soap-like taste of cilantro, parsley comes from the same family and is the perfect substitute.
How many carbs are in cilantro lime cauliflower rice?
This cauliflower cilantro lime rice has 2 carbs per serving. Full nutrition stats are located below on the recipe card.
More Cauliflower Recipes to Try
You may also enjoy these 14 frozen cauliflower rice recipes!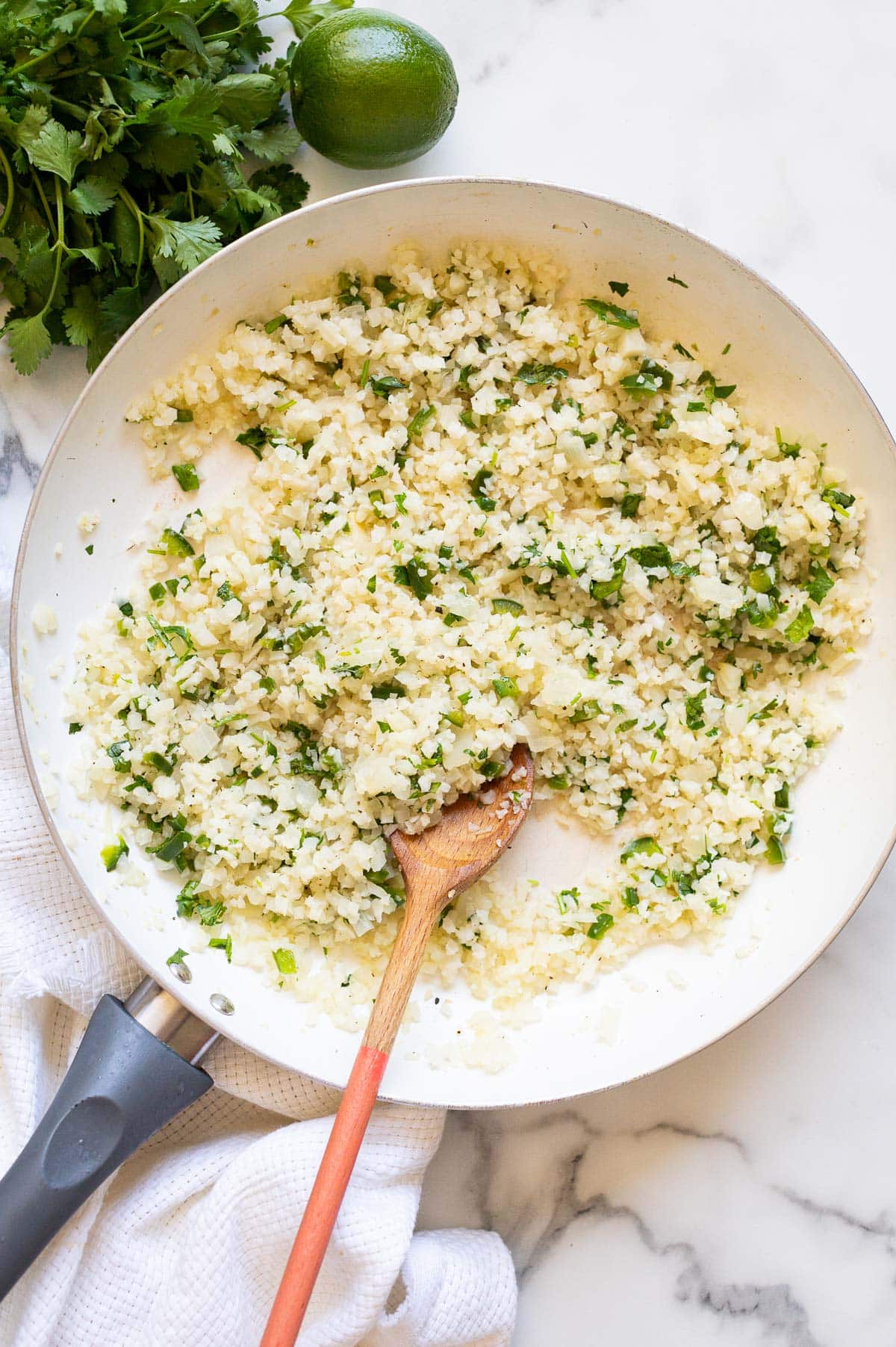 Cilantro Lime Cauliflower Rice
Cilantro Lime Cauliflower Rice is the perfect low carb side dish that's ready in 15 minutes! Serve it warm or cold.
Instructions
Preheat large ceramic non-stick skillet on medium-high heat and swirl oil to coat. Add onion, garlic and jalapeno, and cook for 3-4 minutes, stirring occasionally.

Add cauliflower rice, salt and pepper. Stir and cook for 3-5 minutes or until warmed through and still al dente. Turn off heat.

Add cilantro and lime juice. Stir cauliflower rice, taste and adjust any seasonings to taste, if you wish.

Serve warm or cold with grilled meats and with tacos as a side dish.
Notes
Store: Refrigerate in an airtight container for up to 3 days.
Nutrition
Calories:
67
kcal
|
Carbohydrates:
8
g
|
Protein:
2
g
|
Fat:
4
g
|
Saturated Fat:
1
g
|
Sodium:
173
mg
|
Fiber:
3
g
|
Sugar:
3
g