Flavorful Mexican Chili Lime Chicken in as little as 30 minutes. Bake, grill or fry and use in tacos, salads or fajitas year round.
Check out other fresh flavored chicken recipes like lemon chicken and coconut lime grilled chicken thighs.
How to Make Chili Lime Chicken
This chili lime chicken is just wonderful. Juicy, easy and healthy. We make it all summer long alternating with cilantro lime chicken.
I like to double the recipe and use in salads throughout the week.
Best Chicken to Use
The best chicken to use to make chili lime chicken are boneless and skinless chicken breasts or thighs. Depends whether you are white or dark meat person.
Thighs are more juicy but higher in fat than more lean chicken breasts. I do not find chicken breast dry because I cook it properly. There is a trick.
You can use bone in and skin on chicken. You will want to cook it low and slow on the grill and on the pan. In the oven, same baking temperature just longer cooking time.
Chili Lime Chicken Marinade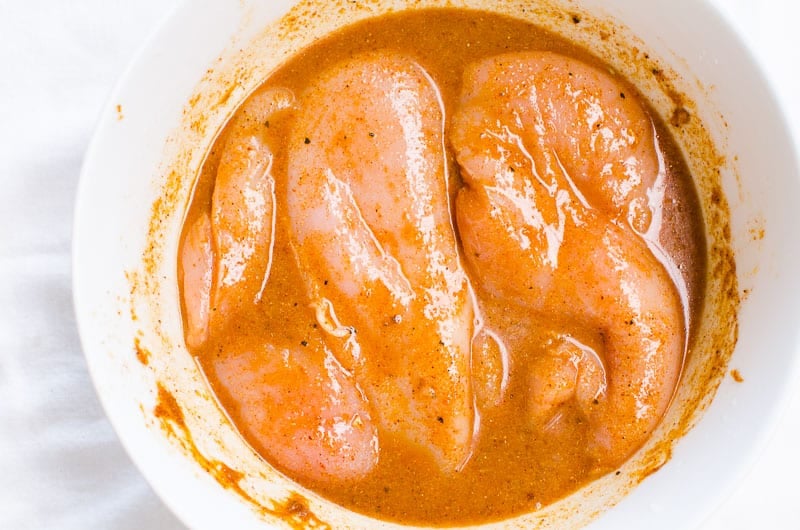 For the chicken marinade, I use a bit of olive oil mixed with a lot of lime juice and my favorite simple Mexican spices like chili powder and cumin.
Lime gives the most fresh, summer-y flavor in this recipe and others like cilantro lime cauliflower, zucchini noodles with cilantro chicken and lime, and lime iced tea.
I even use garlic powder instead of fresh garlic to make marinade recipe quicker and to prevent garlic from overpowering other spices.
Whisk marinade in the bowl and then place chicken in it. Because chili lime marinade contain a lot of lime juice, you can marinate chicken for as little as 30 minutes and as long as 48 hours.
It literally takes 5-10 minutes to combine everything in a bowl.
Bake, Grill or Fry
I cook chili lime chicken using all methods depending on my life situation. Right now we do not have an outdoor grill because we moved. I cooked chicken on an indoor grill because who doesn't love grilled chicken in the summer. In winter, I would crave more baked or fried chicken.
No matter how you cook your chili lime chicken, you have to let meat rest. Resting chicken means to cover a dish with cooked chicken with a tin foil, towel or silicone lid. Let it sit like that for 5-10 minutes. That allows juices to settle back in a meat.
What to Serve Chili Lime Chicken With?
My absolute favorite way to serve any chicken is with a side of whole grain and veggies like quinoa and Mexican kale salad. I just love simple and quick meals. My family does too. It took 30 minutes for all of this goodness.
And cut up and serve in chicken tacos or a grilled chicken salad. Don't forget to try it along with black bean salsa or mango salsa.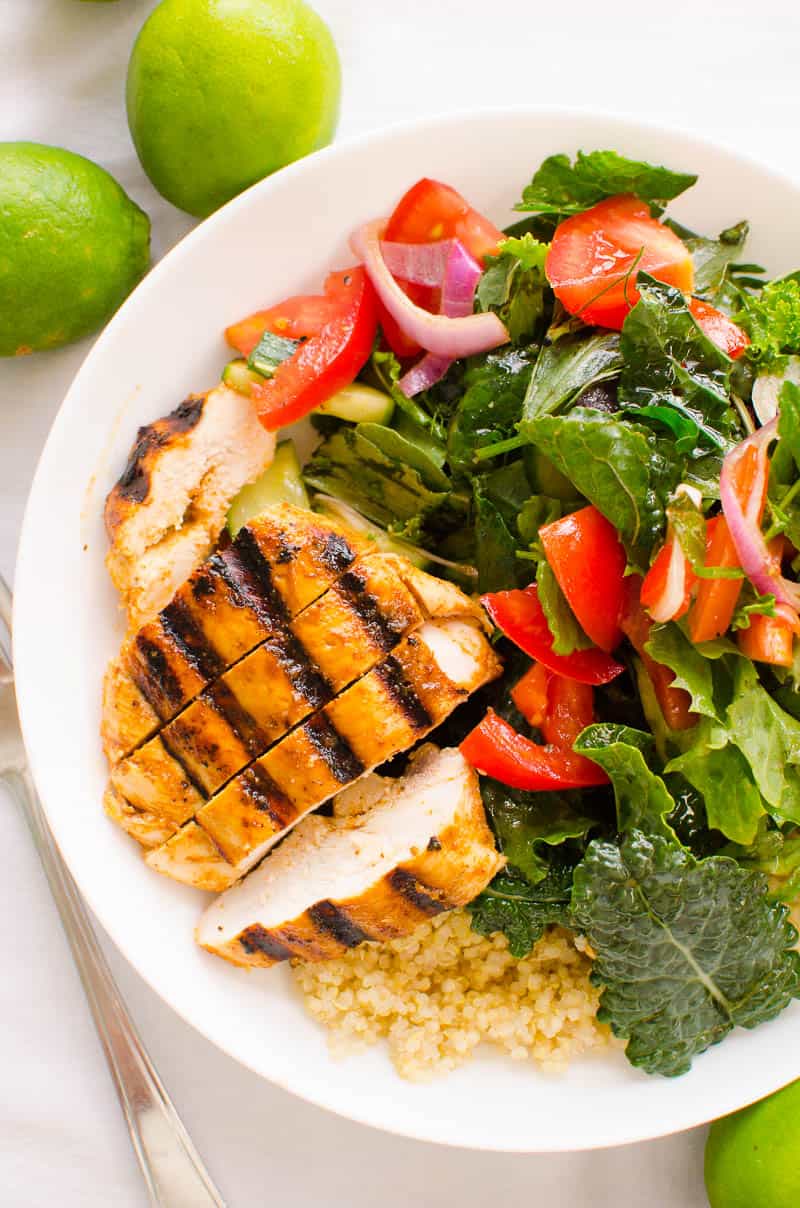 More Healthy Chicken Recipes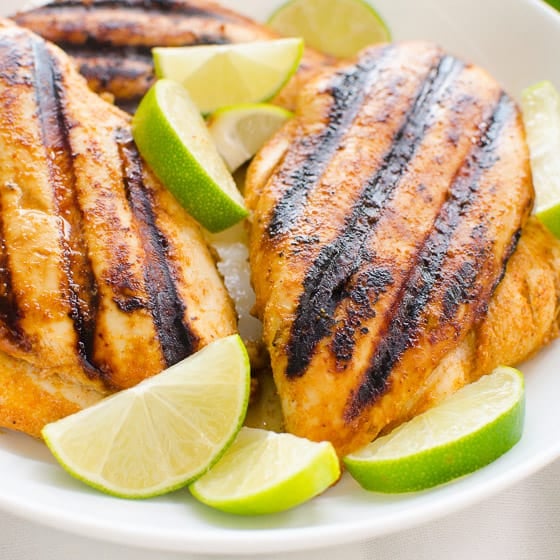 Chili Lime Chicken
Flavorful Mexican Chili Lime Chicken in as little as 30 minutes. Bake, grill or fry and use in tacos, salads or fajitas year round.
Print
Rate
Ingredients
2

lbs

chicken breasts or thighs

boneless

3

limes

juice of

1

tbsp

oil

1

tbsp

maple syrup or honey

2

tsp

chili powder

1

tsp

cumin

2

tsp

garlic powder

1/2

tsp

salt

Ground black pepper

to taste
Instructions
In a medium bowl, add lime juice, oil, maple syrup, chili powder, cumin, garlic powder, salt and pepper. Whisk with a fork.

Add chicken to the bowl, poking and tossing with a fork. This will allow marinade to penetrate the meat. Cover and refrigerate for 30 mins - 48 hours. The longer you marinate, the deeper the flavor.

To pan fry: Preheat large ceramic non-stick skillet on medium heat and swirl a bit of oil to coat. Add chicken, cover and cook for 5-6 minutes. Flip and cook for another 5-6 minutes or until the thickest part juices run clear when poked with a knife or fork. Discard marinade.

To grill: Preheat grill on medium-high (450-500 degrees F) and rub with oiled paper towel. Place chicken on the grill, close the lid and grill for 8-10 minutes turning once. Do not overcook. Discard marinade.

To bake: Preheat oven to 450 degrees F. Rub bottom of large baking dish with oil and lay chicken breasts in a single layer. Bake uncovered for 25 minutes (thinner) to 35 minutes (2″+) or until 150 degrees F internal temperature. Discard marinade.

For all methods: Make sure you let chicken rest. Place cooked chicken onto a baking dish and cover with tin foil, silicone lid or paper towel. Let rest for 5 minutes. This step helps juices settle back into the meat.
Store: Refrigerate covered for up to 1 week or freeze for up to 3 months.
Nutrition
Calories:
221
kcal
|
Carbohydrates:
8
g
|
Protein:
33
g
|
Fat:
7
g
|
Saturated Fat:
1
g
|
Cholesterol:
97
mg
|
Sodium:
386
mg
|
Potassium:
629
mg
|
Fiber:
1
g
|
Sugar:
4
g
|
Vitamin A:
329
IU
|
Vitamin C:
12
mg
|
Calcium:
25
mg
|
Iron:
1
mg
Join today and start saving your favorite recipes
Recipes and images are a copyright of ifoodreal.com. It is against the law to republish recipes anywhere including social media, print and all world wide web. Nutritional info is provided for informational purposes only and to the best knowledge.