Healthy Chocolate Zucchini Bread with simple wholesome ingredients in one bowl. Easy, moist and double chocolate quick bread with sneaky veggies.
It is basically the perfect combination of my healthy zucchini bread and healthy chocolate bread. Now you will know what to do with zucchini. Have fun!
Chocolate Zucchini Bread
This healthy chocolate zucchini bread is for anyone like me who ends up with a fridge full of zucchini end of summer.
I seem to receive squash as a gift. Must be the food blogger profession. This list of 45 healthy zucchini recipes really comes in handy!
But then it comes time for dessert and there's still no holding up on the zucchini. Healthy lemon zucchini bread, healthy zucchini brownies, and healthy zucchini muffins are just a small collection of the zucchini recipes I've shared!
But only after I whip up a few batches of this wonderful chocolate zucchini bread! OMG, it is so moist, fluffy, perfectly sweet and chocolate-y. Double chocolate.
So easy too! One bowl and 10 minutes prep. I double the recipe and make one for the freezer, I do the same for healthy blueberry bread!
Ingredients You Will Need
Zucchini: Grate it, no need to peel or squeeze.
Flour: This chocolate zucchini bread has been tested with whole wheat flour and spelt flour. Basically, a flour with gluten. I have not tried bread with white flour.
Sweetener: You have to use a liquid sweetener like maple syrup, honey, agave, brown rice syrup etc. Not dry sweetener like sugar.
Cocoa or cacao powder: Difference between cacao and cocoa powder is only in nutrition values. Cacao powder is raw and not heated like cocoa powder. Cacao retains its antioxidants and nutrients.
Egg and applesauce: Instant Pot applesauce is used instead of oil to make bread moist. I have not tested with learning how to make a flax egg or chia egg, but you can try.
How to Make Chocolate Zucchini Bread
Grate zucchini – I like to grate zucchini on fine/medium side of the grater. This way it "disappears".
Pack it – As you fill up the cup with handfuls gently press on zucchini before adding more. Don't go crazy but just pat it inside.
Mix in one bowl – Whisk the egg, then all liquids and add in dry ingredients. Then zucchini and chocolate chips last.
Bake – Bake at 350 degrees F for 50-60 mins or until toothpick inserted is clean. Let cool off to warm before slicing.
Tips for Best Zucchini Bread
Frozen zucchini – I have heard from a few readers they freeze grated zucchini and then use in baking. I have not tried. But if you are wondering, I would thaw frozen grated zucchini for a bit so it's not one blob and try. Please let me know if you do.:)
Squash – Squash and zucchini are the same thing. You can use yellow or pale green squash. Or even round patty pan squash.
Follow the recipe – Baking is a science.
Gluten free flour – Almond flour, coconut flour or any gluten free flour will not work. If you want a gluten free zucchini bread, try my healthy lemon zucchini bread. So good! My favorite recipe I ever created!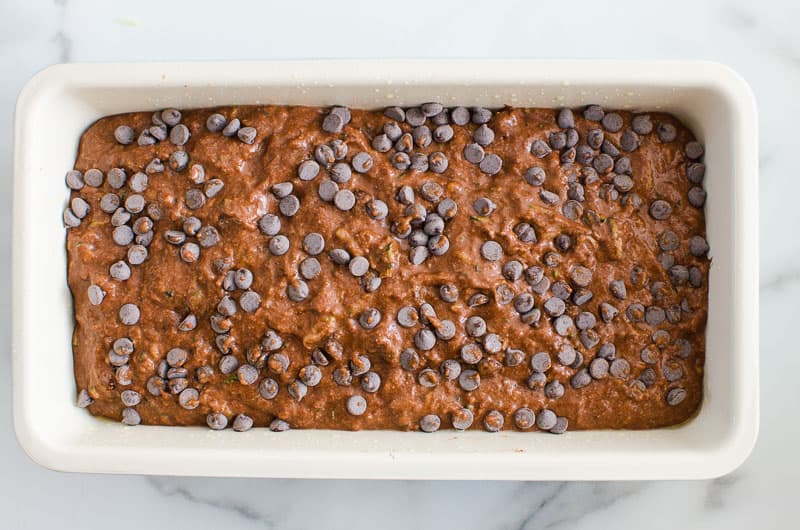 How to Store and Freeze Bread
Store: If the weather is hot, keep bread in a container loosely covered with linen towel for 1-2 days on a counter. You don't want to seal it tightly so moisture accumulates and bacteria breeds on hot days.
After 2 days I would transfer leftovers in a container with a lid to the fridge.
Freeze: Any bread with zucchini freezes beautifully. Place it in a resealable bag, let out air, seal and freeze for up to 3 months. Thaw on a counter in 4 hours or in the fridge overnight. It will taste like fresh.
More Healthy Zucchini and Chocolate Recipes
You can always check out my full collection of healthy quick bread and muffin recipes too!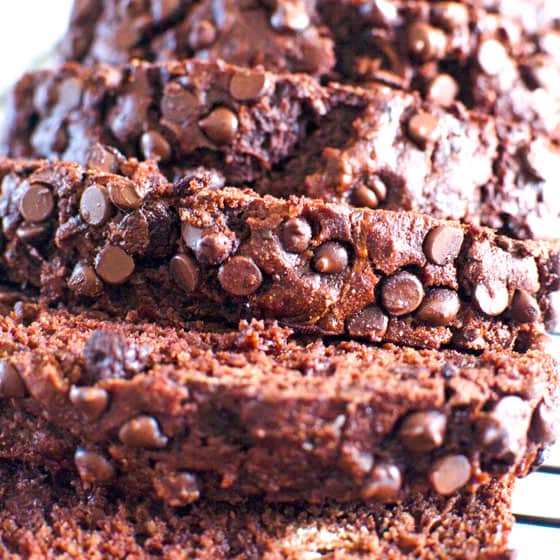 Healthy Chocolate Zucchini Bread
Healthy Chocolate Zucchini Bread with simple wholesome ingredients in one bowl. Easy, moist and double chocolate quick bread with sneaky veggies.
Instructions
Preheat oven to 350 degrees F, line 9 x 5 loaf pan with unbleached parchment paper and spray with cooking spray. Set aside.

In a large mixing bowl, add egg, applesauce, maple syrup, vanilla extract, baking soda, baking powder and salt; whisk well until combined.

Add cacao powder and whisk until well combined.

Add grated zucchini and stir.

Add flour and mix gently with a spatula just enough to combine. Add 1/4 cup chocolate chips and gently give just a few stirs.

Pour batter into previously prepared loaf pan and sprinkle remaining 1/4 cup chocolate chips on top. Bake for 50-60 minutes or until the toothpick inserted in the middle comes out clean.

Remove from the oven and transfer to a cooling rack to cool off for 10 minutes. Holding onto the flaps of parchment paper remove healthy zucchini bread from a loaf pan and let it cool off more before slicing with sharp serrated knife.
Notes
Store: Store covered in a cool dry place for up to 5 days.
Freeze: In an airtight container for up to 3 months.
Nutrition
Serving:
1
slice
|
Calories:
185
kcal
|
Carbohydrates:
35
g
|
Protein:
4
g
|
Fat:
4
g
|
Saturated Fat:
2
g
|
Cholesterol:
14
mg
|
Sodium:
253
mg
|
Fiber:
4
g
|
Sugar:
16
g